Peak parking: The view from Snowdonia
Innovations and improved enforcement are helping Snowdonia National Park to cope with this summer's influx of visitors. Words and pictures by Rhodri Clark
08 June 2022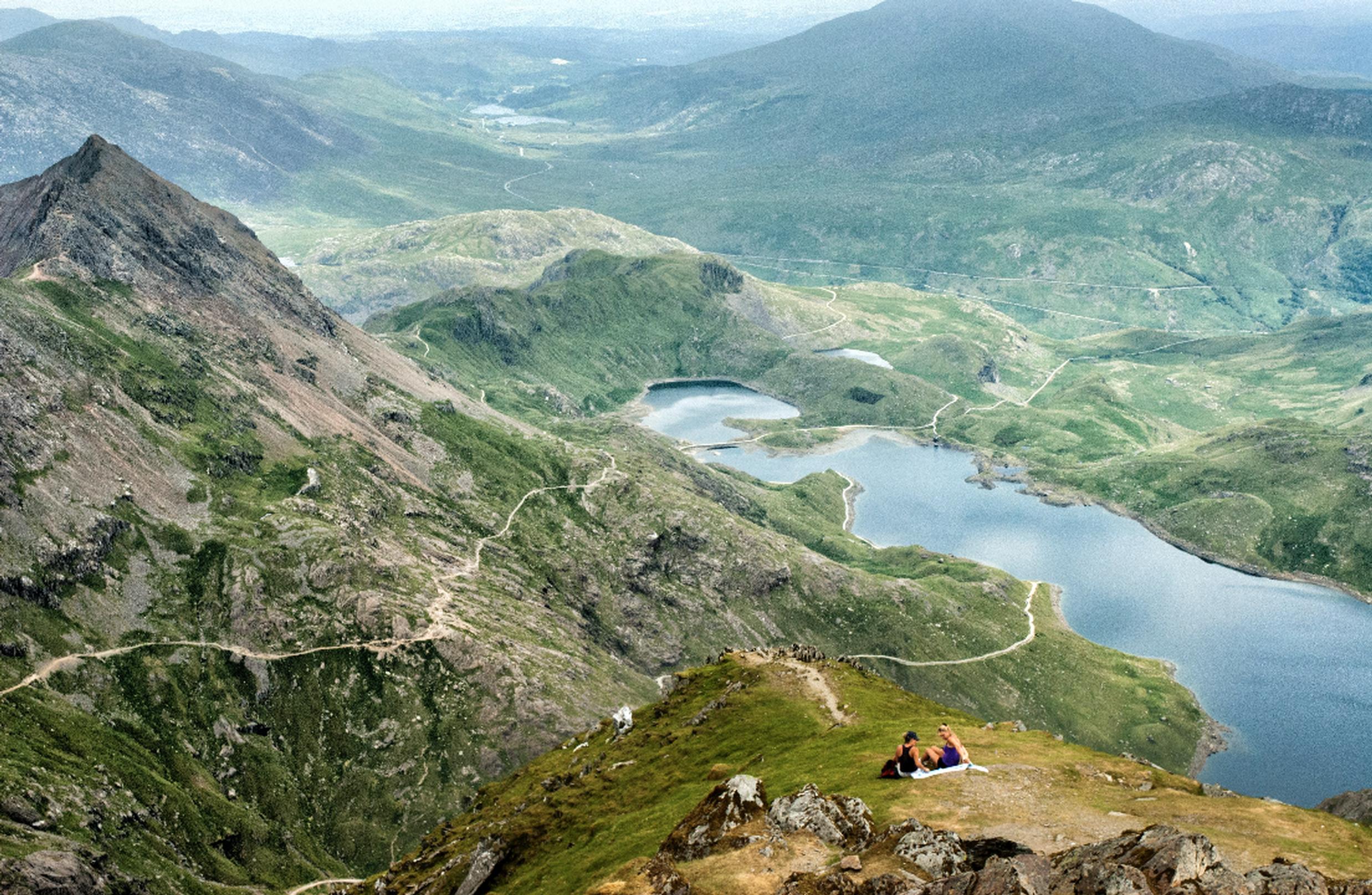 Transport planners and politicians often talk about using carrots and sticks to bring about modal shift, but rarely is that approach so clearly visible on the ground as it is now in Snowdonia National Park. Bus services to the most popular places have never been as frequent as this summer, while changes to parking controls have reduced the problems caused by illegally parked cars.
The improvements follow a review commissioned in 2020 by Partneriaeth Yr Wyddfa, a partnership of organisations and landowners which are responsible for management of Snowdon (Yr Wyddfa), Wales' highest mountain. Their activities include conservation, upkeep of footpaths, farming and mountain rescue. The review recommended developing a sustainable tourism approach to reduce the problems of tourism and increase the benefits to local communities, while improving the visitor experience and enabling a more diverse range of visitors to enjoy the area.
At the root of the problem is the proximity of the highest mountains in the northern part of the national park to the A55 Expressway from Chester. Pen-y-Pass, one of the most popular starting points for walking up Snowdon, is 14 miles from the Junction 11 of the A55. Llyn Ogwen lake, another "honeypot", is only seven miles from the A55 along Thomas Telford's expertly engineered A5.
With the northern part of the park receiving almost five million visitors each year before the pandemic, parking has been a thorny issue for decades. In the late 1990s, the local authorities drew up plans for enhanced bus services funded by a £4 charge for parking in gateway car parks. Some new car parks were installed and a survey found that 80% of motorists supported the plan, but the idea was dropped in 2002 after opposition from some quarters.
Roadside parking continued to be a blot on the landscape – visible from afar when sunshine glinted on cars. It forced pedestrians in some places to share the carriageway with traffic legally entitled to travel at 60mph.
Matters came to a head in summer 2020, when there was a surge in visitors to Snowdonia following the long period of restrictions in the first COVID-19 lockdown. Instead of five million trips being spread across spring, summer and autumn, now the visitors seemed to head for the hills in the same few weeks. Images of police towing away visitors' cars made national news.
The news coverage did not reflect well on Wales, although it was not representative of Welsh tourism locations as a whole. The Welsh Government was spurred into action. Having withdrawn its funding for the Snowdon Sherpa buses in 2009, it now decided to devote financial resources to tackling the problems, via its arm's length Transport for Wales company.
It is providing 43% of this year's funding for the Sherpa network, including capital funding for enhanced bus stops and new branding from Best Impressions. The network is now known only by its Welsh name, Sherpa'r Wyddfa. Buses run every hour on the three main routes, overlapping to increase frequency along key sections of road.
On peak days, an additional shuttle bus connects the Nant Peris car park with Pen-y-Pass to give motorists a bus every quarter of an hour – a frequency normally associated with urban park & ride.
The national park authority introduced a pre-pay system for the small car park at Pen-y-Pass last year, to encourage a shift of mindset. This measure challenges people's expectations of being able to drive directly into the most sensitive environments and leaving their cars there. Communications officer Ioan Gwilym says the system is working well. That and other measures "have virtually wiped out any illegal parking".
He acknowledges, however, that illegal parking has been continuing in 2022 in the Ogwen Valley. The national speed limit has been replaced by a temporary 40mph limit alongside Llyn Ogwen, where there are toilets, a youth hostel, café and small short-stay car park. Police towed away some vehicles on the Easter bank holiday weekend.
One A5 layby beside Llyn Ogwen has been taken out of use this year. The authorities and local community are encouraging visitors to park at Bethesda, north of the park boundary, and catch the TrawsCymru T10 bus into the national park. This two-hourly service, funded by the Welsh Government, has replaced an infrequent Sherpa bus.
In the Ogwen area and other key locations, clearway restrictions are reinforced by yellow North Wales Police warning signs showing vehicles being towed away. This year, however, any towing away may be performed by Gwynedd Council, which adopted powers to undertake this activity last August.
"Perhaps this is making motorists think twice before deciding where to park," says Ceri Hughes Thomas, the council's parking and street works manager. "The council's parking enforcement officers aim to monitor regularly the locations which have proved problematic in the past in terms of illegal parking, such as Pen-y-Pass, Y Glyn, Llanberis and Ogwen.
"Feedback from officers so far suggests that most motorists are conforming to the parking restrictions. No major difficulties have been reported, apart from irresponsible parking in Ogwen. Perhaps it's premature to think that the problems have been solved, but certainly the situation is better so far this year."
She says the section of the A5 east of Ogwen Cottage, which is in neighbouring Conwy county, is full to the brim because there are relatively few restrictions, while on the Gwynedd side – north of Llyn Ogwen – there have been problems with motorists parking beyond the limit of the double yellow lines.
That location can be particularly problematic when motorists park alongside the solid white line in the centre of the A5 where bends around cliffs limit forward visibility for drivers. Cars parked at the roadside force drivers to cross the white line, on a road where the national speed limit applies. Parking has also caused problems in the last two years in less famous beauty spots where the number of cars is much lower but enough to overwhelm the basic rural infrastructure. For example, at Llyn Geirionydd, a beautiful upland lake west of the Conwy Valley, a country lane is now signed as a clearway for one mile.
The national park authority has increased the charge for parking at Pen-y-Pass from £10 to £18 for eight hours – unusually high for a rural area. However, there is no shortage of visitors willing to pay the premium price. Spaces have to be booked via JustPark no later than four hours before arrival.
This year the car parks around Snowdon will also be monitored with new sensor technology which will convey occupancy data in real-time to visitors, encouraging them to make "smarter decisions".
Dana Williams, the national park's sustainable tourism officer, says the aim is to make this data available to the public from this summer.
The authority has chosen not to increase parking charges at its other car parks, because it wants to encourage people to park & ride in places like Nant Peris and Llanberis rather than continue in their cars into the heart of the national park.
Its longer term plans include encouraging more visitors to catch the train to North Wales, instead of driving. Bangor station, served by trains from Chester and London, now has direct buses to Pen-y-Pass and Ogwen.
The Conwy Valley line from Llandudno Junction provides access to the north-eastern edge of Snowdonia, including Betws-y-Coed, and the Cambrian Coast line from Machynlleth to Pwllheli serves the western edge.
Another element of the strategy to alleviate parking pressures is to encourage more people to visit other parts of the national park. In the last two years people have been queuing for the last few metres up to Snowdon/Yr Wyddfa's summit while the paths are much quieter on dramatic peaks such as Moel Siabod and Cader Idris.
"We've got a list of promoted routes on our website," says Ioan Gwilym. "We're trying to promote routes that receive less attention on our social media as well."
The authority is also highlighting the park's attractiveness at quieter times of the year, partly with the aim of spreading the load more evenly. "Snowdonia is one of the nicest places to be in September and October," says Gwilym. "We're not encouraging people to go up the mountains in winter, because of the weather and conditions underfoot, but the park has lots of other interesting places for walking and visiting."