Accolade for Rees Jeffreys Road Fund competition
Innovation
03 May 2022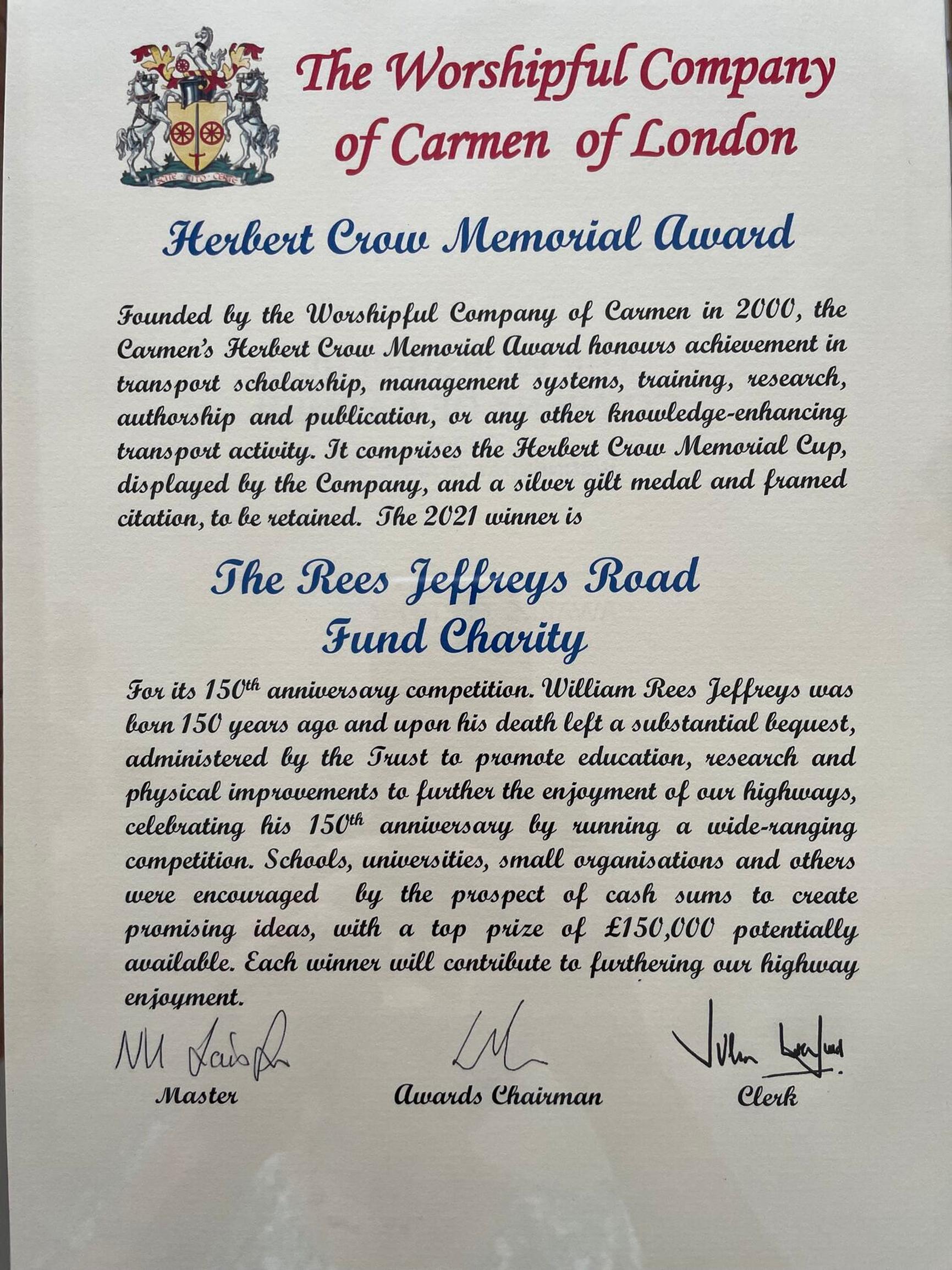 The Rees Jeffreys Road Fund Trustees have been awarded the 2021 Herbert Crow Award by the Worshipful Company of Carmen of London.
The award recognises achievement in transport training, research and other knowledge-enhancing transport activity.
The award was made to Rees Jeffreys Road Fund in recognition of the competition run by the charity to celebrate 150 years since the birth of the Fund's founder and benefactor, William Rees Jeffreys.
The Worshipful Company of Carmen is one of the 110 livery companies in the City of London, dating back to 1517. It is one of the largest companies, with more than 600 members representing a wide range of aspects within the transport and logistics sectors.
Upon his death, William Rees Jeffreys left a substantial bequest administered by the Trustees to promote education, research and physical improvements that would help further the enjoyment of the UK's roads and streets.
Schools, universities small organisations entered the competition, with two joint winners receiving £75,000 each to help them deliver their ideas. Seven finalists were also awarded £5,000 development grants, with five schools receiving £2,000 cash prizes.
Rees Jeffreys Road Fund chairman David Tarrant said: "The Trustees are truly delighted to receive this award. Our 150 Competition has been a great success, generating a good deal of interest in innovative and creative ideas for the future of our roads.
"We are really excited to see how the proposals put forward by the two winning entries shape up. We would also like to pay tribute to the ideas of our other finalists, and wish them future success with their projects.
"The competition was made possible through the hard work, enthusiasm and dedication of the Rees Jeffreys Trustees and Secretary, with the support of Landor LINKS, whose expertise in running these kind of programmes helped us achieve a robust and popular competition with really positive outcomes.
"The Trustees are very grateful to the Worshipful Company of Carmen for their recognition of the Competition with this special award."