Parking as a Service Award: North Essex Parking Partnership
British Parking Awards 2021
15 January 2022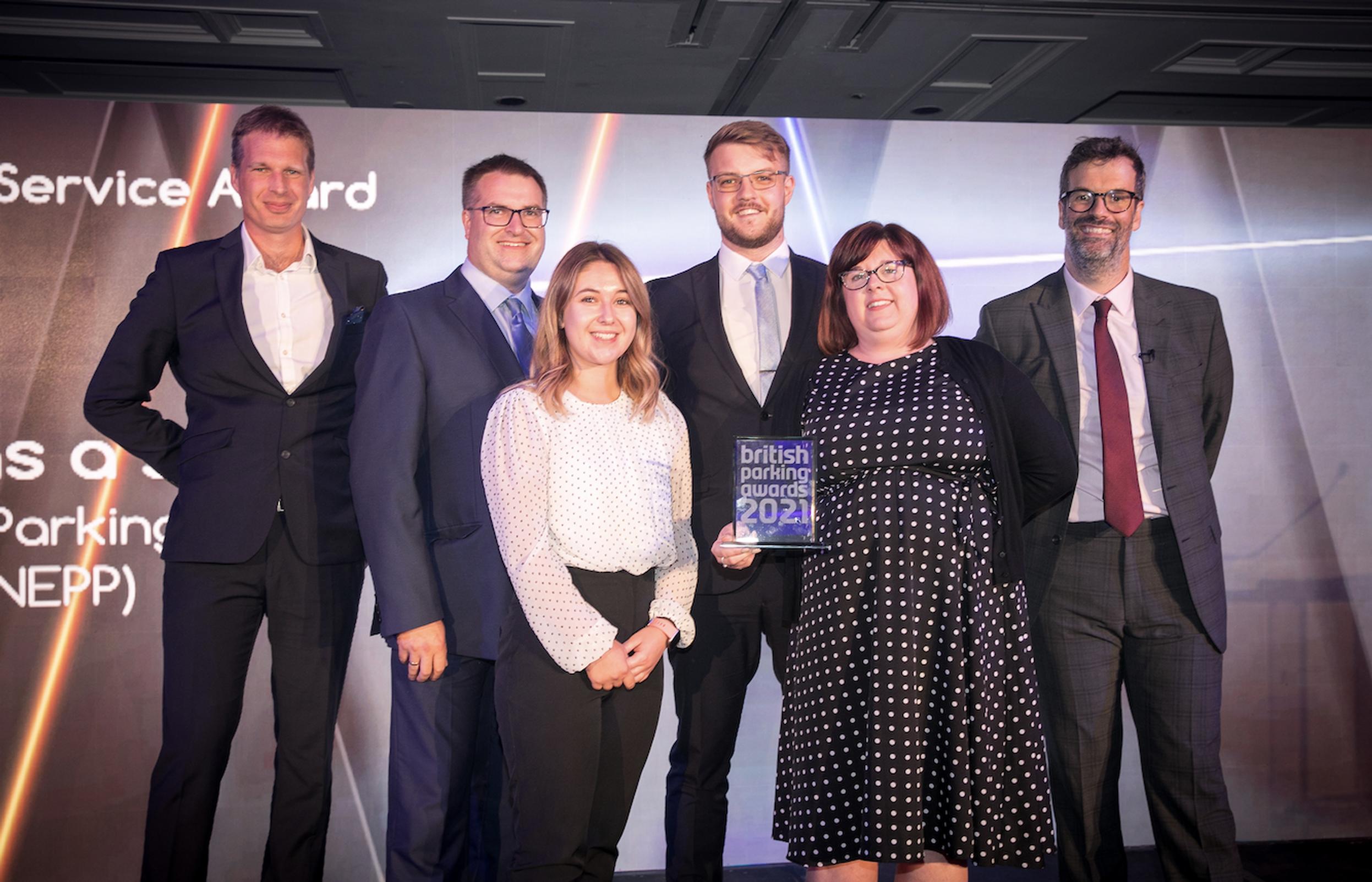 The Parking as a Service Award recognises work that delivers a positive experience for motorists by creating easy-to-understand, non-confrontational and person-centric services. This is very much the mission of the North Essex Parking Partnership (NEPP).
Formed in 2011, this local government alliance has seven partners: Braintree District Council, Colchester Borough Council, Epping Forest District Council, Harlow District Council, Tendring District Council, Uttlesford District Council and Essex County Council. NEPP has been recognised for its work to support the Positive Parking Agenda, which focusses on changing perceptions and misconceptions towards parking, as well as the Don't be a Selfish Parker campaign. The 3PR and Park Safe Schools projects were also singled out for helping to tackle dangerous and illegal parking around schools.
NEPP's service strategy has sought to make parking smarter for people across the partnership area, aligned to the Positive Parking Agenda, an initiative championed by the British Parking Association (BPA). "The aim has been to embrace 'digital by default' and support the Positive Parking Agenda initiative," says NEPP group manager Walker.
"We have moved beyond parking and provided services all in the one app, which happens to be MiPermit. The app is supplemented by online and telephone-based assistance. In addition, a series of five videos outlining the work of our organisation includes 'how-to' use the MiPermit app for cashless and permit services; the 'how-to' videos are available online. Despite the pandemic, the parking team has been busy throughout, and has continued developing projects in this programme. Since winning the Communication Award in 2020, we have continued to innovate and advance during 2020/21, with more new areas to highlight this year. Alongside the joint authority website (www.parkingpartnership.org/north), which we have gradually improved over time, NEPP has created a blog by imaginary patrol officer, 'Anna Tendant' as an effective way to raise the organisation's profile. The blog gives NEPP a 'voice' and increases our online presence in an accessible format."
The NEPP service strategy
As part of its service strategy, NEPP has joined up parking and other travel activity into one place on an app for the following services:
Car parks: Casual coinless parking at short-stay and long-stay in car parks in the town centre
Special offers: A range of special parking offers available through the MiPermit app in town centre car parks
Parking for key workers and NHS staff: at the start of the pandemic NEPP provided a permit system for key workers through an app-based service
Season tickets: Parking for longer stays as well as annual and period parking, through the app
Residential areas: Paperless permits for residential annual visitor permits, visitor permits and dispensations
Park & ride buses: Off-bus ticketing and parking, with offers for concessionary pass holders, workers and other groups
On-street parking: Pay at the kerbside at any of the NEPP locations
Leisure centres: New Northern Gateway Leisure Park (including cycle track, sports and rugby clubs) and Colchester Leisure World (swimming and leisure) – car parking on site is managed through the app, with free parking via terminals inside the building for patrons with discounts and offers to members signing up to other schemes
Park Active at long-stay car parks: A defined sign up for special community benefits when joining the Colchester Park Active service through the app, supporting Active Travel across the Roman town
Moving traffic: In advance of any Traffic Management Act (s73) activity, backing up the new Active Travel schemes and social distancing restrictions for access to Colchester town centre and high street via a special access permit system.
Discounts for parking with traders: A special scheme about to be launched where discounts can be claimed against the cost of parking at the point of sale – encouraging loyalty and footfall in shops
Travel plan for companies and staff: Companies with an approved travel plan can access discounts for park & ride, travel plan or Park Active parking through the app
Active Travel cycle parking: Proposed cycle hub access and payment for secure cycle parking through the app.
Supporting the strategy
Making sure the service strategy works on a day-to-day basis is the responsibility of NEPP's business unit, which provides administration support for the partnership, including operations, technical, data led services and the project team. It is made up of the business manager Christine (Lou) Belgrove, office managers Danielle Northcott and Emma Day, three business specialists and nine parking officers. The unit is the first point of contact for the public by telephone and email, dealing with an array of enquiries for all six districts and boroughs covered by NEPP.
The unit deals with issues relating to: penalty charge notices; digital permit account management; taking payments; providing information on new restrictions and permit schemes being implemented; managing dispensations and suspensions; undertaking CCTV enforcement using school cameras and a car; and managing enforcement agents.
The unit's managers and have their areas of expertise, including: managing various parish and town council off-street car park management agreements; MiPermit configuration for new permit schemes; the management of enforcement agent contracts; income reconciliation; monitoring CEO performances; and undertaking the client officer role for NEPP's lead authority – Colchester Borough Council. The business unit shares knowledge and information across all areas of the partnership, giving feedback from challenges and appeals in regard to the quality of PCNs being issued, lines and signage and CEO attitudes and behaviours.
"As we are first point of contact, our officers are constantly up selling the services we provide, including moving residents and visitors onto our digital system and advising schools and parents of our 3PR scheme," explains Emma Day. "An example of this upselling is that 51.72% of the car park stays made across NEPP are set up on our digital system. Along with over 9,000 residents purchasing residents and visitor permits digitally."
The COVID-19 pandemic brought new challenges for the way the unite worked. It used Microsoft Teams to share knowledge on a daily basis and to assist management in ensuing the welfare of the team. "We have remained open and contactable throughout the various national 'lockdowns' ensuring excellent customer service during a time of uncertainty," says Day. "Working remotely at home, all officers have adapted and embraced the changes and have seen the benefit in their work/homelife balance.
"We continued to provide an excellence service to our partners, residents and visitors despite the upheaval and change and this was reflected in the level of productivity and professionalism experienced when we carried out a customer care mystery shopping (review of telephone operations) exercise using Alpha Parking with all our officers scoring highly. During the pandemic we also implemented a 'chatbot' and self-serve PCN challenge system to ensure we are engaging with our customers and providing accurate assistance at the touch of a button."