Will fuel crisis change anything?
Early statistics indicate the recent disruption to fuel supplies did not stimulate significant modal shift, and some observers believe it was a missed opportunity to remind motorists of the alternatives available. Rhodri Clark reports
18 October 2021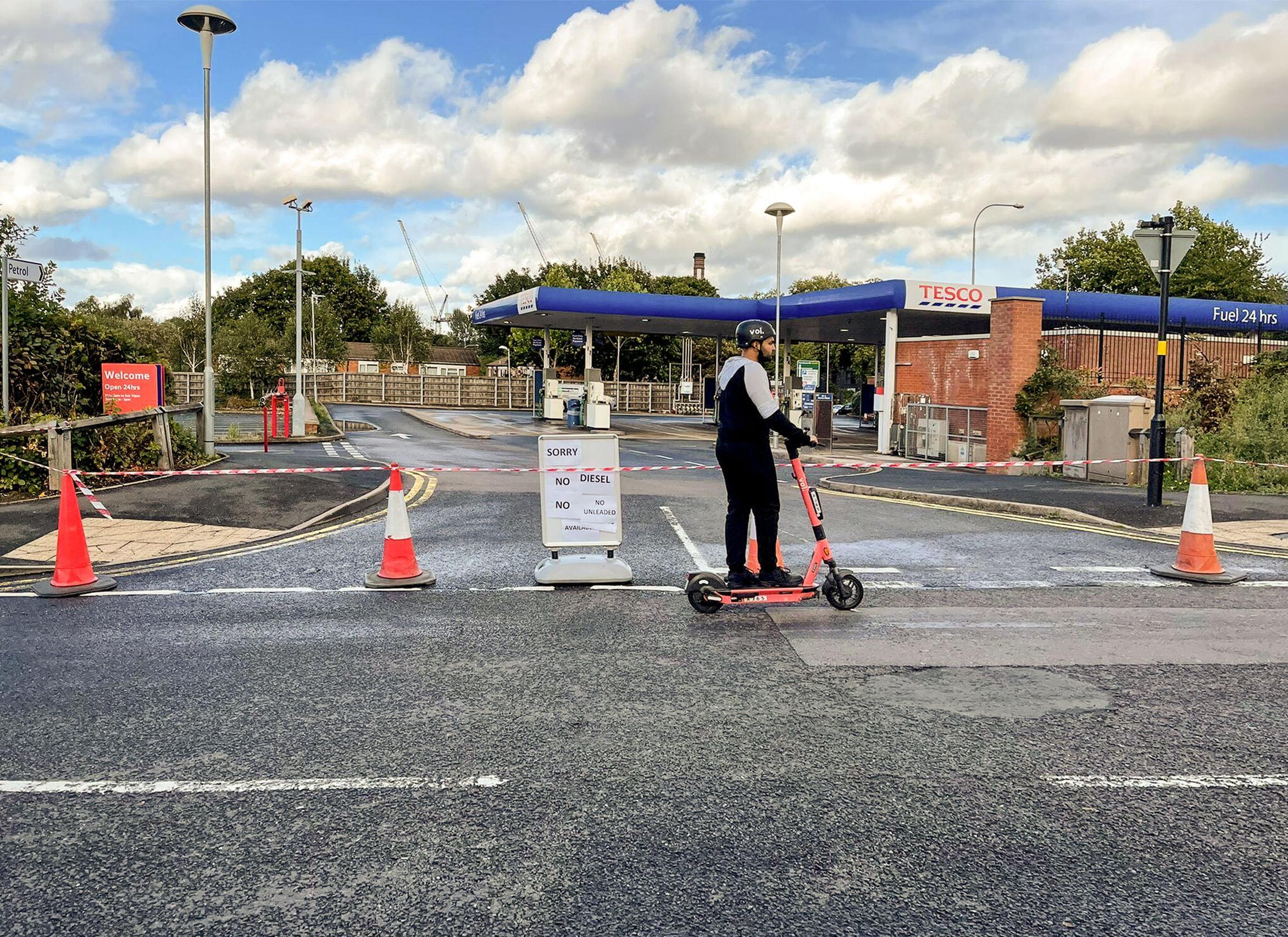 The fuel crisis that began in late September, as disrupted deliveries sparked panic buying, was a shock to the UK's transport system. Parallels could be drawn with the fuel-price protests in September 2000, the major disruption to the rail network after the Hatfield crash in October 2000 and, most recently, the Covid-19 lockdowns.
Such events might be expected to change people's transport choices, at least in the short term.
There is early evidence that the sight of closed filling stations – retailers estimated that up to 90% had run dry at the height of the crisis – encouraged some motorists to buy electric cars or enquire about doing so.
The National Franchised Dealers Association, representing franchised car and commercial vehicle dealers in the UK, says September's new car sales were disappointing but an increased appetite for EVs was partly driven by the fuel issues at the end of the month. Chief executive Sue Robinson comments: "A number of franchised vehicle dealers have reported a spike in telephone enquiries and showroom visits, from both sales and aftersales customers, with a proportion of these referring to EVs."
It was a similar story at Halfords shops, where orders for electric bikes increased by 106% and for ordinary bicycles by 23% during the first weekend of the fuel crisis.
E-scooter operator Voi saw demand at 8am on weekdays increase by 44% during the fuel crisis.
As might have been expected, from 25 September onwards mileage by cars was significantly lower than previously. DfT data for Great Britain show that car traffic was at 86% of the pre-pandemic volume on Tuesday 28 September, compared with 94% on the previous Tuesday, for example. In the week commencing 27 September, car traffic was at its lowest since May 2021, when many activities remained under Covid-19 restrictions.
Light Commercial Vehicle (LCV) traffic was below the norm in the first week of the fuel crisis but remained comfortably above pre-pandemic volumes, reaching a low point of 103% on 28 September.
Car and LCV traffic began to recover in the week beginning 4 October but remained below the volumes of before the fuel crisis. Disruption at filling stations in South-east England continued in that week.
Evidence for other modes suggests that the public's immediate reaction to the fuel supply problem was to cancel or defer journeys rather than shift from car to other modes. The DfT's cycling statistics for the week beginning 27 September show some large decreases from the previous weeks. Provisional figures for the following week do not point towards a cycling recovery.
Nextbike, which operates bicycle hire schemes in 11 areas of the UK, reports that it saw no significant increase in rentals during the worst days of the fuel crisis.
On the other hand, London's Santander Cycles enjoyed their best September ever, averaging 40,660 daily hires. Between 23 and 30 September, there were 28% more hires than in the corresponding week of 2020. However, TfL did not attribute the additional activity to the impact of the fuel crisis. It said the increase coincided with office workers returning after the summer holidays and highlighted a surge in hires from the Waterloo and King's Cross hubs.
The DfT's statistics show that National Rail passenger volumes reduced slightly in the week beginning 27 September, compared with the preceding week. The reduction, of up to three percentage points, could have been collateral damage from reduced car traffic, since many people use cars to reach their local station or be collected from their destination station.
Provisional statistics for the week beginning 4 October show a further decline, but there is a tendency for this statistical series to understate National Rail volumes initially and revise them upwards later.
There was no significant change in usage of London Underground and London buses. A Transport for London spokesman says that the days when small week-on-week increases occurred during the fuel shortage were in line with the established trend of people gradually returning to public transport. Arguably, the same could be said of the small increases in passenger volumes on buses outside London that week, at the beginning of universities' academic year. Students are major users of buses in many cities.
Increased flexibility
If this reading of early statistics is borne out, it is further proof of people's increased flexibility since the onset of the pandemic. If our usual mode of transport is disrupted, many of us can now work from home, order goods over the internet or meet friends or colleagues online, rather than finding an alternative mode to get us to office, shops or social venues.
Bus industry commentator Roger French says: "People can now slip in and out of the mode of working at home. They've got the software on their computers. If they're not using their car because of a shortage of fuel, they won't travel."
Before the pandemic, rail strikes were sometimes described as counter-productive because they were likely to encourage some passengers to defect to other modes. Temporary closure of up to 90% of filling stations would have had a similar effect in the past, forcing many people to find alternative ways to travel for the short term which, in some instances, might have been adopted for the longer term. The 2021 fuel crisis appears not to have prompted longer term modal shift because the immediate shift generally did not occur.
Voi believes the event has generated lasting custom, with 24% of the new users who joined during the period of the fuel crisis continuing to use its e-scooters after the shortages abated. The university factor should be borne in mind, however, since e-scooters are likely to appeal strongly to students.
Jack Samler, Voi UK's general manager, comments: "In the long-term, we need to find alternative ways to get around that are better for the environment, and e-scooters can play a part in reducing car usage in dense, inner-city areas." The fuel crisis "at least opened many more people's eyes to the role that e-scooters could play in the transport mix in future", he adds.
The crisis also reminded motorists of the precariousness of the petrochemicals industry's global supply chains, and could have given further impetus to the shift from fossil fuelled cars to EVs.
However, many commentators have cautioned that simply replacing one source of power with another while everyone continues to drive as previously would not address many of the negative consequences of car dependency. Their message is that much more needs to be done to promote modal shift from cars to walking, cycling and public transport.
Nextbike managing director Krysia Solheim says: "The fuel crisis has highlighted the UK's continued reliance on the car and fossil fuels. While we can all agree that it has its place, we really need to improve sustainable transport options in our towns and cities to give the public a reliable, viable and climate-friendly alternative.
"The Government missed a golden opportunity to encourage motorists to think about trying alternatives such as bike share, which not only brings physical and mental health benefits with it, but also clearly fits the UK's push to achieve net zero by helping to reduce transport emissions.
The Government missed a golden opportunity to encourage motorists to think about trying alternatives such as bike share Krysia Solheim, Nextbike
"Cycling enjoyed a huge resurgence during lockdown as people rediscovered the benefits and joys of a bicycle, thanks to less traffic being on our roads. It's a shame that many towns and cities have seemingly seen traffic levels reaching pre-pandemic levels, instead of being able to capitalise on sustainable active travel options."
Roger Geffen, policy director at Cycling UK, says: "They say you should never waste a good crisis, however it's not as easy as that. If ministers had simply told drivers that the answer to empty petrol pumps was to get on their bikes, they would have faced a barrage of criticism.
"Yet if they had done it sensitively, pointing out that in the longer term we need to reduce our dependence on fossil fuels for other reasons, they could have urged drivers to consider whether they could cycle for some journeys. Provided they weren't seen to be shirking responsibility for addressing the immediate petrol crisis, they could have urged more of us to give cycling a try, as a green and healthy solution to society's longer term challenges."
Chris Todd, director of Transport Action Network, says the fuel shortages were less severe in Scotland and Wales, where there are also signs that the devolved governments are serious about modal shift.
"England is wedded to road building and now it has missed the perfect opportunity to have encouraged people to think differently about how they travel and explain the [Covid-19] safety improvements on public transport. There was absolutely nothing."