Can cargo bikes deliver the goods for post-Covid cities?
Zedify's Rob King tells Deniz Huseyin why last-mile deliveries by zero emission vehicles make more sense than ever in urban areas where through traffic has been prohibited and parking spaces removed
21 September 2020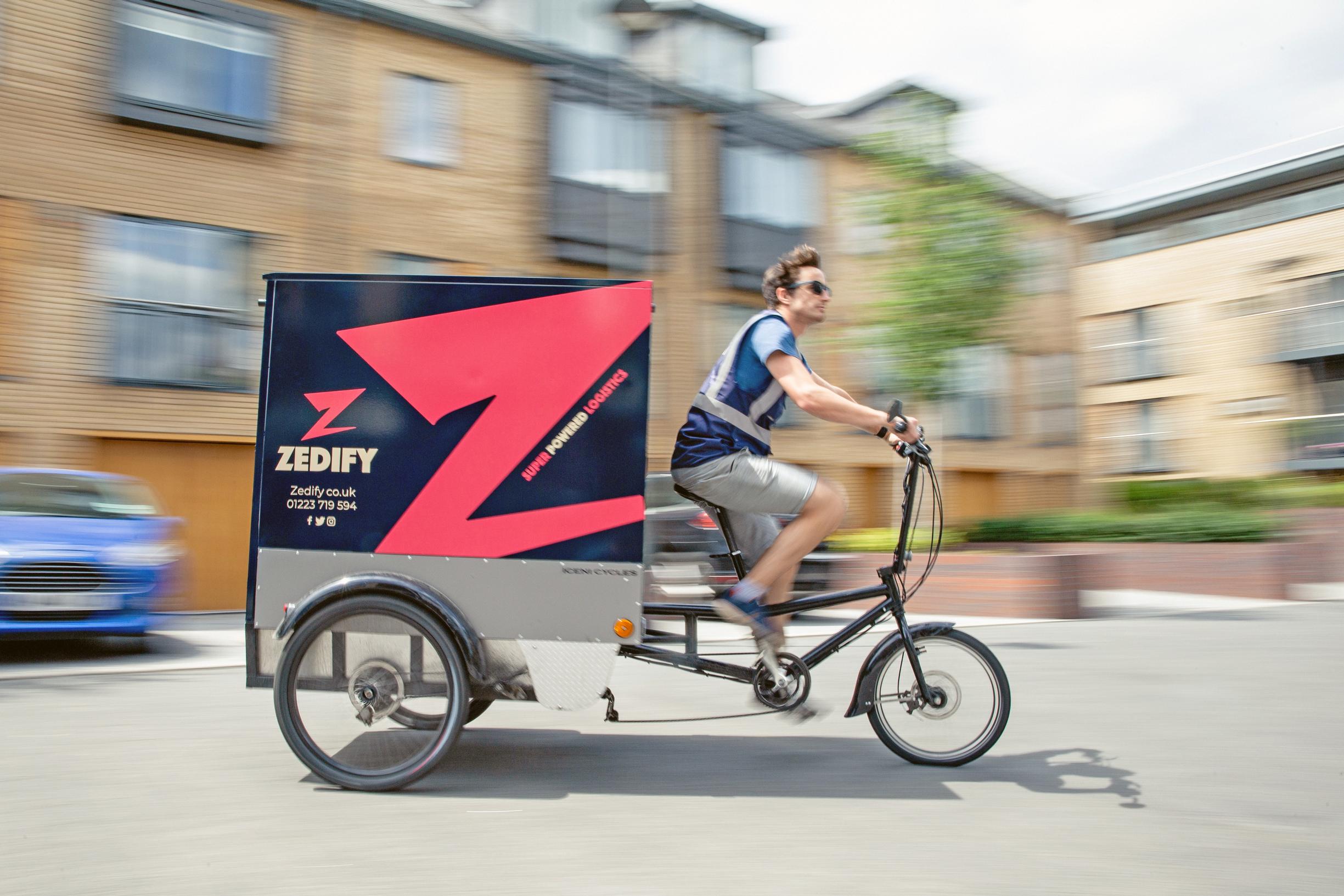 The reallocation of road space in the wake of Covid-19 appears to have increased demand for cargo bike deliveries. But though the pandemic may be acting as a catalyst for zero emissions operations, there are still challenges on the road ahead, believes Rob King, founder of e-cargo bike company Zedify. For example, the firm's use of central depots, where items are transferred from one mode of transport to another, inevitably adds to costs. "So ensuring there are clear business benefits to our customers is what we've concentrated on," he says.
Zedify is also finding it hard to persuade some larger organisations to try out its service. "There is a lot of resistance to change. We have proven that we can do the job as efficiently and without the emissions compared with traditional ways of delivering parcels. We've successfully partnered with large national companies from IKEA to TNT."
Demand for Zedify's services varied during lockdown depending on where depots were located. "Some of our depots are more focused on B2B [business to business] deliveries, so central London lost a lot of work, whereas others have a large proportion of B2C [business to consumer] deliveries, and two of the depots ended up doubling in size."
What is clear is that the pandemic has accelerated the shift to internet shopping, meaning there are now even more delivery vans on the road. "Doing the last mile on electric cargo bike/trike dramatically reduces the pollution in residential areas,"says King. "Air pollution appears to be one of the risk factors for Covid-19. So clearly the pandemic has strengthened the case for looking at ways to reduce the impact of increased deliveries by van."
Zedify uses depots on the edge of urban areas to allow the switch to last-mile vehicles and also to enable items to be consolidated. "Cargo bikes have the advantage of being able to traverse congested cities more easily. By having a depot close to your delivery areas, you can be much more flexible, and our cargo bikes often do two, three or four routes in a day."
In one case a single cargo trike was doing the same job as a sprinter van "which takes up around ten times the space even before any benefits on emissions", he says.
Zedify received a major boost in July when it raised £300,000 from private investors to help the business grow (LTT 10 Jul). The funding will be used to improve Zedify's technology platform and to recruit staff in sales, marketing and operations. "With this funding we'll be able to expand into more cities and grow our client base, ensuring more end users get the deliveries in the way they want. The investment has enabled us to strengthen our central team, specifically around further developing our tech platform and boosting our sales and marketing team."
The funding will also enable Zedify to upgrade its fleet. "One of the issues, particularly with the larger trikes, is that they can be incredibly unreliable and expensive to keep well serviced. We've bought some in the past, expecting a four-year depreciation, only to find they've fallen apart within six months. It is such a new industry that it needs support like this to drive volumes through it, which will ensure the manufacturers work on improving their reliability and performance."
Zedify was founded in 2018 by King and Sam Keam as a zero emissions logistics network for cities, bringing together existing cargo bike operations in Cambridge and Brighton.
King explains: "Since 2005 I'd been running a successful cycle logistics operation in Cambridge but in the last few years had really seen a changing urban landscape of greater access restrictions and a focus on clean air. I saw this as a huge opportunity to transform the ambition and so joined forces with Sam Keam who was running a similar operation in Brighton. We wanted to create a national network of independent cycle logistics operations to transform first and last mile deliveries in cities."
Growing operations
Zedify now operates in eight cities: Brighton, Cambridge, Edinburgh, Glasgow, London, Norwich, Southampton and Winchester. The company aims to be working in 50 urban areas in the UK within the next three to five years. "We would like to be both a catalyst and part of the solution, and that means most deliveries in urban areas are done in zero emission vehicles by 2025."
Zedify's operation in Waltham Forest, north-east London, has expanded during lockdown. "We run the depot as a joint venture with the council – they wanted a zero emissions last-mile service as it fitted in with their Mini-Holland plans for transforming their streets. For our other local authorities we operate completely independently but have managed to procure some typical contracts they put out, including moving books between libraries and residual mail between council buildings."
Meanwhile, Zedify allowed its tech platform to be used by the London Borough of Lambeth to help organise volunteers delivering essential goods to vulnerable people during lockdown.
Zedify has a fleet of 87 fully electric vehicles – including five vans, 46 trikes and 36 two-wheeled cargo bikes – and employs 91 couriers. With all the fleet's bikes now electric-assist, couriers are able to carry loads of up to 200kg, and work full days. All the bikes are charged using 100 per cent renewable energy.
"Our business model is to do flexible delivery rounds, with typically 40-60 parcels," says King. "We aren't a typical courier and generally don't do point-to-point single, on-demand deliveries. A key way that we reduce emissions and congestion in central areas is by consolidating parcels from different businesses.
"Unlike many in our sector we pay all our couriers the real living wage. Local authorities can feel confident we meet their procurement criteria."
The firm runs a training programme for its couriers, with input from Bikeability training provider Outspoken Training. "A prerequisite to starting is Bikeability Level 3, and then there is a road programme of training and assessment on everything from handling the cargo bikes, where they can and can't be ridden. and suitable places for parking."
As councils continue to implement traffic restrictions, King urges them to ensure that local deliveries "are procured in a way that reduces emissions and congestion". Councils should also remember that electric vans "on their own are not a panacea".
"One of the issues, particularly with the larger trikes, is that they can be incredibly unreliable and expensive to keep well serviced. We've bought some in the past, expecting a four-year depreciation, only to find they've fallen apart within six months.
An electric van's emissions are more than ten times that of a cargo bike, he claims. "If moving small and low volume items, use electric cargo bikes! We'd also like to see bold action from local authorities in putting in place intelligent clean air zones or equivalent. These could be less blunt than what I've seen with charging, based on size of vehicle, miles travelled, time of day, emissions levels etc, rather than a blanket price."
He also urges councils not be deterred by "small but vocal opposition" to roadspace reallocation schemes. "Businesses are very good at adapting to change, and solutions will quickly emerge once the environment has been created.