Major City of London corridor turned into a Streetspace
Streets
07 September 2020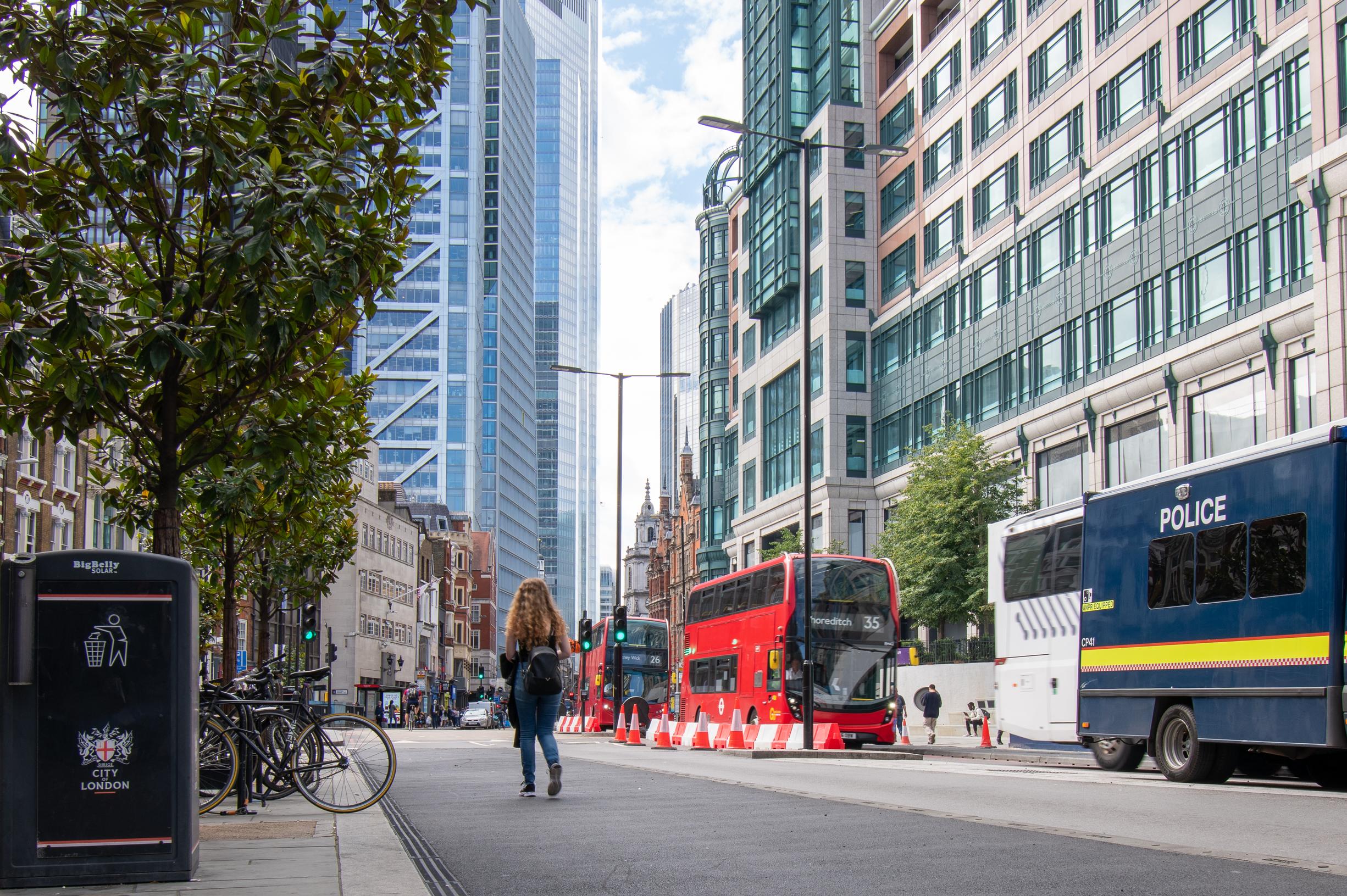 New traffic restrictions that give priority to people walking and cycling have been introduced between Shoreditch and London Bridge as part of Transport for London's response to the coronavirus pandemic.
TFL said the new measures are designed to cut the level of motor traffic, reducing the risk of a car-based recovery from coronavirus, while still ensuring it is an accessible area.
The temporary restrictions on Bishopsgate and Gracechurch Street in the City of London - which came into operation on 31 August - are a key part of the Mayor of London and TfL's Streetspace plans. The restrictions will be in operation on weekdays between 7am and 7pm to make it safer and easier for people to access central London by bike.
Wider footways have been constructed along the corridor to give people on foot more space and a number of banned turns, which will be in operation 24 hours a day, will also be introduced along the road.
TfL said it recognises that taxis will need to drop off and pick up passengers. Where direct kerbside access has been reduced, TfL aims to ensure that taxi access is provided as close by as possible.
Planning work on further low-traffic corridors in central London continues, including between Old Street and Holborn, with further details to be set out in the autumn.
Alastair Moss, Chair of the City of London Corporation Planning and Transportation Committee, said: "To accommodate for the growing number of people returning to work or visiting the City, we have been maximising the space available for safe and socially distanced travel including the temporary closure or timed closure of streets, the reallocation of carriageway and introduction of additional cycle parking bays."
Since May, Streetspace has led to more than 50km of new or upgraded cycle infrastructure being built or currently under construction, along with more than 16,500 square metres of extra pavement space on the TfL network. TfL has also installed 1,540 extra cycle parking spaces across London, focused around busy areas like high streets and transport hubs.
Work has also been completed on a 3.7km temporary upgrade to an older cycle route, CS7, in south-west London. Work in Balham and Tooting has added new sections of protected cycle lane to the existing route. It follows a section of the Northern line in southwest London and will help relieve pressure on public transport for people travelling between the area, central London and beyond.