Staycations have exposed the need for coherent strategies to manage leisure traffic
07 September 2020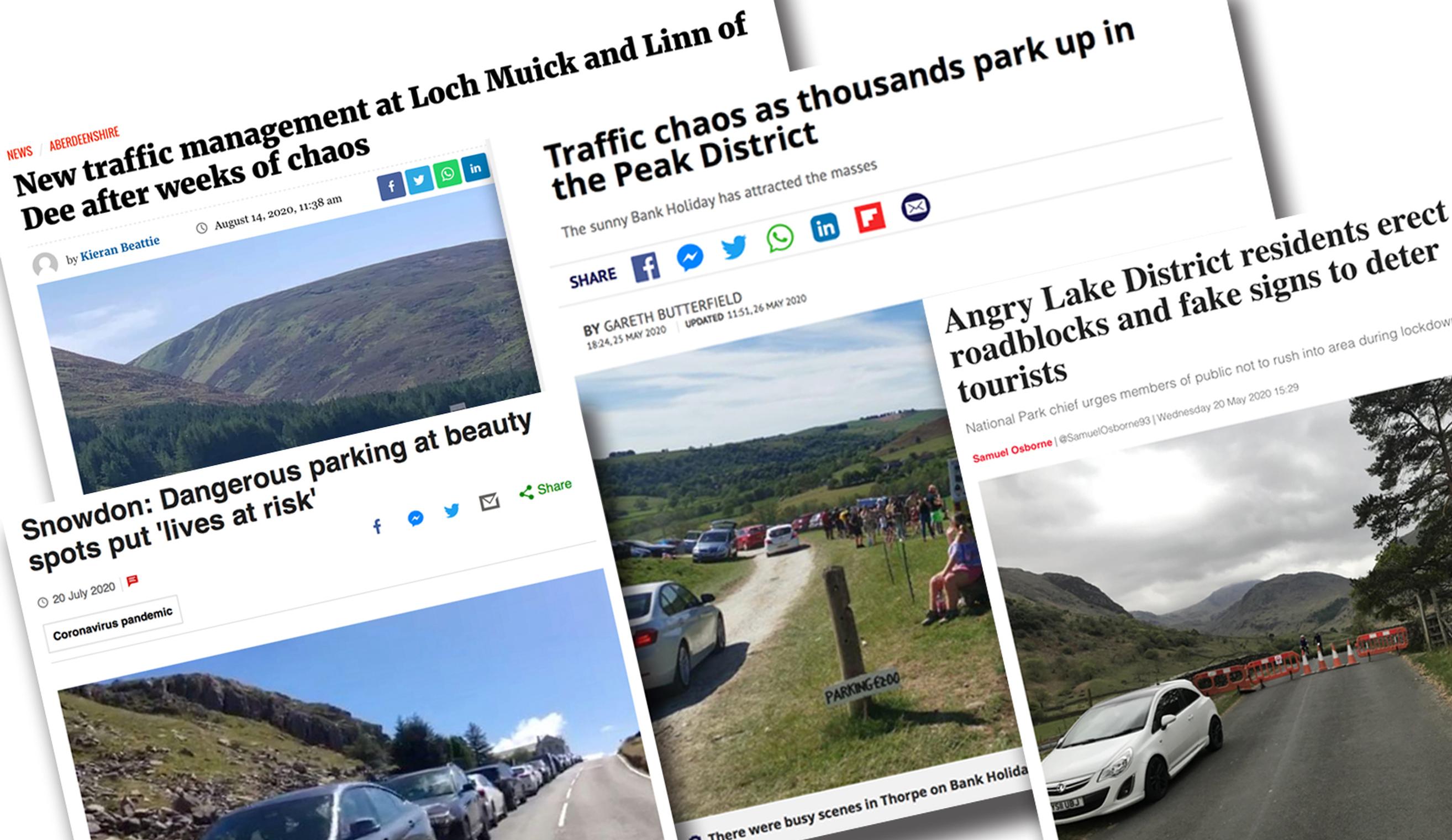 The press images of phalanxes of badly or illegally parked cars set against beautiful backdrops of beaches or hills may become one of the enduring images of post lockdown Britain. What led to this bedlam, what's being done, and what does it say about (spoiler alert!) the vacuum in policy and appropriate governance around leisure and visitor transport?
Since lockdown started to ease, we have watched – and probably been taking part in – a big action research experiment comprising a staycation boom, limited public transport and great weather. This cocktail of circumstances can be seen as an inadvertent demonstration project for domestic leisure travel demand management.
The well reported 'staycation boom' has been mainly due to restrictions and unwillingness of people to travel overseas. A typical survey reported that internet searches for terms related to travel abroad were down by 56% compared with 2019, and up 103% for travelling in the UK. Some destinations in the Lake District report an extra 40% of visitors compared with a normal year, and there are many reports of UK visitor accommodation having been booked solid during the 2020 summer school holidays.
However, capacity on public transport – to and in-destination – has been severely restricted, and many people have just not been willing to consider using public transport for leisure travel.
Post lockdown responses have demonstrated elements of an initial access model for busy visitor sites in rural areas, and which several are considering for the 2021 visitor season
As lockdown eased, volumes of visitor cars heading to beaches and National Parks were significantly greater than usual. In the early stages (late May to July), headlines were about angry residentsi and traffic chaosii,iii. There were just more cars at destinations than capacity for parking, leading to images of roads lined with parked cars.
Also, local authorities were just not geared up for managing the scale of the problem. The initial response led (in June and July) to enforcementiv,v, followed by two more constructive responses.
Firstly, several of the busier National Parks including the Lake District, Peak District, Snowdonia and Brecon Beacons offered ways for visitors to check in near real time where parking was availablevi. This relied on a combination of immediately available technology (social media) coupled with on-the-ground staff, often across a wide range of organisations. Snowdonia took this further by setting up a pre-booking service for their busiest car park at Pen-y-Passvii complemented by enhanced park & ride from Llanberis and more stringent enforcementviii.
Secondly, traffic was better managed to some locations. In the Cairngorms, roads are being closed to visitor traffic once car parks are full at Lock Muick and Linn of Deeix. In the Lake District, emergency TROs were used to restrict traffic on the east shore of Coniston Water, with other TROs being considered for other locations, and in Wasdale temporary VMS signs are being used at the valley entrance advising visitors when parking is at capacityx.
Unfortunately, these interventions are limited and visitor car congestion (traffic and parking) continues to be a widespread problemxi,xii
So, what does this suggest for the future? Visitors primarily want a good day out – they are often looking for a great shared experience in an attractive place. Most don't have a clear plan for their day so there is a lot of opportunity for suggestion and some pretty robust nudging.
Post lockdown responses have demonstrated elements of an initial access model for busy visitor sites in rural areas, and which several are considering for the 2021 visitor season. This involves visitor car access via pre-bookable parking for the safe capacity, then (visitor) traffic restrictions at gateway sites coupled with onwards access solutions.
Non-car access from the gateways would be by shuttle (assuming social distancing will be less of an issue by the 2021 season) plus bike and (e)bikes available via public bike share or rental models. Integrating these into an 'access ticket' would help provide a neat visitor proposition.
In the medium term, making such systems the norm – especially at peak times – would be akin to town centre pedestrianisations. This not only ensures public acceptance, but enhances experiences (for most people) and can increase volumes whilst reducing the damaging impacts of cars. It also provides an important first step in changing how the public see these sorts of places in providing solutions to the enduring problems of peak-season congestion. Some people would not like these solutions, but many would, it could (would?) attract the sorts of people who currently do not visit and would significantly reduce the blight (and increase the benefits) to local resident communities.
Perhaps the most important issue that these events has exposed is the policy and governance gap in which leisure travel operates. National Travel Survey data suggest that leisure travel (day trips, holidays, visiting friends and relatives and 'other leisure') account for 63% of all personal miles travelled by all modes. Policy relating to leisure travel tends to sit at the intersection of other policy areas while not having any coherence itself. The governance gap was highlighted by the DEFRA Glover review's proposal 19 (LTT 784) and is the subject of ongoing work.
There are three live opportunities to create the necessary coherence to frame and direct better leisure access and transport to rural visitor destinations, for which the more progressive interventions could be re-considered as inadvertent demonstration projects: the DfT's emerging decarbonisation plan (focussing on carbon wins from managing demand); the DfT's emerging rural Future of Mobility strategy (ensuring that leisure travel in rural areas is considered explicitly); and the development of different possible governance arrangements for transport in protected landscapes following the Glover review.
We could look at this a different way. If the more progressive approaches and powers of metro mayors were applied to the problems (and opportunities) of visitor access and transport to national parks and popular beach areas and other rural areas, what sort of access and transport systems would they design? We are getting closer, but a clear articulation of a progressive access and transport system for an area would then allow for robust appraisals of impacts (on landscape, emissions, prosperity, fairness etc), and create a whole set of new areas for the development and marketing of some fantastic visitor experiences.
Alistair Kirkbride specialises in transport and tourism with specific interests in rural areas and national parks. He is currently a Foundation for Integrated Transport Fellow working on transport governance for national parks. Email: alistair@gridsquare.co.uk