Covid bus fund: UTG demands a rethink
Bus operators and local authorities are awaiting an announcement from the DfT about a fresh round of Covid-19 emergency funding for bus services in England. The Urban Transport Group is pressing for changes to put local authorities in the driving seat. Andrew Forster reports
24 July 2020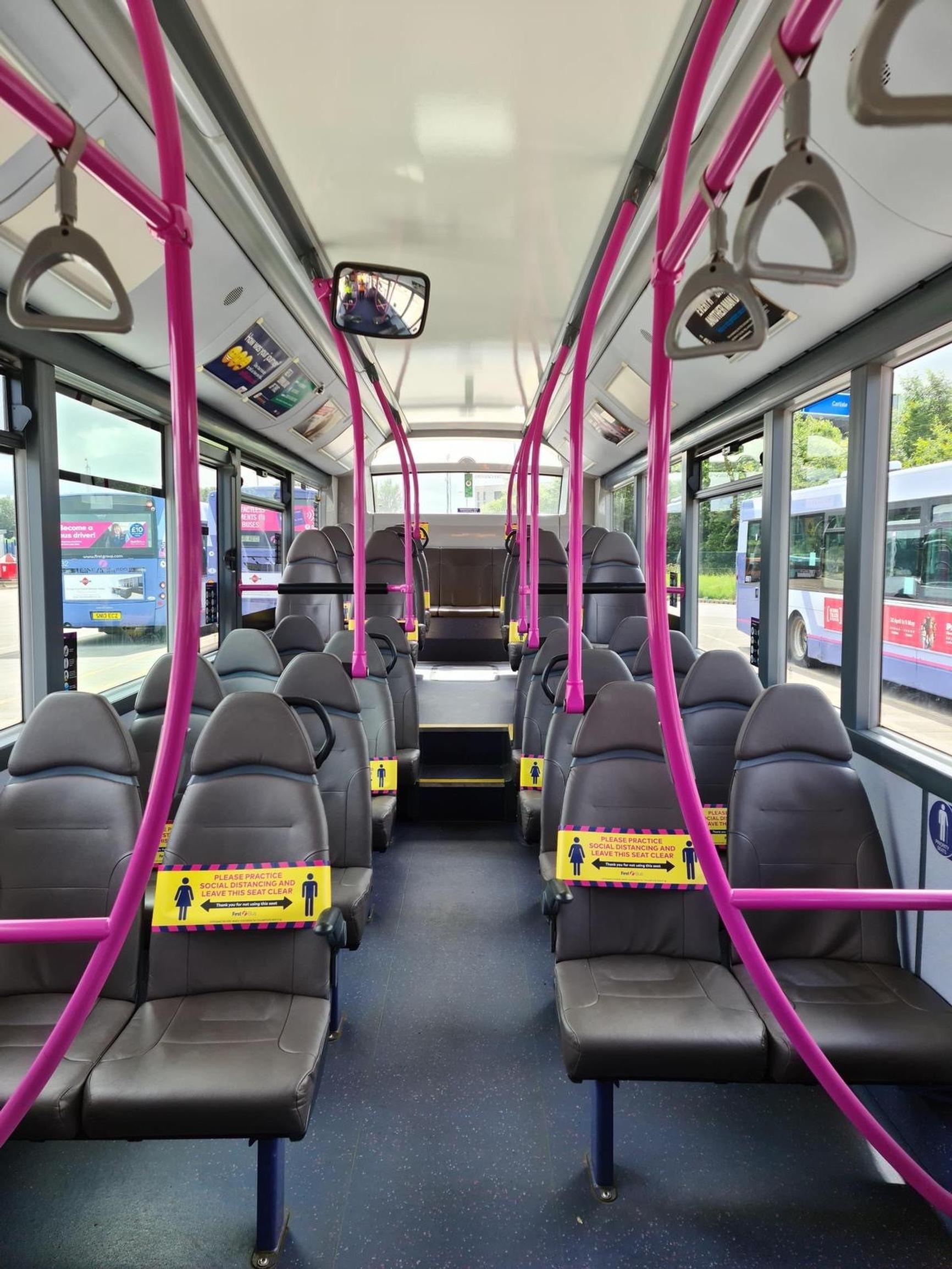 Details of a third round of Covid-19 emergency bus funding to help the industry in England (outside London) cope with continuing depressed patronage levels were eagerly awaited by local authorities and bus operators this week. The parties are keen to learn about not only the size of the funding pot but whether the Government will change the way the funding is allocated. The Urban Transport Group (UTG) has tabled a proposal that would see the funding paid to local transport authorities rather than operators.
The first 12-week round of Covid-19 Bus Service Support Grant (CBSSG) was worth £166.8m, with the lion's share paid direct to operators (£21.5m was paid to councils for subsidised services). The grant helped operators provide about 40 per cent of normal mileage at the height of lockdown restrictions from March through to May. The second round, worth £254m, and branded 'CBSSG Restart' has paid for operators to increase service levels, in recognition that patronage is still way below normal and vehicle capacity is constrained by social distancing requirements. Despite a request by the UTG for the Restart funding to be paid to local authorities, the DfT chose to retain the existing system of direct payments to operators.
The 12-week CBSSG Restart ends on 3 August but the DfT has submitted a proposal for a fresh round of grant to the Treasury in recognition that patronage remains depressed. Bus operators want the Government to continue paying the funding directly to operators, but the UTG has prepared a proposal for paying the grant to its member organisations in the conurbations and, potentially, local transport authorities elsewhere too.
Political leaders in the six metropolitan areas sent the UTG proposal to transport minister Baroness Vere earlier this month. The letter was signed by Leeds City Council leader Judith Blake; Greater Manchester mayor Andy Burnham; Liverpool city region mayor Steve Rotheram; West Midlands mayor Andy Street; Sheffield city region mayor Dan Jarvis; and Martin Gannon, chair of the North East joint transport committee.
In the letter, the leaders refer to a previous conversation with Vere in which she apparently suggested that the way the grant is currently administered is unsatisfactory. "We are pleased that you share our view that the current arrangements are overly complex and that you have considered, and will further consider, our proposals for the medium-term," they say. Perhaps a little optimistically, they add: "We take the 'medium term' to mean the end of the current CBSSG funding period (which elapses in early August)."
Vere apparently also told the leaders that any replacement to paying operators directly should be capable of being universally applied across England. But the leaders argue that this is unnecessary. "We do not think that a one-size-fits-all approach to bus funding is justified given that there are already separate arrangements for London and that wider governance arrangements for the metropolitan areas are already different from those elsewhere.
"Furthermore, such an approach, in effect means that the way in which bus funding is administered in large city regions (whose ambitions for their bus services are considerable, where transport authority investment in bus is high, and where there are relatively high numbers of bus trips per head of population) is determined by what works for small rural authorities (whose ambitions for bus services may be limited, investment levels commensurately modest, and where bus trips per head are vanishingly small)."
The leaders hint that if they don't get their way, then they may review their commitment to paying operators for subsidised services and concessionary fares reimbursement at pre-Covid-19 levels. The DfT has urged councils to continue making these payments as part of the overall package to prevent bus operators going bust.
"As a sign of our continuing commitment to supporting bus services, and as part of our collaborative approach to the wider Covid-19 crisis, we are prepared to continue to seek to underwrite a significant proportion of bus operator costs (as we do now) for the time being, on the understanding that the DfT is undertaking a credible assessment of our proposals in a way that makes their implementation in August feasible," say the leaders. "However, I am sure you can understand that, in the absence of such a process, it is not possible for us to continue indefinitely to pay for services that are not being provided and for concessionary trips that are not being made."
A flawed system
The accompanying UTG paper submitted to ministers begins by critiquing the existing grant system. CBSSG Restart, paid at £1 per km, is a "blunt one-size-fits-all grant", it says. "Every city's bus recovery will be different. And those recoveries will oscillate considerably week-by-week for many months to come. In that context, a one-size-fits-all CBSSG rebate would lead to significant under-payment or over-payment in different cities, at different times. A single payment level will be 'just right' practically nowhere."
The DfT has set up a reporting and reconcilation system to ensure operators are not over or underpaid. The system involves extensive paperwork and operators recently submitted their first reconciliation claims.
But the UTG says: "Each operator in each local authority area may need a separate and regular reconciliation process to be conducted. This seems like an impractical and insurmountable task that cannot be performed to a reasonable standard, which could lead to accusations of misusing public money."
The CBSSG regime is also reliant on local authorities continuing to pay English National Concessionary Travel Scheme (ENCTS) reimbursement at pre-Covid-19 levels, despite concessionary trips being far below normal. Says the UTG: "There is an insubstantial legal basis for local authorities continuing these payments, and some will come under pressure to deploy this funding to other post-lockdown priorities. Local authorities also require a reconciliation process to be conducted to ensure this public money is being used appropriately to maintain bus operations and no more. The complex interplay between the CBSSG reconciliation and ENCTS reconciliation has not yet been resolved by the DfT – continuing with CBSSG would compound this complex arrangement."
A better way
The UTG proposes that the Government grant for buses be based on the cost of operating the pre-Covid-19 network across England outside London, minus, say, initially 20 per cent to account for current fare revenues. The funding would be disaggregated between metropolitan and non-metropolitan areas and would then be allocated to each local authority according to the number of boarding passengers in their area. The UTG says all the above data can be obtained from the DfT's bus statistics datasets.
Local transport authorities (LTAs) would then work with operators to specify the network, and operators would be handed work through contracts. To make the system work, the Government would have to relax the current limitations on de minimis contract awards (currently limited to 25 per cent of net local transport authority spend).
Authorities would be able to suspend competition between operators on the busiest corridors. "LTAs should [also] consider whether the diversion of some bus services to integrate with local rail, metro and light rail services might give better value for public money and provide better outcomes for passengers," says the UTG. "This will be an issue for particular consideration where bus services directly compete with fixed rail systems."
LTAs would agree fares with operators. "In many cases the commercial fares previously charged on a route will be adopted. In some cases it may provide better and more integrated outcomes for passengers if amended bus fares are considered, including the option of much simpler fares or good value day fares that apply to all public transport journeys irrespective of operator and mode."
Discussing whether these arrangements should apply just to the conurbations or to all of England outside London, the UTG says: "Even if a uniform approach was not taken in the application of the policy to all local transport authorities it would still be entirely justified to apply the policy to the largest urban areas.
"If the objection [to the proposal] is the administration of setting up and running two different systems then this is a weak objection as the current system is excessively costly and cumbersome and will require significant administration to ensure value for money is to be achieved through audits and clawbacks.
"Our proposed reform will simplify the administration of bus funding for the DfT even if it was not applied everywhere as it would be applied to the most complex bus markets, which will be the most difficult to administer under the DfT's current system."
The UTG says its proposals remove the complicated reconcilation arrangements of the existing system. "There will be a single reconciliation for the 'Bus Service Recovery Grant' that automatically takes account of the funding local authorities have in their concessionary travel budgets." Reconciliation will be "done at a local authority level covering all operators".
Looking ahead
The UTG sees its proposals as the first step of a broader reform to bus powers after the Covid-19 pandemic has eased. This wider reform should include:
more binding arrangements for cooperation and coordination between the local transport authority and incumbent bus operators
powers to franchise networks of services; and
powers to provide services direct (such as via municipal or not-for-profit companies)
"Local transport authorities will need to consider during the recovery stage what format for bus service provision would best meet their long-term objectives once the recovery stage is over – be that direct or not- for-profit operation, franchising or some form of continuing collaboration with operators within a deregulated market," it says.
"The recovery phase should also be when there is a long-term review of what level of revenue support will be needed in order to sustain and expand bus networks and patronage, using greener vehicles and with the simpler and more affordable fares that will attract more passengers in the longer term."
The UTG defines the 'new normal' as when all social distancing guidelines have been withdrawn and bus ridership has not varied by more than five per cent for three consecutive months, taking account of normal seasonal variations.
"After these conditions have been met, bus operations in many places will return to the previous commercial operations model. But this will be in the context of a suppressed level of bus demand, and a bus industry that is financially weakened."
The commercially rational response of operators will be to reduce the number of buses operated, shrink the bus network and maybe increase fares to protect their financial position, says the UTG.
"We could be faced with a situation that will be wholly counter-intuitive to passengers, where the social distancing restrictions are lifted, bus use is freed up and is far less constrained – and the network shrinks and fares go up as a result. This is not a palatable outcome and means some form of further funding will still be needed during the new normal."