Aberdeen bus operators vexed by closure of city's main street
Traffic Management
26 June 2020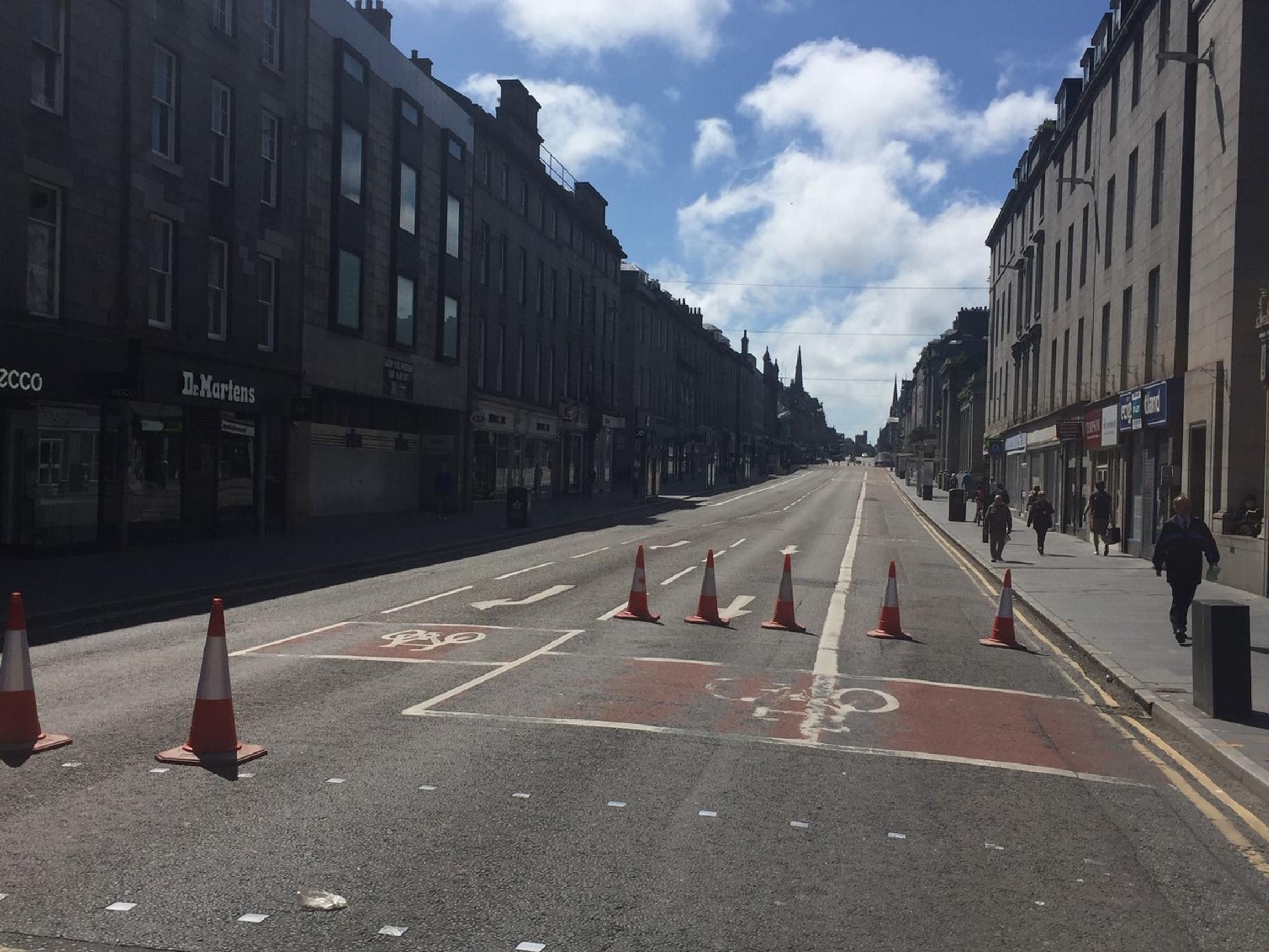 Bus operators have protested to Scottish transport minister Michael Matheson over Aberdeen City Council's decision to temporarily close part of Union Street, the city's main shopping street, to all vehicles so that pedestrians can social distance.
The council has introduced the traffic changes using funding from the Scottish Government's Spaces for People grant fund. The fund is managed by active travel charity Sustrans Scotland.
Since 30 May, Union Street has been closed between Market Street and Bridge Street from 06.00 to 18.00.
One operator told LTT the diversionary arrangements were "useless". "It beggars belief that someone who calls themselves a transport professional could think this is a good idea.
"Virtually every bus goes down Union Street. The street is enormous – it's four lanes wide. There's no reason why buses couldn't go down the middle lanes with widened pavements."
Operators FirstGroup and Stagecoach wrote a joint letter to the transport minister Michael Matheson earlier this month, saying their protestations to the city council had fallen on "fear ears" .
Sam Greer, Stagecoach's regional director for Scotland, and Andrew Jarvis, managing director of First Bus Scotland, said the council "changed the plans submitted to Government at the last possible minute" by including the Union Street closure.
"We believe the Scottish Government has been misled over the council's hastily revised plans," they wrote.
Describing the action as "half-baked", the operators added: "Aberdeen City Council has shown a complete lack of transparency and no regard for proper consultation. The city's hard-pressed and fragile retail sector will be further damaged due to worsened access by public transport to the city centre."
The operators have yet to hear back from Matheson.
Aberdeen City Council has defended the traffic arrangements. Councillor Sandra MacDonald, the council's roads and transport spokeswoman, said the measures had been designed and implemented "with the health and wellbeing of all our citizens in mind".
"Balancing the needs of pedestrians, bus users, cyclists, wheelers and those who still wish to drive into the city centre has been challenging.
"Traffic engineers looked carefully at the options to accommodate buses on Union Street. The central section is where pedestrian footfall is highest and space is most at a premium, [and] they did not believe that they could enable safe physical distancing and retain buses in that section.
"The city centre interventions are short-term measures and there is no ambition to make the Bridge Street to Market Street section of Union Street permanently bus-free."
MacDonald said that time pressures to implement social distancing measures had meant that the "usual wide-ranging, lengthy consultation process that would normally happen was limited".
"Given the timeline, we were not been able to consult with groups in advance of the works," she added.
A Transport Scotland spokesman told LTT: "It is for individual local authorities to engage with all relevant parties, including bus operators where appropriate, who are impacted by their plans and to make an assessment of the impact of their Spaces for People projects on bus routes and access to essential shops and services for those with limited mobility, and plan accordingly.
"Help is available for local authorities and Sustrans Scotland offers support to them on a range of areas such as design, engagement, equality impact assessment, monitoring and evaluation."
Transport Scotland pointed out that public bodies had to comply with all relevant statutory duties including, where applicable, the public sector equality duty and requirements to carry out equality impact assessments. It also pointed to the Mobility and Access Committee for Scotland's guidance note on temporary street measures to help ensure the mobility needs of disabled people are fully considered (LTT Letters 29 May).