Shops to open and more social gatherings allowed as Scottish lockdown rules relaxed
Coronavirus: Face coverings become mandatory on public transport
18 June 2020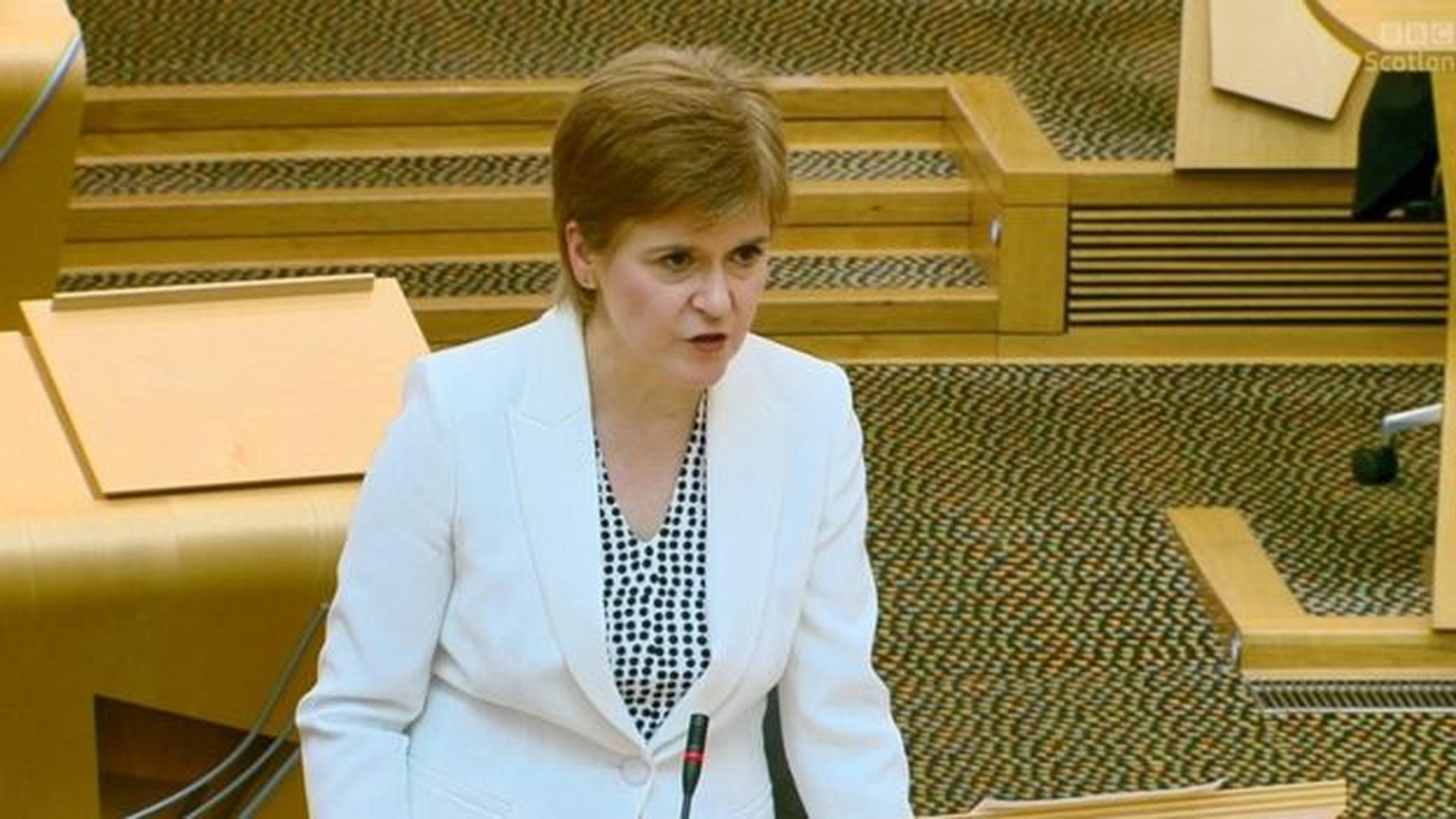 Most shops in Scotland will reopen from 29 June as the next stage of easing of the country's lockdown rules, First Minister Nicola Sturgeon has announced.
The First Minister said Scotland has now moved to the second phase of a four-phase routemap aimed at ending the lockdown while continuing to suppress the virus.
"In deciding when to implement each measure in our staged approach, we have to think about how a decision in one area affects life in other areas," said Sturgeon. "Our test and protect system is important to our gradual return to living more freely while suppressing the virus, and early indications suggest it's already working well."
All retail premises with outdoor entrances and exits can also re-open from 29 June. Ahead of that date local authorities and retailers are being urged to plan for the responsible use of public space, such as removing unnecessary street furniture, designing systems to manage queuing and pedestrian thoroughfares, and implementing adequate measures to support physical distancing.
However, indoor shopping centres will remain closed except for essential retailers such as supermarkets and pharmacists.
Sturgeon is urging the public to follow social distancing advice. "When shops do re-open," she said. "I ask everyone to exercise patience, stick to the measures that are in place for your safety, and at all times please respect retail staff who will be asking you to shop in a different way."
The wearing of face coverings will be made compulsory for everyone using public transport, as is now the case in England. Over the coming weeks, public transport will increase numbers of services. However, capacity will remain constrained due to physical distancing requirements – and active travel remains the preferred mode of travel.
The routemap
Phase 1 (in place): Virus not yet contained but cases are falling. From 28 May people should be able to meet another household outside in small numbers. Sunbathing is allowed, along with some outdoor activities like golf and fishing. Garden centres and drive-through takeaways can reopen, some outdoor work can resume, and childminding services can begin.
Phase 2 (being implemented): Virus controlled. People can meet larger groups outdoors, and meet another household indoors. Construction, factories, warehouses, laboratories and small shops can resume work. Playgrounds and sports courts can reopen, and professional sport can begin again.
Phase 3: Virus suppressed. People can meet people from more than one household indoors. Non-essential offices would reopen, along with gyms, museums, libraries, cinemas, larger shops, pubs, restaurants, hairdressers and dentists. Live events could take place with restricted numbers and physical distancing restrictions. Schools should reopen from 11 August.
Phase 4: Virus no longer a significant threat. University and college campuses can reopen in full, mass gatherings are allowed. All workplaces open and public transport is back at full capacity.
More social interaction allowed
From 19 June anyone living alone or only with children under-18 can form an 'extended household group' with one other household. This does not apply to households with people who are shielding. Extended household groups can meet indoors with overnight stays permitted and without physical distancing, but any other household meetings must remain strictly outdoors and at a two metre distance. Members of an extended household group should not form a similar arrangement with any other household.
Further changes to lockdown restrictions in Scotland mean those shielding are now able to go outdoors for exercise from today (18 June). From tomorrow (19 June) those shielding can take part in non-contact outdoor activities and can meet one other household, in groups of no more than eight outdoors. Physical distancing and strict hygiene measures must still be followed, even if you live with those people.
Sturgeon said: "Our extended household groups will allow a grandparent who lives on their own to form a group with another household in their family, a single parent and their children to join with another household for support, and it will allow a non-cohabiting couple, where at least one of them lives alone, to be reunited. It will, I hope, help to ease some of the isolation which is one of the cruellest consequences of tackling this virus."
More chances to work and play
From Monday 29 June some indoor workplaces can re-open, including factories, labs and warehouses, subject to strict physical distancing, hygiene and health and safety guidance, but non-essential offices and call centres should remain closed.
Outdoor markets, playgrounds and sports facilities will reopen on the same day, along with some visitor attractions such as zoos. But, visitors should still not travel more than five miles from their homes and tickets should be bought in advance. However, no decision has been made on when pubs, restaurants or beer gardens will be able to reopen. Neither can a date for the re-opening of outdoor hospitality be safely set at this stage, said the First Minister, but an update will be provided on 2 July.
"I appreciate today's announcement will be hard for the hospitality industry but I want to give an assurance that we will continue to support preparations for re-opening. Ultimately, this is a social bargain. The prize for going a bit more carefully now is a recovery that is much more sustainable and will, I hope, allow more normality to be restored to our everyday lives while suppressing the virus."
Scotland's unemployment rate is now the highest of any country in the UK at 4.6%, due to the importance of tourism.

The 2-metre rule stays in place
Scottish Government advice remains that people should wear a face covering in enclosed areas where physical distancing is difficult, such as shops, and from Monday 22 June, it will become mandatory to wear a face covering on all public transport.
Further advice from the Scientific Advisory Group has been commissioned based on emerging evidence suggesting communal spaces such as hospitality can present a higher risk of transmission.
Physical distancing guidance remains to stay 2-metres apart from people outside their household. Advice has also been commissioned on circumstances and settings, including schools and transport, where with additional mitigation it may be possible to balance the risk of a shorter distance.
The First Minister said: "I have asked our advisers to consider whether there are particular settings and circumstances in which, with additional mitigations, it might be possible in future to recommend a distance of 1 or 1.5 metres. I hope to also have this advice within two weeks and will report on it then."
The virus has been linked to the deaths of more than 4,000 people in Scotland.
Figures released this week showed Scotland's economy shrank by 18.9% in April, slightly lower than the 20.4% recorded for the UK as a whole.
Routemap: Phase 2 changes
From Friday 19 June:
Those advised to shield will be able to take part in non-contact activities such as golf, angling, kayaking, and meet members of another household outdoors, up to a suggested maximum of eight in the group strict physical distancing of 2-metres must be followed at all times, and they should wash their hands for at least 20 seconds when they return home)
A household not shielding can meet two other households, outside, up to a suggested maximum of eight people in the group
Those visiting another household in a private garden will be permitted to use the household toilet, with increased hygiene measures urged. This does not include a household of someone who is shielding
Single person households, including single parents households with children under the age of 18, will be able to form an extended household with another
People should continue to stay in their local area as much as possible and should not travel more than around five miles for leisure or recreation.
From Monday 22 June
Construction sector to implement remaining stages of their own phased return
Dental practices open to see patients with urgent care needs
Resumption of professional sport, following public health advice
Places of worship open for individual prayer and contemplation
Limited college and university staff return for essential preparations for re-opening in Phase 3
Mandatory face coverings on public transport
Accommodation can be provided for workers whose workplaces are open in the relevant phase and who need to stay away from home for work.
From Monday 29 June
Indoor non-office workplaces – including factories, warehouses and labs – can resume once relevant guidance is implemented (This does not include non-essential office, call-centre, culture, leisure and hospitality premises)
Restrictions of house moves relaxed
Public gardens and zoos can open but should remain limited to local access only in this phase
Outdoor sports courts reopen
Playgrounds can reopen
Registration offices can open for priority tasks
Marriages and civil partnerships allowed with minimal attendees outside
Street-access retail can re-open once guidance is implemented (Interiors of shopping malls/centres remain closed for non-essential shops until Phase 3)
Reintroduction of some chronic disease management
Phased resumption of some screening services
Phased safe resumption of essential optometry and ophthalmology services
Outdoor markets can reopen once guidance is implemented.
Scaling up throughout Phase 2
Public transport will increase services. Capacity will remain constrained due to physical distancing requirements – and active travel remains the preferred mode of travel
Increase in health care provisions for pent up demand, urgent referrals and triage of routine services
Planning with COSLA and partners to support and, if needed, review social care and care home services
Priority referrals to secondary care
Public services will continue to resume and scale up, including services such as visiting support to Housing First Tenants and the resumption of area-based energy efficiency schemes.