London's Streetspace plan takes shape
Coronavirus: TfL looks to make it easier to walk and cycle in capital
15 May 2020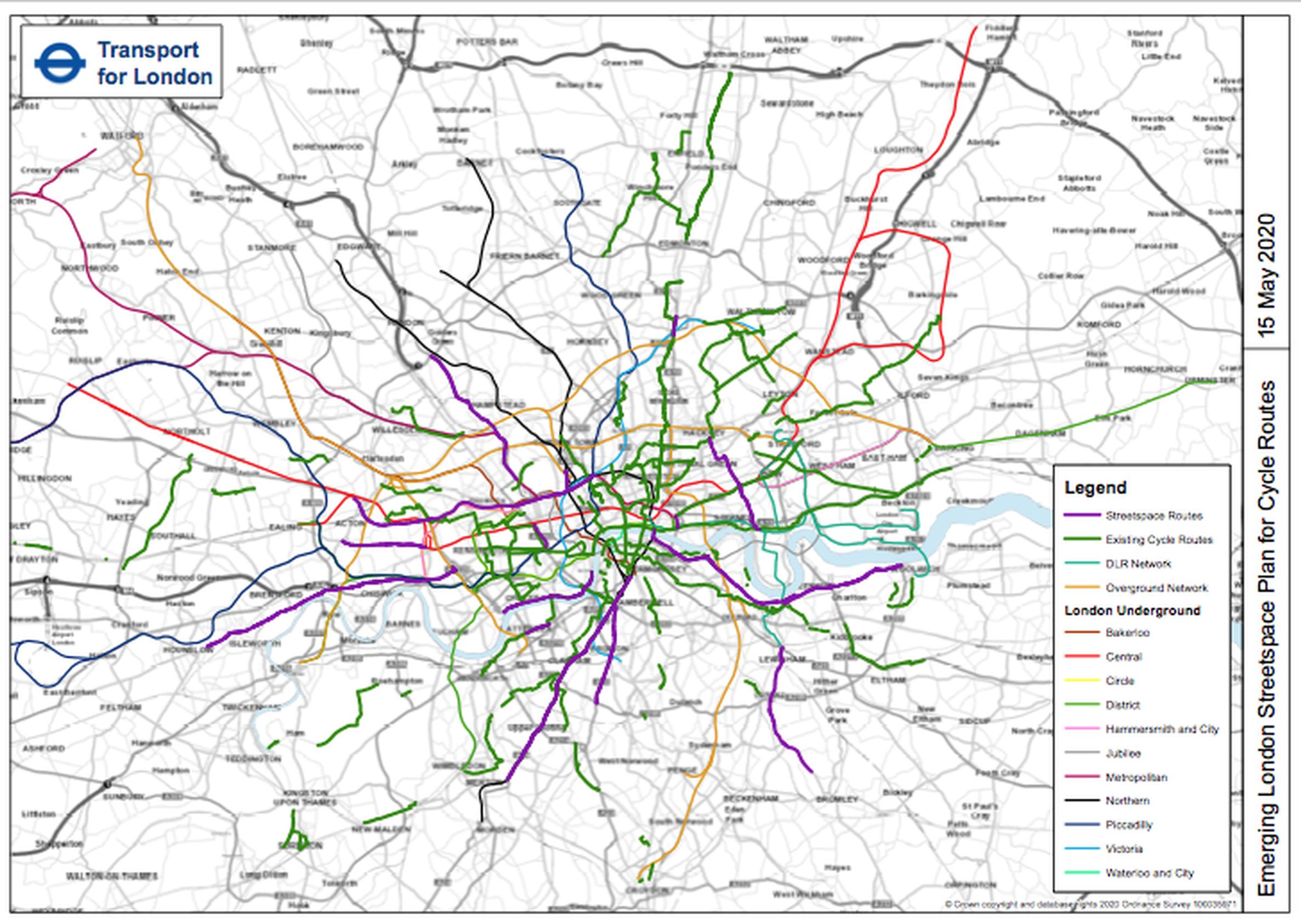 Large areas of central London will be closed to cars and vans to allow people to walk and cycle safely under an initiative called Streetspace.
The Streetspace for London project is designed to encourage walking and cycling as people return to work as lockdown is lifted because physical distancing is impossible on crowded transport. There are also concerns that a surge in car use would cause gridlock and an increase in air pollution.
Mayor of London Sadiq Khan has announced that main streets between between London Bridge and Shoreditch, Euston and Waterloo, and Old Street and Holborn will be limited to buses, pedestrians and cyclists
Transport for London (TfL) are now working with boroughs to implement similar restrictions on the minor roads they manage within the area. Cars and lorries may also be banned from Waterloo Bridge and London Bridge.
Khan said: "It will take a monumental effort from all Londoners to maintain safe social distancing on public transport as lockdown restrictions are gradually eased. That means we have to keep the number of people using public transport as low as possible. And we can't see journeys formerly taken on public transport replaced with car usage because our roads would immediately become unusably blocked and toxic air pollution would soar."
In parallel, road user charges suspended on 23 March will be reinstated under the terms of a £1.6bn bailout of TfL agreed between the Mayor and the government.
Streetspace takes shape
TfL is working with London's boroughs to identify places where temporary changes are needed to support social distancing or that would benefit from cycling and walking improvements.
To help people walk and cycle wherever possible, the project is concentrating on three key areas:
Quickly building a strategic cycling network, using temporary materials and including new routes, to help reduce crowding on the Tube and trains and on busy bus routes
Changing town centres so local journeys can be safely walked and cycled where possible, for example with wider pavements on high streets to give space for queues outside shops as people safely walk past while socially distancing
Reducing traffic on residential streets, creating low-traffic corridors right across London so more people can walk and cycle as part of their daily routine
TfL said that some of the temporary changes being made could become permanent.
The plans include giving central London some of the largest car-free zones in a capital city. Some streets will be switched to walking and cycling only while others may be limited to walking, cycling and buses. This is now planned for streets between:
London Bridge and Shoreditch
Euston and Waterloo
Old Street and Holborn
Emergency services and people with mobility issues will still have access, but deliveries on some streets may be restricted to outside of Congestion Charge hours.
Waterloo Bridge and London Bridge may be restricted to people walking, cycling and buses only, with pavements widened so people can safely travel between busy railway stations and their workplaces.
The City of London plans to make its busiest roads car-free as lockdown is eased. TfL is working with the City of London Corporation on options to improve routes between Old Street and Bank, and between Cannon Street and Holborn to Bank for walking and cycling.
Cycling network
The first temporary cycle lane is being created along Park Lane where the speed limit will also be reduced to 20mph to reduce road danger. Work at Balham High Road is creating temporary cycle lanes
Work on Cycleway 9 between Kensington Olympia and Brentford, and Cycleway 4 between Tower Hill and Greenwich will speed up with temporary measures. Another 30km of permanent cycle lanes will be added to the existing 160km-long Cycleway network during summer 2020
TfL is also adding an initial 1,000 extra cycle parking spaces across London, focused around busy areas like high streets and transport hubs.
Changing streets
On-street parking and lanes for cars and general traffic will be repurposed to give people on foot and on cycles more space to social distance while they travel past and queue for local shops.
Walking space has also been added on these streets, with more to come:
The A23, outside Brixton station (Lambeth)
Earl's Court Road (Kensington and Chelsea)
Stoke Newington High Street (Hackney)
Camden High Street (Camden)
Stoke Newington (Hackney)
Rye Lane (Peckham in Southwark)
Walworth Road (Southwark)
Chatsworth Road (Hackney)
Loughborough Junction (Lambeth)
King Street (Hammersmith & Fulham)
London Road (Croydon)
Some roads have been temporarily closed to motor vehicles:
Broadway Market (Hackney)
The Mall/Constitution Hill (Westminster) - weekend only
All Royal Parks (except Regents Park) - weekend only
Protecting access
TfL said it is working to make sure that people with any mobility issues are still able to use the pavements as normal. It is also looking at the needs of businesses that make and receive deliveries as well as taxis that drop off and pick up passengers.
Some loading bays may need to be shortened or moved but we'll try to make temporary arrangements to minimise any disruption to business activity. We'll review all changes regularly.
No taxi ranks have been moved or removed so far on roads we are responsible for.
Advice for borough officers
TfL is preparing guidance to help London's boroughs, local authorities and our other partners plan, design and create the most effective and sustainable walking and cycling infrastructure possible.