Plan to relocate Sheffield inner relief road behind rail station
Urban Transport
03 April 2020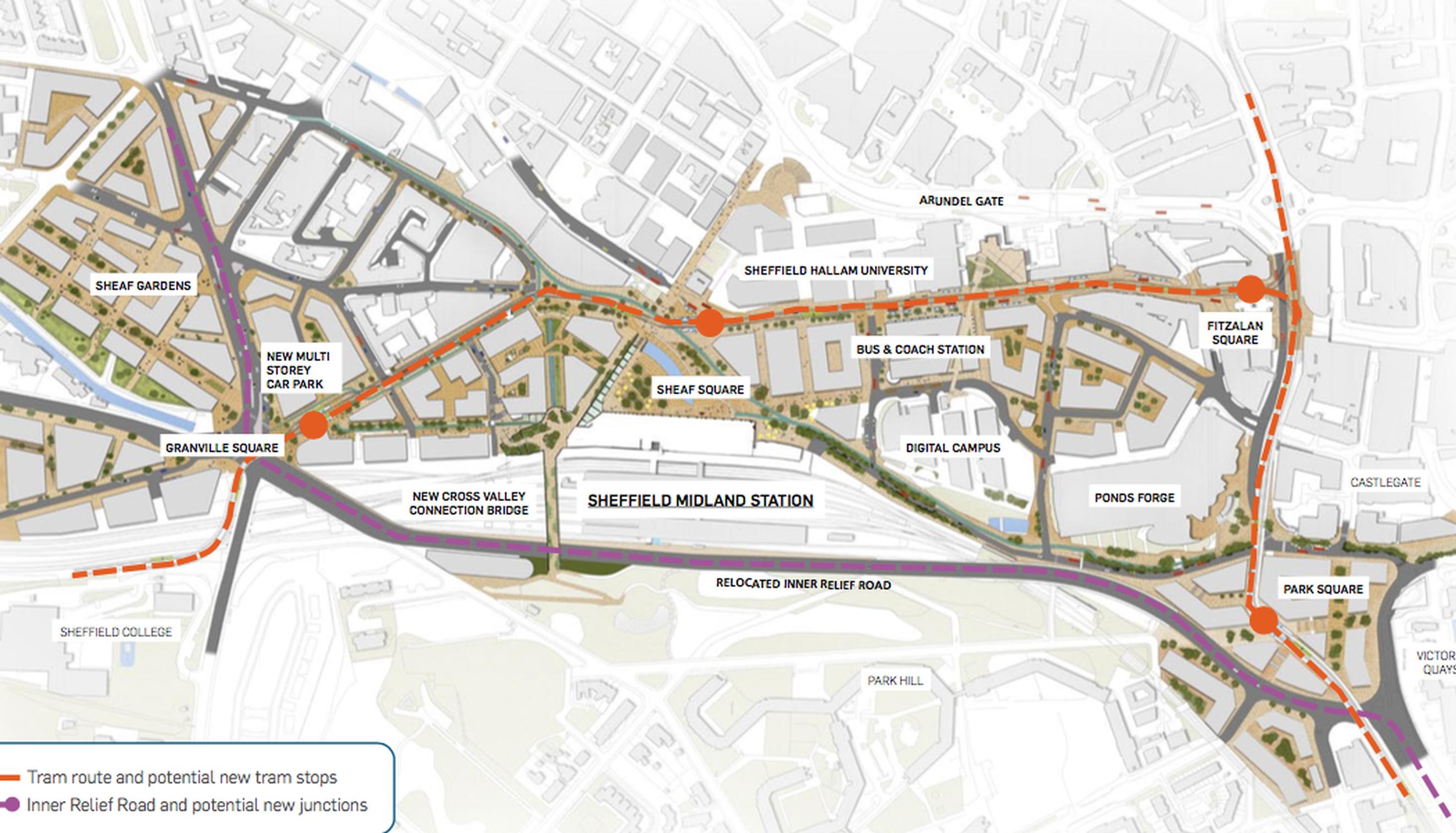 A huge engineering project to move Sheffield's inner relief road from in front of the city's railway station to round the back is the centrepiece of a new plan to regenerate the station and its vicinity.
The draft Sheffield Midland station and Sheaf Valley development framework has been prepared by consultant Atkins for a steering group including the city council. The proposals are envisaged for delivery over 15-20 years.
Atkins says the area around the station is in need of redevelopment and "has a large amount of unrealised development potential".
Currently the South Yorkshire Supertram route to Herdings Park and Halfway in the south of the city runs down the back (the east side) of Sheffield Midland railway station. The plan is to reroute the tram down Pond Street on the west side of the station via an alignment that will also pass through Fitzalan Square, Sheaf Square and Granville Square.
This would free up the old tram alignment for the A61 inner relief road (Sheaf Street), which separates the railway station from the city centre.
"Moving the tram to Pond Street opens up the once-in-a-lifetime opportunity for a new inner relief road route to the east of the station," says Atkins. "Moving the inner relief road allows Midland station to become a truly integrated part of the city. By removing the road barrier, and opening up new green space, the station will be better and more safely connected with the bus station and the city core."
The report acknowledges that the proposals are a "complex and challenging proposition" but says it is "technically feasible and is a game-changing opportunity for a vastly more efficient inner relief road and tram network and the transformation of this part of the city centre".
Sheaf Street, Suffolk Road and other adjacent roads would all be re-purposed with greenspace, dedicated walking and cycling routes and high-quality public realm.
The proposals would allow Park Square roundabout north of the station to be reconfigured, creating a large new area of development land from what is currently road space.
Other proposals in the framework include a new landscaped bridge from Sheaf Street across the station and the new inner relief road alignment.
The bus station on Pond Street would be reconfigured. Long stay car parking for the station would be moved to a multi-storey car park at Granville Square.
The steering group for the framework comprises the council; the Sheffield City Region Combined Authority; the DfT; the Ministry of Housing, Communities and Local Government; HS2 Ltd; Transport for the North; South Yorkshire PTE; Network Rail; and London and Continental Railways Ltd (LCR).
The following consultants have assisted Atkins: Quatro, Faithful Gould, Lambert Smith Hampton, and Cushman & Wakefield.