Visitors at the museum: glimpses of life during (and after) the car
21 February 2020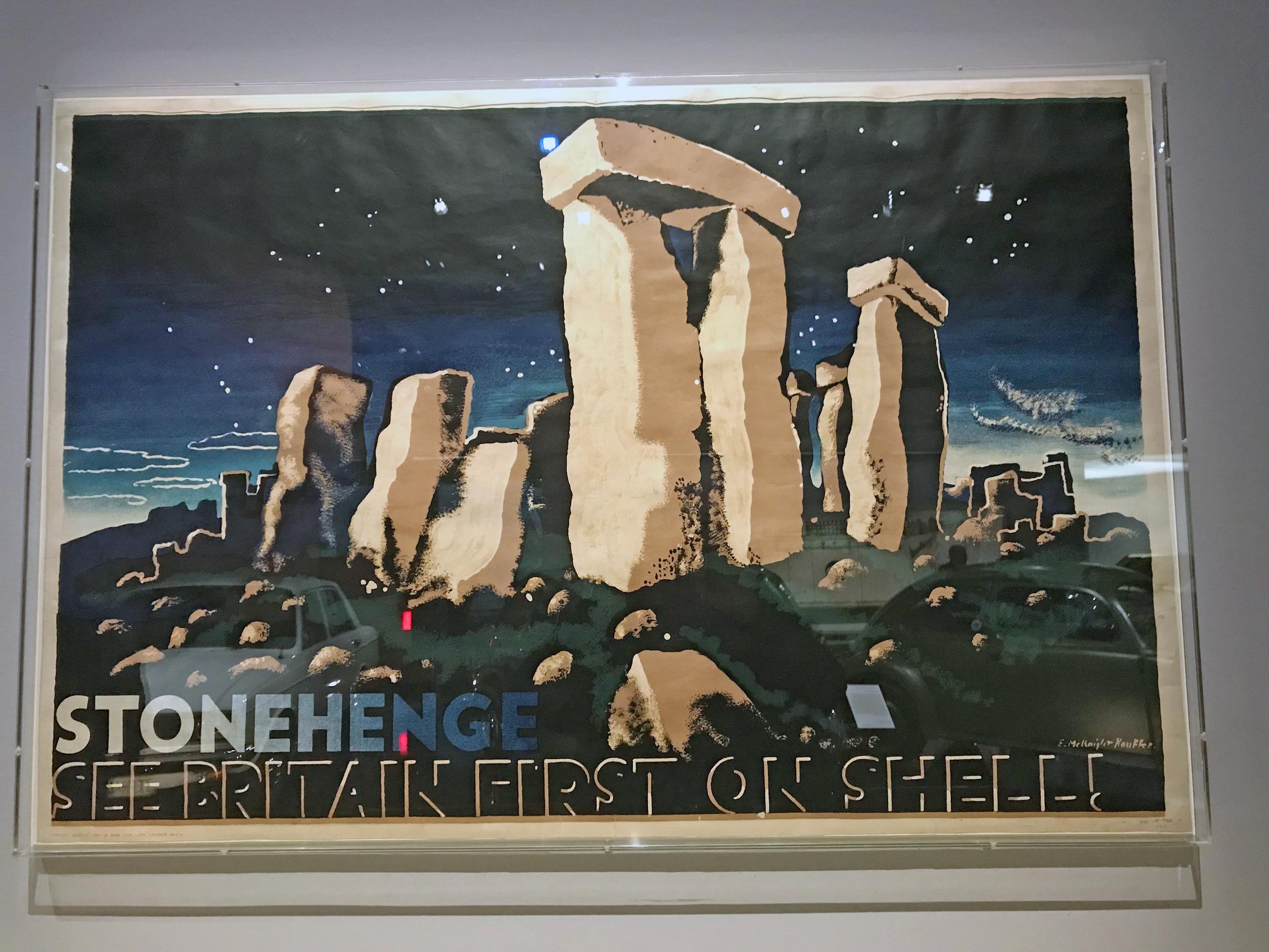 It's been a month of important transport decisions, or at least promises, and with those on Heathrow and Stonehenge still to come. In the middle of the furore I went with a group of friends to the current exhibition at London's Victoria and Albert Museum, called 'Cars: Accelerating the Modern World'. It prompted sober and somewhat unexpected thoughts.
I'll describe the group. We have had intersecting professional careers, with the common thread of a lifetime experience of working to reduce car dependence, and in favour of public transport, active travel, and sustainable planning, foot soldiers in many of the intellectual and practical controversies within living memory. It's a gentle and undemonstrative group, I would say, accepting of each other's age and idiosyncrasies but not dwelling on them.
So we rather surprised ourselves at wanting to go to an exhibition about cars. None of us are petrol-heads. We don't enjoy Top Gear. Some of us have cars and some don't, but all our carbon footprints are well below average, and on the way down.
Why then did we go? My own motivation was not really about cars as transport, but as design. The V&A is a museum that excels in the history of art and design, and I'm particularly keen on art movements from the late 19th Century to the mid-20th Century, corresponding exactly with the innovative days of car design. There were indeed some extraordinarily beautiful objects in the exhibition, ranging from a little glass radiator mascot by Lalique, to better-than-new original cars from the 1930s, lovingly restored and polished, which clearly could only belong in a museum: you'd never take them out on the road. And there were some aspects of educational value that I'd not seen before, especially in some of the fallout from the new production methods that were pioneered in car factories – a classic American trade union poster, for example, campaigning for a shorter working week to offset the redundancies that otherwise result from automation. That still resonates.
This is what 'life after the car' might be like. When we have got real transport sorted out, sensibly, sustainably, economically, there will still be its vestiges in cultural memories – just as golden coaches still wheel out for royal marriages and people re-enact past wars with de-weaponised muskets.
The strapline for the exhibition is: "Over its short 130-year history, the car has become one of the most loved, contested and influential innovations in the world. It has revolutionised manufacturing, transformed how we move, forever changing our cities, environment and economies."
In the displays, I think it's fair to say that "loved" is given far more emphasis than "contested". The changing our cities theme does not focus on ways that accessibility has often been hindered, not enhanced, or the many cities that are resisting or reversing the changes cars have brought about. And while the huge increase in use of fuel is recorded, you don't come away at all with a clarity that carbon targets will have to change car use fundamentally. It's not an exhibition that even starts to visualise 'life beyond the car'.
But oddly, that doesn't seem to me to be a huge weakness of the exhibition, as it is of those transport policy statements that still evade the need for such a change. Paradoxically, it is the elements where 'pro-car propaganda' might seem most apparent, that are the most thought-provoking in supporting the opposite.
Here are some examples. A little black and white film loop – undated, as far as I could see, but in the style of the 1950s; its tone was filled with awe at the wonders of scientific advance, with a breathless commentary about the marvellous, amazing, exciting newly discovered potential of the oceans – "inexhaustible" resources that can feed seven times the entire population of the world, and will "never run out". Chilling to hear. And for reasons nothing to do with transport, you can't look easily at a 1930s poster for the German 'Kraft durch Freude' (strength through joy) movement popularising exploring the countryside by mass sales of the new national car. Next to it, an old advertising poster for Shell, featuring Stonehenge, with the patriotic slogan "See Britain First": a shock to see that as we wait for the decision about a road project whose controversies are entirely about protecting Stonehenge from the intrusion and effects of car use, versus providing capacity for more, faster traffic, with the contentious claim that we can do both at the same time as seeking reductions in carbon. It puts sharply in focus that the "short 130-year history" still has episodes to be played out.
But these examples are just in the dim corners of the exhibition. The spotlight is on the vehicles as social objects. Right in its centre, in a space where all visitors pass, there are seats for a rest, and to view three films, running continuously. They "explore the richness that can be found in car subcultures today". They have a startling impact. The first 'subculture' is the Lowriders, in Latino communities in Los Angeles, who have since the 1950s adapted and customised long, low vehicles to impress and grab attention, cruising in neighbourhood streets. The second are the Spinners, starting in Soweto in the 1980s – apparently at the funerals of criminals – who meet in makeshift arenas to perform astonishing stunts of control, taking it in turns to lock their cars into a spin while performing acrobatics reminiscent of circus horse-riders, against a backdrop noise of hell. And the third are Dekorata, Japanese decorated trucks inspired by a 1975 TV series, all flash and bling, customised with murals, neon and ultraviolet lights, and sparkling chrome.
All three activities seem to have an unofficial and transgressive origin, showing off, involving flamboyant skills and attention to detail. As hobbies, of course, they are expensive, wasteful and energy-consuming. They are not stamp-collecting, or yoga, or chess. But they make the heart sing, for the pride, the skills, the rejection of mundanity. They have almost nothing to do with travel. They move, but going somewhere is simply not the point. They use the artefacts of motoring but turn them into something else entirely: performance art and lifestyle.
This is what 'life after the car' might be like. When we have got real transport sorted out, sensibly, sustainably, economically, there will still be its vestiges in cultural memories – just as golden coaches still wheel out for royal marriages, and people re-enact past wars with de-weaponised muskets and harmless halberds, voyage in tall-masted sailing ships, cherish old ball-gowns. These are expensive activities, and not to everybody's taste, but don't do much harm. Cars will surely survive, in their hundreds, for a very long time, and no reason why not. It's cars by the millions that do the damage.
Tristam Hunt, director of the V&A, wrote in the exhibition book, "As an object that so perfectly straddles the spheres of both art and technology, with its complex history, we are happy to welcome the car into the museum." He added, quietly, "And that might well be its future."
Phil Goodwin is emeritus professor of transport policy at both the Centre for Transport and Society, University of the West of England, Bristol, and University College London. Email: philinelh@yahoo.com