Yes cycling is important, but walking should be every council's top priority
Living Streets Edinburgh Group
05 July 2019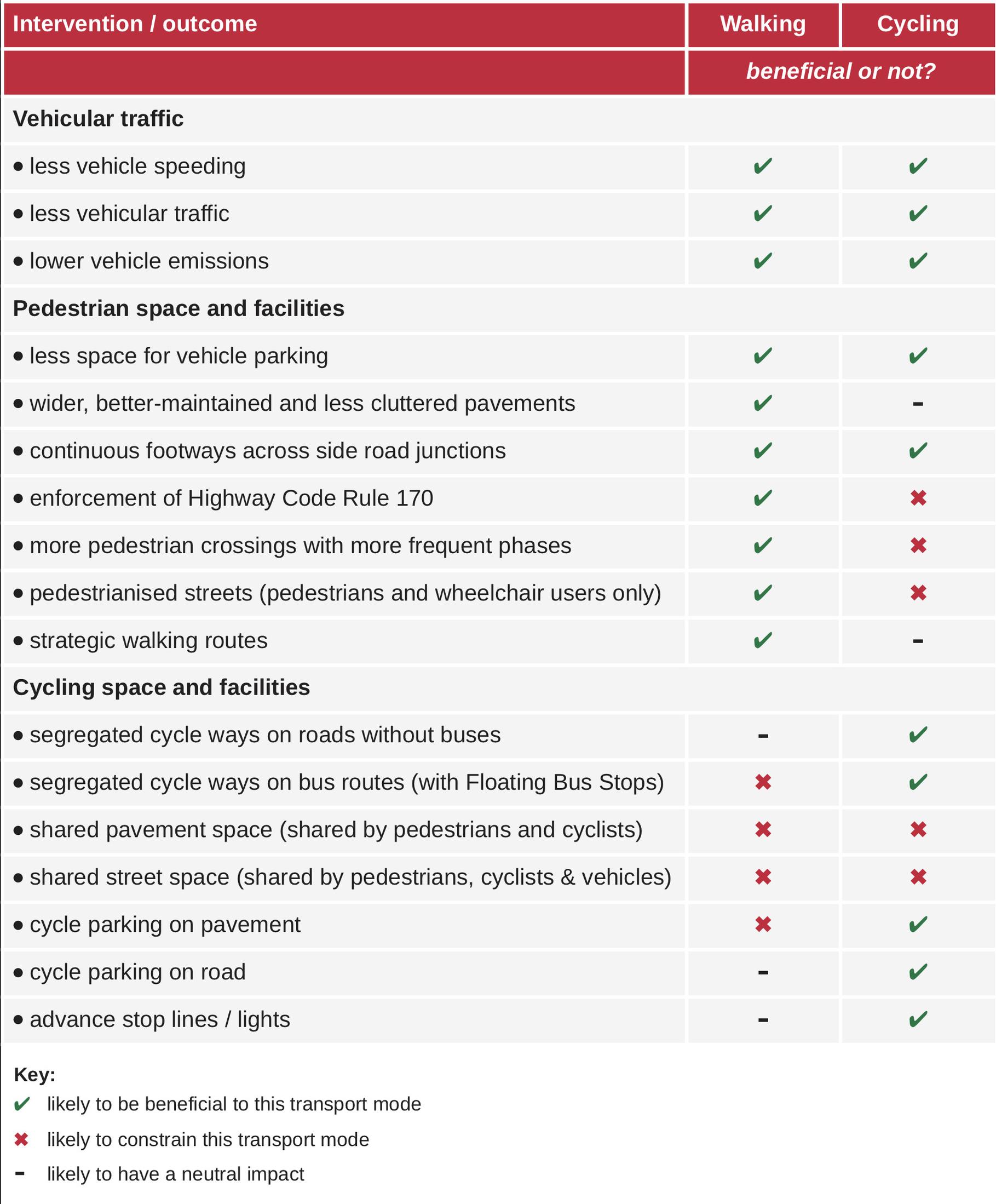 Phil Goodwin's authoritative article on the very different needs of walkers and cyclists – and the 'simmering hostility' generated by flippant treatment of their interaction – will surely have struck a chord with walking campaigners across the UK.
Here in Edinburgh, the local Living Streets campaign is abandoning the catch-all term 'active travel', as it has blurred the important differences between the two modes in terms of user characteristics and infrastructure requirements. While walking and cycling both benefit enormously from lower vehicle speeds, reductions in traffic levels and reduced vehicle emissions, there are many interventions where the benefits for one mode will not be matched for the other. Examples include more frequent pedestrian crossings and enforcement of Highway Code Rule 170 – "watch out for pedestrians crossing a road into which you are turning. If they have started to cross they have priority, so give way" – great for the person on foot, but not so good for the cyclist.
Conversely, segregated cycle ways on bus routes (with 'floating bus stops') and cycle parking on pavements provide enhanced facilities for the cyclist that are often to the detriment of the walker. Resolving these sometimes conflicting needs is not easy. As cycling has a very strong 'identity' factor – whereas people on foot tend to take their mode for granted – there is a tendency for consultants and local authority active travel officers to view the street (perhaps unconsciously) from a predominantly cycling perspective. Frequently this translates into poor progress on the delivery of crucial – but typically prosaic – walking enhancements on the ground, compared to the more eye-catching nature of, for example, new segregated cycle routes.
While cyclists do have a very extensive public road network to utilise, too often the conditions are not safe enough for the less assertive cyclist. Walkers have their own infrastructure in the form of pavements, but these are typically too narrow, badly maintained and increasingly filled with commercial and municipal clutter – all combining to make many walking trips uncomfortable and risky, in particular for those with reduced mobility. It is to the discredit of local authorities (and central government funding) that walking and cycling interests are forced to fight over the scraps, in terms of space and funding.
The City of Edinburgh Council has made a determined effort – which Living Streets Edinburgh Group (LSEG) has welcomed – to create new cycle routes on key corridors, but frequently only marginal walking improvements have been incorporated in such schemes. Even worse, rather than taking space for cycling from the vehicle carriageway, it has proved too easy for council officers to go for the soft option of narrowing pavements. On far too many occasions we have had to take the council to task for failing even to comply with the minimum walking standards in their own – excellent – Street Design Guidance.
Ironically, Edinburgh's council is actually one of the more progressive and enlightened local authorities in terms of walking policy – which makes the recurring failure to deliver in practice even more galling. The council's active travel action plan has failed to deliver any 'walking' schemes since 2017.
One encouraging aspect of the local transport scene has been the degree of co-operation between Living Streets and Spokes, the long-established Lothian cycle campaign. We jointly lobbied the city council to protest against its awful Picardy Place gyratory road scheme in the city centre, which puts vehicle demands way ahead of walking and cycling needs. Sadly, councillors gave the go-ahead for this 1960s-style 'predict and provide' project, casting doubt on their underlying commitment to shifting priority to sustainable transport.
In addition to opposing schemes that prioritise vehicles, and Spokes reached an agreed position on opposing shared pavements, which generate conflict between walkers and cyclists – but we have had to agree to disagree on the vexed question of floating bus stops (or bus stop bypasses - Ed). These inherently involve conflict between walkers and cyclists, with the most vulnerable street users likely to come off worst – yet the council has turned a blind eye to the potential 'powder keg' to which Phil Goodwin refers.
After much lobbying by Living Streets, the council did agree – in 2017 – to undertake a monitoring exercise at one of its early floating bus stops. Two years later, we are still waiting for publication of the conclusions on the implications for the safety and comfort of people on foot – and the council continues to promote ill-thought-out floated bus stop-based scheme designs across the city.
A cultural shift is needed to translate sound policies into good practice, and to enshrine in scheme delivery the Scottish Government's Scottish Planning Policy guidelines, which state that '[Development] Plans should identify active travel networks and promote opportunities for travel by more sustainable modes in the following order of priority: walking, cycling, public transport, cars.'
Interestingly, in Edinburgh we have found it easier to persuade other council departments, rather than the 'Active Travel' section, of the merits of walking as the mode of transport most accessible to all ages and all income groups. Our two biggest campaign successes came last year – when the planning department secured council backing for a complete city-wide ban on advertising boards – and just recently when councillors endorsed the 'Localities' section's version of our 'Festival Streets' concept, banning general traffic from key city centre streets during August.
Both walking and cycling have key roles to play in a civilised transport future, but it's time to recognise that top priority – in practice, not just in theory – should go to the mode of transport which is the most natural, the gentlest, the cheapest, the most democratic and the most sustainable of the lot.