West Midlands on the cusp of a rapid transit revolution
After years of false starts and setbacks, the West Midlands looks set to have its first BRT routes up and running ahead of the 2022 Commonwealth Games in Birmingham. Peter Plisner takes stock of the ambitious project ahead of next month's Quality Bus Transit conference in the city
26 October 2018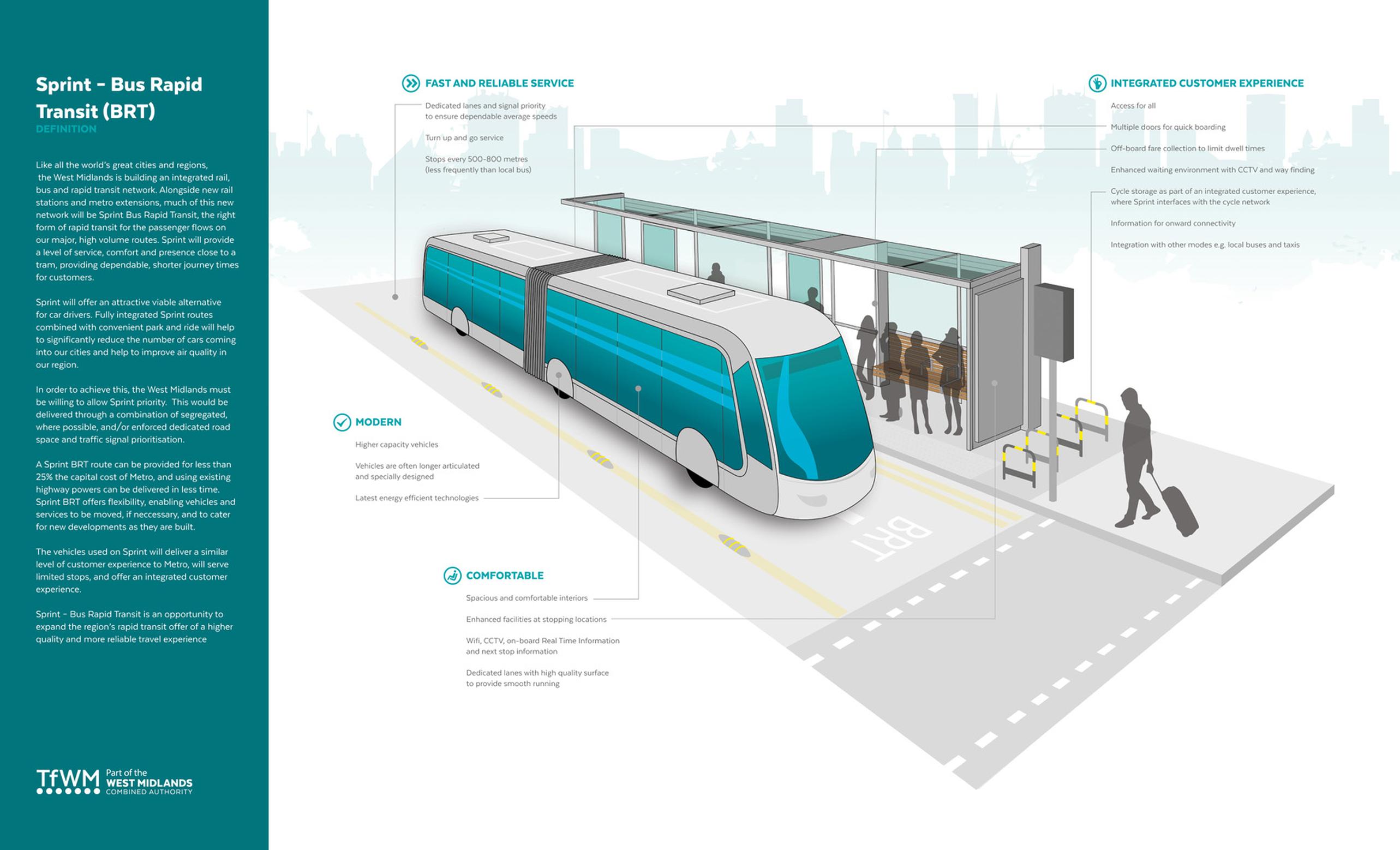 A transport revolution appears to be underway in the West Midlands, and Bus Rapid Transit (BRT) is major part of the picture. The long talked about 'Sprint' routes are finally happening. Changes to governance, with a new combined authority, a Metro mayor and a need for better transport connections ahead of the 2022 Commonwealth Games in Birmingham, seem to have focused minds. Plans for a whole network of Sprint routes are now on the table.
Sprint gets off to slow start
It's appropriate, then, that next month sees the annual Future of Quality Bus Transit event take place in Birmingham's Council Chambers on 21 November, looking at this and other projects harnessing new technology, enhanced system design and customer service concepts to reposition buses to reflect changing city mobility needs and win over more users to public transport.
It might be billed as a rapid transit system, and have a pacy name, but progress with Sprint has thus far seemed anything but! The idea was discussed more than a decade ago. The late Colin Eastman, at that time transport supremo in Coventry, was planning a north-south bus corridor in the city and 'Sprint' was the name he and others came up with. Although that busway never got off the ground, the Sprint name and brand stuck and were adopted by Centro, the then West Midlands Transport Executive.
---
Discuss topics covered in this article at The Future of Quality Bus Transit at Birmingham Council Chambers on 21 November.
---
In the ensuing years Sprint was included in several transport plans, even being the subject of a major consultation four years ago. Centro's then chief executive Geoff Inskip said at the time that Sprint was part of the vision for a "world class public transport system" in the West Midlands.
Around the same time, the then Labour leader of Birmingham City Council, Sir Albert Bore, was launching his own 'Birmingham Connected' White Paper. Again, Bus Rapid Transit formed a major part of it, billing Sprint as a "transformative public transport mode for Birmingham". According to the document, it was intended to strike the "optimum balance between quality improvements, deliverability and cost and is therefore the most able to be rolled out as a mass network within the shortest period". But still very little happened! Now wind forward three years to 2017 and the city of Durban in South Africa, which was stripped of its right to host the 2022 Commonwealth Games after failing to meet key obligations. Birmingham, which had been planning a bid for 2026, applied and later successfully became the new host city for 2022. As part of the bidding process, planners focused on the city's transport connections and how vast numbers of people would be moved around when the games hit town. A big part of the answer was Sprint, and in particularly three specific routes.
Laura Shoaf, managing director of transport for West Midlands, says: "The Commonwealth Games will bring the eyes of the world to the West Midlands. While many of our existing transport systems are working very well, there are challenges within the region that we feel we can meet in time for the Games. The three suggested Sprint routes will help ferry hundreds of thousands of visitors to sporting venues and destinations within the West Midlands during the Games, and beyond."
And Transport for West Midlands (TfWM), the transportation planning and delivery arm of the West Midlands Combined Authority, together with newly elected West Midlands mayor, Andy Street, have been wasting no time in getting started with what some now see as the biggest transport revolution in the West Midlands, probably since the coming of the railways, almost two hundred years ago. "We have given a commitment that there will be a segregated transport link between the city centre and the Commonwealth Games venues and Sprint is a formula that we are going to use for it, and it's very important we fulfill that obligation," says Street.
But, while the first three routes are designed to be operational by the time the Games arrives, additional routes have also been identified as Sprint corridors to be delivered by 2026. Street says: "The other routes are actually all about congestion busting and improving transport for the rest of the population."
Buses lead the way
While improvements to rail and more Metro routes are also part of the revolution, they are not easy or quick to deliver. There are plans for new railway stations and some Metro routes are under construction but, in the short-term, it will be improvements to buses where the first major changes will be seen. TfWM has already gone out to consultation on three Games related routes. The first, along the A34 to Walsall, will take in the Alexandra Stadium and the Athletes Village based at Perry Barr.
Another route to Sutton Coldfield goes via the planned new neighbourhood at Langley and Sutton Park, where the triathlon will be staged. A third new route will go along the A45 to Solihull and Birmingham Airport, providing access to the NEC, where some other Commonwealth events will be taking place. In all, seven Sprint corridors are being planned, and a later consultation will propose routes to be running by 2026 in time for the arrival of HS2. They include Birmingham to Halesowen, along the busy Hagley Road, a route from Birmingham to Dudley, Birmingham to Longbridge and another from Hall Green to the HS2 Interchange station (close to the NEC) via Solihull.
All seven routes have been costed at £279m. TfWM reckons that a Sprint route can be provided for less than 25% of the capital cost of light rail. It can also be delivered in less time using existing highway infrastructure and offers flexibility by being able to cater for new developments as they are built.
The bulk of the money will come from the 'West Midlands Devolution Deal Investment Programme', which also includes an 'HS2 Connectivity Programme.' It has been designed to ensure that the benefits of HS2 are spread as far as possible across the region, enabling passengers to access high speed services more easily and businesses to expand.
Further funds will be provided by the Greater Birmingham and Solihull Local Enterprise Partnership. It controls the Government's 'Local Growth Fund' money. In all, 75 miles (122km) of bus rapid transit routes are planned and it is predicted that they could attract over 23 million passengers a year.
Thomas Skidmore, Sprint's development manager, says: "The first three routes were prioritised from the proposed Sprint network. The three priority routes are now sufficiently developed in order to allow public consultation on the proposals.
"The work on developing the proposals for the wider Sprint network is ongoing and will be consulted on in due course. The development and delivery of the first three routes will also help inform the design of future routes. The routes were prioritised based on their strategic importance, viability and deliverability."
Quicker journey times
Sprint is seen as a key part of delivering the region's 'Strategic Transport Plan' vision. Its benefits include a sub-45 minute travel time between key centres, which should lead to greater levels of modal shift, improved health and greater economic development. Journey times are predicted to be 20% quicker than conventional bus routes, with estimated savings for commuters thought to be in excess of two million hours in journey times per year. Sprint should also mean reduced emissions and a cleaner environment. But, with routes crossing so many council boundaries, there could be issues with ensuring all those affected are able to agree to the measures required, including reductions in road space to allow for more bus lanes. It is something that has proved to be highly controversial in the past.
Unlike in London, the West Midlands Mayor doesn't have highway powers. However, Andy Street maintains there shouldn't be a problem. "I don't have the powers myself, but we do with working with all the local authorities as part of Transport for the West Midlands and they are on-board for this, we have the powers that we need for it, yes."
Sprint, according to the consultation document, will provide a "modern, high quality public transport service with bus lanes and priority through areas of congestion", making the journey times much more reliable. Eighty vehicles are expected to be procured and all will feature low noise, low vibration and low emissions, as standard. They'll also be 18m long, although there were aspirations for 24m vehicles.
However, they had to be dropped recently because of issues obtaining a derogation from the DfT. Skidmore says: "TfWM first approached the DfT in June 2015 with regards to securing derogation for 24m vehicles but, by September 2017, we were advised by the DfT that the timescales to submit evidence and a recommendation to the minister, to further consult on this matter, would be challenging."
Due to a need to progress the programme and scheme development, TfWM chose to pursue the 18m vehicle option. The shorter vehicles might not have the same capacity, but will still offer passengers a level of service and comfort similar to a tram.
TfWM has promised off-board ticketing, multiple-door boarding, wheelchair and pushchair access, free Wi-Fi and air conditioning, as well as on-board audio visual announcements and travel information. Skidmore says: "The look of the vehicle is important. It is intended to have the look and presence of a light rail vehicle. As a result, the Sprint vehicles will be multi-doors with improved boarding. This, along with reducing interaction with the driver, will significantly improve journey times and reliability."
More than 300 stops will be upgraded to offer a spacious and sheltered waiting environment with comfortable seating and pre-payment ticket machines, to ensure efficient boarding and passenger information to help people find their way around. Crucially, Sprint will offer improved access to jobs and growth opportunities, including those provided by HS2, Birmingham's Big City Plan and other major employers in the region, such as Jaguar Land Rover. All routes will have a distinctive brand and identity.
Preparing for the Clean Air Zone
With most routes emanating from Birmingham city centre, Sprint will also assist in providing a decent public transport alternative as the city moves towards the introduction of a controversial Clear Air Zone. City leaders have proposed the introduction of the zone by January 2020 and it will see both non-compliant cars and commercial vehicles charged for entering the city centre.
Andy Street says: "We made a commitment before the clean air proposals that will give citizens more choice over public transport, now the clean air proposals are here we have to honour that and it's absolutely the right thing to do."
Although there are a number of similar bus rapid transit (BRT) systems around Europe, TfWM appears to be aspiring to one of the most recent examples of the concept, which is now operational in Belfast. Branded 'Glider' the system runs through East and West Belfast and the Titanic Quarter via the city centre. Services began in early September and already a delegation from the West Midlands has visited the city to ride the system.
Skidmore says: "The trip was very useful in demonstrating what a BRT system in the UK can look like." Sprint is expected to use similar vehicles to the Glider service, and the stop and ticketing environment are also similar. The bus priority for the Glider scheme is also mainly nearside bus lanes. The visit gave an insight into the challenges of delivering a BRT scheme, the political will required, and that the vehicle was proving extremely attractive to the public."
Glider features around 15 miles (24.5km) of busways, consisting of both dedicated bus lanes and mixed traffic lanes. It operates with Van Hool ExquiCity articulated buses, which run every five to eight minutes at peak time and every ten minutes during off peak periods.
Interestingly, images of what Sprint buses will look like seem to be very similar to buses now running on Glider. With time pressing to get Sprint up and running, using an off-the-shelf design will certainly help matters. Procuring a complete new vehicle could take too long. Ultimately, the choice of vehicle will be up to the operator, who will have to meet specific criteria governed by a 'Sprint Standards' document. It states: "The standards are required, in order to ensure a basic service specification, which can be applied to the new network. Target standard must be achieved. The minimum standard should only be applied to individual factors when the target level is not practical or economically feasible. It is expected that a Sprint route should achieve the target standard in a majority of factors to provide the step change required."
Minimum standards include vehicles having three doors and low floor accessibility. They must also have sufficient numbers of seats for longer journey sections. They will need to have Euro VI engines with a requirement for zero emission running on sections of the route, so vehicles will need to be hybrid as a basic minimum. TfWM is also stipulating full internal and external CCTV, as well as cyclist detection equipment, which would be a first for the West Midlands. The chosen operator will also be required to take part on all existing card and fare schemes, including the region's own smart card 'Swift' as well as contactless and mobile phone ticketing from the outset.
Finding the right operator
As for operators, TfWM appears to have broken with tradition and has launched what it has termed an "Operator Market Sounding Exercise". In the past hi-tech routes, like the now defunct Line 33, have been run by existing local bus operators including National Express West Midlands. However, the sounding exercise is designed to encourage proposals from those with significant BRT experience.
Sandeep Shingadia, director of development & delivery at TfWM, says: "We are at the stage in the delivery of Sprint where we need to consider how the bus rapid transit services will be operated as part of the integrated transport system. Sprint is our way of raising quality on the network, and we believe it would offer a large enough commercial opportunity to attract best practices of BRT from around the globe to the West Midlands."
A scoping document makes it clear that, while this is not a formal procurement exercise, it will inform TfWM about the level of interest and assist in establishing a formal preferment plan. However, some view it as a way of challenging the dominance of National Express, which has always been the region's largest operator.
Shingadia says: "Engagement with operators has been hugely beneficial to gather information and may eventually lead to a procurement exercise to bring a chosen operator on board as a delivery partner.
"The operator would help us specify the services, including final design of infrastructure, ticketing, last-mile provision and finalise the bus specification leading to procurement and working with us to deliver the best customer experience." Some have already noted that the current clutch of Sprint routes do not span the whole West Midlands conurbation. However, according to Shingadia, it isn't the end of the Sprint story.
"Transport for West Midlands' ten year delivery plan does not include any Sprint routes for Coventry and Wolverhampton, although these cities will receive investment for tram and very light rail. The requirements beyond the ten year delivery plan may revisit the suitability of Sprint for these areas."
Consultation on the first three Sprint routes concluded last month. If all goes well, an operator will be appointed early next year in addition to obtaining full business case approval. Vehicles should be ordered in early 2020, when construction may start too. The first BRT routes should up and running early in 2022.
---
Peter Plisner is the BBC's Midlands business and transport correspondent
---
Find out more about TfWM's plans for a bus rapid transit network at The Future of Quality Bus Transit for our Changing Cities event being held on 21 November. Visit: https://tinyurl.com/yctpns7v