MaaS marketplace opens up new world for mobility players
15 October 2018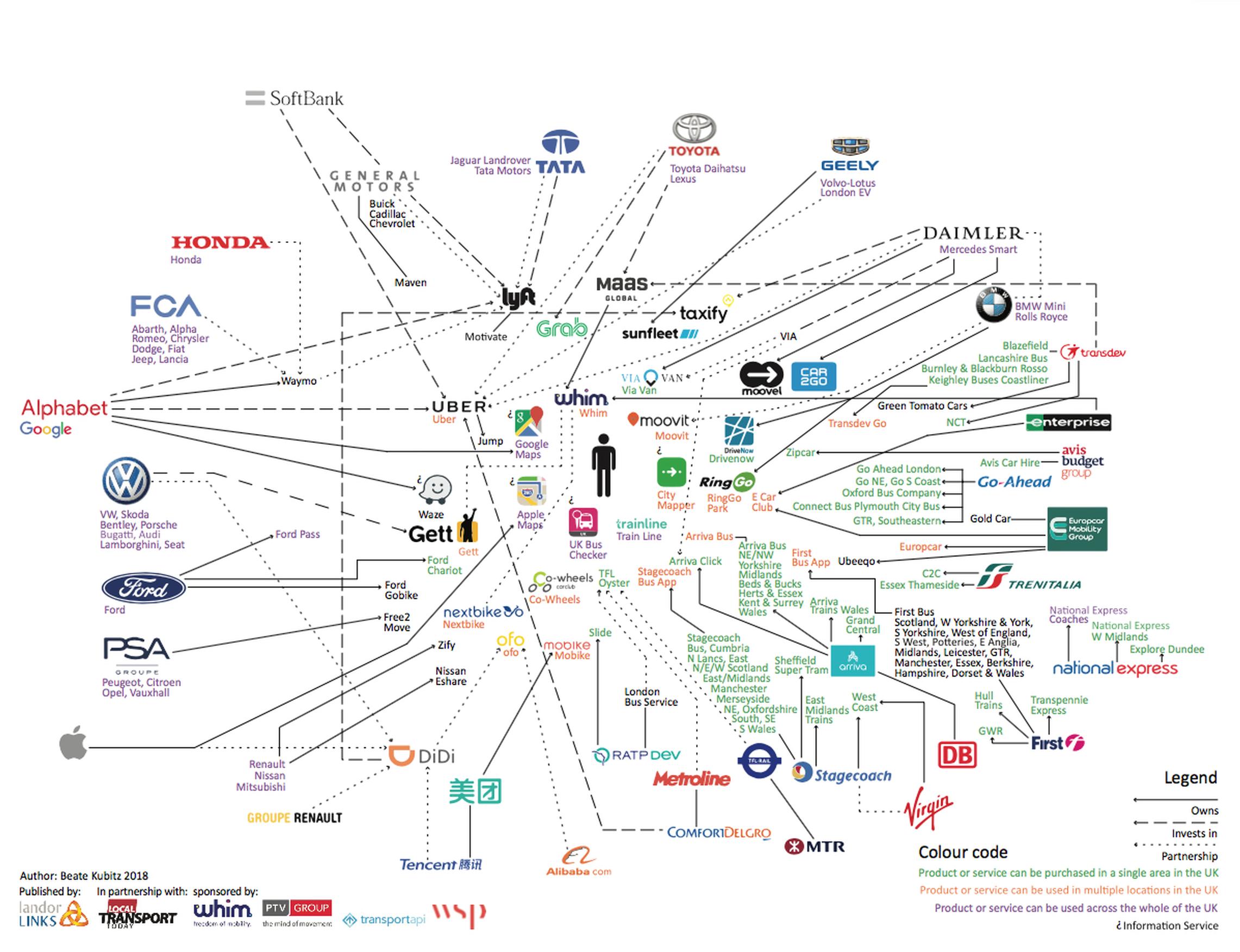 The mobility options on offer to meet users' personal travel needs have significantly diversified over the last few years. While the traditional analogue options of walking, driving or cycling with your own car or bike, or using a timetable and catching a fixed route bus or train still exist, they are now augmented (and in some cases are being replaced) by digital ways to identify, book and use a much wider range of transport modes, including those adopting very different, and much more flexible, ownership and scheduling models.
Studying all these options – and the organisations behind them – in preparation for our 2018 Survey of Mobility as a Service led to the creation of a diagram showing the complex web of business relationships in this new marketplace.
The diagram overleaf is a snapshot of relationships between both new and traditional mobility services including public transport, the automotive industry and new mobility providers. It shows how these new disruptors are not isolated offerings. A web of investment, ownership and partnership connects new disruptive transport to the global automotive trade, digital technology giants, banking and retail.
The sector is changing rapidly and relationships are shifting – and have changed much in just the last few months – but this illustration nonetheless gives a picture of the patterns in investment, ownership and partnership. This reveals there is a diverse investment in new mobility, and connections between companies that would, in other circumstances, be competitors, through new digital services. Continued overleaf
For instance, several automotive manufacturers have partnerships with Uber and Lyft, as well as Google's self-driving car development company Waymo.
So far, however, cooperation and connection between operators or beyond is much less visible in the public transport sector. There are few 'Third Party' partnerships; operators are choosing to maintain direct relationships with services and their customers through own-brand apps.
While the automotive industry is happy to invest in apps providing a great customer experience or innovative means of accessing mobility (even without brand exposure), public transport operators appear to have no such interest, preferring a 'do it yourself' philosophy. This is despite their own apps often comparing unfavourably with those of new mobility suppliers. They are often poorly rated by users and prone to failure. For instance Uber, despite high profile boycotts, has ratings of 4.5 and 4.2 on the App store and Google Play respectively, while Stagecoach has 2 and 2.3.
There are a few outliers; Arriva partnered with US ride sharing algorithm developer Via to create the ArrivaClick service; Transdev has invested in MaaS Global and ComfortDelGro; while the latter Singaporean taxi operator itself – which also runs Metroline buses for TfL – has a relationship with Uber based on a 'shares for market share' deal.
Crossing boundaries
However, all this is dwarfed by Automotive Industry OEM interest in these new business models. Mercedes' owner Daimler AG invested $50m (£38m) in Via to develop the ViaVan service recently launched in London. This is only a sixth of VW's $300m (£230m) investment in ride hailing platform Grab, which in turn is only a third of the $1bn (£770m) Hyundai has invested in Grab. BMW and Daimler AG have meanwhile merged their mobility services to create a jointly owned platform. Toyota has invested in multiple platforms.
Creating a visual map of the mobility landscape also exposes the fact that the boundaries between different forms of transport are softening and the legislative frameworks they operate in were drawn up for a very different environment.
While the automotive industry has traditionally operated in a framework of constructors' safety and emissions standards that underpin the sale of new vehicles, new mobility operators provide services under frameworks such as private hire operators' licences (Uber, ViaVan), parking agreements with local authorities (DriveNow, Zipcar), and bus operators' licences (Ford Chariot, ArrivaClick). And sometimes, as with dockless bikes, operate in a grey area beyond any clear existing set of rules.
The Annual Survey of Mobility as a Service, which this diagram reflects, looks at these developments within the context of what is happening in the UK, alongside the views of transport professionals on the benefits and opportunities MaaS offers, case studies and key metrics.
Beate Kubitz
Purchase the full 56-page Mobility as a Service Report from £45 + VAT in digital form, or £125 in print from www.landor.co.uk/maas or by contacting darryl@landor.co.uk