FirstGroup completes roll-out of contactless ticketing across bus fleet
Passengers can now pay with a contactless card on every FirstGroup bus in the country. The operator tells Rhodri Clark how this is benefitting the company?and passengers alike
28 September 2018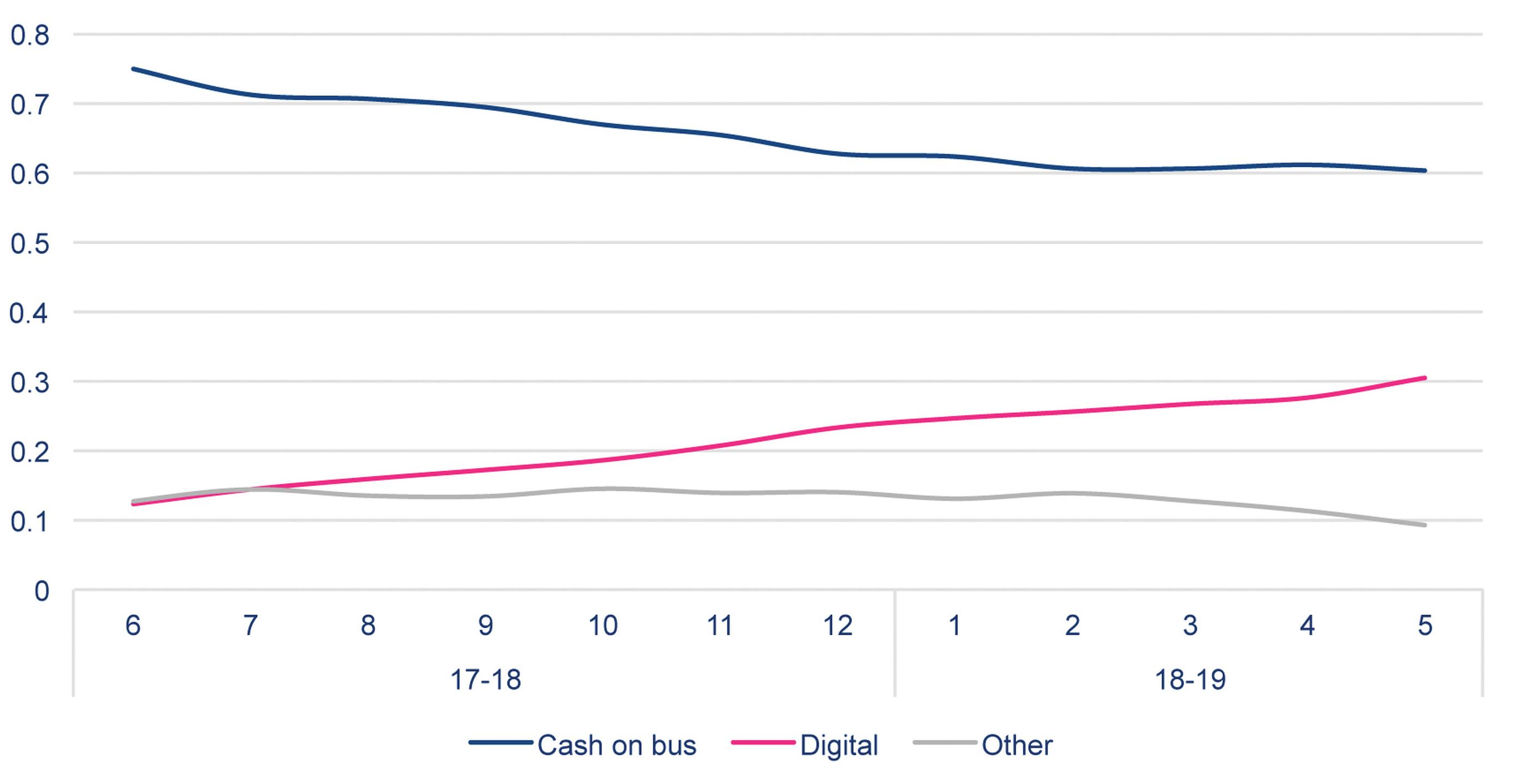 First Bus has become Britain's first large operator to offer contactless payment on all of its vehicles, and believes that data from its digital technology will strengthen its hand in discussions with local authorities.
On Monday last week, First Manchester was the last of 14 operations to inaugurate ticket machines supplied by Ticketer. The technology, rolled out since June 2017, enables all First Bus passengers to use contactless bank cards instead of cash on the bus, complementing the smartphone (m-ticket) products launched by First Bus nationally in 2014.
First Bus managing director Giles Fearnley said nine million contactless transactions had been made since June 2017. "If more customers switched from cash to a 'digital' payment method, then this would help to speed up bus boarding times."
Ticketer managing director John Clarfelt said: "First Bus placed enormous pressure on, and faith in, us to deliver new ticket machines with contactless across their fleet in such a challenging timescale."
While First offers discounts as an incentive to use its m-tickets, there is no discount for using contactless cards. Despite this, 33 per cent of passengers who pay on the bus are now using contactless at First Aberdeen, where it has been available for more than 12 months, and 25 per cent at First Essex, where it was introduced only three months ago.
Meanwhile, the operator says use of m-tickets is growing at 55 per cent per annum. Sales tend to plateau in summer and step up in September, as students in many cities buy annual passes.
First says the two forms of ticket are complementary. M-ticketing is best suited for multi-journey tickets while contactless is convenient for occasional users. The operator hopes that, together, contactless and its smartphone journey planner will overcome the concerns that non-bus users have about carrying cash to pay fares and knowing where the bus will take them.
John Dowie, local strategies director at First Bus, told LTT that m-tickets give the operator an unprecedented insight into usage. "A group of people who were fairly anonymous for most of buses' history are now starting to develop relationships with us, and so we can actually communicate with them. We have a much better sense of how they use the network, so we can tailor communications to people.
"We really do want people to use mobile ticketing, because it's the easiest way of establishing a direct relationship with them. It's the quickest option in terms of boarding times. It's a bit quicker than contactless."
First has video footage of cash-paying passengers taking more than ten minutes to board a double-decker, and of approximately the same number boarding in two minutes using m-tickets. Dowie said this presented huge commercial benefits. "We can run the same frequency with fewer buses. Over the last few years we've seen increasing congestion and slower journey speeds in urban markets." Many schedules had been lengthened as a result, but digital ticketing was starting to counterbalance the impact of congestion.
These new forms of ticketing have administrative costs, including payments to banks for contactless transactions, but Simon Pearson, First Bus' commercial development director, told LTT there was a net financial saving each time a passenger paid digitally rather than in cash. Dowie observed that there was an administrative cost to cash payments, including "cashing up" by drivers handing over takings.
Is the bus industry's sudden enthusiasm for digital payment a reaction to the Bus Services Act and the threat of franchising in England? Dowie readily accepted that there is "an element of the industry wanting to show what it's capable of, in terms of the current debates".
A few local authorities contributed to the costs of First's Ticketer roll-out, bringing their areas to the front of the queue, he said. "But essentially, this was a privately-funded programme delivered to a rapid timescale."
Dowie says the contactless technology supports future introduction of a "best value guarantee", which could be comparable with the daily capping of Oyster payments in London. Dowie also hopes that in future contactless customers will be invited to register their details, enabling First to establish a direct relationship with them.
Revolutionising data too
Dowie said First Bus could now combine GPS data on vehicle movements with data on passenger movements. This will help First to drive out waste and make each bus work as efficiently as possible. He accepted that previous ticket machines generated data on vehicle movements but observed: "We were in touching distance but we didn't quite have it. It's revolutionary what we can get out of the new ticket machines."
For example, profiling of routes will allow First to discover and demonstrate where delays occur. "It would mean that discussions with local government about bottlenecks on the road network, which have been very anecdotal, start becoming very evidence-based and very targeted."
This could bolster the case for positive interventions, such as new bus priority measures, but also to prevent negative impacts, such as the closure of bus stops or bus bans in urban streets. He highlighted the closure of Broad Street in Aberdeen for pedestrianisation works in early 2017. A debate ensued, soon after First Aberdeen's Ticketer machines went live, over whether buses should be allowed back into the street. "We knew how the bus network was performing when Broad Street was shut but we didn't have the information about how it was performing before. We were frustrated that we could [otherwise] have gone to Aberdeen city councillors with a wedge of data to show: 'This is how many minutes we're losing by diverting buses through congested roads.'"
The new ability to marry up data on passenger and vehicle movements will enable First to demonstrate the impact, or potential impact, of decisions on real people, who are also voters. This could soon prove useful in Glasgow, which is currently considering restricting buses to improve air quality in the city centre. "We need to be mindful that a significant group of passengers is old age pensioners," said Dowie. "Their view on what's an acceptable walking distance may not fit the view of a 40-year-old person working for a local authority."
---
Bus ticketing journey has further to travel
John Dowie believes that the digital technology now being put in place by bus groups opens the door to multi-operator ticketing.
"We've got to the point where some of those ideas about putting multi-operator tickets onto common platforms are becoming live issues. There's a debate under way in the north, involving Transport for the North, about the different models for delivering multi-operator ticketing across the north of England. A lot is likely to start happening in the next couple of years."
First's mobile journey planner already includes other bus operators and rail and tram services. It is now working on merging this app with its m-ticketing app, which should help with the problem of numerous apps taking up too much space on people's smartphones.
Would multi-operator digital bus ticketing be a step towards Mobility as a Service? Dowie said discussion of MaaS is "interesting, intriguing and quite exciting" but is largely talk. "A lot of it smells as if it's solutions looking for problems.
"In the end it's going to have to come back to actually how do ordinary travellers think about their trips and how far will they be modally agnostic on individual sections in trips? I'm just not sure."