Leeds consults on revised CAZ plan
AIR QUALITY
06 July 2018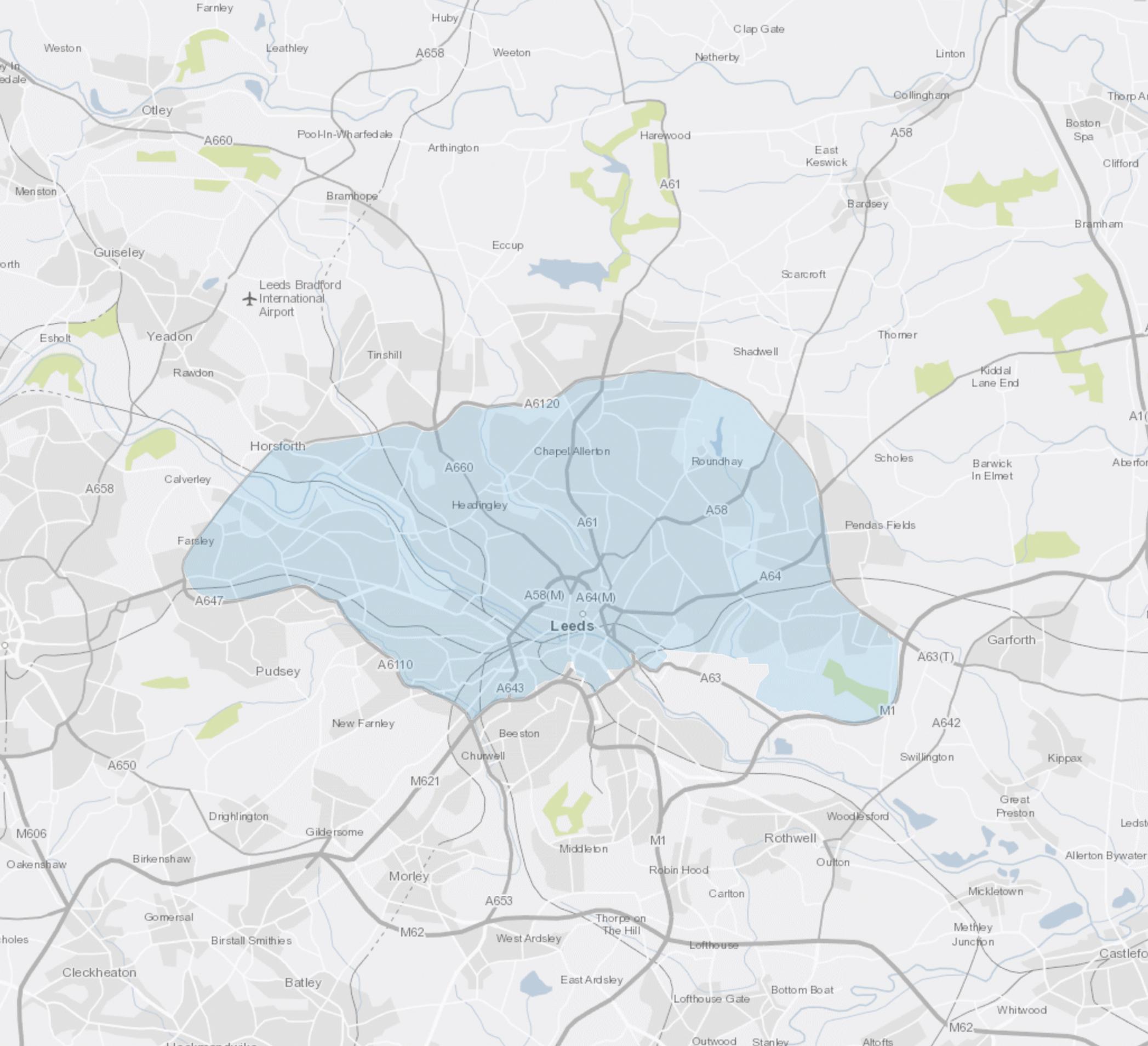 Leeds City Council is consulting on a revised charging clean air zone (CAZ) featuring a smaller zone, lower charges, and a limited time extension before certain types of taxi and private hire vehicles must comply.
The statutory consultation on the CAZ runs to 12 August and follows a consultation on the draft plans (LTT 08 Dec 17).
The Government has ordered Leeds, along with four other cities, to introduce a CAZ in order to bring annual mean nitrogen dioxide concentrations below the EU limit value in the shortest possible time. The council plans to introduce a class B zone in January 2020 covering buses, coaches, HGVs, taxis and private hire vehicles. Vehicles would have to meet the following standards or pay a charge:
• Buses and coaches: Euro VI
• HGVs: Euro VI
• Taxis/private hire vehicles (PHVs): petrol-hybrid or electric
The taxi/PHV standard is stricter than the Government's minimum CAZ standard of Euro 4 petrol and Euro 6 diesel for these vehicles. Leeds says a stricter standard is necessary because Euro 6 diesel cars are failing to deliver promised NOx reductions.
The revised proposal removes much of the south of the city from the zone. Leeds says this is in response to business pressure and that modelling shows the smaller zone, covering 89 sq km, will still deliver the required air quality improvements.
The original consultation proposed charges of £100 a day for non-compliant buses, coaches and HGVs and £12.50 for non-compliant taxis and private hire vehicles – identical to the charges planned for London's ultra-low emission zone (ULEZ).
Leeds is now, however, proposing a charge of £50 a day for buses, coaches and HGVs. Taxis and PHVs will still be charged £12.50 but owners of vehicles licensed in Leeds would have the option to pay a charge of £50 a week.
Explaining the weekly charge for taxis and PHVs, council officers told councillors last week: "A key concern raised in the consultation was that many drivers use their vehicles for personal use and would still be charged. This was considered by the trade to be inequitable as the council was not implementing a charging zone for the private car."
The council expects 17–34 per cent of HGVs will be non-compliant when the zone begins and acknowledges that HGV operators could struggle to fund replacement vehicles.
"Some have highlighted an inflated cost (up to threefold) for second-hand Euro VI vehicles since announcements regarding CAZ implementation for a number of cities from 2020 were made," said officers.
The council believes installing retrofit equipment offers "the most affordable and cost-effective option to operators", even though there is currently no retrofit solution for HGVs on the market.
"Currently there are no clean vehicle retrofit approval scheme (CVRAS) accredited HGV retrofit solutions; retrofit providers expect to develop these between the second quarter of 2018 and second quarter of 2019," said officers. "We will ask for a fund from Government to support upgrading eligible HGVs based within the CAZ boundary to Euro VI with a retrofit solution." The money would be targeted towards the smaller companies, who are less likely to be able to access finance.
Officers said the 'ball park' estimated cost of retrofit, depending on engine size, was between £13,000 and £19,200.
?The council estimates that there may be up to 4,375 taxis and private hire vehicles (PHV) that will not be compliant with the petrol hybrid or electric standard by 2020. About 4,000 of the 5,000 taxi and private hire vehicles in the city are currently diesels, with only about 700 petrol-hybrid or electric.
Taxi and PHV licensing conditions are being reviewed to complement the CAZ. Leeds is working with other West Yorkshire authorities and the City of York Council on plans to harmonise licence conditions.
Leeds proposes time-limited CAZ exemptions for certain types of taxi/PHV:
• Euro 6 diesel taxis and PHVs licensed in Leeds before 15 September this year would be exempt until 31 December 2021
• vehicles subject to a financial agreement preventing early replacement would be exempt until 31 December 2021
• all wheelchair accessible vehicles (WAV) and 8+ passenger vehicles would be exempt "for a period to be defined" but may have to be Euro 6 by 31 December 2021
The council plans to offer taxi/PHV drivers a grant to help cover the costs of changing vehicles, funded from the Government's Clean Air Fund. "It is anticipated that a grant package of £1,500 will be made available for petrol hybrid conversions, £2,000 for plug-in hybrid vehicles and £3,000 for electric vehicles."
Leeds is exploring more measures, including an ultra-low emission city centre and car-free days.