A manifesto for how cities will live with the driverless car
Consultancy Steer Davies Gleave looks at how autonomous vehicles could affect urban areas over the next 20 years
04 July 2018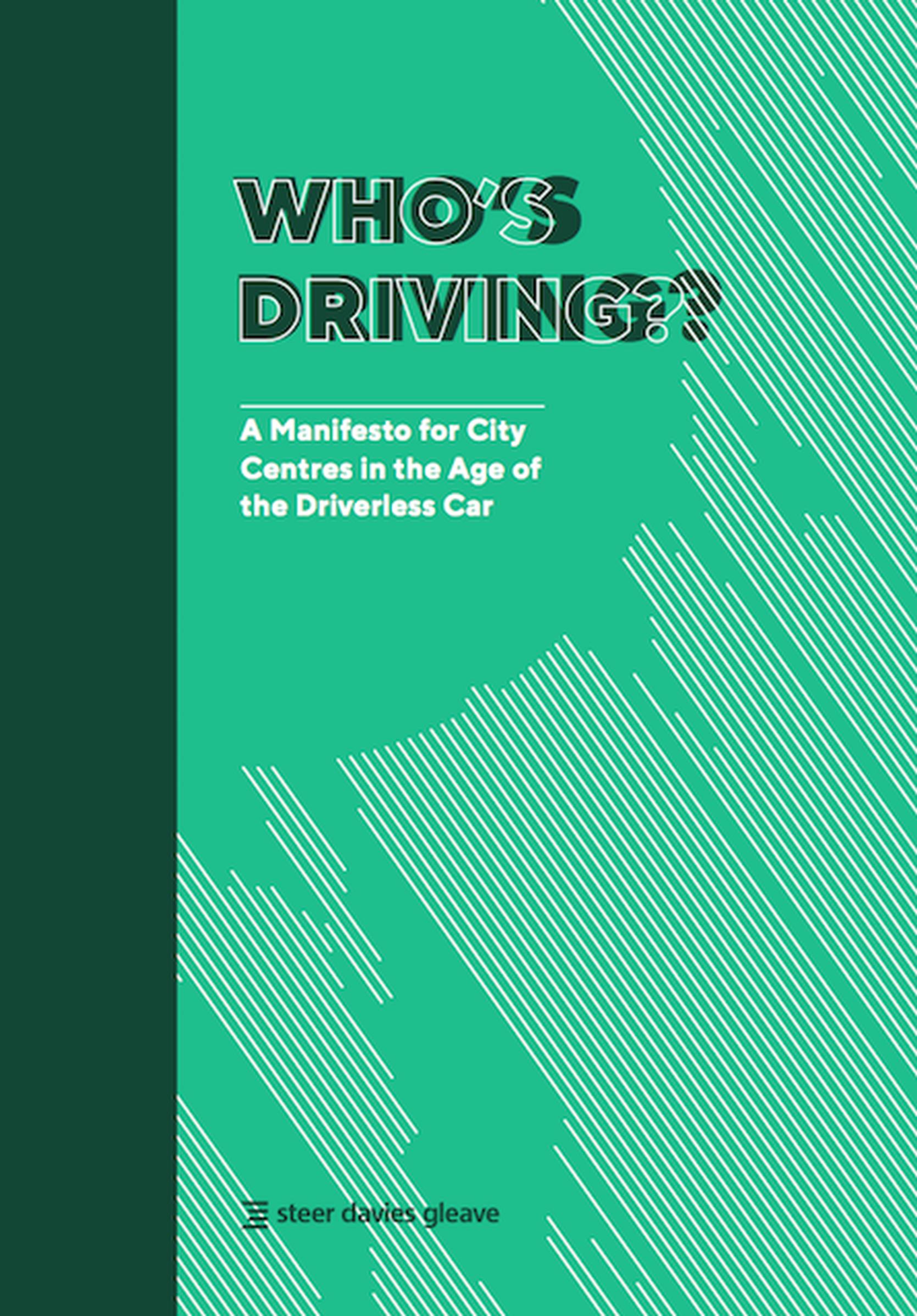 Driverless vehicles will transform the way in which the kerbside and off-street parking are planned and managed in cities. Long-stay kerbside parking will eventually disappear from city centres, replaced by hop-on-hop-off vehicles, while car parks will be transformed into vehicle re-charging and servicing centres. These are among the predictions made by consultancy Steer Davies Gleave in a new report.
There has been a lot of discussion and speculation about how connected autonomous vehicles (CAVs) could transform travel, but Steer Davies Gleave believes not enough attention has been paid to how the design and function of urban space will evolve because architects and urban designers have tended to focus on an "end state" where CAVs will be the only technology. To redress the balance, Steer Davies Gleave has produced a design study that focusses on the near-to-medium term.
Who's driving? A Manifesto for City Centres in the Age of the Driverless Cars considers the ways in which changes in urban mobility and technology could affect the urban form and public realm in cities within the next 20 years. It also proposes ways in which cities could prepare for them. Two cities are looked at in detail, London and Los Angeles. Steer Davies Gleave regards these cities as being representative of western societies, displaying a wide array of the issues faced by many other cities worldwide.
The manifesto proposes ways that cities could prepare for driverless cars. The work focusses on: the urban design opportunities that could be created by CAVs in urban cores in terms of street layout and redistribution of space; the interface between buildings and streets; possible ways to re-organise the movement network; environmental sustainability measures; and new building typologies.
The project was coordinated by the consultancy's Design for Movement team, which sought input from experts in urban design, architecture, intelligent mobility, transport planning, landscape architecture and highway engineering. Their manifesto states: "As designers, we want to contribute to the debate and help urban dwellers to envision and capitalise on the transformations that this revolution will bring. Urban populations will continue to increase exponentially in the coming years, and the CAV technology will disrupt the business-as-usual model. Mobility, congestion, pollution and sprawl will be among the major challenges facing cities. Tackling these issues will be (and already is) a priority for regional and local policy-makers."
Steer Davies Gleave suggests that a 20-year timeframe should make it easier to predict and address future challenges rather than speculating about the long-term. This means that the team focussed on the transition period when both driverless vehicles and existing cars will compete for space in the city. "The current mobility system will initially coexist with the new one, so this scenario increases in complexity as it requires space for both old and new technologies," states the manifesto. "At the same time, there exists the critical challenge of ensuring a smooth transition to the new technology and without compromising the potential benefits of CAVs through the ever-pressing necessities of the current car-centric system. It deliberately avoids developing forecasts and rather focusses one of the possible scenarios.
"As urbanists, we appreciate the benefits that this technological revolution may bring in terms of sustainability, livability, and accessibility, and welcome this leap forward," says Steer Davies Gleave. "However, we also value the lessons learned from the mistakes of the last century and recognise that technology is a tool, not a means, and that we cannot afford to shape our city around a new technology and create new infrastructural rigidities."
According to the manifesto, a key benefit of CAVs will be more efficient traffic operation, but the consultants strike a note of caution: "This will lead to increased carrying-capacity of existing road infrastructure and less parking requirements, with the potential to reallocate road and parking space away from vehicles to other uses. With the ever-increasing levels of traffic congestion that urban environments will keep experiencing in the coming years, there will be a temptation to simply use the space 'gained' for more vehicles. This strategy could be short-lived. We have seen many times in the past how more and larger roads simply lead, rather quickly, to an increased volume of vehicles on the roads."
Driverless cars have the potential to re-shape the design of both the kerbside and car parks. Kerbside long stay on-street parking will eventually disappear, especially in city centres, predicts the Steer Davies Gleave manifesto Who's Driving? "Around 30% of the existing parking supply in urban areas may be redundant," it states. Parking in urban cores will still exist near destinations but in reduced numbers and will be supplemented by remote connected and autonomous vehicles (CAVs) parking locations.
Car parking space dimensions will be smaller than today as CAVs will require less space to manoeuvre, and parking minimums will be replaced by maximums. "Maximum parking ratios will relate to the amount of kerb space allowed for drop-off or Hodo (Hop-on-drop-off) services," states the manifesto. On plot drop-off areas will be the exception rather than the rule. Hodos would be charged by use to recover some of the municipal revenue losses from parking fees and tickets.
CAVs will trigger the emergence of new types of facility, but also promote changes in established typologies, suggests Steer Davies Gleave. "Space-intensive functions such as service yards will become more efficient and require less space as CAVs are able to manoeuvre more effectively," says the manifesto. "The need for plots for car parking will largely disappear, to the delight of developers who will no longer need to build expensive parking garages and could use the space for more profitable functions.
"As on-site parking garages and service yards disappear or shrink, buildings will increasingly have less 'back of the house' space and more and more usable frontage. The relationship between public space and the private sections of the buildings will improve and the importance of lobbies and transition areas will increase, as it is already happening for business reasons in Shoreditch. Here local studios as well as shops have started a well-established process of blending of functions and spaces promoting the creation of a diffuse semi-public space at the ground floor, public pavements and small yards, with coffee shops and bars becoming retail spaces and meeting rooms. As CAVs make more street space available in quieter, less polluted and attractive local streets and improve the relationship between streets and buildings with the reduction of sterile frontage devoted to service areas, we will see further incentives for business to spill out onto the public realm, boosting street life."
The advantages of using CAVs will depend on the scale and speed of adoption. Highway and local authorities in London could be required to take drastic decisions and redistribute space between different users by allocating dedicated areas to CAVs where traditional cars are completely banned to ensure there is little mixing of the two types of vehicles. "If the traffic remains mixed, then CAVs would be little more than an updated version of an electric car e-hailing service and this would dismiss nearly every advantage they offer," states the report.
There may also be a need to upgrade bicycle infrastructure to be much better and faster. "In the short term, cyclists could be the most disrupting element for CAVs," states the consultancy in Who's Driving? "Therefore, a world-class cycle infrastructure separating cyclists and CAVs on busy corridors will limit conflict with CAVs and respond to the rising demand."
While manual and driverless cars are both on the streets, it may be necessary to create dedicated CAV corridors (C-Corridors) to complement the traditional road hierarchy but would not overlap with it. "In the beginning, they could be a separate layer that would meet the strategic road network used by traditional cars and public transport only at key points," suggests the report.
These connections would consist of a new generation of mobility hubs created to facilitate the switch to/from CAVs and long distance public transit. These are also the places where CAVs would be stored and serviced and would be located along the edges of central London, in dedicated new structures or retrofitted parking garages.
The manifesto states: "Given the reduced amount of space available and the risk of bringing traffic to a halt with the introduction of CAVs, we believe that initially there could only be a slim network of C-Corridors enabling fast, convenient movement from central London to the edges of the inner city, and orbital routes allowing east-west and north-south movement. Progressively, the streets between these corridors could be closed off to general traffic and only driverless cars be allowed. Starting from the centre of the capital, this network would grow to cover the whole city progressively and quickly, as public acceptance becomes the norm and Londoners start enjoying the benefits more and more over the next two decades. Local streets will see the biggest gains in terms of public realm and sustainability targets. It's the public right-of-way, not the road network, that will experience the most significant gains in space through the retrofitting of former parking spaces for other uses."
Steer Davies Gleave predicts that as Londoners grow more familiar with CAVs and become used to interacting with them, the amount of demarcation and traditional street furniture will progressively disappear or evolve. "It may still be very useful, for instance, for pedestrians and cyclists to know where to expect to see a CAV, or where the space needs to be kept free for deliveries," states the report. "Parking will still occur, but less frequently and in a more intelligent (i.e. pre-reserved spaces) flexible manner (e.g. morphing to loading bays when required)."
Some locations along the kerbs will support charging facilities, but Steer Davies Gleave predicts that these will eventually be replaced by induction technology, which may reduce clutter and maintenance costs.
"Ideally, charging would occur over stretches of roads, while vehicles are in motion, rather than along kerbside where vehicles must be parked over extended periods of time. In any case, the majority of charging will occur in the mobility hubs and in CAVs servicing facilities," the manifesto notes.
The progressive demise of manually operated cars will be facilitated by the creation a series of mobility hubs along the strategic network, predicts Steer Davies Gleave. Mobility hubs can be provided both by retrofitting existing multi-storey parking garages and by building new ones. Secondary hubs will be created in central areas to deal with peak demand. Within a few years people will be able to drive their cars, then drop them off at a mobility hub and switch to a shared CAV or bicycle.
Who's Driving? A manifesto for city centres in the age of the driverless car, by Steer Davies Gleave
www.steerdaviesgleave.com