Must try harder: Hampshire at fault for 20mph 'failure'
22 June 2018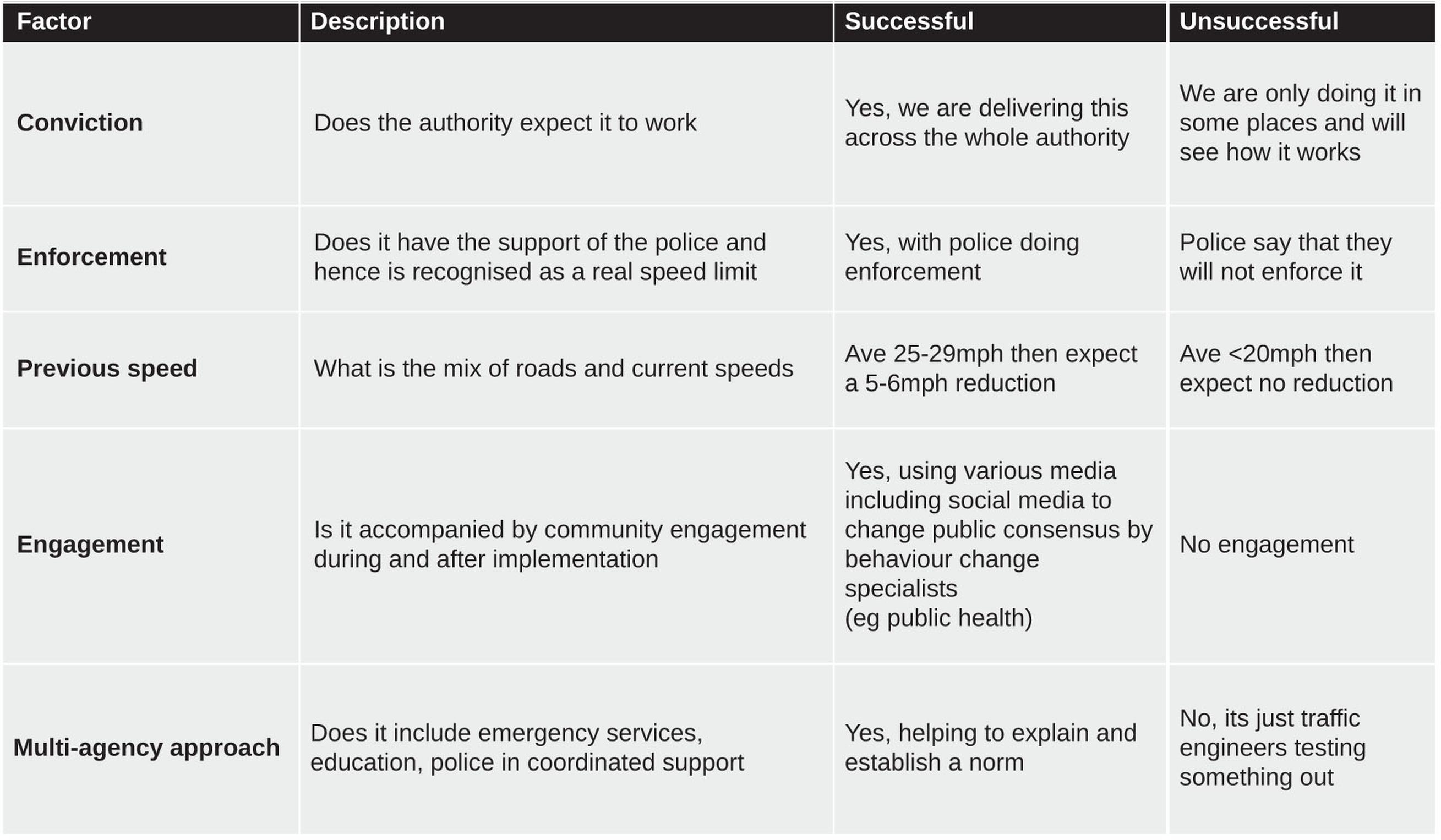 Like most 'crashes', the council report on Hampshire's 20mph limits is both predictable and preventable ('No safety benefits from signed 20mph limits, says Hampshire' LTT 08 Jun).
From experience to date on many 20mph implementations across the country we know that there are several factors that will affect the speed reductions gained from implementing 20mph limits. These are shown in the accompanying table.
What we also know is that in places such as Calderdale, Bristol, and Edinburgh, where full engagement and police support exists, then excellent results from lower limits are achieved. Yet Hampshire seems to have created schemes that were designed to be as least effective as possible.
What the council needs to do is look at the results and assess what happened in these areas. Where were the speeds monitored? Were there other factors affecting speed? What was the attitude of drivers? Could the engagement have been better? Was the signage sufficient? Were the police condoning non-compliance?
We also note that the council report uses averages of average speed at various points for each area. Such an aggregation dilutes the subsequent speed reduction because it includes many roads included for consistency where average speeds are already low. The extent of this dilution can be significant if no weighting is provided for traffic volumes. In such cases the average of average speeds will very much depend on the ratio of length of slower to faster roads.
We believe that the roll-out of 20mph limits in Hampshire has been flawed from the start. The council's report fails to ask the questions as to how the results could have been improved. It also fails to look at the factors that have led to successful schemes elsewhere. It therefore fails its communities. This includes both those where 20mph schemes have been implemented and the others that are blighted by vehicle speeds that reduce safety and liveability. The council has a duty of care to protect those communities. It needs to be critical of its own actions and seek ways to make those communities better places to be. It needs to try harder.