Green light for Solum's plan to redevelop Guildford station
26 January 2018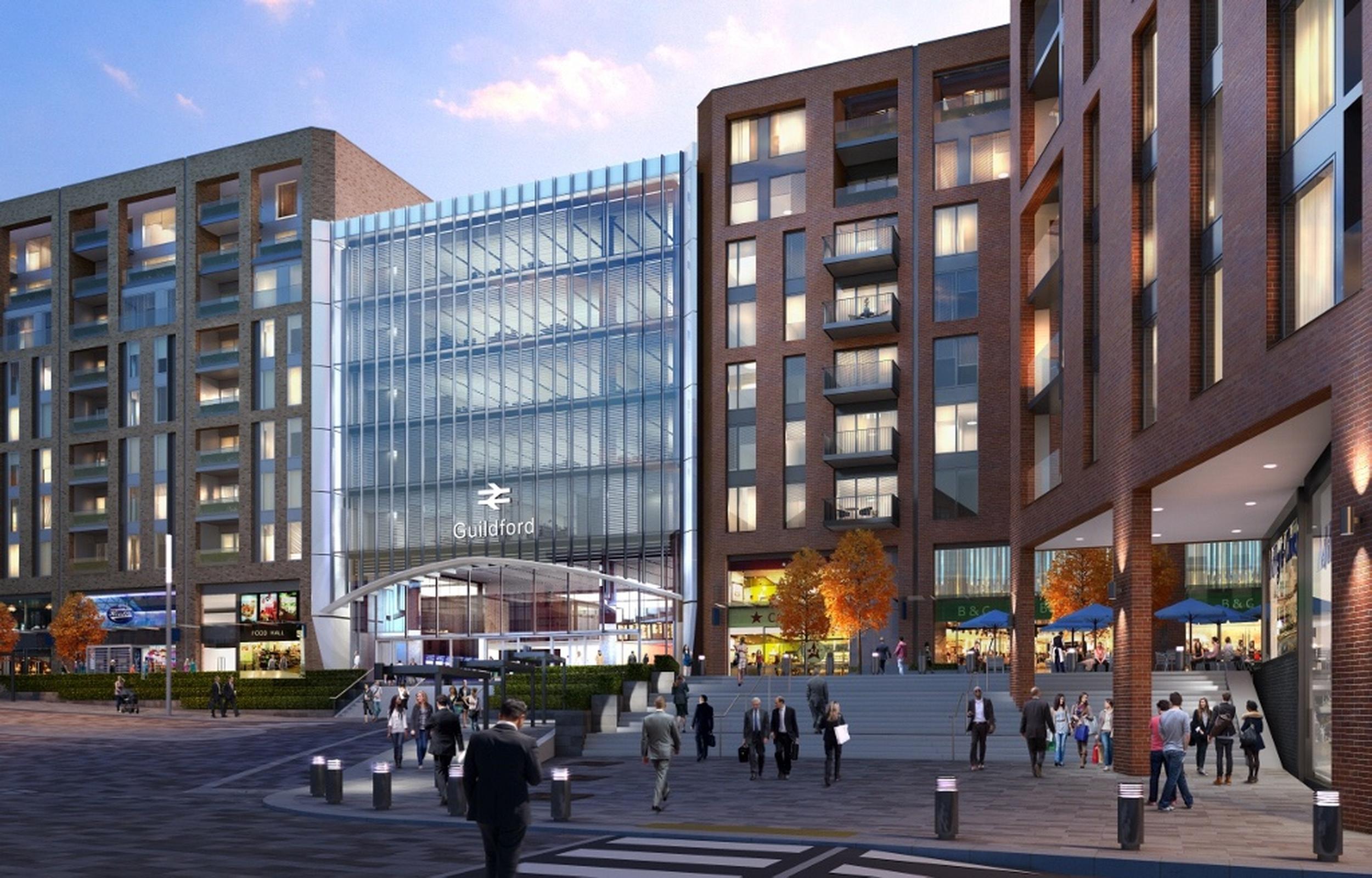 A £150m scheme to build a new rail station at Guildford and to turn the adjacent surface car park into a 'Station Quarter', with homes and shops, has been approved by the Planning Inspectorate. The appeal decision overturns Guildford Borough Council's refusal to give the scheme planning permission.
The development will feature a new public square, reconfigured access for vehicles with a new taxi drop-off area, a nine deck multi-storey car park and secure cycle parking.
The plan is being developed by Solum, the development partnership between Network Rail and Kier Property. Around £25m will be spent on a new station featuring a new and larger ticket hall, a gate-line twice the width of the current one to accommodate more passengers and a new entrance as the focus on a new public forecourt.
The scheme will accommodate anticipated passenger growth up until 2035, says Solum. The new station square will "provide a better pedestrian environment" with better wayfinding and signage as well as an "easy accessible route" to and from the bus services which stop in the station forecourt.
The multi-storey will provide 412 parking spaces for rail users - the same number of spaces as currently provided on the surface site - with "improved, safer pedestrian access and reduced average walk time from car to platforms", Solum says. There will also be dedicated parking spaces for the new commercial units and residents.
Some 536 secure cycle spaces will be available for rail users including around 230 covered station cycle storage spaces with quick access to the station. There will also be 456 secure residential cycle spaces.
Solum originally submitted plans for the station to Guildford Borough Council in 2014 but made amendments the following year, it says, after "listening to comments from local groups and to explore the scheme's relationship with the council's emerging town centre masterplan" .
Changes to the scheme include a bigger station plaza, more office and commercial space and reducing the height of the tallest building from 15 storeys to ten.
The plan includes 438 new apartments, 10% of which will be 'affordable', along with 3,427sq m of retail space and 1,877sq m of new offices.
The Planning Inspector David Morgan says: "This proposal offers tangible benefits to the built environment around Guildford Station. It also provides a significant amount of market housing and a lesser number of viability-calibrated affordable units, in addition to an enhanced station facility.
"These are very significant social benefits. The proposals also bring forward a major development site with a mix of uses that will create employment opportunities for those seeking work. These are clear economic benefits to the borough."
The Planning Inspector's decision overturned Guildford Borough Council's planning committee's unanimous refusal of the scheme. Cllr Paul Spooner, Leader of Guildford Borough Council, described the Planning Inspector's decision as "extremely disappointing for our whole community".
He said: "Alongside poor design and little gain for users of the station, it is a blow to our aims for more affordable housing in the town. "The Inspector recognised the 'strong and well-presented' arguments we put to the Inquiry, which reflects the high calibre of work by council officers and the external advice we received from experts led by Morag Ellis QC and her team. This is also the type of outcome that illustrates the critical importance of having a Local Plan in place. This site and area of the town is included in the plan we submitted for inspection last month and supports the strategic approach we take for future design and development.
"We agree with the Inspector's conclusion that this proposal has 'polarised opinion' and will cause some 'shock', especially as market housing appears to outweigh the critical need for affordable housing in our borough. Whatever the final result of the scheme, we will continue our work with Network Rail and other partners to provide the supporting infrastructure vital to our borough's future.
"Our aim remains to balance the needs of everyone who lives or works in Guildford and we will consider all options open to us regarding this depressing decision."
Solum's Alan Jones says: "The scheme has undergone significant change through the planning process and we look forward now to working with the council to deliver the scheme. We recognise that there are several local groups that continue to object to the scheme and would also like to thank the hundreds of Guildford residents that registered support for the proposals."
David Biggs, Managing Director from Network Rail Property, says: "The scheme will deliver significant benefits to station users and the local community, by releasing land for much needed housing, attracting new businesses, creating jobs, and providing a significantly improved station.
"This development is yet another example of Network Rail partnering with the private sector to unlock land for mixed-use development, while generating funds to reinvest back into the railway."
A Solum spokesman said: "We are not yet in a position to comment on the timeline of the Guildford scheme."
Last September Solum began work on redeveloping Twickenham station, featuring a new station with larger ticket office, more cycle parking spaces, new shops and 115 apartments.
Find out more about projects redeveloping land around rail stations at the Rail Stations and Property Summit