Healthy Streets champions lauded for groundbreaking work
29 September 2017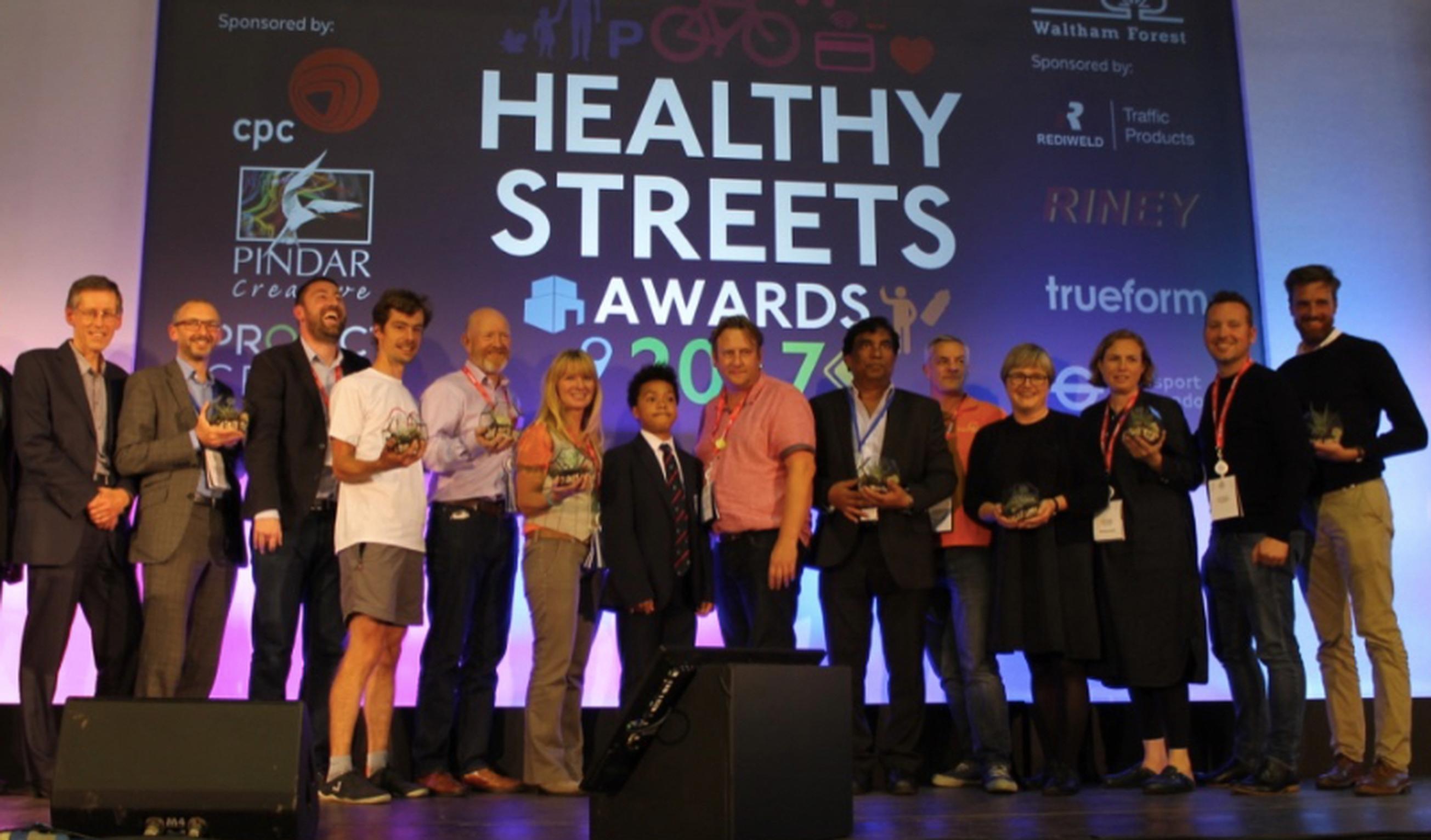 The winners of the inaugural Healthy Streets Awards were announced at Walthamstow Assembly Hall last night, with a host of inspiring entries gaining recognition. The trophies were presented following the Healthy Streets conference and exhibition, hosted by the London Borough of Waltham Forest and organised by Landor LINKS.
Among those receiving trophies was Caroline Russell, London Assembly member and Green Party councillor at the London Borough of Islington, who was named Healthy Streets Champion 2017.
Other categories celebrated innovation, workplace travel plans, air quality campaigns and behaviour change projects.
The awards were judged by a panel of respected practitioners specialising in urban design, transport planning and public health. The panel members were: John Dales, director at Urban Movement; Brian Deegan, director, European Sector, AltaGO; Keith Hanshaw, managing director, Project Centre; Phil Jones, managing director Phil Jones Associates; and Lucy Saunders, public health specialist - transport & public realm at the Greater London Authority and Transport for London.
Winners were announced by Robert Huxford, director at the Urban Design Group and Rob Cowan, director at Urban Design Skills.
The hotly contested Innovation prize went to the London Borough of Hammersmith & Fulham and Cyclehoop for the Modular Parklet system. Jury member Brian Deegan said: "The innovation category was dominated by parklets, which was good news as the judges love parklets. It might seem strange to view somewhere to stop and rest as an innovation but our streets have been designed around the movement of cars for so long that bringing back the basics can seem like a revolution."
The judges noted that the design could be easily adapted to different settings. "This means we can get more of these out there and get people engaging with their street and community as soon as possible," said Deegan.
"There are so many benefits to health and wellbeing brought about by engaging with the street and not just shuffling through it with your head down trying to get inside to close the curtains."
The London Borough of Waltham Forest has scooped several awards in recent years for its Mini Holland programme, and last night it added another trophy to the cabinet. The council took the Healthy Street Proposal of the Year award for its work on Lea Bridge Road. The panel described the scheme as a "landmark project". Deegan said: "High Roads are always tricky to design for as there are many conflicting demands for space. They also have important movement as well as place functions that need to be maintained or improved. This three-year project seems to have set a benchmark for the rest of the country and the commitment to healthy streets was very evident in the submission."
The panel were impressed by the junction approaches, describing them as the first in the UK to adopt a continental layout and operation. "All ten of the indicators for a healthy street look to have been addressed and so this year Lea Bridge Road was in a league of its own," said Deegan. "The other finalists were amazing and when they are built we hope they will submit again."
Also in the capital, the London Borough of Southwark picked up the Local Policy prize for its kerbside strategy. "This was a tough category and it took a lot to unseat the two Mini Holland behemoths from Kingston and Waltham Forest, but this document won because it was new and groundbreaking," said Deegan. "The judges felt that awards should be used to highlight best practice, and this document should be read by all local authorities. It reads like a labour of love and it addresses an area of great importance but alas one that is often overlooked as it is a thorny issue. Southwark's sensible and practical approach to the subject is a breath of fresh air. Stop reading this and download a copy!"
The judges awarded the Active Travel Workplace trophy to Derry & Strabane Council, praising their commitment and enthusiasm. "Doing good things in challenging places is perhaps more notable than doing great things in encouraging places," said Deegan. "The champions of active travel often face an uphill struggle outside of major metropolitan centres, so this approach offers a template for those looking to provide and encourage active travel in their own workplaces."
Meanwhile, Portsmouth City Council took top prize for its Behaviour Change Initiative, which the judges particularly liked for its grassroots approach. "The road to healthy streets is more likely to be paved with thousands of small good deeds rather than a few huge sweeping changes," said Deegan. "It is in the hands of every man, woman and child on every UK street to bring about this change and the judges want to hold this project up as a shining, achievable example to all. Yes, we can win!"
The Best Air Quality Improvement Project award went to Pedal Me for its Pedal Powered Taxi & Logistics Service. "This clean effective alternative to taxis really caught the judges' imagination as it contains so much promise," said Deegan. "All the entries were great but the verve and character of this initiative really impressed. Everyone who knows London knows that cycles are the fastest most efficient means of transportation over moderate distances. It, therefore, seems strange that we have waited for so long for someone to capitalise on this. This venture has the ring of all truly great ideas in that once they are launched everyone asks why no one has ever done it before."
The judges wanted to highlight the group's work in order to raise their profile and encourage their success, said Deegan.
The Best Modal Shift Award was presented to BetterPoints Ltd for BikeSmart Reading, a digital app and programme of incentives designed to encourage modal shift from cars to cycling
BikeSmart is a modern transport planning tool, which is cost effective and replicable, said the panel. "It delivers the holy grail of modern transport planning - moving people from the life sapping comfort and suffocating security of private motor vehicles into active transportation," said Deegan.
"There is both a science and an art to pulling people kicking and screaming from cars and this project takes its subject matter seriously. If we are to tackle many societal issues such as obesity, congestion and air quality then each and every local authority should engage with activities such as this."
Last night's event also turned the spotlight on inspiring images of healthy streets. More than 80 entries in the Healthy Streets Photo of Year award were projected on the big screen. The winning shot, from Bruce McVean at the City of London Corporation, showed the FitzPark project in Fitzrovia.
"The judges were impressed as it shows that an ordinary humdrum street can, with a low cost intervention, become a relaxing place to spend time," said Deegan. "There were many other great photos but this photo seemed to capture an achievable and effective first step with instant rewards. Healthy streets are not something you have to wait for major investment to achieve. They can be delivered right now on streets in your area. So, thanks to Bruce for capturing this so beautifully."
The judges reserved a special mention to the charity Sustrans, which was shortlisted in several categories. "Although they did not win in any single category their work was present and high ranking in most areas," said Deegan. "The judges feel that no organisation has done more to embody the spirit of healthy streets than Sustrans. We did not have a 'greatest contribution to healthy streets' awards category, but if we did then Sustrans would have won it without question."
The final award of the evening was presented to London Assembly member Caroline Russell, who was crowned Healthy Streets Champion 2017. "Caroline Russell has been a champion of healthy streets for most of her adult life but it is for her work as a GLA member that the judges felt she deserved the accolade of champion," said Deegan.
The panel had all personally felt a "direct positive impact" on their work due to Caroline Russell's influence. "Put simply, Caroline helps people do healthy things for streets, but more than that she fights to stop people doing unhealthy things. A true champion can fight and nurture and Caroline has both the qualities."
The judges felt she would wear the accolade with pride and help shape the healthy street agenda put forward by the Mayor of London.
The other two finalists were Rod King MBE of 20's Plenty for Us and Iain Simmons, assistant director at the City of London Corporation.
"The other finalists are both amazing characters who deserve recognition but the judges feel that anyone who knows Caroline's work will argue that she has done more than just about anybody to push forward the healthy streets agenda. Long may she continue to do so."
For more details on all the finalists go to: