Funding for active travel in Scotland to double to £80m
05 September 2017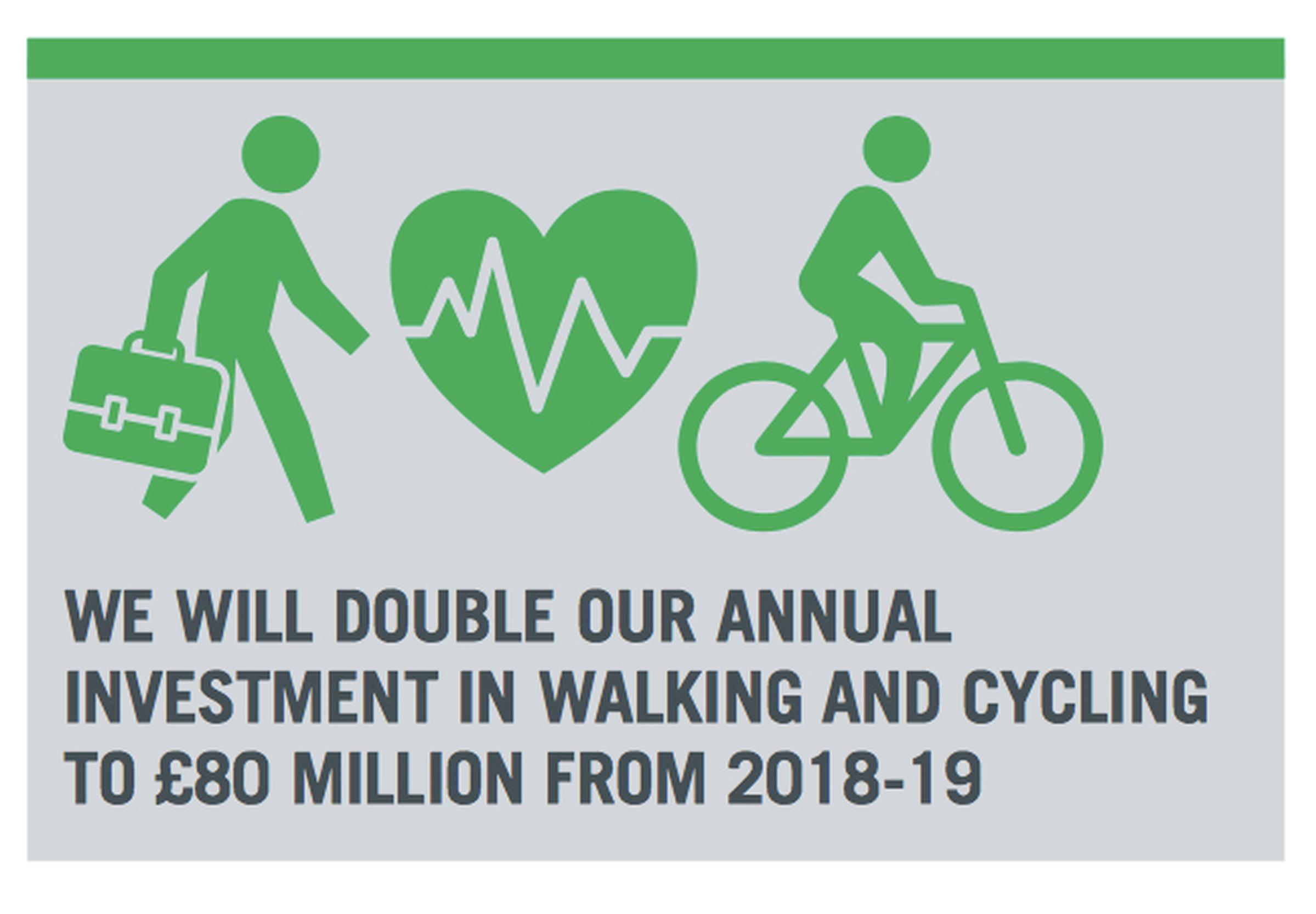 The Scottish government has pledged to double funding for active travel projects from £40m to £80m a year from 2018-19. There are also plans in the Programme for Government, published today, to appoint an Active Nation Commissioner to deliver "world class active travel infrastructure across Scotland".
The programme, A Nation With Ambition, also states that the government will do more to promote the use of electric bikes "to ensure as many people as possible can benefit from active travel".
Other proposals include a long distance walking and cycling route similar in scale to the North Coast 500, a 500-mile route in the North Highlands, and 21 miles of new cycle track to connect the A9 route with the wider National Cycle Network.
First Minister Nicola Sturgeon said: "We will continue to tackle the challenge of poor public health, matching our actions on smoking and alcohol misuse, with bold new initiatives to reduce obesity, boost active travel, improve mental health and tackle air pollution."
Working with councils, the government aims to introduce Low Emission Zones (LEZs) in Scotland's four biggest cities between 2018 and 2020 and into all other Air Quality Management Areas by 2023. An Air Quality Fund will be set up to support local authorities with Air Quality Management Areas. "We will work with the commercial and bus sectors, the Energy Saving Trust and the Low Carbon Vehicle Partnership to establish an Engine Retrofitting Centre in Scotland to support the delivery of LEZs, creating new jobs and with the goal of winning business from outwith Scotland," states the report.
The programme's transport agenda also includes plans to enable all journeys on Scotland's bus, rail, ferry, subway and tram networks to be made using some form of smart ticketing or payment. Transport Scotland will aim to deliver a national 'e-purse' system for use on the Saltire Card – a smartcard that can be used across public transport networks in Scotland.
The charity Sustrans welcomed the Scottish Governments announcement to double investment in active travel. Sustrans Scotland Director John Lauder said the move represented a "bold statement of intent in the new Programme for Government". He said the announcement had the "potential to really change how delivery bodies work in Scotland, and massively increase people's health and wellbeing. It also sets an example for the rest of the UK."
He added: "This new funding investment is building on the successes to date in programmes for walking, cycling and improvements to local communities. The challenge for the future is to build on the creative partnerships already working to make cycling and walking easier, particularly local authorities, regional transport authorities, Scottish Canals, the two national parks and Community Trusts taking active travel to the heart of their communities.
"Walking and cycling is delivering a whole range of benefits across health, environment, transport, education and rural and urban economies. Sustrans Scotland is ready to work with partners across the board to help Scotland realise its potential as an Active Nation."
The charity Cycling UK said the Scottish Government's level of funding for cycling and walking demonstrated a commitment lacking in other UK national administrations. It noted that funding for cycling and walking in England is projected to be £1.2bn over the next four years, which equals £6.50 per person a year in England outside of London. "In Wales, it is estimated that between £3 to £5 per head is spent on active travel a year, while in Northern Ireland the Department for Infrastructure has previously acknowledged that '…the funding available for cycling has been limited and spread thinly,' " said Cycling UK.
In Scotland the doubling of investment for active travel will raise funding to an annual £13.50 per head, states Cycling UK. "This is an aspiration each devolved administration should seek to match."
Suzanne Forup, Cycling UK's Head of Development Scotland, said: "The return on investment will be massive and wide reaching, as the economy, public health and environment are all set to benefit from this news. This is an excellent step towards allocating 10% of transport spending on active travel, which Cycling UK campaigns for through the collaborative Walk Cycle Vote campaign."
Paul Tuohy, Cycling UK's Chief Executive said: "This unprecedented level of investment into active travel from a national government clearly shows the First Minister means business when she talks of addressing Scotland's environmental and health commitments.
"Once again, we're seeing Scotland setting the bar high, and this time on Active Travel. Cycling UK would urge England, Wales and Northern Ireland to look to their own public health and environment commitments, and follow in Scotland's tyre tracks."