'Build it and they will come' is not enough
You can't solely rely on better infrastructure to create mass behaviour change – just as important are direct interventions to help people feel confident and comfortable enough to cycle, writes James Scott
20 July 2023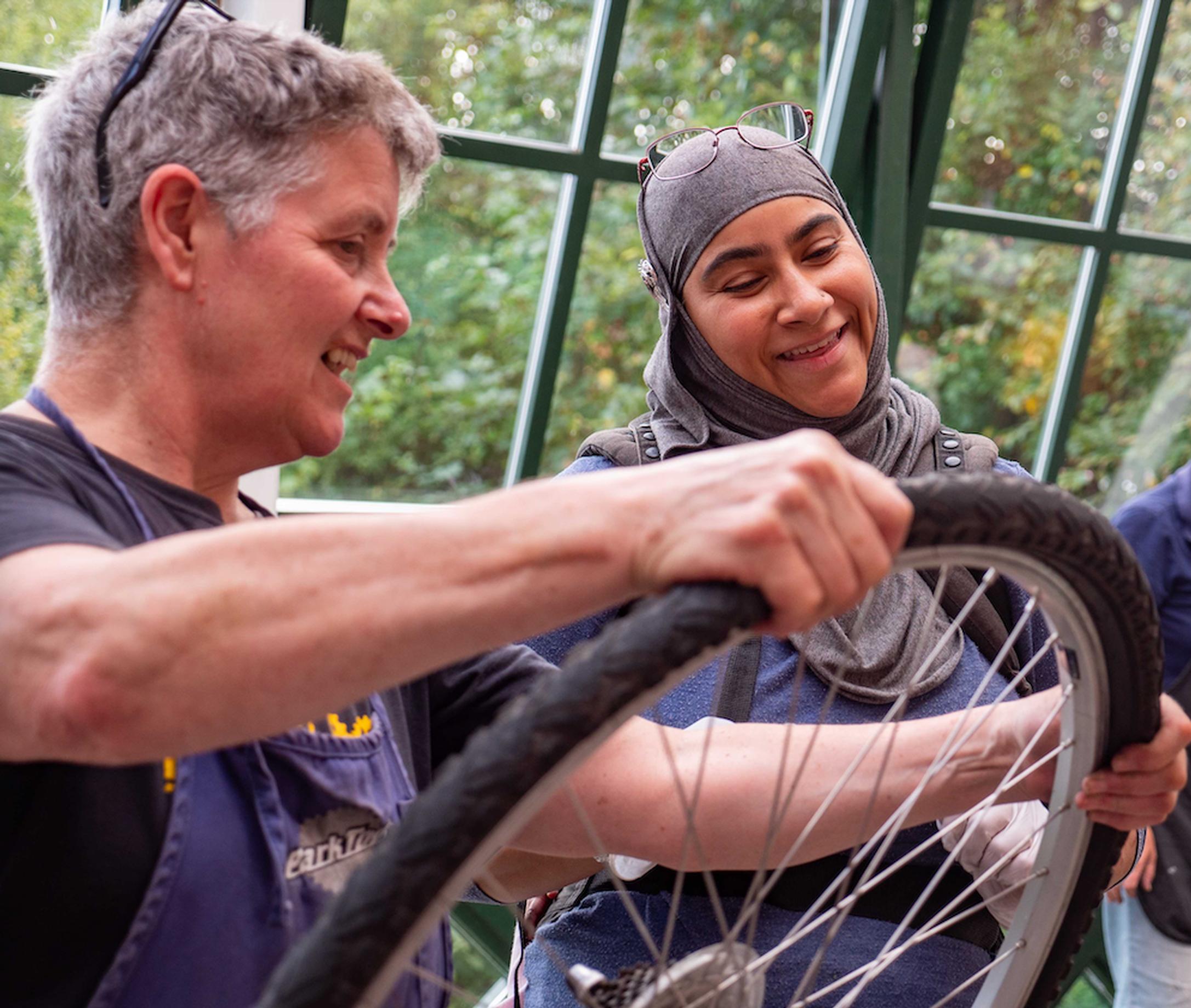 Recently I met with fellow dads from my children's school. Living in prime commuter belt Surrey, a lot of them work in finance, and their reaction when they learned that my job involves promoting and encouraging cycling was perhaps unsurprising.
Cue comments along the lines of, "we don't need more of those lycra lads blocking the road on the weekend".
Sadly, that perception towards cycling is all too prevalent in much of the UK, and is arguably one of the many barriers preventing more people from cycling.
With 55% of domestic transport emissions coming from private motor cars, UK governments and local authorities rightly recognise the benefits of more people driving less and cycling more, particularly in the drive to net zero.
There is absolutely no doubt that the supportive environment that infrastructure can provide is needed to encourage more cycling. While funding levels are not as high as Cycling UK would like to see, it's clear that message has got through to decision makers.
Not everywhere, but increasingly across the UK, we're seeing properly planned networks of safe segregated and low traffic routes being rolled out.
However, with just 2% of all journeys cycled on British roads, and recent Active Live Surveys showing increases only in mileage rather than journeys, and a largely white male demographic, it would appear infrastructure is not enough to get the UK moving actively.
Those who currently ride deserve to be celebrated, but it is those who have the propensity to cycle that we need to think about. What's stopping them riding and what can be done about it?
Professor Jennifer Dill noted in How can psychological theory help cities increase walking and bicycling that while there is a large focus on infrastructure "…interventions that rely solely on improving the built environment may not change behaviour to the extent desired, particularly for bicycling and among women and older adults".
She goes on to say, "Transportation researchers are finding that attitudes may be as or more important in increasing [cycling and walking]."
To see more people cycling in the UK, changing attitudes is essential for changing behaviour. That's why the way we communicate and illustrate activities, like cycling, is so important.
Our attitudes naturally embed within our values and beliefs and reinforce what we believe to be true.
Back to my dads' club. Attitudes shifted once I explained my role was less concerned with sport and more about enabling shorter essential journeys in our towns and cities.
Cue universal agreement that cycling is a good thing which we need more of for environmental and health reasons.
That's two markedly different attitudes towards cycling.
So, how do get to a place where cycling is a socially accepted mode of transport and not seen in the regrettably negative light of a healthy weekend activity?
The built environment is one of the strongest tools we have for creating behaviour change. But behaviour is complex and you can't solely rely on the built environment to create mass change, particularly when we are starting with such a low baseline of cycling.
Social norms have a role to play here. Society has a major effect on our behaviour.
If we create spaces for cycling and our communities use them, this will create a social norm - it will become socially acceptable to cycle. Once we had to look to continental Europe, but now we can turn to cities like Cambridge, Cardiff and Edinburgh.
Combining increased self-efficacy with the right built environment can create real demonstrable behaviour change
People of all ages, backgrounds and abilities can be seen cycling about their everyday business – like is encouraging like.
But, again, we can't just rely on the built environment to create social norms. As has been shown through Cycling UK projects like the Big Bike Revival in England and Shift in Scotland, there is also a more direct approach to helping people feel confident and comfortable enough to cycle.
Confidence can, of course, be gained vicariously by watching others use segregated cycle networks and motivate you to travel by bike.
However, for many we need softer more direct interventions to give us that extra nudge to change our behaviour. Self-efficacy – the ability for you to do a skill – is also crucial.
Last year, 56% of the people Cycling UK engaged with across 11 projects were non-regular cyclists, and 64% of car users switched to cycling as a result of our work. This was not just in the urban environment, but also in rural areas where 58% of people made the change.
This was a direct result of behaviour change interventions that offer one-to-one training and address individual barriers. Our programmes also helped buck societal norms, with a female engagement on average of 47%.
Combining increased self-efficacy with the right built environment can create real demonstrable behaviour change. That's the key. It's not about having one or the other - it's about having a holistic approach that creates positive attitudes towards cycling, and one which is properly funded over years not months.
James Scott is director of behaviour change & development at Cycling UK