All transport is local…
01 September 2017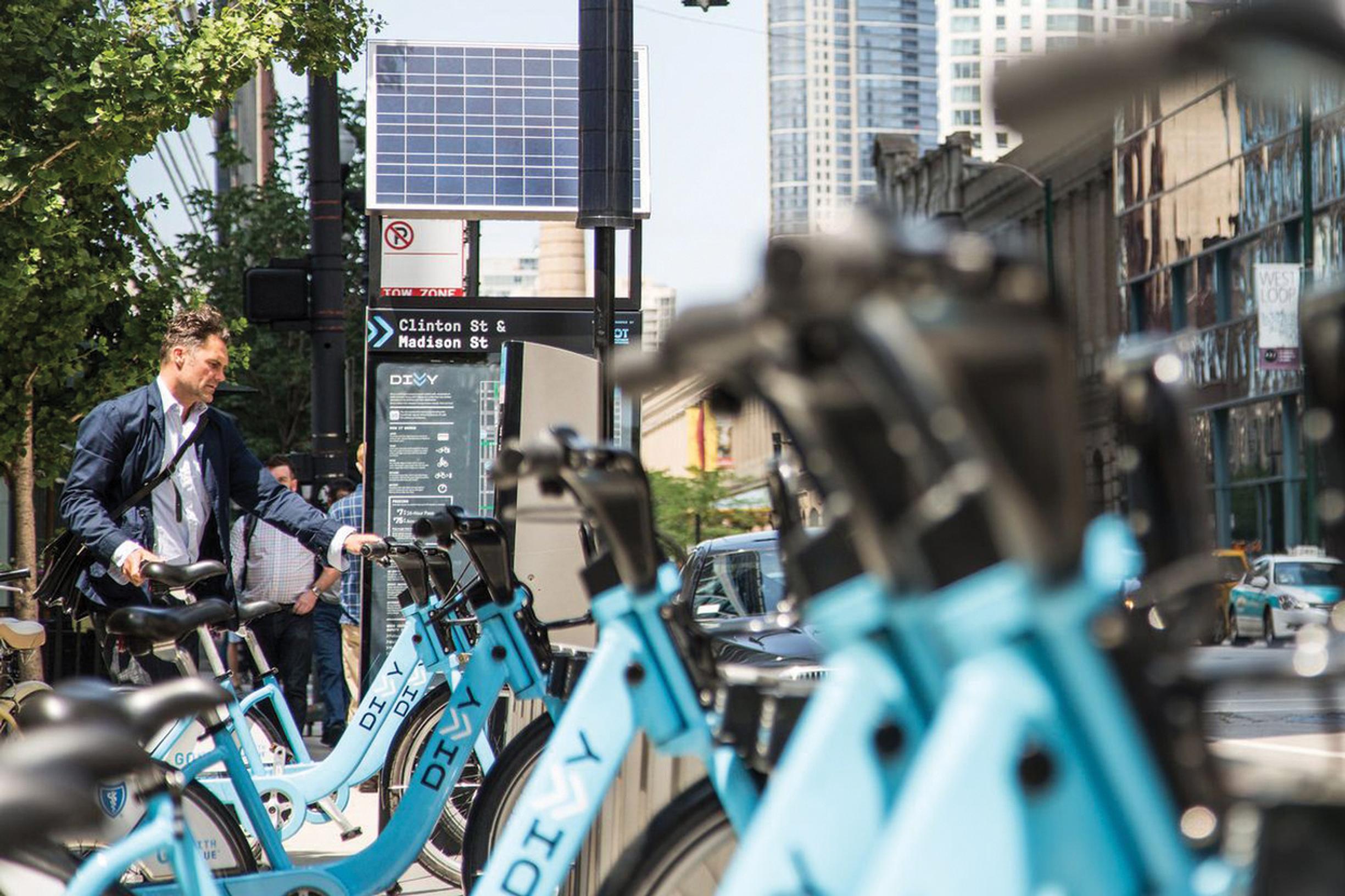 The world is currently experiencing paradigm shifts in attitudes to transport, enabled largely by technology. To Europeans, US headlines about driverless cars and AI breakthroughs, the rise of Uber and Lyft, hyperloop and superfast electric cars, could give the impression that innovation happens easily stateside. But it can be just as hard to achieve lasting change there as anywhere else, says David Bragdon, Chief Executive of NYC's Transit Center, and tells Juliana O'Rourke that the way to move forward is to focus on the local
Bragdon recently led Transit Center in a research initiative called All Transportation is Local: A Field Guide for City Leaders. 'There certainly are ways to make a difference,' says Bragdon. 'In a word, go local. Local officials have more influence over transportation than they think,' he says. 'The most successful leaders link transportation to broader values – such as safety and public health – and make sure those values are incorporated into the city's transportation projects, standards, and metrics. They convince their departments to move fast, try new things, and measure progress in new ways. Devolution is a very progressive idea right now,' says Bragdon.
Cities across the US are using 'quick-build' techniques such as changing their zoning and development codes and targeting transport investments to make a difference. The US is a very innovative place in terms of the private sector, says Bragdon, but the public sector is fragmented and stuck with many outmoded government structures. 'National and state governance can seem rather dysfunctional compared to city government,' says Bragdon.
'We feel that the UK has shown more flexibility in this area, with the creation of the mayoralties and the reorganisation of Transport for London, and now Transport for West Midlands, Transport for the North and Transport for Greater Manchester. State governments have a lot of authority in the US, but most are dictated by rural interests, and urban areas tend not to have unified governance. There's actually very little innovation in the public sector and most transit agencies here are run pretty much in the same way that they were 50 years ago. Major TfL projects such as Crossrail, the Oyster card and now contactless payments, don't really have any parallel in the US.'
City governments are frequently the most progressive units in the US, for example the cities of New York, Seattle and San Francisco are doing a tremendous amount within the bounds of their authority, says Bragdon. 'The key conceptual leap is that transportation is about more than infrastructure. You need a group of professionals who understand the human dimensions of transportation, including finance and planning, not only its physical dimensions such as engineering and construction.' Once this is understood, streets have proven to be quickly amenable to the creation of public plazas, dedicated bus lanes, pedestrian safety features and protected bike lanes; as long as cities or towns have established programmes for planning and acting quickly. American cities are increasingly creating fast-acting transportation teams by pairing street designers with the operational units or contractors who manage cities' street resurfacing, pavement marking and traffic signal operations. This combination has allowed cities to redefine the geometries of city streets in desired ways within months, rather than the years or decades that traditional approaches to municipal construction required.
Get creative for quick build projects
As to funding, many transportation projects are funded through state and federal grants. These are slow, cumbersome processes, often biased towards highways and the automobile. For quick-build projects, cities often have to get creative, using budgets for street markings and traffic signals. In Austin, city infrastructure bond funds are used for quick-build, and in Chicago, property tax increment financing and money from sponsors of the city-owned bikeshare system have been used to make improvements. Once a steady pipeline of projects has been created within enduring quick-build programmes, it can become easier to link them to the older and larger funding sources more commonly associated with heavy construction, notes Bragdon.
Returning to the self-evident nature of US private sector innovation, the US has made headlines in two key areas, AVs and transportation network companies (TNCs) such as Uber and Lyft. While the US claims to lead on AV trials, with the Google-led Waymo fleet alone having self-driven more than 3 million miles, mostly on city streets, and 1 billion more in simulation during 2016, it is shared fleets, rather than autonomous vehicles, that are proving interesting for city authorities. We are mindful that an autonomous vehicle takes up the same amount of space as a similar driven vehicle, says Bragdon. (Waymo's latest vehicles, which are now available for the public to use in their daily lives, are self-driving Chrysler Pacifica minivans meant for multiple occupancy.) Sharing is key, as is the ability to develop demand responsive services. But cities are watching the TNCs, and San Francisco and New York, among the few cities able to estimate their effect – which appears to be worsening congestion in busy areas – have recently stated that a coherent policy framework is needed to ensure that cities can steer the direction TNCs and other new services take through the adoption of 'Guiding Principles', and so have a chance to manage TNC impacts and benefits.
Private innovation; public interest
With the rise of emerging mobility services like bike-share, car-share, on-demand transit, and TNCs, traditional fixed-route public transportation services face a changing landscape. What's novel for the American transit industry today, note Bragdon's Transit Center colleagues Shin-pei Tsay and Zak Accuardi, is not actually the sharing, but rather the private-sector nature of many of these transportation services (bike-share typically being a particular public/private case).
The transit agencies that provide transport services, along with the public agencies that own and manage streets, have an opportunity to 'step up' and take advantage of these changes, or they risk being left behind by both their peers and emerging mobility providers in the private sector, says Bragdon. Previous Transit Center research looking at how to make best use of private mobility innovation in the public interest suggested that the public sector controls valuable assets such as parking spaces and street rights-of-way, that can be used to negotiate for contracted services, access to data, or equitable geographic coverage, for example. Public agencies can subsidise customer trips using emerging mobility providers in order to achieve desired transportation outcomes, such as increased average vehicle occupancy or increased first- or last-mile transit transfers.
According to the Transit Center view, emerging mobility services present public agencies with two key opportunities: providing more transportation options to improve customer choice, and offering agencies new tools to provide better services, more efficiently. But one clear finding, says Bragdon, is that current practice does not support the popular – but superficial – narrative that emerging mobility providers are on their way to replacing traditional bus service. Cities as diverse as Nashville, Jacksonville, and Seattle have seen steadily increasing transit ridership during the past six years, coincident with the rise of transportation network companies and other emerging mobility services.
'Hype' around emerging modes?
There is, in fact, a fair amount of hype surrounding evolving mobility services, notes Bragdon. None of the emerging modes will replace high-quality transit in corridors with sufficient population and activity density. Areas with especially low population density are not viable markets for bikeshare, for the same fundamental reasons that they are not well suited to fixed-route transit services. While emerging mobility options will help address first- and last-mile barriers in some cases, they are not a substitute for the fundamentals of sound urban design and transportation planning. Walking (and its enabling conditions, like dense, mixed-use, transit-oriented development) is and will remain the most effective first- and last-mile solution.
But it is also clear that, in the relatively few years since the shared and on-demand economy came into existence, it has penetrated deeply into daily life: in the US, thanks to Lyft and Uber, it claims more than 7.3 million monthly consumers and $5.6 billion in annual spending. The idea of collaborative consumption is at its most transformative in the transport industry, where the on-demand model can be best illustrated by the emerging concept of 'Mobility as a Service' (MaaS): a model where journeys take place through a combination of public, private and shared transport modes. 'Mobility as a Service is generating lots of interest in the US but there is little talk of implementation as yet,' says Bragdon.
Complement or compete?
Another interesting prospect, he says, is to consider ride-hailing services as a new outlet for cost savings and improved access. The TNCs launched with a fairly narrow focus on taxi-like rides, but have started to offer a greater range of services that either complement, or outright compete with, traditional transit. For example, Lyft has launched a Friends with Transit initiative for a growing number of riders in Boston, Chicago and elsewhere. Both Uber and Lyft synchronise with transit agency and other apps in Dallas and Atlanta. Meanwhile, there is growth in TNCs offering a mix of ride-hailing and transit services, often called microtransit, including new service agreement between Kansas City and on demand bus service Bridj, which recently closed due to funding problems. Bridj, originally a Boston start-up, was described as a cross between Uber and shuttle buses, carrying multiple passengers but with vehicles taking routes based on rider input rather than fixed stops. Such complementary services have also been seen in outer London, with an increase of 63 per cent of Uber journeys starting near Night Tube stations, and with Newbury Park, Woodford and North Acton seeing an increase of more than 300 per cent.
US city streets have proven to be quickly amenable to the creation of public plazas, dedicated bus lanes, pedestrian safety features and protected bike lanes – as long as cities or towns have established programmes for planning and acting quickly
On demand services
Despite the demise of Bridj, the US continues to explore on demand transport. With each passing year, ever more accessible technologies are opening up the possibility of on-demand services beyond the provision of social mobility for older people, or those with restricted mobility. In the past few months, multiple proposals for demand responsive transport (DRT) services in London capital have also been developed, Michael Hurwitz, TfL's director of transport innovation recently told LTT, as firms take advantage of new technology. These services are likely to utilise electric vehicles and driverless technology as these abilities develop. But Hurwitz also stressed that any iteration of DRT needs to avoid any risks of increasing car dependency or reducing cycling, walking and public transport usage.
Sharing is key
The sharing aspect of mobility is going to be very important, says Bragdon. At Transit Center we are working with 11 transit agencies around the country as part of the Federal Transit Administration's Mobility on Demand (MOD) Sandbox Program Projects. For example, in Phoenix, Arizona, Valley Metro Rail has received funding for a smart phone mobility platform that integrates mobile ticketing and multimodal trip planning. The network will include a range of mobility providers, including ride-hailing, bike sharing, and car-sharing companies, allowing all levels of income, age and people with disabilities to have access to an integrated, connected multimodal transportation system. The Los Angeles County Metropolitan Transportation Authority is running a two-region mobility on demand partnership with the car-sharing company, Lyft, in Los Angeles and Seattle. The project will explore the viability of first/last mile solutions for trips originating and ending at select transit stops. Customers can use the Lyft app or call a dispatcher phone number, providing equity to lower income individuals.
Recent work by Transit Center has identified further actionable short-term opportunities for transit agencies and municipalities to work with emerging mobility providers, reviewing what emerging mobility providers have offered to public agencies in the US to date, and considering the implications for public transportation. A blend of active local politics that aims to make the most of existing infrastructure, and judicious partnership with emerging mobility providers is driving change across cities in the US, just as it could in cities internationally.
This wide range of work done by Transit Center and its partners suggests that emerging mobility services are just one piece of an effective public transportation network in which transit remains the backbone and walking is the preferred option for first- and last-mile travel. The accessibility to, usage of, and general familiarity with emerging mobility services varies widely in the general population – especially with age and income – creating major equity challenges.
Public agencies need to make sure that emerging mobility providers support agencies in addressing their fundamental mission, rather than distracting them from it. Transit agencies' goals should be equitable, efficient, affordable, and sustainable transportation, and their challenges are to gain the public and political support, funding, and organisational capacity necessary to provide their customers with high-quality transit networks. Emerging mobility services do not yet solve these complex challenges, but they can go a long way to helping address them in today's polluted and congested city spaces.
David Bragdon from the Transit Centre NYC will be speaking at Smarter Travel LIVE! 2017 in October. The reports mentioned here are available from http://transitcenter.org­