Could automation offer the ideal solution for 'last mile' journeys?
Driverless pods will soon be transporting passengers around central Milton Keynes. Deniz Huseyin speaks to the team that laid the foundations for the automated system
13 April 2017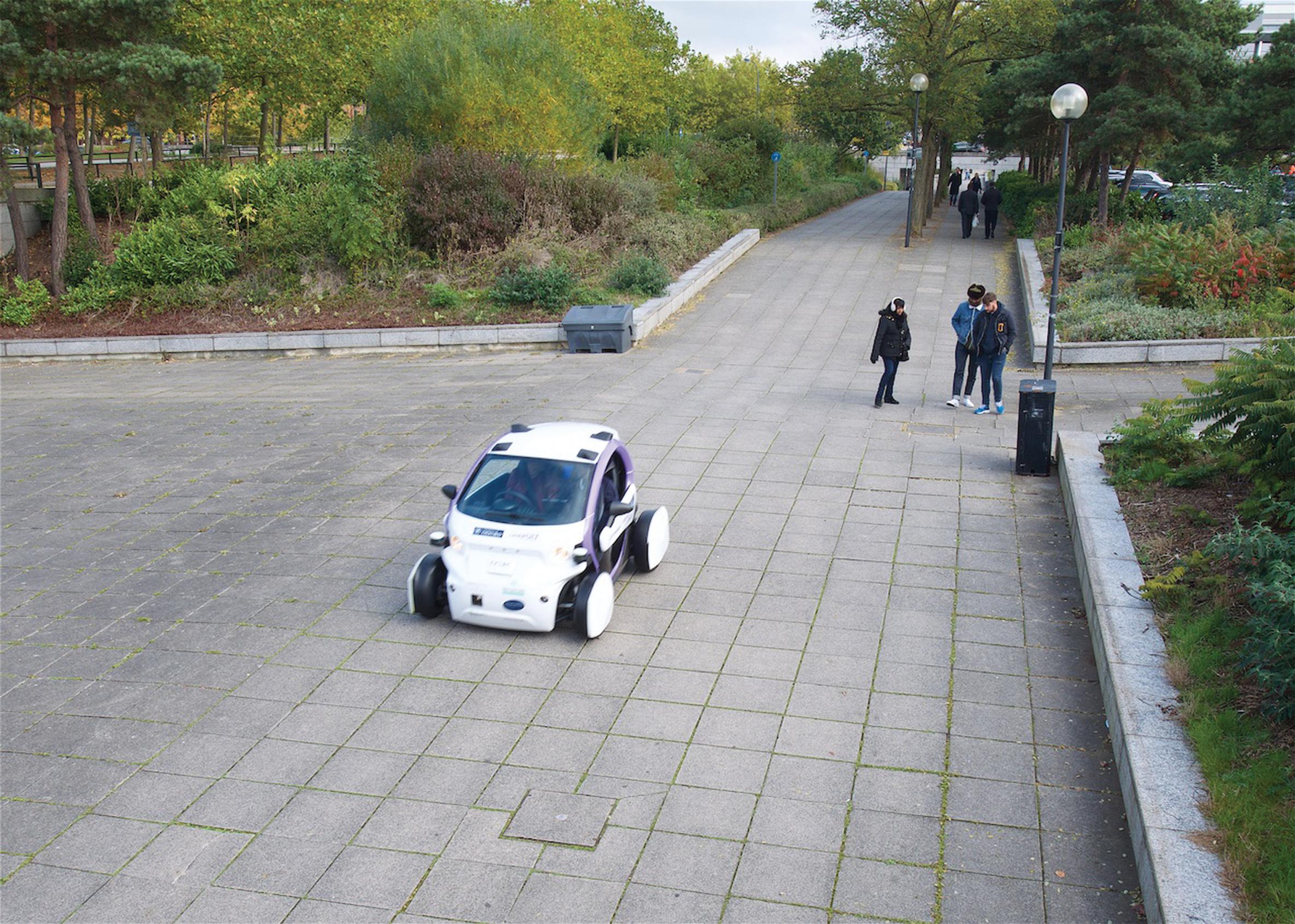 Pedestrianised areas of Milton Keynes are to serve as the testing ground for a new mobility solution, with the roll-out of a fleet of 40 driverless pods offering short-hop journeys due to start later this year. A selected group of users will try out the service, piloted by UK Autodrive, a consortium of technology and automotive businesses, councils and universities, which is developing self-driving and connected car technologies.
The three-year project, which ends in October 2018, will test how efficient the system is at offering 'first/last mile' journeys. The driverless pods will also be trialled on the streets of Coventry.
Partners in the project include Arup, Milton Keynes Council, the Transport Systems Catapult (TSC), Coventry City Council, RDM, Oxbotica, AXA, Ford, Jaguar Land Rover, Tata Motors European Technical Centre, the University of Oxford, University of Cambridge and Open University and the HORIBA proving ground.
The groundwork for the UK Autodrive project took place last October with trials of the LUTZ Pathfinder pod run by the Transport Systems Catapult, which is based in Milton Keynes. During the five-day trial, autonomous pods navigated the centre of the Buckinghamshire town, moving at speeds of up to 15mph, though an engineer was in the vehicle ready to take back control if required.
The Catapult has been promoting autonomous technology on behalf of the UK Automotive Council and the Department for Business, Energy and Industrial Strategy. The two-seater pod was developed by University of Oxford spin-out company Oxbotica and manufactured by Coventry automotive innovation firm RDM.
Milton Keynes Council sees the LUTZ Pathfinder as the first step on the way to a door-to-door mobility solution. The pod for the new UK Autodrive project, which is being built by RDM, will be based on the Pathfinder vehicle but will have six seats to transport passengers. Brian Matthews, the council's head of transport innovation, says: "By next year we will have built up a fleet of 40 pods and will start to allow groups of users drawn from the public to use them as a last/first mile public transport system in central Milton Keynes.
"The council is backing this project as it wants to explore how the new technology can be applied to increase mobility options within our growing city centre. The attraction we believe will be to provide a door-to-door service, almost anywhere to anywhere in the city centre, and whilst the traveller is being moved they can do things they may want to do rather than drive. The vehicles are also fully electric, so zero carbon output when being used."
Adds Matthews: "The pods will also help with mobility for those who may not want or cannot drive, may have difficulties accessing other forms of public transport or cannot walk or cycle easily. The pods are designed to be accessible, and can accommodate a wheelchair.
"One of the capabilities we want to test is the pods' ability to 'meet' a connected, maybe driverless car, at an edge of city location, transfer the passenger and have the pod complete its journey whilst the car then parks itself."
A key finding of the LUTZ Pathfinder trial was how the public adjusted to the presence of the pods. Simon White, communications manager at the Catapult, says: "People seemed to accept the pods in their space. In fact, they started to just ignore the vehicles! With any new technology there is a fear of the unknown, but once people are exposed to it they start to have a more positive view."
This was confirmed by surveys carried out by the Catapult during the trial. Results suggested that exposure to the pods in Milton Keynes shifted perceptions, with 61% of adults living in the town saying they were interested in using self-drive vehicles for short-hop journeys. This compares with 39% of adults nationwide.
Each pod is fitted with 19 sensors, cameras, radar and lidar (light detection and ranging) scanners, to build up a 3D map of the street environment. Real-world mapping was complemented by virtual tests carried out by the Catapult's modelling and visualisation team.
Rebecca Advani, the Catapult's technical lead for the LUTZ Pathfinder project, says: "If you are in a shared space you want to know where you can go and where you can't go, and this requires a lot of 3D mapping."
There are benefits to using both cameras and lidar (light detection and ranging), explains Advani. "Lidar gives you an accurate warning of distance, about the fact there is an object in front of you while the camera allows you to interpret what the object is."
The Catapult is now offering use of the three pods at its test lab in Milton Keynes to companies and universities. "This will enable them to plug in their own sensor using a real-world data of pedestrians walking around," says Advani. "So they use our base pods to develop their own systems."
Before autonomous vehicles can become a regular mode of transport, there remain obstacles to overcome, says White. More testing, both virtual and real-world, is needed to assess how self-driving cars interact with other vehicles and road users.
Issues around hacking also need to be addressed. The growing prevalence of the Internet of Things (IoT) means that ordinary devices controlled via an online network face the risk of being hacked.
"We are aware that there is a big problem coming in cyber security, not just for driverless cars but for the transport industry," says White. "The more connected things become the bigger the surface area for attack."
The requirements for motor insurance will also need to change, says White. "It could be that the fleet operator has group insurance and the individual using the vehicles would have personal accident insurance."
The Government would also need to consider changes in legislation before autonomous vehicles are allowed on the roads. "The UK Government is showing a lot of willingness to update regulations as they go along," says White. "They are analysing current legislation and working out what needs to change and giving guidelines to people who are testing vehicles."
See the pods in action and meet the Transport Systems Catapult team at Smarter Travel LIVE!
---
Japan set to introduce driverless buses
Self-driving buses could operate along simple routes, says the Transport System Catapult's Simon White. "In Milton Keynes we have buses that run directly from the central station to the shopping centre. I could see a driverless service operating along routes like that."
He refers to work being done by the Tokyo-based technology and telecoms company SoftBank Group Corp, which is developing driverless buses to serve rural areas. "Local authorities can't afford to run these local bus routes, but for the people who do use them they are absolutely vital," says White.
In April 2016 SoftBank formed a joint venture called SB Drive with Advanced Smart Mobility Co, a firm developing automated driving technologies. Backed by funding from Yahoo! JAPAN, SB Drive is assessing the viability of developing automated fixed route bus services and convoy-based truck "trunk line freight transportation". SB Drive has signed smart mobility partnership agreements with four municipalities in Japan, including Kitakyushu City and Yazu Town in Tottori Prefecture.
SB Drive aims to put test vehicles on public roads by next year.