New travel strategy at Redbridge challenges dominance of the car
Redbridge cabinet member John Howard and head of civic pride Mirsad Bakalovic talk to Deniz Huseyin about their plans to improve transport links, encourage active travel and make the streets more people-friendly
03 March 2017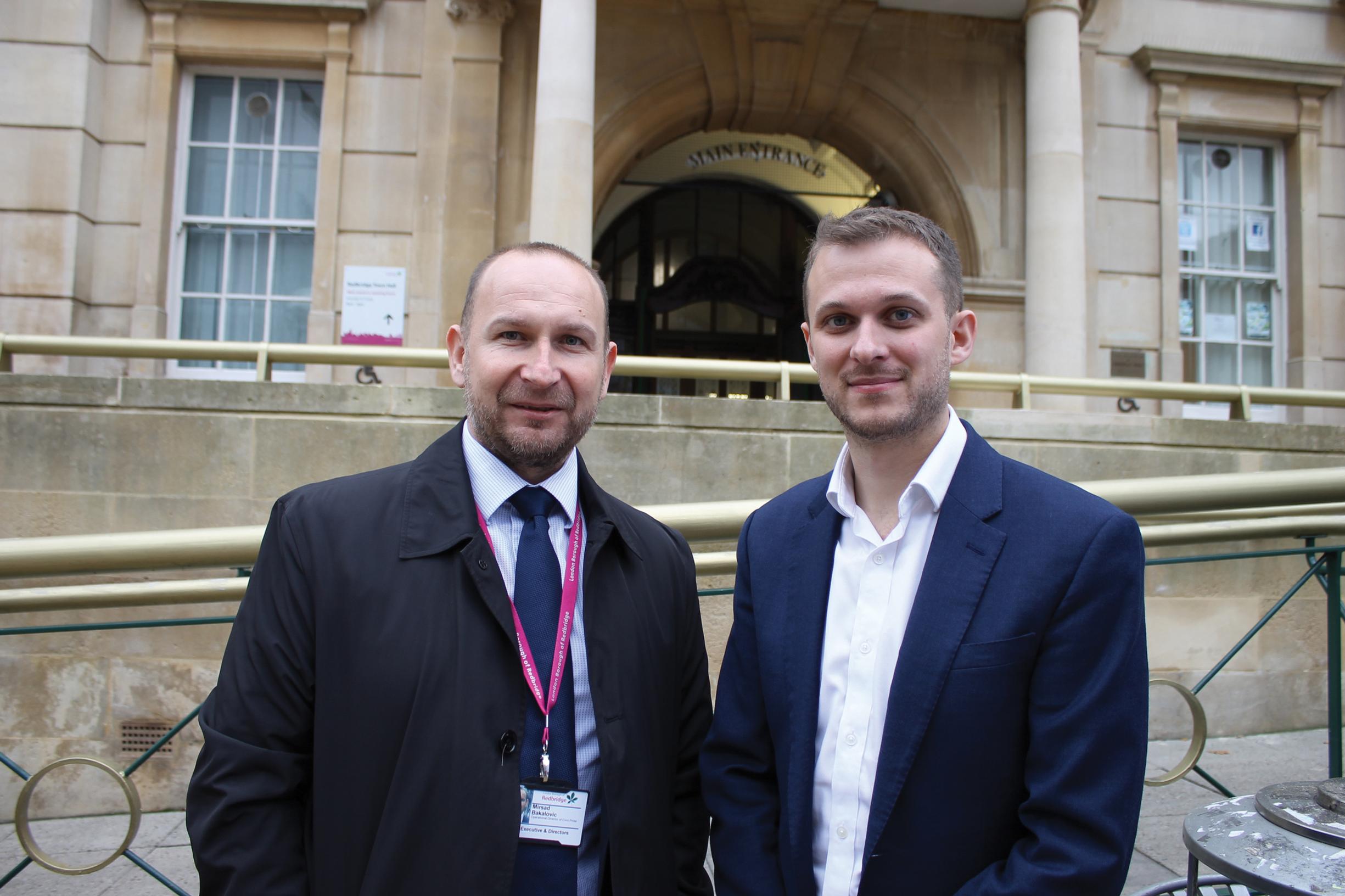 The London Borough of Redbridge has been through a period of self-scrutiny, renewal and reinvention over the past 12 months. Since the arrival of new chief executive Andy Donald a year ago there have been big changes, with a new structure put in place.
Transport matters sit within the civic pride section of the place directorate. Mirsad Bakalovic, the head of civic pride, was previously head of parking, mobility and transport services at the London Borough of Tower Hamlets and, before that, head of parking services at Croydon. He joined Redbridge in October and, as in his previous roles, has set himself the challenge of improving customer satisfaction while achieving efficiencies.
Bakalovic is working closely with councillor John Howard, who became cabinet member for environment & sustainability last May. Howard has been a councillor with Redbridge's ruling Labour group since May 2014. He believes that the authority, constrained by inertia and complacency, was being run like a "quaint Essex village on the borders of London".
"The council was too worried about not changing things for fear of upsetting people, but we need to bring Redbridge into the 21st Century," he says. "It is about setting the direction of travel.
"Redbridge is a much more member-led administration now. We need to modernise. Before I became a councillor I used to speak to friends in other boroughs and they told me they saw Redbridge as the borough where nothing happens. That is changing now. But there is no time to lose; we need to bring in changes as soon as possible. There's no point being in politics if you are not going to change anything. I'm in my late twenties and there are better things I can be doing with my time."
The administrative headquarters of Redbridge is Ilford, a town, says Howard, where "car has become king" and streets have suffered from neglect and are blighted by litter.
"The town centre is dominated by very busy roads. Diverting traffic away from the town centre will give us more room to play with. People who live in Ilford deserve somewhere to live they can be proud of – this means bringing in greenery and pocket parks and keeping the streets clean."
Redbridge ranks as the local authority with the seventh fastest growing population in England, according to the Office of National Statistics. Its population in 2014 was 293,100, and is projected to rise 16.6% to 341,200 by 2024.
This growth will inevitably result in more pressure at the kerbside. There will come a time when there will not be enough space to safely and efficiently accommodate everyone who wants to park and drive in Redbridge, warns the council's parking strategy. One of the pressing issues is commuter parking around the borough's 16 rail and Underground stations. Says Bakalovic: "We will be reviewing this and, if necessary, will expand CPZs [Controlled Parking Zones] around stations to tackle the problem of parking displacement."
Commuter numbers are likely to grow most significantly at Ilford station, which lies on the East-West Crossrail route, now called the Elizabeth Line. There will be high frequency services through central London as far as Reading and Heathrow in the west and Shenfield and Abbey Wood in the east.
As part of the project, Ilford station will be rebuilt, with the surrounding urban realm re-designed. The area currently suffers from poor quality pedestrian space, narrow footways, and high levels of congestion, says Howard. The new station will have a large forecourt, an improved transport interchange, a widened pedestrian crossing, and a more efficient layout of bus stops.
The Elizabeth Line will be fully operational in 2019, and Ilford's rebuilt station is due to open in 2020. Funding for the station works will come from Crossrail Ltd and Transport for London, who will also part-fund the station access improvement scheme.
The council is also developing a scheme for Ilford town centre which, it says, will transform the precinct area into "a vibrant centre".
Transport links are not uniformly good across the borough, Howard points out. "We are in the commuter belt, with a good many rail stations and bus services, and our job is to support people to move away from cars. But 70% of the borough is green land, so not everywhere is well-served by public transport – travelling north-south is not as easy as travelling east-west."
Says Bakalovic: "We need to strike a fine balance. We must recognise that people in more rural areas of the borough are dependent on their cars. But in urban areas we need to encourage people to change their mode of transport. We're working closely with TfL to make this happen."
Better cycling routes
Redbridge has received Local Implementation Plan (LIPs) funding from TfL to improve cycling and walking routes. This includes the £1m Redbridge section of Quietway 6 from Mile End to Barkingside, which is due to be completed next month. Other projects include the Woodford to Hainault cycle and pedestrian route link, which has received £1m of LIP funding. There has also been a greater focus on cycle training.
The council has a TfL LIP-funded rolling investment programme to improve town centres, principally aimed at enhancing the walking environment. LIP funding from TfL may also enable the re-allocation of space from cars to pedestrians and cyclists on wide roads, suggests Howard. "The borough is blessed with some wide roads as well as some quieter back street ones," he explains. "We've made some big changes to road layouts through the Quietways scheme, which can now take you across the borough while avoiding most of the main roads. I think this is the way forward for an outer London borough.
"There is no point building a brand new railway line if you need huge car parks in urban areas – you have to think about how people will get to the station as well. Most of the people will probably walk in, but we need to provide better cycling infrastructure to support cycling."
Despite his hope that more people will switch to active travel modes, Howard insists he is not anti-car. "Redbridge is the sort of place where people work hard and like to buy a nice car with their hard-earned cash – and there's nothing wrong with that." It is more a case of allowing people to explore the alternatives to car ownership, he says. "Car clubs might be a practical option for people who don't rely on regular car journeys to get around."
Bakalovic envisages more demand for car clubs near new housing developments, which will either be car-free or with only very limited parking. However, current car club availability in the borough is low, with just six dedicated car club bays run by Zipcar.
Redbridge is one of eight London authorities that will share £11m from London mayor Sadiq Khan to set up Low Emission Neighbourhoods. These new zones will come into effect in 2019, with a range of measures such as new penalties for the most polluting vehicles, car-free days, green taxi ranks for zero emission cabs and parking bays reserved for the cleanest vehicles.
In Redbridge a Low Emission Neighbourhood is planned at the A406/A118 Ilford Garden Junction.
Howard says the council must take steps to cut emissions from polluting vehicles. He has a strong understanding of the issues around worsening air quality as his 'day job' is senior external affairs officer at the charity Asthma UK. One of the issues being targeted by Howard is the habit among bus drivers to leave engines running at the end of routes.
"Redbridge has lots of starts and ends of bus routes. This has on occasion meant that drivers keep their engines on whilst waiting to restart. We're working with TfL to get drivers to stop this, but we're also looking at bringing in idling regulations as part of our new clean air strategy."
The council has asked TfL to tell bus operators to curb engine idling, says Bakalovic. "We suspect that one of the main reasons drivers keep their engines running is to keep their buses warm. If the problem continues we will consider allowing community officers and civil enforcement officers to issue fixed penalty notices."