Tyne & Wear Metro ventilation shaft listed by Historic England
Parson's Polygon is recognised as an important piece of public art
22 September 2016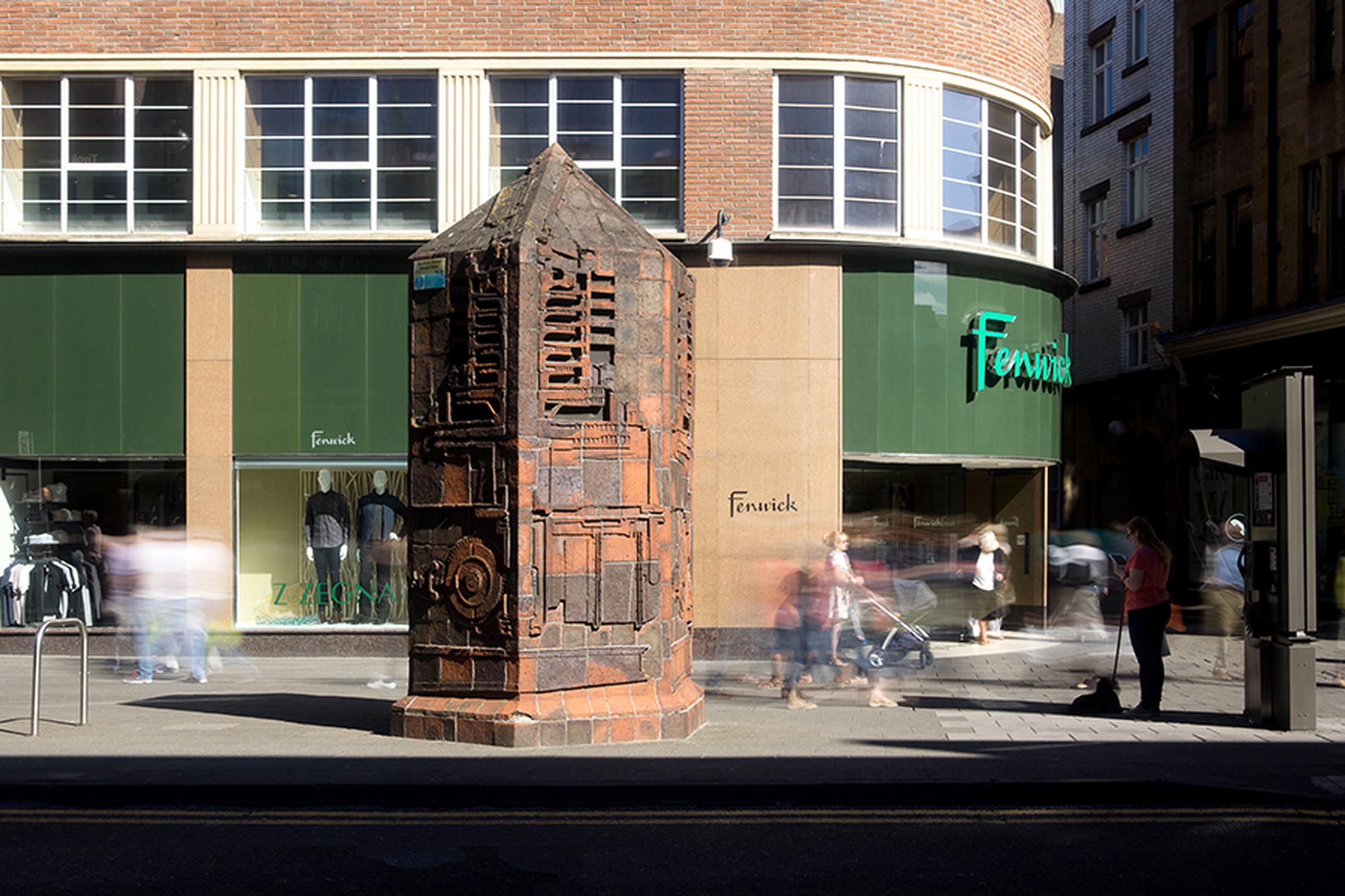 An air vent for the Tyne & Wear Metro's tunnels beneath Newcastle has been listed by Historic England as an important piece of post-war public art. Parson's Polygon, a terracotta obelisk designed by artist David Hamilton, stands in one of Newcastle city centre's busiest streets.
The 3.5 metre artwork conceals an air shaft to Monument station below and replaced a utilitarian metal box when it was installed in 1985. The faces of the polygon are decorated in tribute to the North East engineer Charles Parsons.
Parson's Polygon has now joined works by iconic artists such as Henry Moore and Barbara Hepworth on Historic England's list of important post-war public art. Historic England announced the listing of Parson's Polygon at Grade II as it launched an exhibition in Newcastle devoted to post-war public art.
It is the first time one of Metro's artworks has been listed, and also the first time that any structure built for the new Metro system opened in 1980 has been recognised.
Cllr Nick Forbes, leader of Newcastle City Council and lead member for transport on the North East Combined Authority, said: "The North East was a pioneer in the creation of art in and around public transport, an approach which has been copied by cities all around the world. Parson's Polygon is an early example from what has been achieved over the last few decades. It is an accolade for our region that it's been recognised in this way, as well as a fresh tribute to one of our great engineers, whom this clever and timeless sculpture honours."
Raymond Johnstone, director of Rail and Infrastructure at Nexus, the public body which owns Metro, said: "Thousands of people must pass Parson's Polygon every day without realising it is actually part of Metro. It is a creative means of hiding a vital but functional piece of infrastructure – an air intake to Monument, one of the busiest railways stations in the north of England."
"For almost 40 years our Art on Transport programme has been all about brightening up journeys but also solving the odd design problem that operating a railway throws up. The people who built Metro were far-sighted and bold in their approach and seeing Parson's Polygon listed decades later really sums that up."
Nexus, formerly the Tyne and Wear Passenger Transport Executive, has commissioned more than 40 major pieces of public art since construction began on Metro, most of which can still be seen today at stations. They include the 100-metre light wall Platform 5 (2009) by Jason Bruges Studio at Sunderland station, the giant sculpture Opening Line (2004) by Danny Lane at Gateshead, Bob Olley's popular Famous Faces (1996), also at Monument, and Basil Beattie's imposing mural Magic City (1987) at Manors.
Nexus continues to seek opportunities and external funding for new commissions through the Art on Transport programme. This spring Nexus displayed a temporary work called Home by Alex Godwin at Byker, with support from Arts Council England.
Details of all the Art on Transport Commissions can be found at: www.nexus.org.uk/art