Shawcross sets out ambition for traffic-free Oxford Street
22 July 2016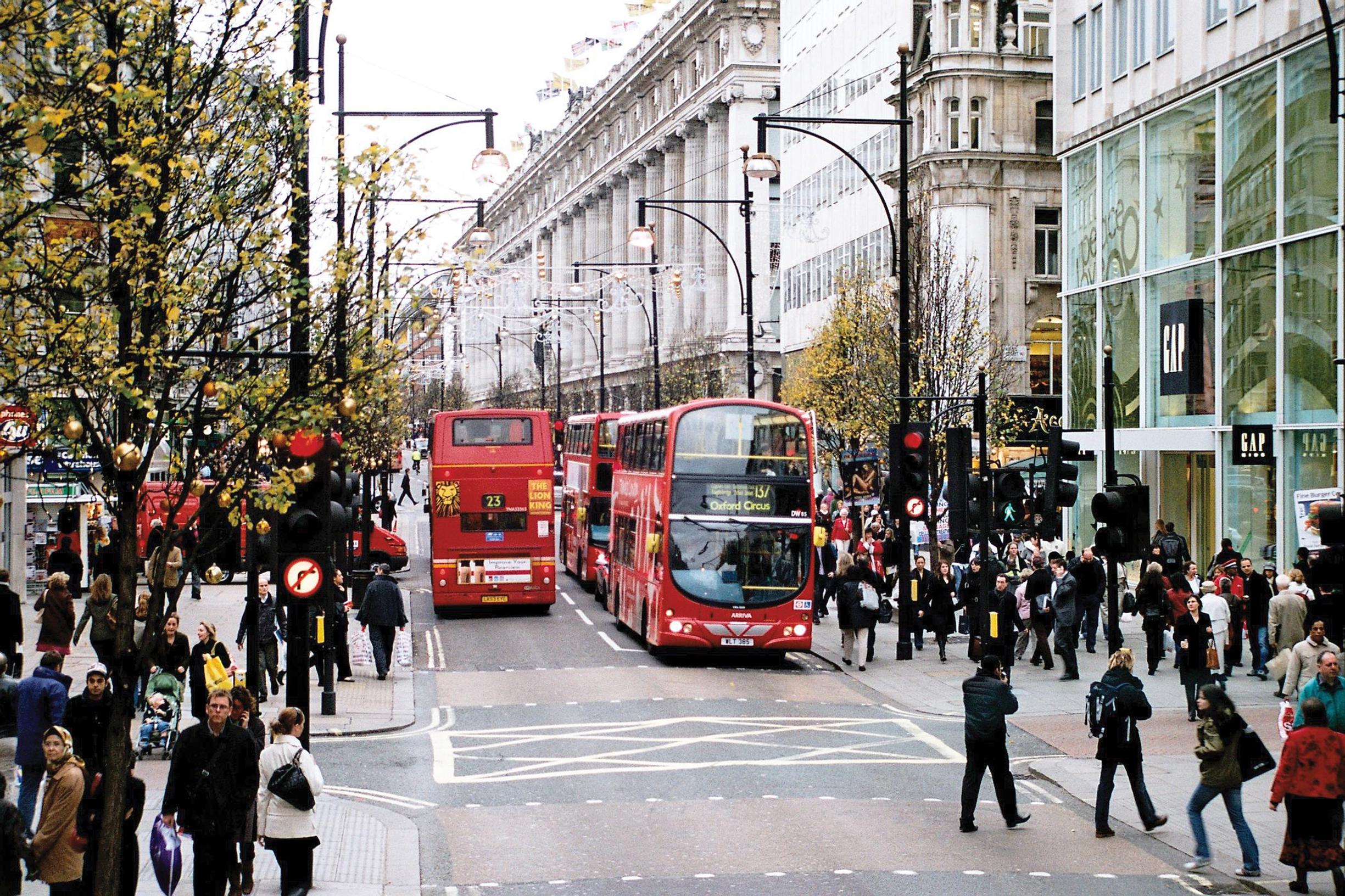 Most of London's Oxford Street will be pedestrianised by 2020, the deputy mayor for transport, Val Shawcross, has told the London Assembly.
Mayor Sadiq Khan's manifesto pledged to work with Westminster City Council, business, TfL and taxis "to pedestrianise Oxford Street". "I will start by bringing back car-free days, and possibly weekends, before moving towards full pedestrianisation."
The street is currently restricted to buses and taxis only during the daytime on Mondays to Saturdays. Yet the volume of vehicles still using the street creates a poor environment for pedestrians.
Shawcross told the transport committee last week: "It's been sadly neglected as public realm. Working with Westminster we could deliver something fantastic for London.
She said the proposal was to pedestrianise from Marble Arch to Tottenham Court Road. "We've been talking about that enhanced ambition to all of the partners and of course principally Westminster City Council whose road it is.
"The outline proposition we're working with the local partners on now is basically to get Oxford Street pedestrianised in three phases. This is all provisional, it's very early days.
"The first two big tranches – Oxford Street East, from the new Crossrail station [at Tottenham Court Road] to Oxford Circus first, then Oxford Street West, stopping just short of Marble Arch, second.
"That would be over three-quarters of Oxford Street, getting that done before 2020, and the last bit, going up to Marble Arch station is a bit more complex, that would probably fall into the post-election period."
Shawcross said pedestrianisation would not be achieved by simply diverting all the buses onto neighbouring streets. Instead, there needed to be a "serious redesign of the bus services in central London".
The committee last month heard that two consultations on traffic in Oxford Street will take place in the coming months. TfL plans to consult later this year on cutting bus services. The West End Partnership (WEP) will consult on pedestrianisation options early next year, with a plan due to be approved next August. WEP brings together Westminster, the London Borough of Camden, TfL, the mayor's office, major landowners, the New West End Company – the business voice for London's West End – and residents.
Robert Davis, deputy leader of Westminster City Council and cabinet member for the built environment, told the Assembly that the issues were complex. "It is no good producing lots of benefits for Oxford Street and then having great disadvantages for the surrounding streets."
Heather Acton, Westminster's member for sustainability and parking, said: "Full pedestrianisation is absolutely not possible because there are north-south access routes over Oxford Street."
Sir Peter Rogers, chair of the New West End Company, said the current state of Oxford Street was unacceptable but added: "I do not think anybody should underestimate how difficult it [pedestrianisation] is. We cannot damage accessibility… Businesses do want traffic-free zones and they do want them in certain areas at certain times of the day.
"The last thing I would like to see is a lurch into pedestrianisation because it is somebody's ambition of what is right without a properly thought-through and evidence-based approach. Our stores certainly do not think full pedestrianisation along Oxford Street will work."
Rogers called for a 20% cut in buses using Oxford Street by this time next year and a further 20% reduction soon after that. He said a lot of the services were carrying "fresh air rather than people".
Richard Massett, chair of the Licensed Taxi Drivers Association, said banning taxis from the street would deprive many mobility-impaired people from visiting the street's shops.
Also speaking last month, Alex Williams, managing director of planning at TfL, said: "We did decrease buses [on Oxford Street] a few years ago, a 20% reduction. We have got plans to look at a 20% to 40% reduction and we are looking at consulting on that later this year for phased implementation from next year. This is all leading up to Crossrail."
Crossrail will have two stations serving Oxford Street – Bond Street and Tottenham Court Road – and is seen as an opportunity to cut bus volumes.
Williams added: "In regards to full or partial pedestrianisation, there are two issues with partial. One is whether it is 24 hours a day or just shopping hours, for example, in which we give respite to residents in adjacent streets overnight. The other issue about full or partial is length. Is it just Oxford Street West or is it the whole of Oxford Street?"
Williams said TfL regarded a section west of Oxford Circus as a first stage (Shawcross last week suggested this as the second phase). He said: "Certainly if you wanted to do something more quickly, you would probably start with an easier stepping stone of a segment of Oxford Street West for part of the day. That was the one that we thought we should focus on as a first stage, looking in a bit more detail at the section between Selfridges [near Bond Street] and Oxford Circus and clearly still allowing north-south crossing of that."
On whether cyclists would be allowed to use a pedestrianised Oxford Street, Williams said: "It would have to be part of a consultation as to, if it is pedestrianised, is it a pedestrian only space, or is it for cyclists to go through there as some pedestrianised spaces have? We are probably a long way from determining how that is supposed to function."
Discuss this at LTT's Transforming London Streets event 23 September.