Life on the Smarter Travel frontline
Sarah Fisher and Rachel Evans discuss the future direction of Smarter Travel
17 February 2016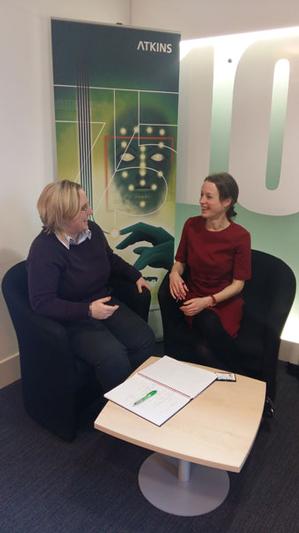 Give me a snapshot of your Smarter Travel career to date?
Rachel Evans: I've been at Atkins for three years and have been involved with a wide range of travel behavioural change projects. My experiences include leading multi-business travel forums at business parks to managing community Personalised Travel Planning (PTP) and the implementation of Travel Demand Management for Gloucester's host City role in the 2015 Rugby World Cup.
Sarah Fisher: My decade at Atkins has been fast-paced, varied and influenced by technological advances in Smarter Travel. My early days had a strong planning led Green Travel Plan focus, but markets have progressed at a rate and diversity I never anticipated. My focus now is on achieving meaningful and sustained travel behavioural change to implementing TDM initiatives which have real mode shift impact. I now manage Atkins' growing TDM Consultancy business.
Name one highlight of your career
SF: Winning an award at the Atkins' Transportation Excellence Awards for an innovative project I devised to offer travel advice support to job seekers wishing to return to employment. It was fantastic for a Smarter Travel project to be recognised against entries with an engineering and highways infrastructure focus. The real highlight of this project was knowing that it had made such a difference in changing peoples' lives.
RE: Giving Smarter Travel the recognition it undeniably deserves against highways infrastructure projects completely resonates with me. A main highlight for me is working in partnership with clients to deliver TDM expertise and enabling effective transport provision.
There seems to be plenty of variety in the opportunities and skills within Smarter Travel. What motivated your involvement in this discipline?
RE: It was a natural progression from my early years spent preparing strategy to 'real impact' delivery on the ground. It's also an opportunity to get out of the office and engage with the wider business community and develop long lasting relationships.
SF: I get a real buzz from engaging with real-life travel audiences. Witnessing the growth in government funding and the high market demand for the expertise of TDM professionals was also a key motivator for me.
If you created a Smarter Travel time capsule to show future generations on how far we've advanced, what would you put in it?
SF: Smarter Travel has accomplished a great deal over the last decade. I am particularly pleased with initiatives such as the Green Travel Plan and the School Travel Grant, using Transport Direct as a journey planning tool. Previous schemes such as the, now redundant, Planning Policy Guidance 13 (PPG13) and the Delivering a Sustainable Transport Scheme (DaSTS) were also widely applied. It is important to note just how much technique, technology and business culture has advanced.
How would you like to see Smarter Travel projects evolve over the next few years?
RE: Continued revenue funding for local authorities to progress well-crafted and meaningful mode shift impact programmes that were kick-started by the Local Sustainable Transport Fund (LSTF) is essential. I would like to see behaviour change techniques being used as communication tools during the construction phases of large infrastructure projects. I think there is also great potential for local community champion-led Personal Travel Planning, which has been so engaging and prominent during the LSTF days.
SF: Physical inactivity is an undisputable economic and social risk and I yearn to see a continued growth (and long-term ring-fenced funding) in the collaboration between central and local government and stakeholders for active travel initiatives that motivate communities to physically move more often. Behaviour choice needs to be proactive rather than reactive. We must invest time and energy in engaging and empowering communities that have a genuine propensity for travel behavioural change.
Sarah Fisher is senior consultant, Travel Demand Management (TDM) at Atkins, whose focus is on high level business travel coaching, alongside programme and large event management.
Rachel Evans is travel demand manager at Atkins, with the focus of her technical project delivery on business travel engagement and change management.