Now we're talking: the DfT's landmark 2015 road traffic forecasts
01 May 2015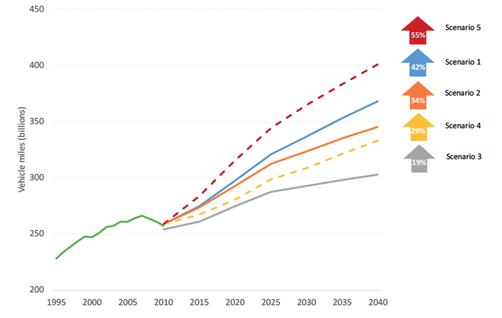 Official technical research reports, forecasts, and commentaries on them, are drafted with great care: the crafts of how to combine tone, caveats, firmness, clarity, and on occasion ambiguity, have always been core skills in the British civil service tradition. (And, I should say, the academic tradition also, though rarely so well honed). A close reading of the new road traffic forecasts published last month certainly reveals layers of implication, scope for many questions of the form 'what exactly did you mean by…' which will unfold over the next year or two. Quickly the commentaries, explanations, interpretations and practical guidelines will displace the original text. One has to allow that the way they unfold may be somewhat different according to the outcome of the forthcoming General Election.
But all that is for the future. For now, we should recognise that this is a landmark document.
For the first time, a genuine, open, honest, and transparent 'scenario' approach has been adopted. Of course, for nearly half a century there has been some recognition of a form of uncertainty about the future, expressed in forecasts that have been based on slightly higher or slightly lower versions of the same underlying relationships. 'We know what drives growth', the approach implies, 'but by changing the assumptions we can produce a higher or lower version'. Mostly a central or core forecast has been considered adequate to cope with planning and investing. Scenarios have a quite different function. They allow for the idea that the future is not a set of variants of a single, understood, trajectory, but may be produced by different choices and relationships, so futures are contested, subject to human agency and decisions, in some respects inherently unknowable. The problem is not variants of a common trajectory, or statistical error bands, but different paths in different directions. The scenario approach typically does not produce a simple error band around a central future, but a much wider set of alternatives that may differ in kind.
The second landmark feature is that this approach is specifically applied to the largest, but most contested, element of traffic growth, namely car traffic – explicitly for reasons connected with the long-standing discussion on 'peak car', where the tone is thoughtful and serious.
Until last year the dominant (stated) official view remained that the main basic drivers of growth in car use – income, prices, population – had not changed; when the economy gets right car use would grow again, at a lower rate but more or less in proportion to population throughout the forecasting period of 30 or 40 years. The narrow band of the former official traffic forecasts were saying that the model is good, nothing has changed, the only significant source of uncertainty was the future trend of exogenous factors especially prices, incomes and population. Counterpoised against this view were a set of tenable but fundamentally different contending views of the future – a view that car traffic growth might still occur, but well below the official range; a view that we have now pretty well reached saturation level and little further growth is to be expected. And a hypothesis that we are in the middle of a historic shift in trend and car use in the future will – or perhaps one should say can – actually come down, maybe overall but most likely in and possibly between urban areas.
The problem in discussion was that there was essentially no overlap between the DfT views and its critics. Each side repeated its assertions, but gave little ground. Now, a version of the 'peak car' view is included as one of the scenarios, called 'Scenario 3' (out of 5 – a nice little symbolic gesture of friendship, I thought, placing peak car in the middle of the labels rather than the extreme one might have expected). In its commentary, the DfT explains that "Scenario 3 reflects the decline in trip rates that has been observed over the last decade and extrapolates this trend through to 2040. The reasons for the fall are as yet unclear and this approach extrapolates from a period that includes the recession, which may be a causal factor" (LTT 20 Mar).
In the report the DfT writes "we concluded that the factors we typically highlight as being key drivers of road demand – income, costs and population – have been important drivers of recent trends but that they may not tell the whole story… We believe our forecasts provide a reasonable range of outcomes for future traffic levels, and we remain confident that they are suitable for the uses to which they are put".
Now if we compare the new scenarios with the sort of discussions that have been taking place among those connected with the 'peak car' research – say the forecasts, also using scenarios, published by Gordon Stokes, or the ones discussed by Glenn Lyons in his work in New Zealand – we can see that there is an overlapping territory, a willingness to investigate and analyse futures for car use that lie outside the former conventional wisdom.
That doesn't mean that we will all converge on this overlapping area as a sort of negotiation for finding a compromise. (If we did, I note in passing, it might suggest that the next car traffic forecasts could be putting a spotlight on growth figures of about 10% over the forecasting period). Of course that's not a process for seeking evidential truth. It wouldn't do at all. But it means that we can start to have a serious professional engagement. Now, we're talking.
The talking will require a new research agenda: there is some convergence already that it will need to include the observed partial decoupling of income growth from traffic growth; the changes of behaviour of young drivers and how it evolves as they age; urban policy impacts; differential location effects of migration and population growth, which mean you can't simply multiply a per capita figure by population growth to calculate a total; new technologies both in mobile internet access and in vehicle design. It will surely need to extend analysis for a much longer period than 'the last decade'.
And underpinning (or undermining) all of these, what about that quiet confidence that the range of forecasts "are suitable for the uses to which they are put". Yes, but which uses? As Tom van Vuren asked (LTT 2 Apr): "And decision-makers? They will now be presented with a range of impacts of a policy or a project: in terms of benefit:cost ratio, in terms of modal shares, in terms of economic and environmental impacts. An unanswered question is how they can use the increase in information to make better decisions. Will they still ask us as transport planners to give them that one, most likely outcome, however determined?"
Good questions. I'd say that at the very least, business cases need to be tested to see how robust they are to the new scenarios. Beyond that, it is now almost a truism to say that we should focus less on forecasting the future and more on deciding what sort of future we choose – and the key point of all this is that there may be a rather wider choice than we have thought.