Luton prepares for opening of long-awaited guided busway
06 September 2013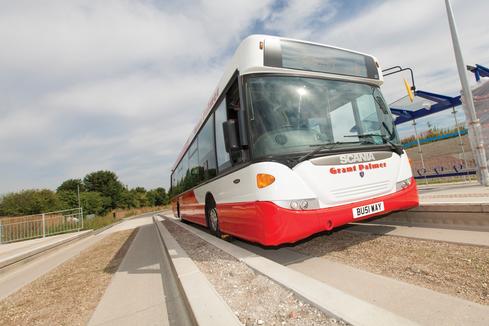 Britain's latest guided busway opens in Luton later this month.
The Luton-Dunstable guided busway will open on 25 September, five months behind schedule and slightly over budget.
The eight-mile busway route, promoted by Luton Borough Council, has been 20 years in the planning and utilises the trackbed of a disused railway for much of its length. The guided section accounts for 4.6 miles, and the unguided for 1.5 miles; the other two miles involves highway running and includes some bus lanes.
The project is the world's second longest guided busway – the 16 miles of guided busway on the Cambridgeshire scheme, which opened in 2011,?is the longest.
Three bus operators will run services on the busway: Arriva, Centrebus and Grant Palmer. They will provide four different services, offering a service pattern over the core route taking 15 minutes at roughly seven-minute intervals. The 50mph maximum speed on the busway means journey times can be halved compared with current services.
Services will run from 0530 till late at night. As part of the project, 250 new and existing bus stops will be equipped with real-time information and have level boarding stages.
The scheme is governed by a quality partnership between two local authorities, Luton and Central Bedfordshire Council, and the three bus companies. A clause stipulates that operators will not have to pay access charges to use the busway for the first three years.
The total cost of the scheme came to £90.6m as against the budgeted £90.1m. The DfT contributed £80.3m.
BAM Nuttall won the £51.6m construction contract, though the the final cost was £55.7m. A Luton Borough Council spokesman said savings made elsewhere in the project have whittled the final overspend down to £500,000. The difference will be made good by third contributions from local councils and developers under Section 106 agreements.
Luton Borough Council and BAM Nuttall have opted for mediation to settle their differences and avoid costly legal proceedings.
BAM Nuttall and Cambridgeshire County Council have just reached a settlement over the costs of the Cambridgeshire guided busway.
---
LTT, jointly with BRTuk presents the launch of the Luton-Dunstable Guided Busway at it's September event:
Leveraging the Impact of Public Transport Infrastructure Investment
23 Sep 2013 to 24 Sep 2013
2 Day Event

Launch and Study Tour: Luton Dunstable Busway

National and International Experience

Privileged updates on UK schemes

Exceptional Networking