Tolls proposed to part-fund new East London river crossings
09 November 2012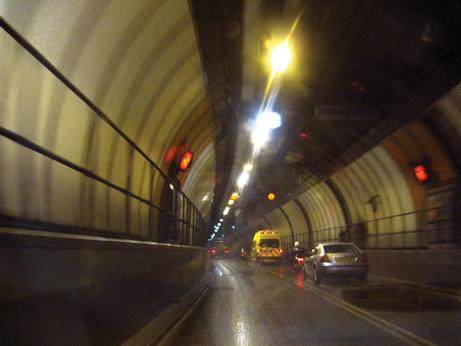 Tolls could be introduced on the Blackwall Tunnel in East London as a way of part-funding two new crossings of the Thames.
Transport for London has launched a consultation on providing additional river crossings in East London at two locations:
a £600m Silvertown road tunnel, close to the Blackwall Tunnel, connecting the Greenwich peninsula with Silvertown

a £150m ferry at Gallions Reach, linking Thamesmead and Beckton, or a new tunnel or bridge at the same location (also estimated to cost about £600m)
TfL says a Silvertown Tunnel could relieve congestion at the Blackwall Tunnel, with the former catering for mainly local trips and the latter carrying most long-distance traffic.
The Silvertown Tunnel would have good access to the A12 and A13 on the north side of the Thames. On the south side, northbound traffic would enter the tunnel via a new spur branching off from the existing Blackwall Tunnel approach road.
The earliest the Silvertown Tunnel could be opened is 2021.
A Gallions Reach ferry would replace the existing Woolwich ferry and could be in service by 2017. The new ferry would have capacity for 300 vehicles an hour in each direction – double the capacity of the Woolwich ferry.
The new ferry service would cross the Thames on the alignment of the aborted Thames Gateway bridge, a project proposed by former London mayor Ken Livingstone but scrapped by Boris Johnson in 2008.
A number of respondents to an informal consultation on the new crossing options held this spring called on TfL to build a new road tunnel or bridge at Gallions Reach instead of introducing a ferry (LTT 28 Sep).
TfL says a ferry would not preclude building a bridge or tunnel at a later date. But it also seeks views on building a bridge or tunnel instead of the ferry. Such a crossing would cater mainly for local traffic and be two lanes in each direction. It would not be delivered before 2021.
TfL says tolls would be charged for using the Silvertown tunnel and any new crossing between Thamesmead and Beckton. Because the Silvertown and Blackwall tunnels would be so close to one another tolls would also have to be introduced on the Blackwall Tunnel. Charging schemes would deploy free flow tolling, negating the need for toll booths.
"Because traffic is heavier northbound in the morning and southbound in the evening, the toll could vary depending on the direction you are travelling, the time of day and the day of the week," says TfL.
The Community Infrastructure Levy could also help fund the schemes.
Consultation closes on 1 February.