Six of the best showcase smart technology
An innovations programme is helping startups develop solutions to provide better, more reliable journeys.
07 July 2017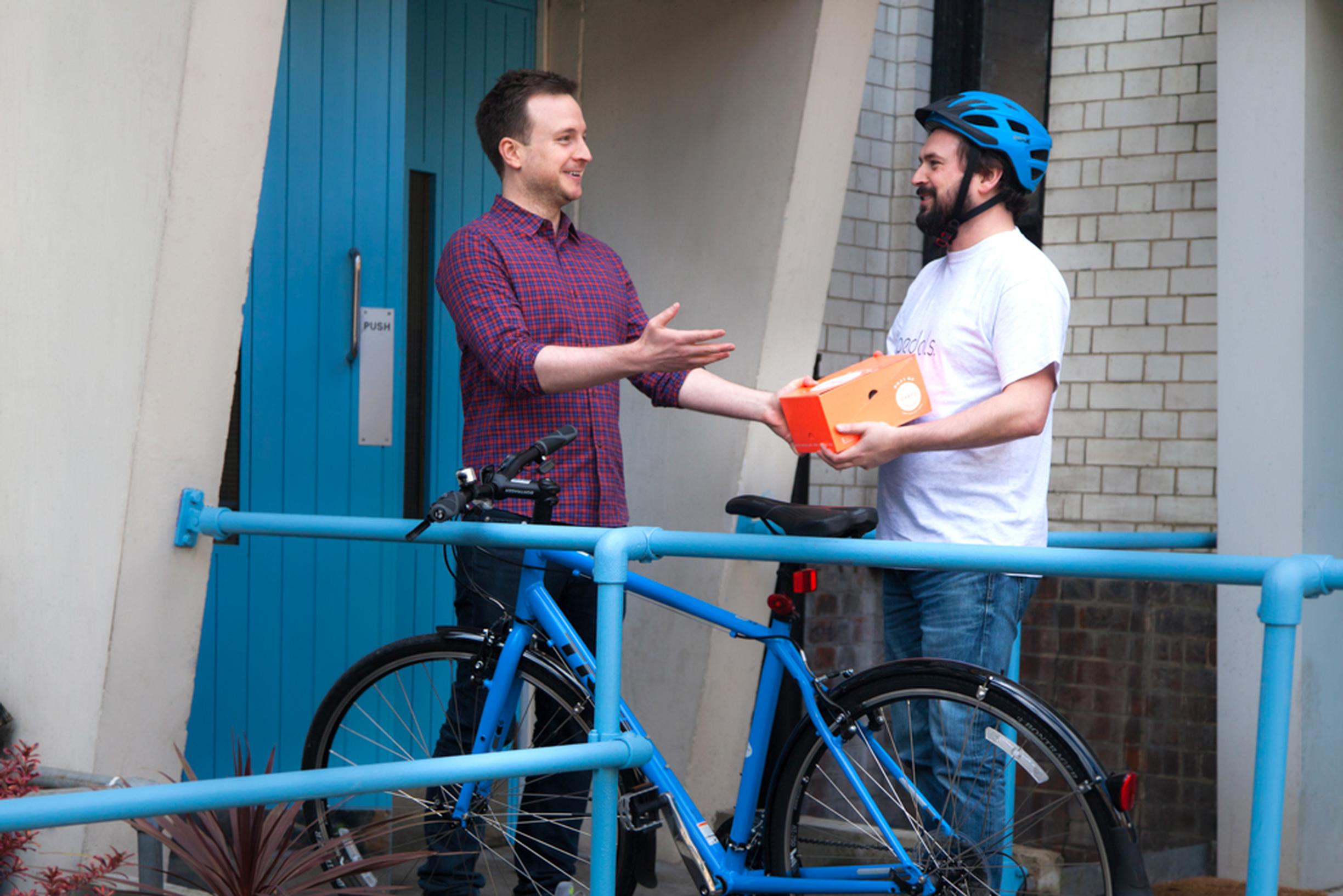 New software designed to reduce congestion, encourage active travel, improve the passenger experience and help transport operators run more efficient services is being showcased by a programme to support startups.
The programme was developed by Nitrous - a company that encourages collaboration between startups and the public sector to help create smart cities - and supported by Transport for London (TfL).
Several hundred applications were received and these were whittled down to a shortlist of six. The shortlisted companies were: Alchera Technologies, Blubel, Faxi, NumberEight, Pedals and TravelAi.
The successful entrants were given access to open data from local government and industry, as well as masterclasses on procurement, marketing and management, and networking opportunities with representatives from companies such as Aston Martin, IBM and Vodafone.
To mark the end of the ten-week programme, the businesses gave presentations at an event hosted by TfL last week, explaining how they are using open data to develop their systems.
TravelAi
TravelAi has built a system that provides continuous travel data extracted from users' smartphones. Peter Lindgren, TravelAi's chief operating officer, said: "We have developed software that runs in the background on mobile phones to detect the mode of transport that someone is using and their route, without requiring any interaction from them."
The tool uses algorithms to study the speed, location and pattern of movement to identify the mode of transport. "We've gathered millions of miles of journeys which we've used to train those algorithms, with the result that we can tell whether someone is travelling by train, bike, foot, car, bus, metro or air," said Lindgren.
It is easy for a third party developer to incorporate the code into their app, said Lindgren.
"A single line of code is all the developer needs to get the mode and route of the user, allowing them to build apps that offer new services or are more responsive to their users' situation."
Transport journeys have become increasingly complex and integrated, Lindgren observed. "Yet transport data is fragmented and trapped within silos of a particular mode, network, region or even fixed point on the road.
"We view transport from the customer's point of view - revealing how they traverse modes, networks and regions. This breaks down the structural, commercial and incompatibility silos that often prevent organisations from linking their dataset on bus customers to that on train customers."
TravelAi worked with Newcastle City Council to support its case for a second tranche of Department for Transport Cycle City Ambition Grant funding, said Lindgren. "The council used our data to show the subsequent cycling behaviour to make their case for a further round of funding in an application that won a further £10.6m."
Newcastle is now a partner in the 12-strong Catch! consortium led by TravelAi. Another partner in the Catch! consortium - Ipswich Borough Council - is inviting schools to encourage parents and pupils to download the Catch! app. The universities in the consortium, together with the Transport Systems Catapult, will help Ipswich council understand the home-to-school travel patterns, explained Lindgren. "This will draw out insights as to how the provision of home to school transport and crossings can be better fitted to those travel patterns."
NumberEight
NumberEight uses artificial intelligence (AI) via smartphone sensors to establish people movements between different transport modes, said Abhishek Sen, co-founder and chief executive of NumberEight.
"The AI is used to combine these sensory signals in a process called 'sensor fusion' so that we can work with limited data sets and to be able to predict that the person will take a bus if we know that they take a bus every day on the way to work," he said.
Sen believes that NumberEight's solution will do away with the need for barriers at rail stations. "Today passengers check in and check out through the barriers only for account management purposes. Using our software, we can tell that the passenger has boarded a train, this information gets sent to the cloud for his seat."
The software detects this and automatically checks in the passenger, said Sen. "Ticket checkers only need to check people sitting in seats who have not checked-in. To thwart freeloaders getting on the train without checking-in, a hefty fine - £500 or so - can be levied on people getting caught." When the passenger leaves the train, the software detects this motion, which causes the ticket to get deactivated automatically, Sen explained. "This process ensures a gateless check-in and check-out experience without the need for any ground infrastructure."
NumberEight software will be integrated into existing ticket checking and journey planning apps, said Sen. "Every time the user has an upcoming journey, our software is activated on the day of travel. Hence, every time a user travels we will charge a fee to the train operator for our software services."
Alchera Technologies
Alchera Technologies is using real-time data to build up a picture of vehicle and pedestrian environments. Emil Hewage, founder of Alchera Technologies, said transport operators are hindered by lack of real-time information that would help them to prevent problems such as overcrowding or congestion.
"For travellers, frustration with transport systems stems from a lack of transparency – whether the bus is late, or the traffic means you should have taken a different route," he said. "Generating real-time data about a transport system can influence how the system is used and managed."
He says that Alchera's solution not only pinpoints where a bus is but how full it is.
"We integrate our proprietary algorithms, using computer vision paired with a machine learning approach into the sensors and safety cameras that are already built into modern buses," Hewage explained. "Our system performs its main calculations on-board the bus so that it can translate a CCTV feed into a useful set of interpretable data to indicate, for example, how many people are on a bus and can send this alongside the location tracking information that is already available today. By using a machine learning approach, our algorithms improve over time, resulting in highly accurate and reliable real-time information about a transport system."
Alchera is working with bus service providers and operators to provide real-time data on available wheelchair space by incorporating AI processing into the existing camera and sensing systems. "This results in automatic detection of wheelchair space occupancy, which can supplement existing data sets of accessible infrastructure assets to paint a full, real-time picture of the current state of the accessible transport network," said Hewage.
Pedals
Pedals is a new type of cycle courier service that employs cyclists making deliveries during commutes. Richa Bhalla, founder and chief executive of Pedals, said cyclists can view real-time information on deliveries on a dedicated panel on their smartphones. "Cyclists can assign themselves jobs on a first come first serve basis," she said. "We highlight jobs to those it would make most sense given their route."
Pedals currently has 140 cyclists on its books, of which 72% are students and commuters. Cyclists get paid 75% of the delivery cost. The service currently covers a large swathe of the capital including the boroughs of Camden, Islington, Hackney, Lambeth, Southwark and Kensington & Chelsea. "To date we have done 5,000 deliveries with no marketing, just word of mouth," said Bhalla.
The service offers a fairer, more ethical model for deliveries by bike, believes Bhalla. "You only have to look at what cycle couriers experience – they are taken advantage of, they're underpaid and completely overworked."
Getting the right number of cyclists to cover the level of deliveries can be a "hard balancing act", Dhalla admitted. "But because we have no shift work and cyclists are free to take any jobs they like at any time, we have found it better to have a slight over abundance of cyclists signed up. This is very closely monitored on a weekly basis."
So far, Pedals has worked with small, eco-conscious companies, said Bhalla. "But we are also interested in targeting individuals that are cycling evangelists and supporters of our cause. There are times when you've forgotten your keys on the other side of town or want to get a birthday present hand-delivered to someone that you care about. The alternative has always been to stick things in a cab, but at Pedals we emphasise personal interactions."
Blubel
Another bike technology innovator is Sasha Afanasieva, founder of Blubel, a satellite navigation system in a bicycle bell. "I started Blubel through my own experience of starting to cycle in London," said Afanasieva. "As a novice, it was exhilarating but at times frustrating if I got lost. That's what got me working on a satnav device for cyclists.
"When you're on your bike, you need to have your eyes on the road and surrounding environment as much as possible. This is why a reading a map is actually not very intuitive on the go. With Blubel, we wanted to have a simple interface - 12 lights is like a clock."
The device senses which way the cyclist is heading and lights up the angle they need to turn. The compass-like LED directs the cyclist to the final destination, "which means you never lose your bearings on your journey", said Afanasieva. "There is a buzzer inside the device which alerts you when there's a turn coming up to make sure the rest of the time you focus on the road rather than on the satnav."
At the end of the journey the user notifies the app that they have parked their bike, and the app remembers this location. Blubel also gathers data about the best routes, said Afanasieva. Users can ring the bell whenever they encounter problems such as uneven roads surfaces, potholes or sections where they had to swerve. "At the end of the journey, the app prompts the cyclist to add details."
Blubel ran a Kickstarter campaign last year, which attracted more than 400 backers who pledged a total of £36,356.
Faxi
Faxi is an app that prioritises workplace parking for employees that rideshare. The map-based social network shows a driver's commute details, enabling them to connect with co-workers that share the same journey.
Tony Lynch, founder and chief executive of Faxi, said: "Each day the app reminds passengers and drivers that they have a shared journey. If payment is taking place, payment is moved from digital wallet to digital wallet."
When a rideshare takes place, Faxi automatically allocates parking either by providing a bay number of allowing access to a barrier-controlled site, said Lynch.
The platform was originally developed for Network Rail, and is now used by the employees at Northamptonshire County Council and three sites for Vodafone.
At Northamptonshire County Council all drivers using rideshare are guaranteed a car parking space. Faxi has signed up 171 drivers and 98 passengers at the council. "In the next couple of months we will have 66 drivers transporting over a hundred passengers to work everyday," predicted Lynch.
The platform uses a route matching algorithm that plots everybody's optimised route. "Using this algorithm we identify that hundreds of co-workers drive past each other every day," said Lynch. "Analysis reveals that almost all co-workers could commute to work by ridesharing, massively reducing commuting costs, congestion, parking space needed and environmental impact."
He added: "The platform, technology and services we are developing not only helps solve corporate car parking problems and employee dissatisfaction, but also creates a revenue generating business that in years to come could plug into a fleet of autonomous cars, eradicating most parking, smashing commuting costs while slashing environmental impact and local congestion."
Meet the UK's leading transport innovation startups at Smarter Travel LIVE!