Green streets will boost modal shift, says TfL urban designer
TfL's Kendra Inman highlights the ways that councils can overcome budgetary constraints to introduce rain gardens, parklets and permeable surfacing
21 June 2023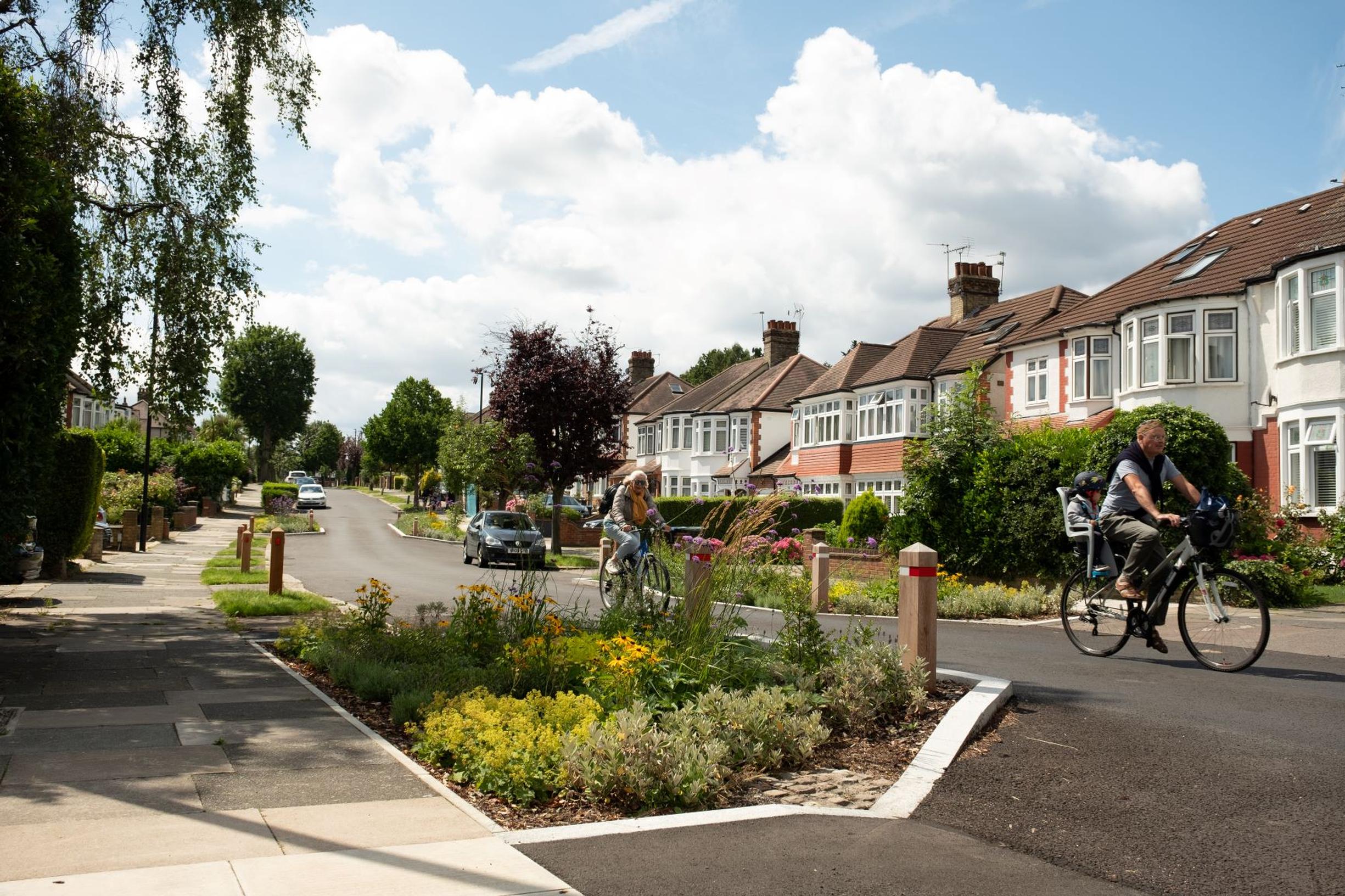 Introducing green infrastructure in urban areas will set in motion a "virtuous circle", reducing car use and encouraging more people to actively travel or use public transport, predicts Kendra Inman, principal urban design advisor at Transport for London (TfL).
Speaking at Liveable Neighbourhoods 2023, Inman told delegates: "In terms of modal shift we are on our way. We are seeing more cyclists in London than we were 20 years ago.
"We need to build on what we have achieved and create more green streets, which will allow us to give over more road space to other uses. It feels closer than it has ever been despite the budgetary challenges."
The Mayor's Transport Strategy includes the annual target of draining 50,000 square metres of highway catchment into sustainable drainage systems (SuDS), rather than the conventional drainage system.
Mayor Sadiq Khan also wants to a see a 10% increase in London's tree canopy by 2050.
The challenge that boroughs face is that 80% of London's public realm is actually streets, said Inman.
Although local authorities were facing serious budgetary constraints, funding can still be found for green infrastructure, she said. Partnering with water companies and developers could open up new "pots of money" for green infrastructure projects.
Money may also be available from the renewals budget for on-street maintenance. "I have started making friends with my assets colleagues," she said. "When you are replacing something, why not put in something better, rather than sticking with blacktop?"
Even "modest measures" could have a dramatic impact, such as the rain gardens being implemented by the London Borough of Enfield, said Inman. "Enfield has done some great stuff – it's simple but effective, nothing over-engineered. Our team went and had a look and were impressed."
Small on-street measures can make a big difference, Inman insists. This could include rain gardens on build-outs and linear rain gardens alongside cycle lanes. "There are lots of opportunities for SuDS on residential streets."
After implementation, it is important that green infrastructure is properly maintained, especially in the first few years. "That's why community buy-in is so important," said Inman. "You need to engage with local people and co-design with them."
Good maintenance also requires a multi-disciplinary approach involving different council departments, Inman believes. "You need to speak to your drainage engineers," she told delegates. "Talk to them – they are knowledgeable people. You need to know what will work and what won't."
Another way of reducing surface run-off is through the use of more permeable "grey infrastructure", said Inman. This could be used on cycle lanes and in parking bays, she suggested.
Surplus parking spaces could be replaced with green infrastructure such as parklets on residential streets, said Inman. "Is all that parking space really needed? How many of those parking spaces are in use at the end of the working day? What people say happens and what is really the case don't always match up."