Read the warning signs
Young London activists hack street signs in campaign for action on cleaner air
09 April 2021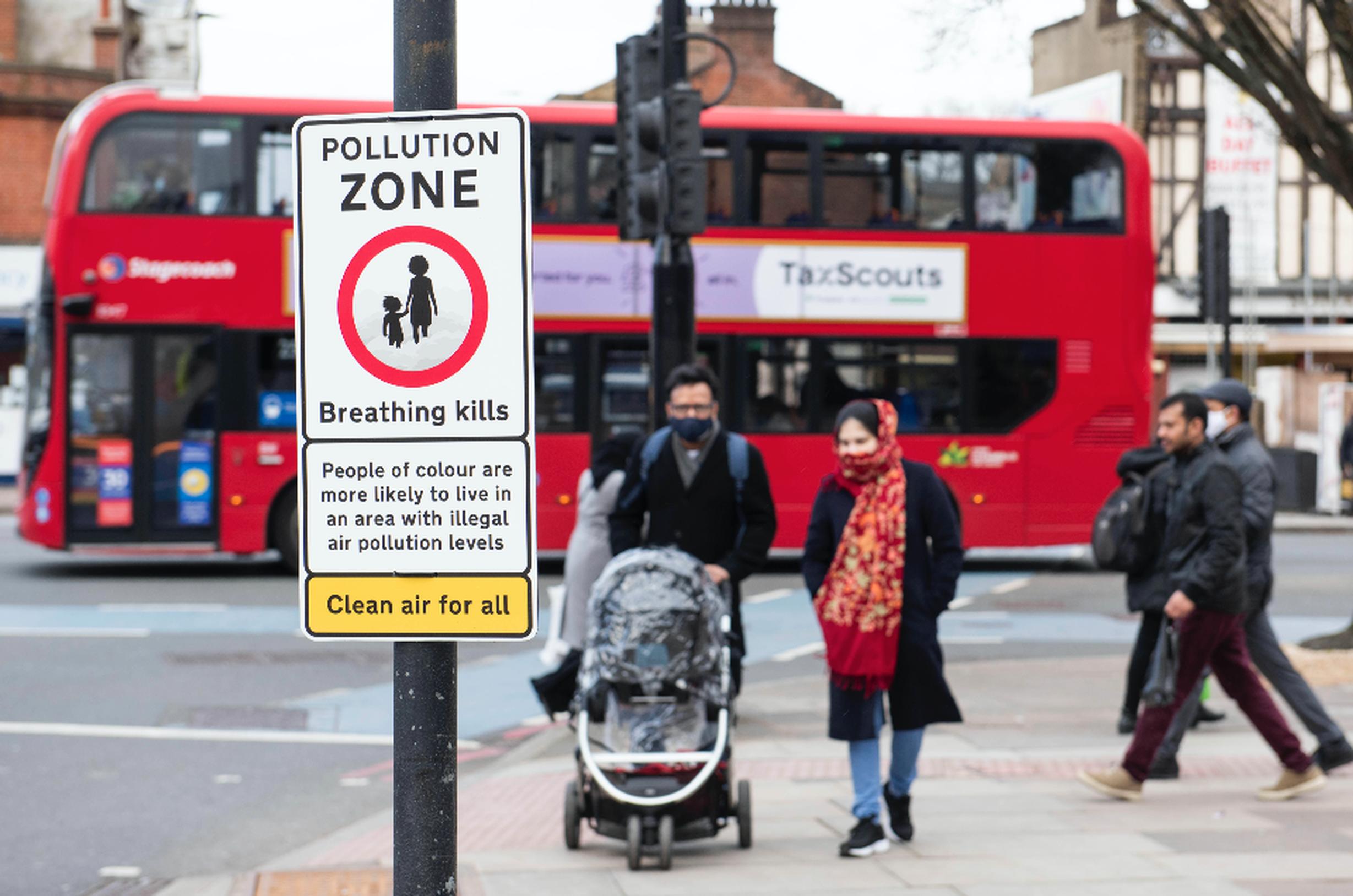 Young people who live near polluted roads set up a guerrilla information campaign in pollution hotspots such as Tower Hamlets, Lewisham and Brixton warning that "breathing kills". A group of Black, Asian and minority ethnic (BAME) teenagers called Choked Up have installed 'hacked' road signs across London, highlighting air pollution and its disproportionate impact on people of colour and deprived communities.
The hacked signs were placed on the capital's Red Routes network. Established in the early 1990s to improve traffic flow across the city and under the Mayor of London's control, the network's roads account for around 5% of London's roads, but carry up to a third of London's traffic on an average day.
In the style of parking zone signs, they read "POLLUTION ZONE" and "Breathing kills". In the red ring is a silhouette of a mother and child, wearing afros and holding hands. Behind them are clouds of toxic air with the captions "People of colour are more likely to live in an area with illegal pollution levels". At the amber base of the sign the rallying cry: "Clean air for all". The signs in Whitechapel were translated into Bengali given that Tower Hamlets has the largest Bangladeshi population in England.
The guerilla sign campaign was organised by Choked Up, who say they are most concerned about the lack of sufficient action, care or intervention on air pollution. After the recent inquest into Ella Adoo-Kissi-Debrah's death showed toxic air directly contributed to her death, Choked Up says it is fighting to ensure that this never happens again.
Anjali Raman-Middleton, a 17 year-old co-founder of Choked Up said: "The landmark ruling of the Ella Adoo-Kissi-Debrah inquest proved that the road I live less than five minutes from can kill. I am terrified that my daily commute to school along the South Circular has already had a negative impact on my lungs. I urge London mayoral candidates to commit to transform these roads to give me and my generation a greener future."
Choked Up timed its sign campaign to coincide with the formal launch of the Mayor of London election campaign. Teenage activist Destiny Boka Batesa said: "As young people we have to take the bus to get to school or to meet our friends. We don't want to be risking our lives to make essential journeys. We need the next Mayor of London to rid our city of diesel and prioritise clean air so we can grow up in a safe, healthy environment."
Campaigning for cleaner air
The Choked Up signs were coordinated with announcements by other campaign groups – Medact, Mums for Lungs and EDF Europe – calling on London's mayoral candidates to protect children's health and address health inequities by speeding up the rollout of electric buses and delivering a zero-emission bus fleet.
Medact, a coalition of health professionals campaigning on health inequalities particularly linked to the environment, co-ordinated a joint letter signed by 100 health workers asking candidates to tackle air pollution inequalities and develop an action plan to tackle dependence on cars. Dr LJ Smith, respiratory consultant at King's College Hospital, representing Medact, said: "The levels of air pollution across the capital are nothing short of a public health emergency.
There are far too many people in our hospital wards and clinics who might otherwise be healthy if it wasn't for the toxic air they breathe. Air pollution affects every single one of us from birth to old age, but we know the least well off and marginalised communities, including those from Black and Asian backgrounds are being hardest hit. If we are serious about tackling health inequalities in our capital city, we need to urgently address the air pollution crisis."
Jemima Hartshorn, who co-founded the Mums for Lungs campaign, welcomed the Choked Up guerrilla action. "The street signs are hard hitting because we want people to take notice of the huge damage being done to their health by air pollution," she said. "It is crucial that the message is heeded by politicians that if we do not take action on air inequality there will be more and more hospital admissions and sadly more needless deaths of children."
Counting the cost of pollution
The Choked Up signs also coincided with the publication of new research released by Environmental Defense Fund Europe (EDF Europe) showing the burden of London's air pollution is not equal. EDF Europe argues that the Red Routes network has led to an unequal health burden in the city with Londoners living, working, and going to school near these roads breathing higher and often illegal levels of air pollution.
Oliver Lord, head of policy and campaigns at EDF Europe, said: "Like the COVID-19 pandemic, air pollution is disproportionately impacting marginalised communities and Black, Asian and minority ethnic people. It's clear London's busy roads are a root cause of health inequities and air pollution levels are a major contributor. For years, the major Red Routes have been a toxic thread running through our communities, polluting the doorsteps of homes and kids' playgrounds.
"We need a green recovery that undoes decades of damage, using a clear traffic reduction plan – one where polluting trucks can no longer cut across the city and parking for cars becomes parks for people. As we approach the mayoral elections we ask candidates to commit to transform the Red Routes road network, putting people's health and our climate first."