Milestones needed on road to zero emission motoring, says NAO
National Audit Office flags up need for better reporting on impact of investments in transition to electric vehicles and chargepoint infrastructure
01 March 2021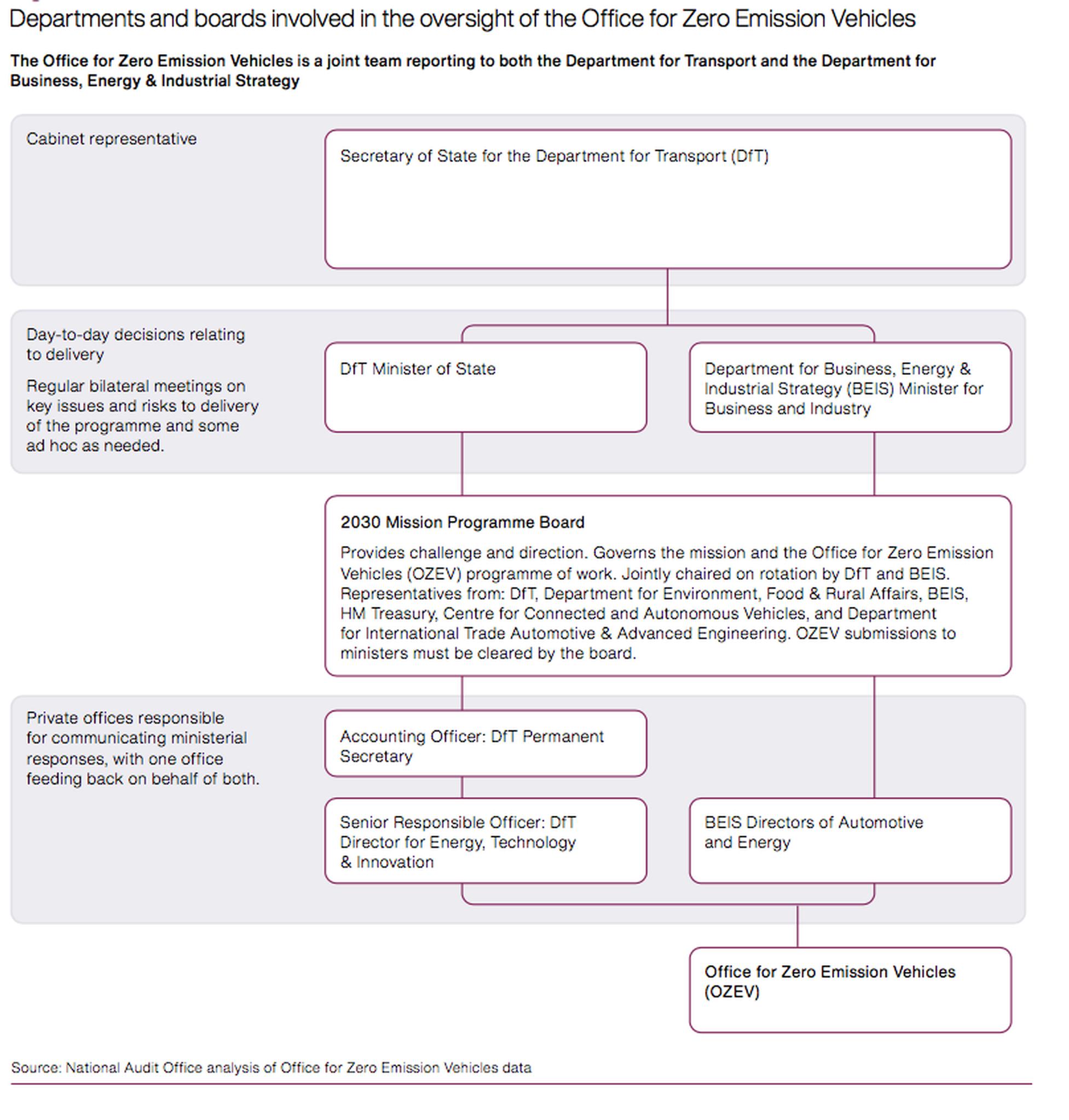 The UK government needs to explain how it will measure the success of policies designed to encourage the transition to zero-emission vehicles, says the National Audit Office (NAO). The government has set a target for almost all cars to emit zero carbon by 2050. It has made progress in increasing the number of ultra-low emission cars and chargepoints in the UK to support this, but it has a long way to go to achieve its aims, according to an NAO report called Reducing Carbon Emissions from Cars.
The NAO recommends that the Office for Zero Emissions Vehicles (OZEV), Department for Transport (DfT) and the Department for Business, Energy & Industrial Strategy (BEIS) should develop detailed plans to achieve the 2050 target, reporting progress against clear milestones at regular intervals.
The NAO also reports that OZEV cannot clearly demonstrate the impact £1bn worth of grant has had on the growth of ultra-low emission cars. OZEV has also not yet focussed sufficiently on chargepoint availability for people who do not have a driveway.
Transport is the UK's largest source of carbon emissions, with most emissions coming from cars. The government aims to reduce emissions by promoting the use of ultra-low or zero-emission cars and creating the infrastructure that will allow people to charge them.
In November 2020, the government announced plans to stop the sale of new cars that are powered solely by petrol or diesel by 2030. From 2035, only zero-emission cars can be sold, and by 2050 government wants almost all cars to emit zero carbon.
At September 2020, 1.1% of UK cars were ultra-low emission, including 0.5% which were electric.
By the end of September 2020, sales of new ultra-low emission cars accounted for 8% of the market, above OZEV's projections. While sales of electric cars have increased, substantial growth is required to meet the government's target for them to comprise 100% of new sales from 2035.
Since 2011, total carbon emissions from passenger cars have reduced by around 1%, which is less than the Department for Transport expected. Average emissions from new cars in Great Britain fell year on year between 2011 and 2016. However, emissions increased by 6% between 2016 and 2019. This increase has been attributed to factors including a rise in the sale of sports utility vehicles (SUVs), increased road traffic and travel by car, and revised methods for estimating carbon emissions.
OZEV provides grants to encourage consumers to buy ultra-low emission cars, and subsidies to fund the installation of chargepoints. It had spent £1.1bn by March 2020, including £1bn on the plug-in car grant, which reduces the upfront purchase cost of qualifying cars. The grant aims to encourage higher volumes of cars to be sold, which in turn would lead to lower prices from manufacturers.
However, despite OZEV's efforts and work to assess the likely impact on the market of changes to the plug-in car grant, the NAO states that it cannot clearly demonstrate the cumulative impact the grant has had on the growth of ultra-low emission cars, above and beyond what might have happened anyway.
There has been a significant growth in charging infrastructure over the last decade. By March 2020, government funding had contributed to 142,604 new chargepoints, most of which are on private driveways. OZEV has spent £97.2m supporting the installation of more than 133,000 chargers for those with off-street parking. The NAO reports that, when setting out its intention to support chargepoints in 2011, OZEV did not quantify what it intended to achieve with this funding, making it difficult to determine whether it has met its initial expectations. Nonetheless, by October 2020 there was a total of 19,487 publicly accessible chargepoints in the UK, an increase from fewer than 1,000 in 2011.
Looking forward, the government has recently set new targets for there to be at least six ultra-rapid chargepoints at each service area across England's main road network by 2023 and a total of 2,500 across the network by 2030.
OZEV informed the NAO that it initially focussed on supporting people with off-street parking or with an ability to charge at work. The NAO states that OZEV has not yet focussed sufficiently on chargepoint availability for people who do not have a driveway. Between 2017-18 and 2019-20, OZEV allocated £8.5m to help local authorities install on-street residential chargepoints, but uptake has been slow. OZEV consulted some local authorities before setting up the scheme, but local authorities told the NAO that the scheme had been designed without sufficient consultation and as a result it was difficult to bid for funding.
In December 2020, the NAO published a report on how the government is organising itself to deliver net zero by 2050. Many of the issues it identified apply to managing the transition to zero-emission cars. For example, on the importance of mitigating uncertainty, stakeholders have said that the 2050 car decarbonisation target has helped to galvanise the automotive industry to change, but that the lack of long-term certainty over the government's plans, including its financial support, has hindered investment planning