Soon, we will all be driven by information
In-vehicle telematics and smartphone apps will transform how we travel by car, predicts an RAC Foundation report
28 October 2020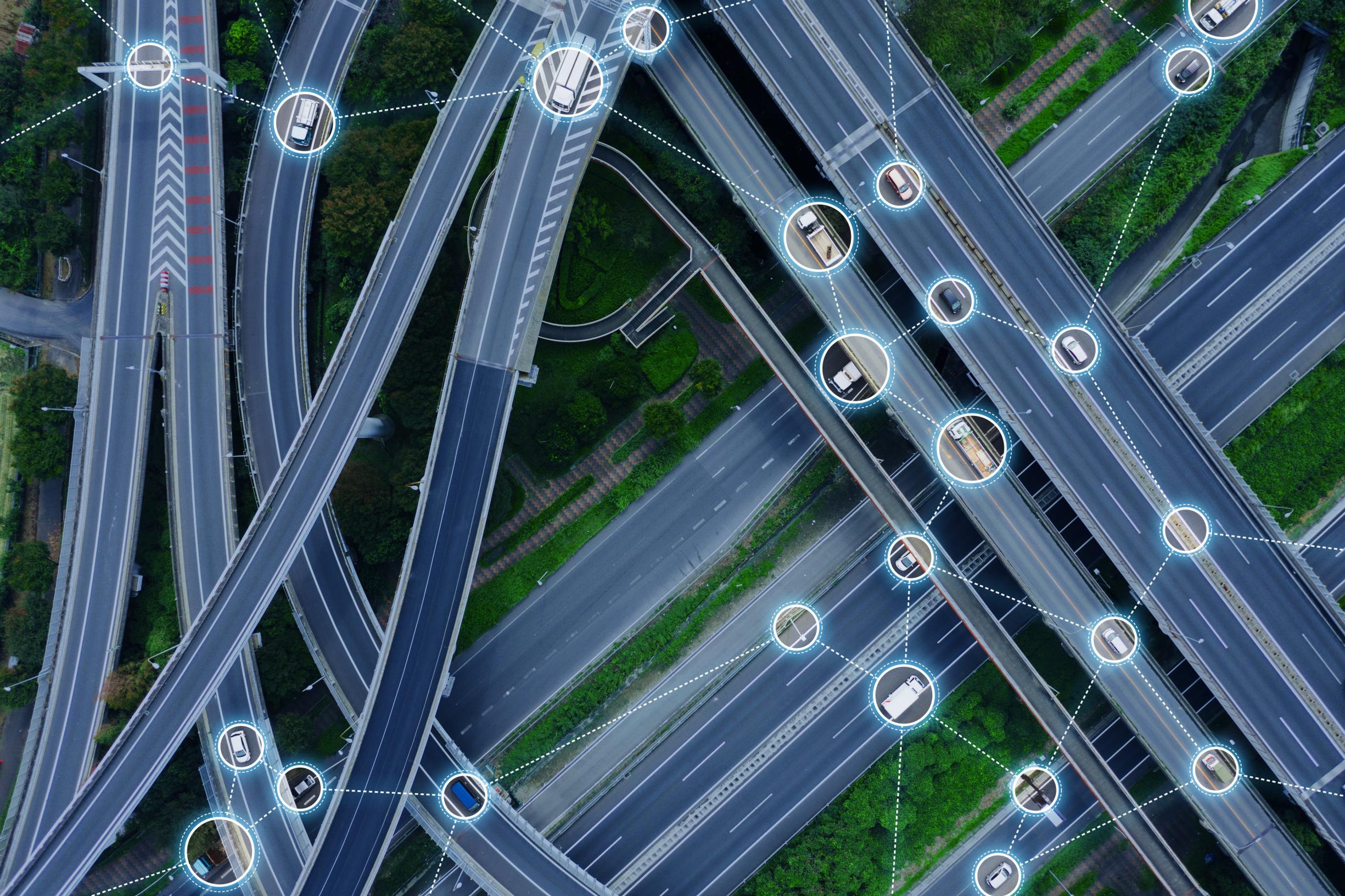 Everyday technology already installed in vehicles or added by drivers could enable a range of connected services to be developed and deployed, making driving smoother and safer and traffic management more efficient and effective, but only if gaps in the chain between data generation, collection and ultimately data use are plugged.
Dashcams, black-box insurance products, smartphone apps and satnavs all generate huge volumes of data, but the key to making the most of that data lies in getting it, appropriately processed, into the hands of those taking the decisions, be they the drivers of vehicles or those responsible for designing and managing traffic control systems. This is an institutional rather than a technological issue, with the challenge of developing a compelling business model to get the right people in the right places with the right skills to maximise the value of the data coming through.
In-vehicle telematics systems and apps on smartphones generate data about the speed at which the vehicle is moving and its location. If this data was accessible to others then the location and speed could detect queues at traffic lights to improve their timing plans, while processed images of the road and data on acceleration up-and-down could reveal the condition of the road surface and inform the highway authority's maintenance and repair plans.
This same connectivity could be used to inform drivers of the best speed to drive at to go through the next set of traffic lights at green, and also add extra warnings and information into their vehicles, ranging from parking availability to telling drivers of hazards where there are no gantry signs available.
Perhaps the most widespread connected vehicle service already transmitted to drivers is guidance from various satnav services, but other services are starting to become more common – for example, the displaying of the location and availability of parking spaces. Looking ahead, more data from road operators could also be processed by these service providers into messages that are sent to the road user directly, to help inform and change their behaviour.
A new RAC Foundation report produced by Andy Graham of White Willow Consulting looks at four examples where data is collected and shared through connectivity:
In-Vehicle Signage (IVS) – displaying road signs and warnings to the driver inside the vehicle
Green Light Optimal Speed Advisory (GLOSA) – which tells drivers what speed to adopt to pass through the next set of traffic lights on green
using vehicle data to improve road maintenance
using vehicle data to improve traffic light timings.
Graham concludes that in each instance there is potential for wide benefits to be achieved, but action will be needed to fill a set of current gaps in the delivery chain without which that potential will not be realised.
In Driven by Information: Securing the benefits from connected vehicles, Graham says that there is a risk of allowing the best to become the enemy of the good. He also suggests that there is potential to bring forward the benefits of connectivity by focusing on specific applications and specific locations, rather than trying to develop a universal high tech solution. He writes: "Early services need simply to be 'good enough' to make 'enough roads' better."
Amongst solutions to filling the gaps are for the Department for Transport (DfT) and the Centre for Connected and Autonomous Vehicles (CCAV) to set out a strategy for securing the early benefits of connectivity, to support wider evaluation and awareness of its benefits across both industry and highway authorities, and to consider establishing a central data warehouse that individual local highway authorities could more easily access.
Andy Graham says: "I was delighted to undertake this research for the RAC Foundation. It reinforced my view that the complete detailed data chain needs to be in place for benefits to flow widely. It must also include softer aspects like driver acceptance and trust, training and support for highway authorities and ensuring a focus on all road users' data, not just that harvested from new cars. Testing technology alone is not enough.
"It also shows there is no single silver bullet solution – I found many gaps across the four services that are common which need to be filled by many different players in the data chain. Work is already starting on completing some of these gaps, but they all need to be filled for the full benefits to flow.
"The four services I looked at can all use existing 4G communications for 'good enough' services and also 'piggy back' on one another to increase benefits. We need to combine services as drivers do not know or care about the difference between them. We need to think of what the driver wants first, not the technology definitions. The UK leads the way technically in many of the service areas I looked at, especially with new innovations in traffic lights and asset management. But taking these ideas from technical research to wider day to day use by practitioners remains the challenge."
Steve Gooding, director of the RAC Foundation, says: "The modern car is sometimes described as being akin to a mobile phone on wheels, such is its ability to receive and transmit information. But what benefits might connectivity enable?
"In-vehicle telematics systems and apps on smartphones in vehicles of all ages and types generate data about a wide range of things, from the speed at which the vehicle is moving and its location, through to capture of images from dashcams or smartphones and through to the acceleration of the vehicle.
"Location and speed data can enable highway authorities to monitor queuing at traffic lights and retune their timing, while processed images of the road surface and data on acceleration and braking can allow real-time monitoring of road surface condition and thus inform highway authorities' maintenance and repair plans to save money.
"Tackling these issues now by filling these gaps could be an important step on the way to ensuring highly automated and ultimately autonomous vehicles both generate and receive the data they will need to provide smooth, safe and efficient travel for the road users of the future."
The report is available to download by clicking here
Filling the skills gap
If a highway authority does not have people with the skills to understand the data it already has and ensure the quality of newly published data in the future, IVS will not be furnished with the data it requires to provide in-vehicle services which improve safety.
Accurate base data (for example fixed sign locations and fixed speed limits) and accurate and timely dynamic data that drivers will trust (such as dynamic speed limits and roadworks information) is fundamental. This is because users simply will not trust the information shown in the vehicle if it is out of date or located wrongly, or if it contradicts the fixed signing. There is little benefit in making a connected chain if the basic input data is poor.
One key part of the skills gap is in digitising transport data, as the basic data for IVS must be in a digital form. For example, digitised Traffic Regulation Orders (TROs) would de ne speed limit information directly and thus avoid the need to read signs with cameras. Currently, TROs are often paper documents. They de ne the legal basis for and location of speed limits, whereas cameras reading signs at the roadside do not have this legally compliant foundation, and are currently a workaround in the absence of the digital data.
TROs also define parking rules and regulations, and width and height limits, so there will be a need to have them digitised so that highly automated vehicles can navigate networks. Furthermore, they need to be able to change dynamically – to reflect temporary speed limits at roadworks, for example.
One of the challenges in digitising TROs is that the roadside estate (signs and yellow lines) does not always fully match the TRO legal definition. This can be for a variety of reasons – for example, the failure to update paper TROs as networks change, and as speed limit signs are sometimes put on existing poles in locations where the limit does not apply. Hence there is a back catalogue of TROs that might not tie up with the roadside information. A simple and effective solution here to work around the problem would be for highway authorities to use off-the-shelf technology to scan the network and make a digital twin of it, and then make the digital TROs derived from that twin match the physical layout found on the ground. This process can identify errors and inconsistencies in digital TROs, but requires a change in the legislative process for TROs.
Work has already started on disseminating updated roadworks information, for example to satnavs, but wider coverage would enable better deployment. This will also be essential for automated vehicles. It must also be delivered in a cyber-secure manner, another area where authorities tend to lack skills. All of this requires skills and resource, not simply access to the data. While larger authorities may have these skills, many do not. Training and transfer of skills would assist this, but many authorities have limited resources.
The DfT is already running research projects looking at unlocking data held in silos and in developing digital TROs, but the underlying skills problem should be addressed, possibly by means of getting authorities to share resources.