Face coverings to be mandatory while inside shops in England
New rules will be introduced at stores on 24 July
15 July 2020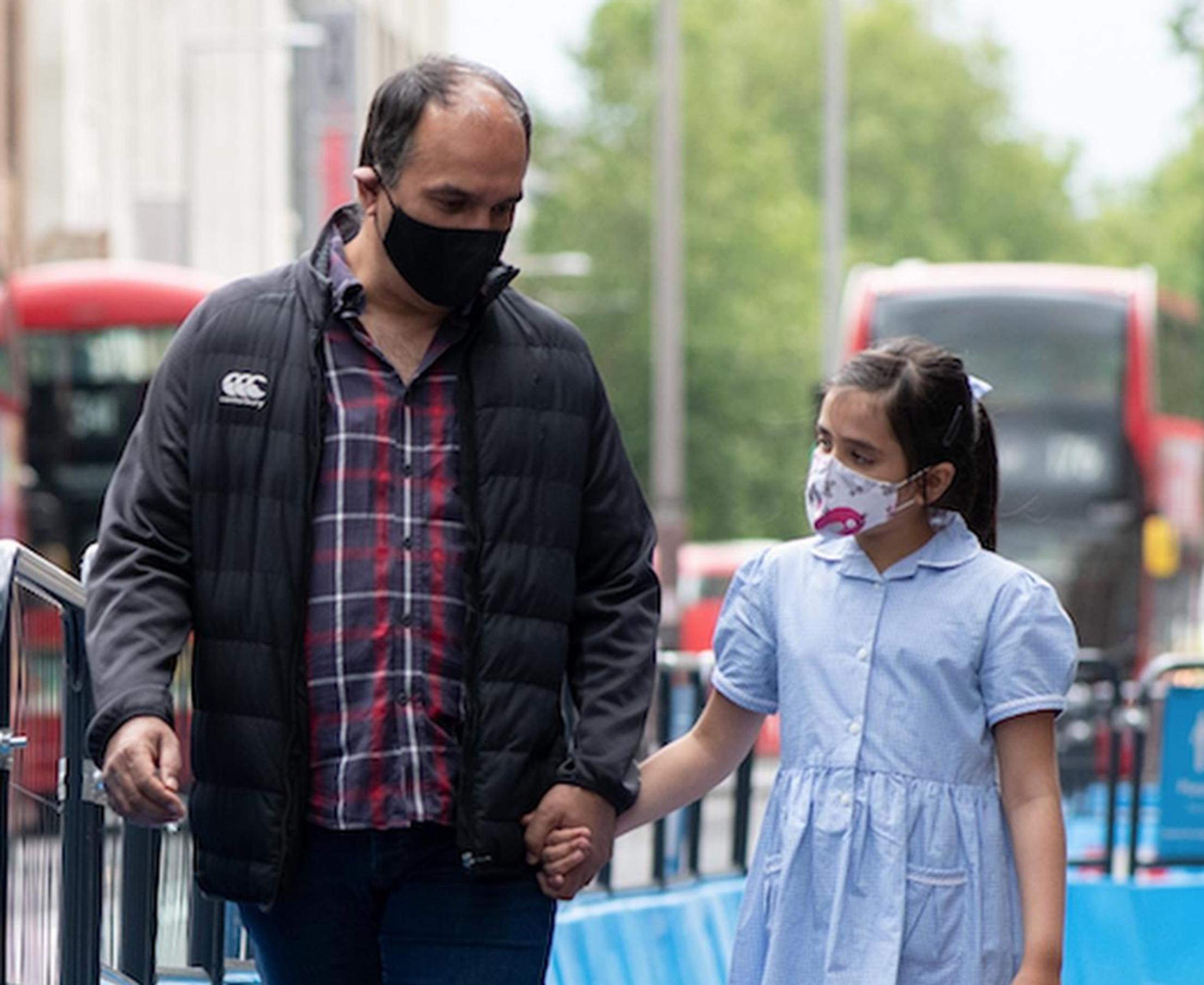 Wearing a face covering in shops and supermarkets will become mandatory in England from 24 July.
There will be a £100 fine for refusing to wear a face covering, enforceable by the police. Children under 11, those with certain disabilities, and people working in shops will be exempt.
Since mid-May, the public have been advised to wear coverings in enclosed public spaces where they may encounter people they would not usually meet. It has been compulsory on public transport in England since 15 June.
The UK Government says there is growing evidence that wearing a face covering in an enclosed space helps protect individuals and those around them from coronavirus.
Speaking in Parliament on 14 July, the Health and Social Care Secretary Matt Hancock said: "Last month, we made face coverings mandatory on public transport and in NHS settings. This has been successful in giving people more confidence to go on public transport and to a hospital setting when they need to. Providing people with additional protection when they are not able to keep 2-metres from others, particularly people they do not normally come into contact with."
The move will bring England into line with Scotland as well as European countries like Spain, Italy and Germany. In Scotland, the use of coverings in shops has been mandatory since 10 July. Shoppers in Wales and Northern Ireland are not currently required to wear them, although both nations have said this will be kept under review.
The UK Government hopes that the compulsory wearing of face coverings will help stimulate spending on the high street and in shopping centres.
"We want to give people more confidence to shop safely, and enhance protections for those who work in shops," Hancock told Parliament. "Both of these can be done by the use of face coverings. Sadly, sales assistants, cashiers and security guards have suffered disproportionately in this crisis. The death rate of sales and retail assistants is 75% higher among men, and 60% higher among women than in the general population. So as we restore shopping, so we must keep our shopkeepers safe.
"There is also evidence that face coverings increase confidence in people to shop. The British Retail Consortium has said that together with other social distancing measures, face coverings can make shoppers feel even more confident about returning to the high street. And the chair of the Federation of Small Businesses has said that small firms know that mandatory face coverings have a part to play, and I quote, 'in the nation's recovery both physically and financially'… And that he is 'sure this measure will be welcomed'. We have therefore come to the decision that face coverings should be mandatory in shops and supermarkets."
Hancock stressed that wearing a face covering does not mean that people can ignore the other measures that slow the spread of this virus such as the washing of hands and following rules on social distancing.
The new rules for shops will be enforced by the police, with anyone disregarding them at risk of a fine of up to £100, in line with the sanction on public transport and just as with public transport. This will be reduced to £50 if people pay within 14 days.
"The liability for wearing a face covering lies with the individual. Should an individual without an exemption refuse to wear a face covering, a shop can refuse them entry and can call the police if people refuse to comply, the police have the formal enforcement powers and can issue a fine," Hancock told MPs.
"This is in line with how shops would normally manage their customers and enforcement is of course a last resort, and we fully expect the public to comply with the rules as they have done throughout the pandemic."
The Health Secretary's statement can be read by clicking here
Accusations of confused messaging
Prime Minister Boris Johnson signalled a shift in the government's position on 10 July when he spoke of the need for a stricter approach in confined setting. However, on Sunday 12 July Cabinet Office minister Michael Gove said that he did not believe the wearing of face coverings in shops should be made mandatory when interviewed on the BBC by Andrew Marr.
Labour said the Government's mixed messages demonstrated its indecision during the pandemic, and questioned why the new rules would not come into force for 11 days. "The government has been slow and muddled again," shadow health secretary Jonathan Ashworth said, adding: "Many will ask why yet again have ministers been slow in making a decision in this pandemic."
The Mayor of London Sadiq Khan has been an advocate of regular wearing of face coverings. "I am pleased the Government have finally listened, not just to me - but to the clear overwhelming expert scientific advice from the World Health Organisation, Royal Society, British Medical Association and others, who have echoed my calls for face coverings to be mandatory in enclosed and busy public places such as shops," he said.
"It's a disgrace that there's been days of mixed messages and confused communications from ministers. Time and time again this government have been slow to act and unclear in their advice and as a result the public's health that's been placed at risk as a result. We can't afford to wait another day and the Government should bring this policy in immediately – further delay risks lives."
Enforcing the covering rules
The British Retail Consortium said it hoped the announcement would make shoppers feel even more confident about returning to the High Street. Unions and businesses have said the new guidance must be clear and detailed. Shop workers union Usdaw said face coverings could not be seen a substitute for cleaning and social distancing measures, such as limiting the number of people allowed in a store at any one time.
While shop workers will be encouraged to prompt customers to comply, they will not be expected to enforce the rules, allaying unions' concerns about their involvement. Instead, the new rules for shops will be enforced by the police. However, senior police officers and representative bodies have expressed concerns over this. Ken Marsh of the Metropolitan Police Federation suggested enforcing the new rule could strain the relationship between police officers and the general public. John Apter of the Police Federation said it should be down to shops to make wearing a face covering a "condition of entry".
No masks in offices
There are no plans to make face coverings mandatory for office workers in England. On 15 July, the Health Secretary told BBC Breakfast people working in offices would not need to cover up, despite a newspaper report suggesting they would have to.
Health Secretary Matt Hancock said: "It is something we've looked at and rejected."
Hancock said coverings helped prevent spread during brief encounters with strangers, but that social distancing and hand washing were more effective for contact with people over long periods of time. There is a difference between visiting a shop for a few minutes and working alongside colleagues at a desk for several hours, he said.
"When you're in close proximity with somebody that you have to work closely to, if you're there for a long time with them, then a mask doesn't offer that protection. The same logic applies for schools. We're not recommending masks for schools because if you're in a classroom with kids all day then a mask doesn't give you protection."
"In a shop or public transport, for instance, when you're with somebody for a reasonable amount of time – a few minutes – but not all day. The point is when you're in interaction with people who you aren't normally with, that's where the mask may be particularly helpful."

Other COVID-19 news in the UK:
Residents of Blackburn with Darwen in Lancashire have been told they must wear face coverings while in all public settings as it worked to combat a "rising tide" of coronavirus cases. Prof Dominic Harrison, Blackburn with Darwen's director of public health, said he hoped the use of coverings alongside other specific measures would prevent a Leicester-style local lockdown in the area.
Leicester remains subject to the UK's first local lockdown, which commenced on 4 July following a spike in COVID-19 cases. There are limits on social gatherings and hotels, pubs and restaurants have not been allowed to reopen.
Preparing for a Challenging Winter, a report by the Academy of Medical Science suggests the UK could see around 120,000 new coronavirus deaths in hospitals during a "reasonable worst-case" scenario this winter. The report, commissioned by the UK Government Office for Science, examines the impacts of, and ways to mitigate, the combined effects of the ongoing COVID-19 pandemic, influenza and the adverse health impacts of winter weather.
Antibody responses to SARS-CoV-2 can peak three weeks post onset of symptoms but begin to decline after as little as 2-3 months, according to research by King's College London. The study, led by Dr Katie Doores from the School of Immunology & Microbial Sciences and published recently on Medrxiv, examined the antibody levels of more than 90 patients and health workers at Guy's and St Thomas' NHS foundation trust between March and June. It is the first study to monitor patients for this length of time.