Festival Place's car park trio get a makeover
03 January 2018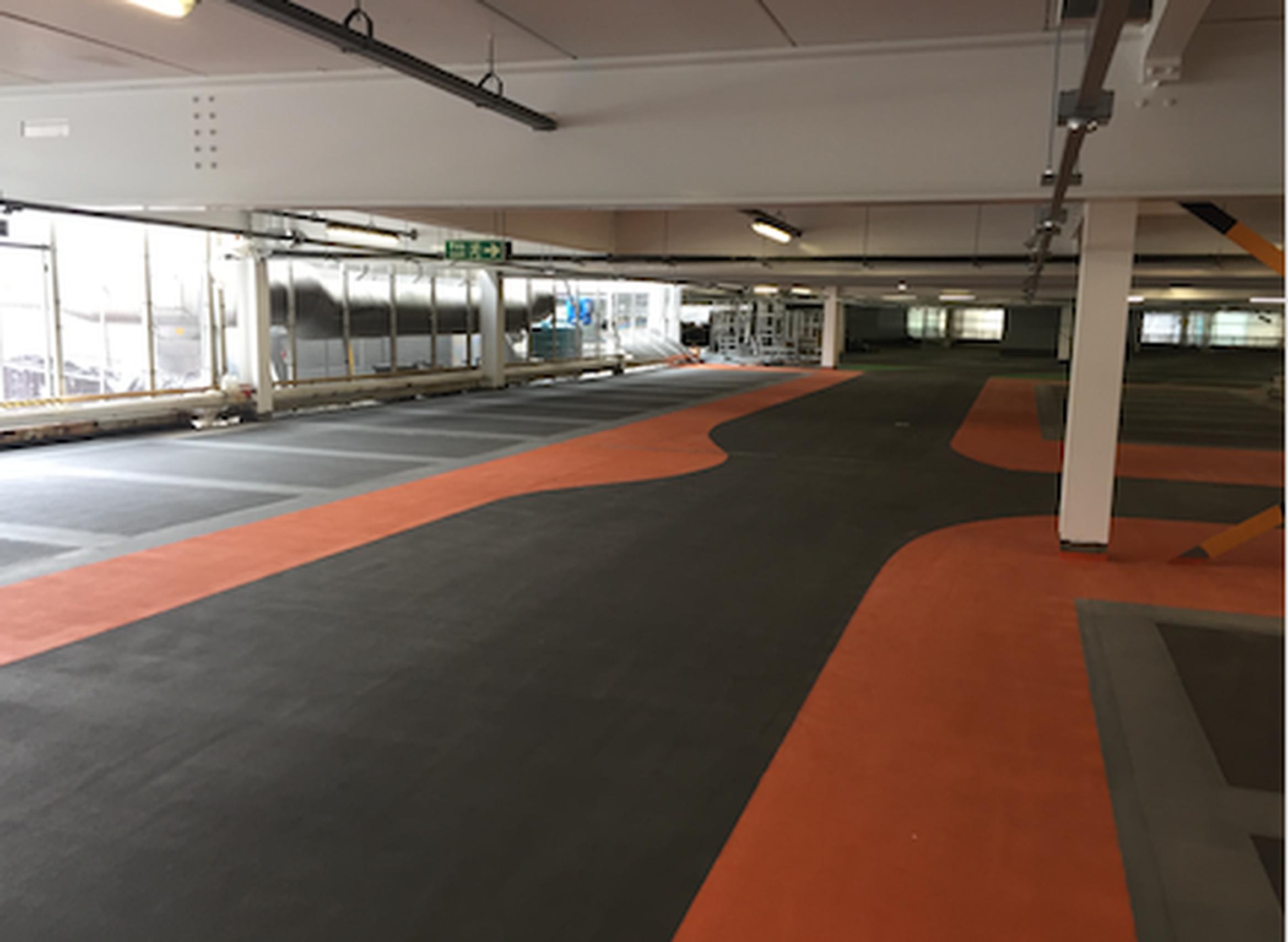 The three multi-storey car parks serving the Festival Place shopping centre in Basingstoke, Hampshire, are being refurbished to make them more attractive to shoppers.
The refurbishment is being carried out by Makers Construction, which won a design & build contract. The car park renovation forms part of a wider refurbishment programme for the centre.
The multi-storey car parks required upgrading following signs of delamination and water ingress. The deterioration was creating slip-hazards for pedestrians and drivers alike.
The renovation of the centre's car parks – known as A, B and C – started in March 2017 and are due to be completed in November 2018.
Works to the car parks stopped at the end of October to enable the shopping centre to maximise capacity during the festive period.
Besides re-waterproofing the decks, the upgrades to the car park include the creation of new coloured zones to help drivers remember which level they have parked their car on.
Digital counters are being installed on each level to display how many spaces are available. The bay monitoring lighting system has green lights to help locate available spaces, while a Find My Car camera system helps drivers who cannot relocate their vehicle. Clearer wayfinding signage is being designed to ease navigation around the car park.
Disabled bays are being repositioned so that they are closer to the lobbies and family spaces also relocated to more convenient places. There will also be additional payment machines. Meanwhile, an under-used car park structure next to the Alencon Link is to be demolished.
For the refurbishment of A, B and C's parking decks, the centre required a waterproof solution that offered long-term protection against the elements as well as containing rapid-set properties to minimise disruption for motorists.
Makers has selected materials produced by Sika for the refurbishment of the car parks' entire 70,000m2 surface area.
Makers' managing director Simon Lamb said: "The rapid-setting and crack bridging capabilities of the Sikafloor-RB58 Pronto system was a major factor in its specification for this project. It was vital the refurbished areas of car park were returned to full operation as quickly as possible in order to minimise disruption for visitors and offset potential loss to traders."
Work began in March with Makers using a ride-on diamond cutter to remove the parking decks' existing coating. The Sikafloor system was then applied. Sikafloor RB58 Pronto, which has crack-bridging and rapid-setting properties, was applied to decks above occupied shops and surfaces exposed to the elements. The RB58 system gave each floor a slip and abrasion-proof finish.
For intermediate decks not located above occupied properties, Sikafloor MultiDur EB-24 was applied. This is rigid, epoxy resin-based system designed high-density traffic and slip-resistant applications such as car parks.
Sikafloor-RB28 was installed to ramps as its fast-curing capability enabled Makers to minimise car park closure times.