Road map sets route to achieving 20% cut in Scottish car use by 2030
Behaviour Change
31 January 2022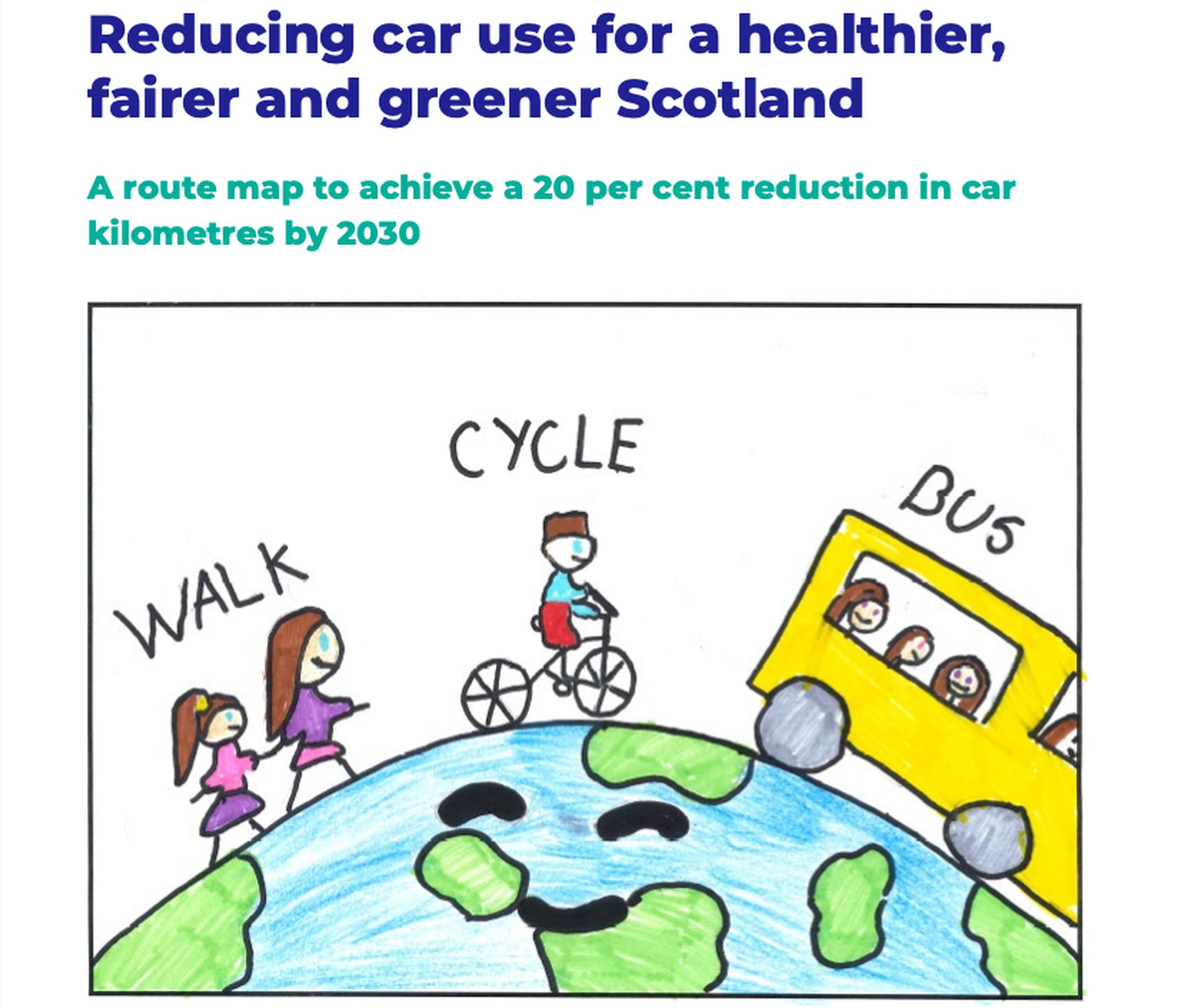 A new draft plan of how to cut car use mileage in Scotland by 20% by 2030 has been published. It has been produced by Transport Scotland (the Executive Agency of the Scottish Government responsible for transport) in partnership with COSLA (the Convention of Scottish Local Authorities) representing Local Government in Scotland.
"Reducing car use for a healthier, fairer and greener Scotland - a route map to achieve a 20% reduction in car kilometres by 2030" will form part of meeting Scotland's statutory obligations for greenhouse gas emissions reduction by 2045.
The revisions to Scotland's 2018-2032 Climate Change Plan include a commitment "to reduce car kilometres by 20% by 2030" (against 2019 levels). The new document provides a route map for how to turn that aspiration into a reality and appears alongside Scotland's second Strategic Transport Projects Review that sets out how the recommended investments will contribute to net zero greenhouse gas emissions and inclusive prosperity".
Professor Glenn Lyons told LTT he regards this as "a globally important document" that shows true political leadership in recognising that transport, and in particular car dependence, is at the heart of the climate crisis, and that urgent action is needed to reduce car use.
"Great credit is due to Transport Scotland and its political masters," Lyons told LTT. "We need global leadership that reaches beyond the disappointing international display at COP26 of a fixation on electric vehicles being the answer to our prayers with travel behaviour change barely registering as a footnote to proceedings."
The approach in Scotland for cutting car use is summarised in the route map document as, "reduce your need to travel; choose local destinations to reduce the distance you travel; switch to walking, wheeling, cycling or public transport where possible; and combine a trip or share a journey".
The document looks at the past and present state of travel behaviour and attitudes towards prospective future change, including a review of behaviour change theory. It asserts the importance of "creating the right material and social conditions and providing people with the capability, opportunity and motivation to choose sustainable travel behaviours".
It sets out a series of interventions to be taken over the next eight years.
The route map document records that before Covid-19, "Between 2009 and 2019, the number of car kilometres driven in Scotland increased by 7%, despite the population only increasing by around 4.5%.
It adds that the proportion of car journeys made with only one person in the car has also "grown over time", while noting that there is public support for change, with 73% of respondents in a recent survey agreeing that "for the sake of the environment, everyone should reduce how much they use their cars", with 43% agreed that they were "willing to reduce the amount [they] travel by car to help reduce the impact of climate change".
Jointly developed by Transport Scotland and the Convention of Scottish Local Authorities (COSLA), the plan recognises the need for ongoing collaboration and partnership working between national, regional and local government. But it identifies the current UK approach to motoring taxation as a significant barrier to the decarbonisation of the transport sector.
"The Scottish Government will continue to engage the UK Government on the need for reform of existing taxes related to motoring," it says, to create a tax system that better incentivises the transition to zero emission vehicles, and protects future revenues to fund interventions that support a shift healthier, fairer and more sustainable travel."
The route map document highlights how a Triple Access System will play a crucial part in achieving a 20% reduction in car kilometres embracing the land use system planning and new development location and design; high quality digital connectivity to lessen the need for some travel; and reprioritising the investment and allocation of transport infrastructure to different modes.
The report notes that a small number of longer journeys account for a disproportionate percentage of total car kilometres, with around 4% of trips (those over 55 kilometres) accounting for nearly 30% of the total kilometres driven in 2019. Conversely, despite 45% of trips being under 8 kilometres in length, these accounted for just 12% of trips of total car kilometres in 2019.
Lyons expressed "a fragile hope" that we are seeing the early signs of growing commitment to addressing behaviour change. The Welsh Government last year declared in its 'Net Zero Wales Carbon Budget 2 (2021 to 2025)' the aim "to reduce the number of car miles travelled per person by 10% by 2030".
And a new report for the Greater London Authority sets out four pathways to net zero by 2030 for London.
Sadiq Khan, the Mayor of London, has identified his preferred pathway including a 27% reduction in car vehicle kilometres travelled by 2030, relative to 2018 (see page 10).
Reducing car use for a healthier, fairer and greener Scotland