Mobility hubs – a transport planning concept whose time has come
27 July 2021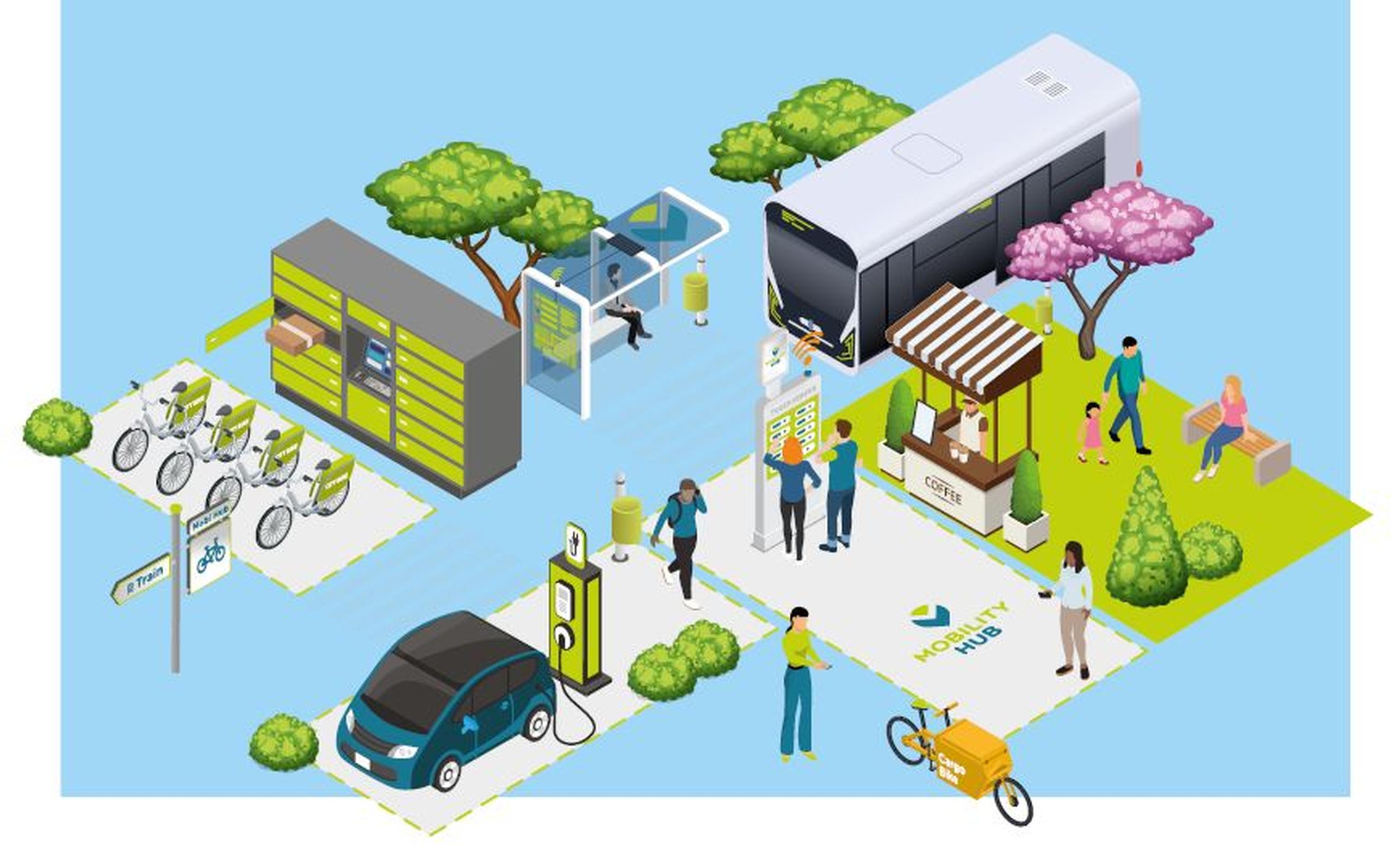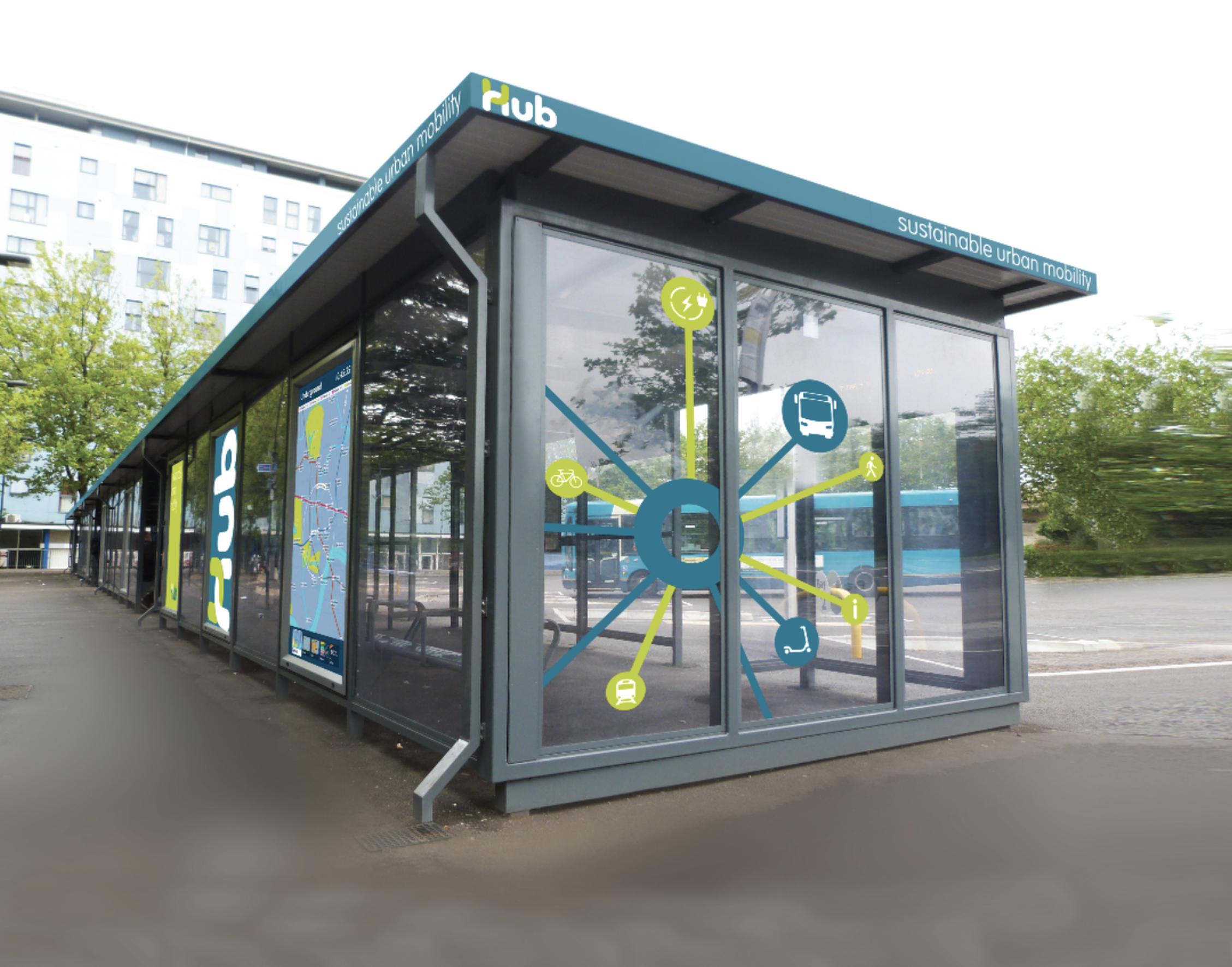 The mobility hubs concept is attracting great interest as a way of encouraging sustainable travel, with shared transport charity CoMoUK taking a lead in promoting and publicising developments through its Mobility Hub Forum1. CoMoUK describe the hubs as "highly visible, safe and accessible spaces where public, shared and active travel modes are co-located alongside improvements to public realm and, where relevant, enhanced community facilities".
Reallocating space previously used by the private car will "enhance the experience of travellers as well as benefiting local residents and businesses", says the charity.
However, in transport geography a 'hub' is intrinsically part of a network and is associated with the concept of a hierarchy (relating to size of facilities and to size of activity at the hub). A hub's features include both the concentration of facilities and the interchange between different elements of travel. Thus, mobility hubs, whilst serving as places that enable and promote multiple transport modes, can also serve as easily-accessible attractions in their own right – performing a role as 'community hubs'.
A mobility hub can, therefore, be both a place for travellers to leave from and be a place to go to; as a shared workspace for instance, or as a parcel drop-off or pick-up point, or as a group of electric vehicle charging points. Whatever features the hub has, it must have economic/community activity to provide an underlying reason for travellers to go there. Also, hubs must be within close proximity of people's homes, with a local catchment area of about one square kilometre of urban development. Mobility hubs must be accessible to their users and within easy walking and cycling distance.
An emerging concept
Mobility hubs are an emerging concept, both in the UK and abroad. An important characteristic is that each site is unique and so will have specific features: there is no 'one size fits all' approach.
There is a history of exploring the concept of mobility hubs in the UK going back 18 years, when Peter Warman and I undertook our first project. However, it is only in the last 18 months that interest in the concept has taken off. The main reason for this is advances in technology, particularly in shared mobility, micro-mobility, electric vehicle technology (and the take-up of electric vehicles), apps for mobile devices, and Mobility as a Service (MaaS).
This rise in interest has been given more impetus by a number of stark challenges, including the key problems of climate change and the Covid-19 pandemic. Another, related, factor is the rise of the '15-minute city', popularised by the mayor of Paris Anne Hidalgo. Alongside this, plans for the implementation of mobility hubs have been significant beneficiaries of both the Transforming Cities Fund and the Future Transport Zones fund.
Key features
CoMoUK argues that mobility hubs have three key features2: co-location of public and shared mobility modes; the redesign of space to reduce private car space and improve the surrounding public realm; and signage that identifies the space as a mobility hub as part of a wider network and ideally provides digital travel information.
This is fine as a static concept. But it is when we widen the definition of shared mobility to include dynamic mobility that the power of mobility hubs is seen. Because they provide an easily-accessible, convenient and identifiable local footprint they are a user-friendly place for new 'dynamic services'. These include 'managed shared mobility' such as lift sharing and vanpools, and a 'virtual mobility broker' to manage and aggregate seemingly disparate small demand flows. Demand responsive transport (DRT) services currently being rolled out in various places across the UK3 may be far from a commercial success and also need much consideration of their practicalities. But mobility hubs are a tool that can increase their chance of success.
Hub beginnings
Mobility hubs emerged around 2003 in Europe (based around shared transport, but focused on key public transport nodes), with the city of Bremen in Germany a key player. Bremen is now a major partner in the SHARE-North consortium, which is promoting mobility hubs throughout northern Europe. In Toronto, Canada regional roads and public transport agency Metrolinx made a hierarchical network of mobility hubs a central part of its Regional Transport Strategy in 2005. Mobility hubs have also been developed in US cites where shared mobility has a major role alongside public transport.
In the UK Peter Warman and I were commissioned by Plymouth City Council in 2003 to conduct a feasibility study into a network of mobility hubs in Plymouth. They were deliberately designed around public transport locations but focussed on economic activity, active travel, safety, wayfinding signage and information (both static and digital), and access to shared transport. Crucially, we envisaged high-quality but cost-effective waiting facilities and excellent information, to provide an integrated suite of mobility services. We sought to protect and distinguish this aspect to the concept by creating the Mobihub® brand of mobility hubs.
This project was completed in 2004, with a recommendation for 81 Mobihub®'s outside the city centre, after which Mobihub®'s were incorporated in Plymouth's Local Transport Plan. Also, some of the features of a Mobihub® were installed at the Plymouth suburb of St Budeaux, with major bus services, a hail-and-ride high-frequency fixed-route taxibus service and first-rate travel information, at the heart of what was on offer there. The concept lay largely fallow until 2017 when the Transforming Cities Fund was announced to which Plymouth City Council submitted an expression of interest.
Meanwhile, we took the mobility hub concept to a number of councils, public bodies and bus operators in the Peak District, Nottingham, York, Aberdeen, Northamptonshire, Kent, Greater Manchester and West Yorkshire. Whilst these were all places where both local authorities and operators, to varying degrees, were committed to developing public transport as a viable alternative to the private car, we were not generally successful in getting them to commission mobility hub feasibility studies. The one major exception was South-West Hertfordshire, where we carried out a large study in 2008. Even here there was then very limited follow-through into policy. This was a reflection, we believe, partly of the challenges of partnership working between councils with overlapping responsibilities, different area coverages within a continuous urban / suburban area, differing priorities, and the difficulties of getting the concept understood by all relevant departments, including both transport planning and land use planning.
Different perspectives
It is clear that having a single over-riding rationale, such as shared transport, does make it easier to understand and accept mobility hubs. CoMoUK's accreditation approach defines six different types of hub: city centre; transport corridor; business parks; suburban; rural and tourism, with essential and desirable features for each. The different types have different features, but there is a strong emphasis on shared mobility throughout and, at least currently, much less on travel information, particularly on its design. CoMoUK's accreditation scheme does acknowledge the evolving nature of the mobility hub concept by limiting accreditation to only two years.
Both perspectives on mobility hubs have a number of commonalities: for instance, an acceptance of the roles of both shared transport and public transport; and an understanding of the importance of a fixed footprint – a physical place (or small area) that is identifiable as a centre for mobility. Both accept that a unified approach must be able to take account both of different sizes and of different functions; and both recognise the importance of workable commercial business models, but also with community and public support.
However, there are some divergences; the trunk public transport corridor approach, enshrined as a key characteristic of the Mobihub® brand, has a strong emphasis on geography, on networks, including a hierarchy of network features, on spatial relationship, and on digitalisation. This leads to the integration of public transport Information and control systems. There is a strong link here to 'Bus Back Better' and to Network Strategies and as I have argued elsewhere4, Transport Geography skills will be vital to their development. MobiHub Ltd is looking to clearly define the elements of the Mobihub® brand (what is essential and what is discretionary) and would welcome partners with whom to work to take the concept forward.
Lots of mobility hub initiatives are under development. Having achieved success in its Transforming Cities Fund bid, Plymouth is now engaged in planning for the launch and implementation of a large programme of mobility hubs from 2022. Further north, CoMoUK has been commissioned to produce Guidance and a framework for delivering Mobility Hubs as part of Transport Scotland's second Strategic Transport Projects Review (STPR2). Significantly, mobility hubs are now Incorporated in Sub-National Transport Body strategies.
Potential pitfalls
Mobility hubs could become an exciting 'go to' element dropped into funding bids with insufficient knowledge of what they mean or how to implement them.
Another potential problem is a lack of clarity in individual projects on why the hubs are being done, what are the expectations from them, and what is meant by them. For instance, to what extent are they orientated towards car clubs, interchange between modes, additional non-mobility functions such as shared workspaces, and parcel drop-off and pick-up or EV charging? And to what extent can they enable the dynamic creation, through sharing, of sustainable travel options for a myriad of small travel flows? These aren't necessarily in opposition to each other, but the risks and practicalities of having multiple objectives needs to be evaluated.
A particular danger is that of business models for mobility hub development being unsustainable. The Ryton Hub in Tyne & Wear, launched in 2001, had many features of a mobility hub including real-time information and good passenger facilities, and had DRT at its heart. But it was expensive to operate, had seemingly little community support, and very minimal economic or community activity on-site. It was shut after less than six years of operation. While mobility hubs now will have features which didn't exist then (such as e-bike sharing, micromobility sharing, EV charging) these all present their own business model challenges too.
Mobility hubs should be designed into the Enhanced Partnerships or Franchises, that will govern bus planning and operation from mid 2022. Also, there must be financial penalties in contracts relating to mobility hub infrastructure and associated service quality and information quality if the hubs are not properly maintained.
Outstanding issues
There are a number of questions that need to be resolved to take mobility hubs forward:
The differences between personal mobility needs and required mobility infrastructure in urban and in rural areas need to be further defined and analysed.
Hierarchies in transport networks must be acknowledged in the planning for mobility hubs as this determines size of passenger waiting infrastructure and whether or not this should be enclosed, and the detail and coverage of the static travel information.
To achieve acceptance, the Mobility Hub Accreditation scheme that CoMoUK is developing will need to be continuously reviewed, tested and refined, and have a much bigger role for travel information within it.
The links between mobility hubs, plans for DRT services and local transport authorities' Bus Improvement Programmes must be clear in each area where hubs are being considered.
The relationship between mobility hubs and MaaS needs to be more clearly articulated: so far, MaaS offerings seem to be lower down the task list of authorities that are actively considering mobility hubs.
Research should be commissioned into the public policy and commercial barriers that prevent disaggregated and heterogenous travel demand on major corridors from being crowd-sourced into scheduled bus and coach services.
Standardised, automated methods should be developed to identify potential locations for mobility hubs. This is being targeted by my Foundation for Integrated Transport Fellowship (see below).
Automated methods, perhaps using network simulation tools, should be developed to devise programmes of prioritisation and implementation.
Hubs must be incorporated into land use planning regimes, both national policy and at local levels.
CoMoUK gives accreditation to its first mobility hub
John Austin looks at the London Borough of Redbridge's new kerbside in South Woodford
The South Woodford mobility hub is the first to receive accreditation by CoMoUK. Promoted and enabled by the London Borough of Redbridge, it has an EV-only parking bay (and charger), cycle parking and seats. It is 75 metres from the entrance to South Woodford Underground Station and 60 metres from a taxi rank, although this only operates on Friday and Saturday nights. The nearest bus stop to the mobility hub is some distance away, at 215 metres.
The South Woodford Hub does contain the three elements defined in CoMoUK's list of key features of a mobility hub:
1) Co-location of public and shared mobility mode
2) The redesign of space to reduce private car space and improve the surrounding public realm
3) A sign which identifies the space as a mobility hub. However, the problem is in the implementation.
While the hub is just visible from the overbridge at South Woodford Station, the traveller has to know where to look for it. There was no signage for it at South Woodford Station (nor indication of it on a map there) when I visited earlier this month. So, it is effectively invisible for people travelling into the area by public transport, even though it is within a short walk of an Underground Station; and it gives the impression of being essentially a parklet rather than a hub. It also has no digital information infrastructure, although with effectively little possible connectivity between modes there this is perhaps less important.
South Woodford demonstrates that achieving the sense of a homogenous, linked area within the mobility hub's immediate surroundings and, critically, along the key access corridors to it, can be a major challenge, partly because of different agency ownerships of the relevant space.
This problem is not confined to the UK; in the United States, Danielle Elkins, the City of Minneapolis's Mobility Manager, recently stated in CoMoUK's latest Mobility Hub Forum that branding and wayfinding are the most challenging areas of a mobility hub to get right
John Austin has been a transport consultant since 1994, originally trading as Austin Analytics, and then setting up MobiHub Ltd with Peter Warman in 2003. He is a Chartered Geographer (CGeog(Econ)), a Chartered Fellow of CILT, and a Winston Churchill Fellow. He was recently awarded a Fellowship by the Foundation for Integrated Transport (FIT) to develop a methodology to identify potential mobility hub locations in the South West, using geographical modelling techniques and a wide range of datasets, in collaboration with the University of Plymouth. john@mobihub.com