Minister announces support for police 'close pass' operations
03 July 2018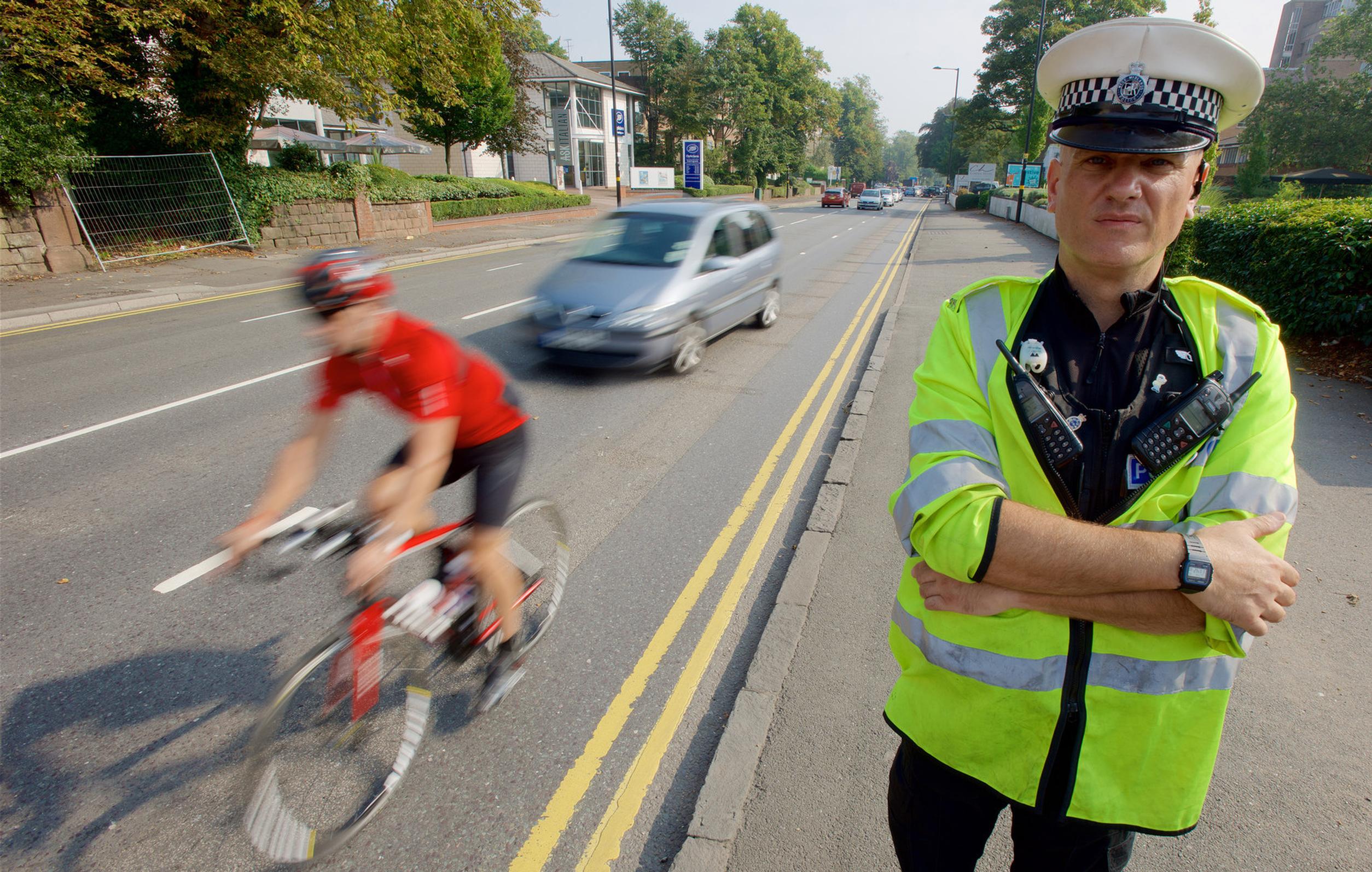 The government will encourage police forces to tackle 'close pass' driving, the transport minister Jesse Norman has announced. Speaking at the Cycle City Active City conference in Manchester last week, the minister praised the work of West Midlands Police, which was the first force in the UK to carry out 'close pass' operations.
Norman visited police officers Steve Hudson (pictured above) and Mark Hodson, who pioneered the West Midlands operation. "It has been a very effective programme in raising awareness and understanding and reducing casualties," said Norman. "We are going to build on the close pass initiative that has been pioneered by West Midlands Police. We will be providing materials and support to police forces so that more drivers can be made aware of the need to leave safe distances when passing cyclists."
However, the minister said it was not in the DfT's remit to insist that police forces carried out enforcement operations against 'close pass' drivers. Instead, the emphasis would be on educating drivers. "The fact that national government and the DfT is committed [to supporting close pass operations] will give it an extra boost," he said.
West Midlands Police has been running close pass operations in Birmingham since August 2016. Plainclothes officers on bikes, who are equipped with cycle-mounted cameras, radio details of 'close pass' drivers to colleagues who intercept them at a designated holding point further along the road.
Most of those stopped by police are allowed to go on their way after a roadside demonstration in the holding area, with officers highlighting the dangers of close passing on a floor mat.
However, some drivers have been prosecuted, receiving £100 fixed penalty notices and three points on their driving licence. Last July, two drivers in the West Midlands became the first to be taken to court for overtaking cyclists too closely. The driver of an HGV was fined £1,038 and given five points on his licence while a transit van driver received a £1,033 fine and four points. In both cases the evidence to convict the drivers was supplied from a member of the public out cycling with a helmet camera.
West Midlands Police says the number of cyclists killed or seriously hurt on the region's roads has dropped by 20% since the launch of close pass operations.
PC Steve Hudson told LTT: "We had a visit from Jesse Norman as he wanted to see our close pass operation first hand. He was very keen for the educational work we do at the roadside to be replicated, but made no mention of the enforcement side that we currently carry out through third party reporting.
"There needs to be a risk of prosecution to any poor driving, in order to influence driver behaviour, as education alone will not achieve this. Our education to enforcement ratio runs at roughly 1 to 3, and this, in my opinion, is a ratio that really emphasises how seriously we take the safety or vulnerable road users in the West Midlands."
PC Hudson added: "Unfortunately, cuts to roads policing have left many of the smaller forces, or those that have merged their roads policing, with insufficient staff to carry out any meaningful work. The will of the troops on the ground is still strong, but outside of core policing duties, it is becoming more difficult to justify expanding key road safety work into new areas."
The minister's announcement was welcomed by the Road Danger Reduction Forum (RDRF). RDRF Chairman Robert Davis said: "We are pleased that the minister thinks policing close passing of cyclists, as carried out by officers in West Midlands Police, is a very good activity. Educational resources and materials may help with this work. We continue to support other police services - about a third of all police services in the UK have some kind of commitment in this area, with more who have shown an interest - in getting up to the 'gold standard' set by West Midlands police. However, this won't happen without adequate resources for roads policing, deployed in a way which meets the quality of performance done by West Midlands Police."
At Cycle City Active City, hosted by Transport for Greater Manchester and organised by Landor LINKS, Jesse Norman also announced that the DfT would be providing £500,000 to a scheme giving driving instructors cycling awareness training.
"The idea is to try and permeate that sense of understanding for all road users right to the top of the teaching tree. We think that this could become the basis for greater understanding and empathy among the next generation of road users," he said.
Duncan Dollimore, head of campaigns at the charity Cycling UK, said: "We have long argued that the driver training and testing processes should ensure that drivers are made aware of and understand both cyclists' needs and their safety.
"Training the trainers, and embedding cyclists' safety in the mindset of driving instructors, is a fantastic first step towards achieving this. But education and awareness on its own is not enough, which is why close pass operations by police forces have proved so effective in places like the West Midlands.
"It's fantastic that there's now a commitment to make additional government resources available to help the police crackdown on close passing. Cycling UK looks forward to working with the DfT, as we have with willing police forces, to try to make sure this initiative helps lead to close pass policing being the norm, not the exception."