ATE asks councils to self-assess delivery potential ahead of September funding round
The assessment asks councils to rate themselves against a set of criteria including local leadership, supportive transport policy and their track record on delivery....
09 August 2022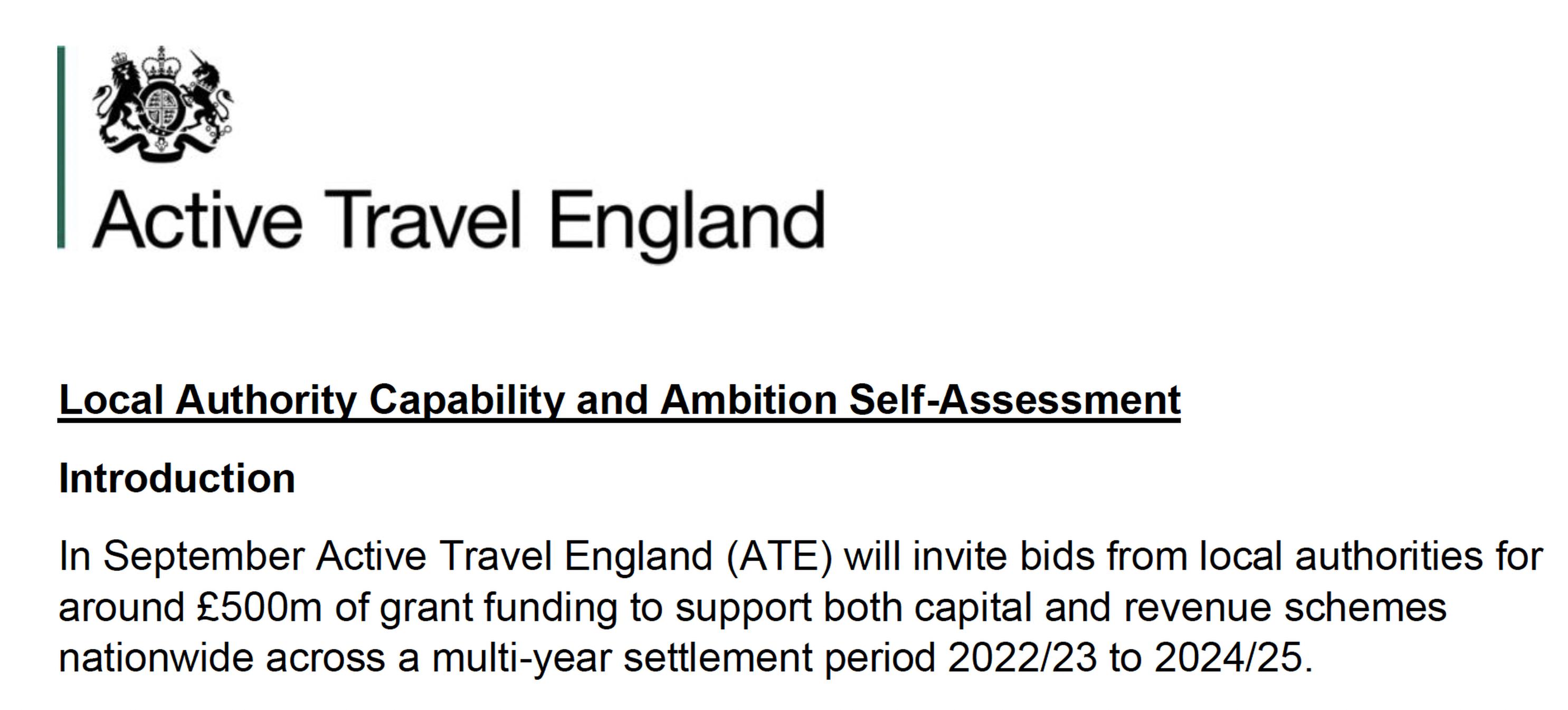 Active Travel England (ATE), which sprang into action this month, has one key objective: ensuring that 50% of trips in our towns and cities are walked, wheeled or by cycled by 2030.
We're going to need to focus money on areas where we can make things happen – Danny Williams, CEO, Active Travel England
In September, Active Travel England (ATE) will invite bids from local authorities for around £500m of grant funding to support both capital and revenue schemes nationwide across a multi-year settlement period 2022/23 to 2024/25.
As an initial part of this process, for 2022/3 capability and ambition funding worth £30m, ATE would like all bidding authorities to undertake a high-level self-assessment.
Last week, Active Travel England (ATE) posted an article and a pdf outlining the assessment criteria on its Linked In pages.
Active Travel England has a vision of the future of England's streets, where getting about by walking, wheeling and cycling is the easiest, most attractive option for everyday trips.
ATE said: 'We've got some lofty targets to measure ourselves against – our key target is that 50% of short trips within towns and cities will be made by active travel by 2030.
'Local councils are at the heart of this goal as they are the people that will be putting infrastructure in place on the ground.
'Like anyone with a big target to hit, we need to work with the willing and that means sharing our faith and the majority of our funding with councils that have the highest levels of leadership, ambition and ability to deliver.'
To this end, last week Active Travel England asked all of England's councils to assess their ability to deliver on all things #activetravel against a new set of criteria.
This will form the first of a four-part blended assessment that will be supplemented by:
evidence of previous performance held by ATE and the Department for Transport

quality of recent bids submitted by local authorities; and

in future, ATE's own inspections and assessment
In its introduction to the active travel sector at Cycle City Active City in July, the leadership team from ATE made it clear that it will:
provide the majority of infrastructure funding to those authorities that are the most willing and capable of delivering

provide training and support to those that want to improve so that they are in a position to deliver high-quality projects as soon as possible
Speaking at the 2022 Cycle City Active City, Isabelle Clement, Interim Non-Executive Director, ATE, said: 'The message is that ATE is in the business of doing things differently. As an organisation, it's not about doing the 'same old'. It's really about a radically new approach to active travel.'
In its Linked In article ATE added: 'No authority that is properly committed to this agenda will be left out in the cold. For example, we will offer training and support to councils that have ambition but do not yet have the relevant level of technical ability. Our goal is to enable councils to be able to deliver more complex and higher quality projects over time.
'Assessments will be undertaken annually so that we can track progress. Each assessment will then be assured against delivery performance information held centrally by Active Travel England as well as performance at inspections and via bid quality information.'