Investigating the UK's 20-minute city capabilities
Transport accessibility is imperative for sustainable urban growth. As the Government reveals its new Planning Bill this week, with a focus on house-building, the transport accessibility of new developments is increasingly under the spotlight…
12 May 2021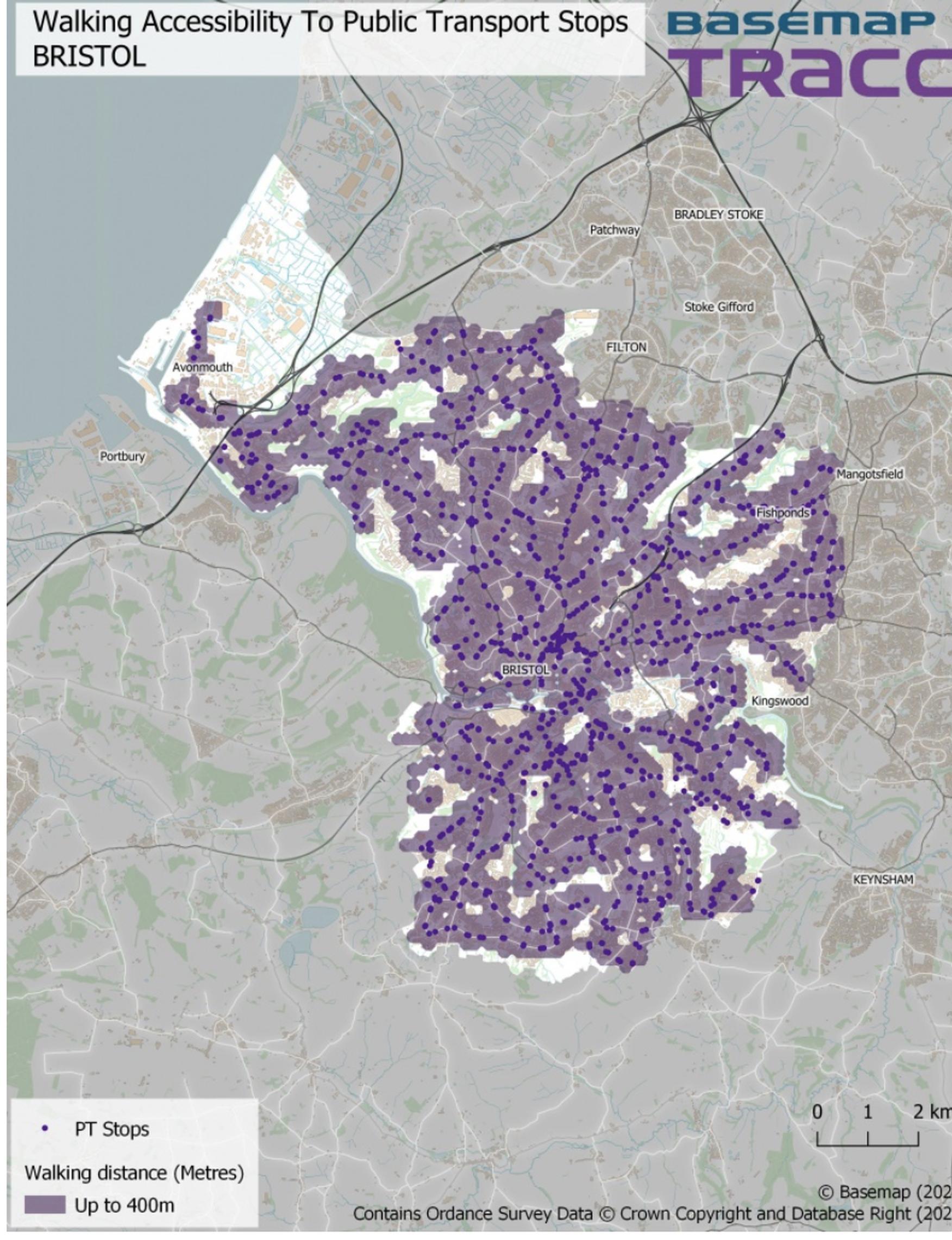 Sustainability is all about making decisions that do not have negative consequences for either current or future generations. With the government planning on building hundreds of thousands of new homes a year, they need to be built sustainably. The ethos of a 20-minute city encompasses this.
A 20-minute city is where everything we need is close to home. Where we can buy fresh groceries, go to work, go to a sports facility or a GP surgery and hospital, all within 20 minutes of our homes. The fundamental way in which we shape our cities is to facilitate, enable and encourage the kind of humanity we all want to enjoy.
In building new communities, we have a unique opportunity to create and structure cities in a way that is cleaner, safer, healthier, and more inclusive for all. The most important component to planning sustainable developments is to remove the over reliance on cars for access, so decreasing high emissions and increasing active travel options for everyone.
For Basemap, 2021 is the year of 20-minute cities, and we are using our Travel Time analysis Software (TRACC) to investigate whether the United Kingdom has any. Taking the 12 most populated cities and their residential populations, Basemap will be analysing the access to essential amenities via public transport or walking within 20 minutes.
Basemap's TRACC tool enables the user to make a rapid analysis of accessibility by different transport modes, importing either the latest or historic public transport timetables, road and footpath networks, and demographic data for detailed origin/destination calculations.
These can be analysed against different transport modes, including public transport, walking, cycling and car, to give an indication of accessibility for new developments. This can be used at local level as well as nationally and internationally. TRACC can identify differing patterns of accessibility across various towns and regions by different modes of transport and can be compared to the car.
TRACC allows the underlying data to be edited, essential for looking at making changes to the network to facilitate improvements to accessibility. Improvements can include changing the network to merge or create new bus routes, create a new foot or cycle path, or even look at demand responsive services such as taxis and minibuses. Users can find the optimal location of a new school or another destination. All of this can be measured using demographic data to ascertain the real change in population access when these options are modelled.
TRACC modelling assesses whether investment and development are viable in potential areas, and reviews the impact of any changes made to transportation within the specific area.
For example, from house A to house B, as the crow flies the trip would be 1 mile, or a 20-minute walk. When we consider where people can actually walk – so not walking through buildings or over rivers – the walk becomes much longer.
Now house A wants to go to a supermarket, TRACC can simultaneously calculate the time it takes to get from house A to multiple supermarkets, either by walking, cycling, public transit or car. TRACC shows these results with bands of travel time, called contours. Each band can be a customized time range, for example, 0-10 minutes, 10-20 minutes, 20-30 and so on…
Support for analysis
To begin the series we asked: 'What is a 20-minute city?' Essentially, all daily needs should be met within a 20 minute journey from your home, either by public transport or walking.
Each month we will focus on a different city and create 5 accessibility maps including access to supermarkets, hospitals and GPs, primary schools, secondary schools, and public transport stops.
The first city is Bristol, and the others will be published online here
All the cities begin with a foundation of a detailed road and footpath network. For cities in Great Britain we used OS Highways, which was added into DataCutter in February. On top of this, Basemap layered the public transport network, for consistency, public transport data will all be taken from Q4 2020, allowing for any drastic changes to happen in 2021 without skewing the comparison results.
For the origins, Basemap created a grid of points based on the city boundary and then found the Points of Interest (POI) within this boundary for each destination type. This means that the accessibility to these destination points could reach beyond the city boundary but for the scope of this series we are specifically looking at the accessibility within the city limits. Due to the different countries within this project, the Points of Interest was sourced from various places and will be referenced for each individual city.
Dan Saunders is Head of Products, Basemap