Updating TROs: getting past 'multiple pain points' with a national standard 'data model'
In 2018, the Local Transport Data Discovery recommended streamlining and digitising TROs. It found the TRO-making process to be labour intensive, time-consuming and costly. The latest report on TROs recommends that DfT creates a data model which is issued as a national standard
19 August 2020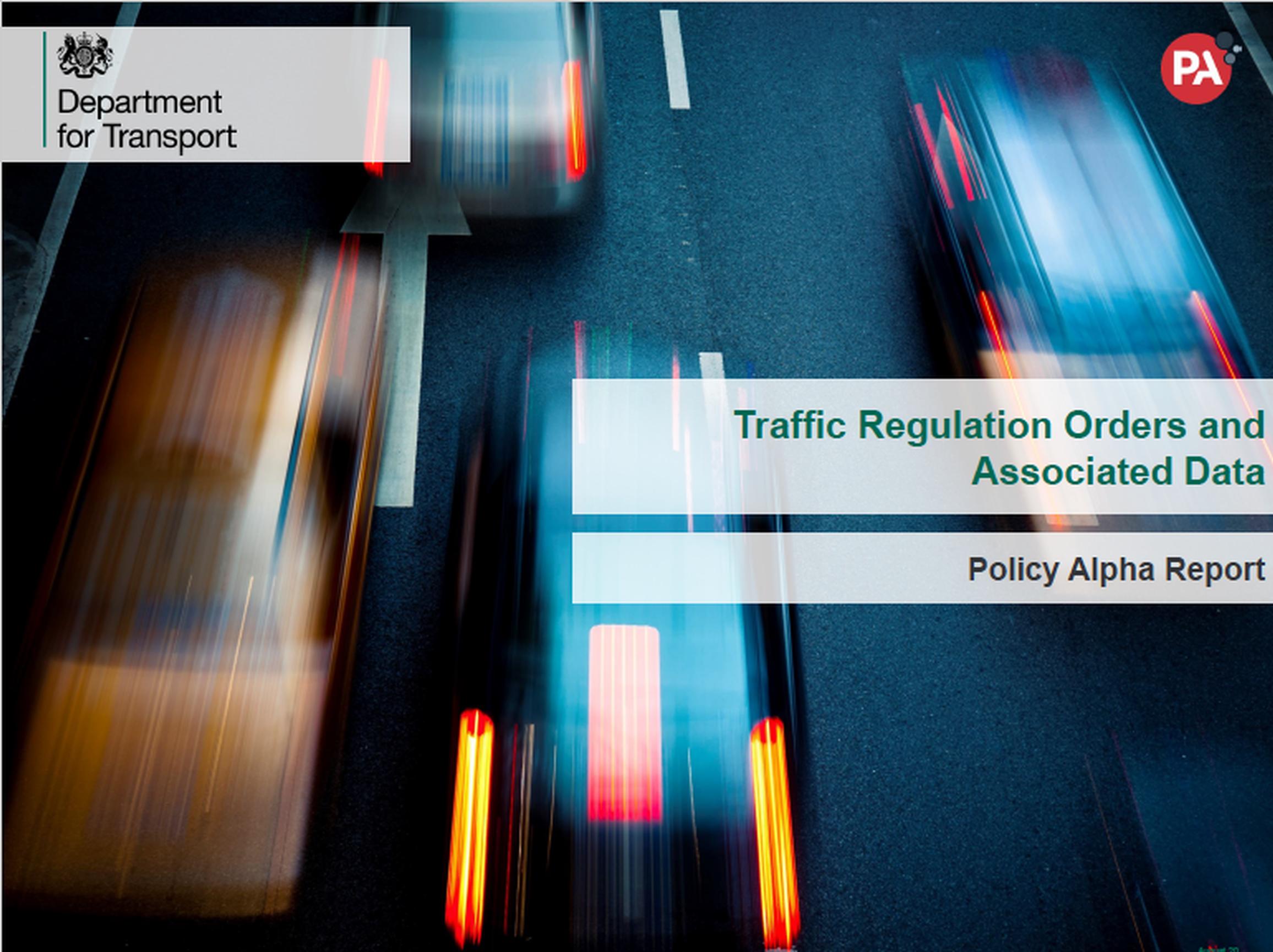 Traffic Regulation Orders (TROs) are the legal orders which define the rules of the road network. They currently provide highway authorities with powers to place permanent, temporary or experimental restrictions on traffic for the purposes of safety or traffic management. Orders therefore provide a vital mechanism for enforcement on the road network, and include Permanent TRO (PTRO), TTROs Temporary TRO (TTRO) and Experimental TRO (ETRO).
In 2018, the Local Transport Data Discovery recommended streamlining and digitising TROs. It found the TRO-making process to be labour intensive, time- consuming and costly. A subsequent Discovery report into TROs, carried out in early 2019, recommended a review of existing legislation to identify proposals for improvements.
In August 2019, the Department for Transport (DfT) commissioned PA Consulting (PA) to undertake a Policy Alpha to identify improvements to the legislative process in England. The research was completed by PA consulting, and carried out on behalf of DfT. The objectives of this latest study were to:
identify the needs of users of the TRO making process and TRO data

develop and iterate a minimum viable product legislative process which met user needs

provide a robust assessment of the impact on users of proposed changes
The recommendations made are planned to be part of a policy consultation, expected in 2020. The report's five key proposed user experience improvements are:
1. Highway authorities should be given the responsibility to set the approach to informing relevant users. Relevant communities, users and citizens are informed of TROs through the most appropriate means and with due consideration given to improving accessibility requirements

2. Highway authorities should publish standardised and open TRO data. TRO data should be consistent and made available for anyone to access, use and share. Real-time data on when TTROs are operational should be made available for anyone to access, use and share

3. Applicants for TTROs should have a minimum standard of service. Set out maximum processing times applicants can expect from highway authorities when seeking a TTRO. Enable temporary road closures to be processed in a timely manner by removing the need to publish proposed TTROs. Create higher-quality processes by delivering tailored separate legislative solutions for street work and special event TTROs

4. Highway authorities should operate a more outcome orientated, flexible and proportionate process. Set out different classifications of PTROs based on the proposed type of restriction that simplifies and improves the process. Set out different classification of TTROs for street works and special events based on their impact that allows removal of burdensome steps and requirements

5. Highway authorities should publish clear and transparent information on their charging arrangements. Fees for PTROs and TTROs should be publicly available and include a breakdown of fixed charges based on cost recovery
'Users cited multiple pain points with the existing process, note the report authors. The research phase involved 200+ people across 92 organisations. All participants identified pain points with the current process, with many users citing multiple issues. The key pain points repeatedly raised by users included:
Unsustainable and ineffective newspaper advertising
Currently there is a legal requirement to advertise any TRO in a local print newspaper. However, only 7% of road users accessed information on TROs through this method. Annual advertising expenditure represents a £49m burden to Highway Authorities and applicants. 'Publishing in local newspapers is outdated and doesn't serve the purpose of informing the public,' said one research participant.
Significant variation and poor transparency of TTRO fees
Fees for TTROs were found to vary between £600 to £7,000 nationally, with an average fee of £1,021 2. Newspaper advertising can account for up to 46% of the total cost to make a TTRO.
Inconsistent, inflexible and lengthy processing times
Currently there are multiple advertising steps in the process. Finding advertising efficiencies leads to the 'bundling' of adverts by HAs. This increases processing times. As such, granting a TTRO can take 6 -12 weeks. In extreme cases, 6 -12 month lead times were highlighted by users
Recommendations
The recommendations in the report 'should be seen as a roadmap to achieve a high level of digitisation within the TRO archive. However, we recommend that DfT take a pragmatic and collaborative approach to achieve a step change in the quality and extent of digitisation within the TRO archive', say the authors.
'We recommend that the DfT progress with options A, B and C as we expect that this will significantly increase digitisation by 2025 and help deliver benefits to near term Future of Mobility technologies such as Connected Vehicles. Based on this we have made the following core recommendations:'
A. DfT create a TRO data model which is issued as a national standard – The DfT is already progressing with the creation of a TRO data model. The DfT should consider accelerating this so that benefits can be realised by early adopters and Connected Vehicle technologies such as ISA can utilise the data.

B. Help local authorities move to digital formats and support the transition to digitisation. There are a number of LAs ready to digitise but lacking support and skills to do so. The DfT should work with LAs to create a common benefits case and drive business change.

C. Provide funding to local authorities to accelerate digitisation of the TRO archive – Many users are ready to embrace TRO digitisation, but lack the resource to do so. The DfT should support these users through targeted development funding. This recommendation should only be taken forward after A and B have been delivered and re-assessed prior to implementation.

D. If there is a change in civil enforcement of moving traffic offences, use it to encourage TRO digitisation

E. DfT issue a legal mandate for local authorities to digitise all archived TROs in a standard format
We recommend that the DfT should review and evaluate the impact from A, B and C before progressing with further interventions. We believe these options will realise the policy outcomes DfT are seeking in a pragmatic and cost effective manner. As we progress to 2025, the requirements for Autonomous Vehicles and new mobility services will become clearer and the DfT can re-assess the need for implementation of options D and E. Any changes to the political landscape, particularly in relation to option D, may require the DfT to re-prioritise the options set out in this report to realise early benefits.
The work is aligned to the Future of Mobility Grand Challenge and Future of Mobility: Urban Strategy, which prioritises providing a regulatory framework that evolves with transport technology and advocates data sharing to improve operation of the transport system.