What role will payments play in delivering the future of Mobility as a Service (MaaS)?
Consumers are now used to seamless payments for most daily transactions, and expect integrated, safe and secure ways to pay for any service, including transport. For payment providers, that means both challenges and opportunities, especially post COVID-19 when 'no-touch' payments are gaining ever more popularity...
05 May 2020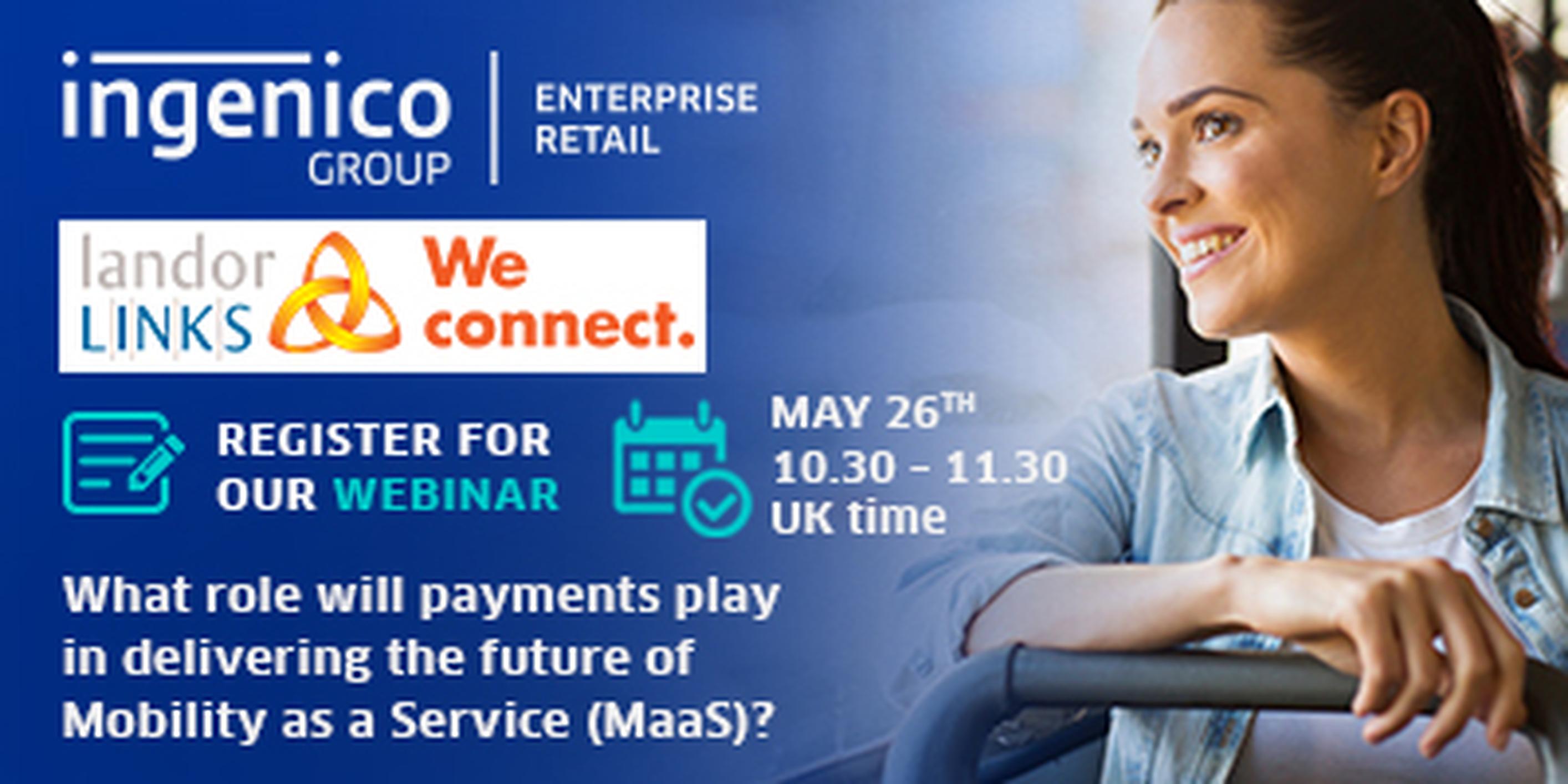 The diversity of new transport payment methods increases by the month. Cash is in decline, and is being replaced with contactless credit and debit cards, Apple Pay and Google Pay, or multiple pre-pay travelcards (which can be paid for with cash or cards), not to mention software-powered 'challenger banks' such as Monzo that have put mobile and app-based payment at the heart of their plans.
App-based payment systems are also widely used for ride-sharing and hailing, car clubs, taxis, bike share and local DRT bus and rail schemes.
Eight years ago, Transport for London (TfL) introduced open-loop contactless payments across its public transport network, enabling price-capped tube, bus, tram and rail services. The account-based service now includes journeys from several London airports, and more than half of all pay-as-you-go journeys now use this system.
London has become a global showcase for the technology, but TfL has many structural advantages. The governance model under which TfL operates gives it much greater control over London's transport system compared to other cities and regions, both in the UK and beyond. TfL has control over bus services (the lack of such control has proved a major headache for other regional authorities, more of which later), and single management of most public transport modes. These are the main reasons behind the capital's efficient and high- quality transport system and its ability to attract a high level of users.
Read more about the development of payment technology
The key feature of TfL's ticketing system is that it accepts multiple types of payment method (smart card, contactless cards and mobile phones) but all are linked to the same back office, enabling fare-capped settlement at the end of the day or week – effectively a single income channel. Most regional authorities outside of the capital do not benefit from this structure, and as such face ongoing struggles to integrate, never mind aggregate, a multi-modal public transport offer.
An important element in making MaaS a success will be getting all of the players to work together,' says Cartier. 'Private sector participants might join the movement in search of profits, while government agencies could seek public policy benefits that stem from reduced congestion, higher productivity, better air quality, fewer traffic accidents, and a smaller urban footprint for parking. Participants will gain these benefits only if they collaborate
Payment and authentication are a focal point for any open payment projects, says Venceslas Cartier, Global Head of Transportation & Smart Mobility, Ingenico Enterprise Retail. 'While technology will connect vehicles, infrastructure and various modes of service, single payment transactions and identity are the nexus for any digital transformation of transportation,' he says. 'Payment cannot be separated from mobility: there is an evident correlation between ease of payment and user uptake.'
'Mobility as a Service' is the end goal that many transport professionals have in their sights, making it easy and frictionless for people to get from front doors to end destinations, regardless of how many types of transportation they need to use, or other services that they may need to pay for along that journey, such as parking and shared modes such as EV cars and scooters, says Cartier.
'The integration of different transport services within a single mobility offering is a key issue for consumers, amplified in recent years due to increasing concerns over emissions, congestion, and a need for mobility solutions that are cost-effective and convenient. The concept aims at increasing public transport ridership and reducing traffic on the road, thereby enhancing the quality of life for citizens. By providing these services through a single account or smartphone app, MaaS significantly increases user convenience providing information on different mobility services ranging from public transport (for example rail and metro services) to rental, as well as ride-sharing services (for example Uber, Lyft, etc) and self-driving cars.'
Building on significant technology advances in Big Data, AI, analytics, IoT and 5G, along with changes in society and increased environmental awareness, MaaS is gaining momentum, and its innovation stems from its ability to aggregate various modes of transport as a cohesive service. But technology isn't the only factor at play.
'An important element in making MaaS a success will be getting all of the players to work together,' says Cartier. 'Private sector participants might join the movement in search of profits, while government agencies could seek public policy benefits that stem from reduced congestion, higher productivity, better air quality, fewer traffic accidents, and a smaller urban footprint for parking. Participants will gain these benefits only if they collaborate. As Ingenico is working with ticketing platform providers, transport authorities, banks and acquirers, we have the legitimacy to coordinate the different actors.'
So what role will payments, in particular, play in delivering the future of MaaS? 'As one of the leading global payment experts on the market, Ingenico can look at the full value chain for each element needed to support such seamless journeys – terminals, gateways, acquiring, customer experience, technology providers, PCI expertise, cost of adoption, security and rules – collaborating effectively with cities and public administrations,' says Cartier.
Many MaaS players, including the MaaS Alliance, have adopted frameworks to analyse progress. One outlined by Juniper Research in April 2020, suggests several levels of deployment:
Level 0: This level has no integration between services, with separate services provided for different means of transport.
Level 1: This initial stage is the integration of information. At this level, travel information is provided through (multi-modal) travel planners, which may or may not include information on routes and costs. At this stage, the apps offer comparison and help the user to make choices on modes.
Level 2: This level refers to the integration of finding, booking, and payment for transit. At this level, MaaS facilitates the finding, booking, and payment of individual trips. Users can find, book, and pay for their trip at a single service, for example via an app connected to a digital wallet.
Level 3: Level 3 has integrated transport services into passes and bundles. At this stage, MaaS not only covers individual travel movements; the service also meets the full daily mobility needs of individuals and families by offering different means of transport through bundles and/or passes. This is the stage at which MaaS can be a viable alternative to private car ownership for city residents.
Level 4: The final stage involves the integration of societal goals. At this level, MaaS extends beyond liaising between the demand for and the supply of mobility. Supply and demand are now combined with goals such as reducing the use of cars or promoting liveability in cities.
Consumer choice
Coming back to payments, simplicity is key to providing Level 3 MaaS. 'Payment for the journey needs to be based on consumer choice. A robust back office is required to ensure continuity, security and validity of payment, and to support key components in aggregating and managing payments and services,' says Cartier. Thanks to Ingenico's payment expertise in combining proximity and electronic payments, MaaS solutions will be able to:
Leave the choice to customer for selecting preferred payment methods

Leverage on the capabilities of the mobility services' infrastructure: contactless, mobile wallets, P2P, closed-loop, QR code, blockchain…

Offer freedom to local authorities allowing them to issue pre-paid, post-paid and pay as you go fare policies
Ticketing has, until now, divided vendors in the MaaS space. While some, such as moovel, are taking a proactive stance on ticketing, using its platform to draw the MaaS ecosystem together as a compelling whole for users, others, such as Moovit, focus on displaying rides from multiple services into a cohesive whole, notes Juniper Research. Both approaches are valid in terms of moving the public to mobility services as opposed to private car ownership, but in the long-term the ticketing / payment / provision model will be crucial to MaaS success.
MaaS providers tend to operate in isolation, competing with one another, rather than working together in a cohesive way, adds Juniper. 'While alliances and partnerships have emerged, there is little evidence of common standards emerging to date. Legislation is therefore required to force different providers to work together. MaaS stakeholders should however continue to work on collaborative efforts to agree standards, but this will take time due to the highly variable nature of the transit systems and regulations involved.'
Coordinating the industry
The ability to aggregate disparate ecosystems will be made easier thanks to Ingenico payment expertise, says Cartier. Ingenico can help all players to work together, with a GTM target:
Municipalities / local governments / administration

Public and private transportation services

Technology enablers and payment firms

Banks and acquirers (B&A)
To continue to offer passengers the best experience, it is essential that agencies can easily update their systems with new features. Thanks to 30 years of experience and expertise, Ingenico Enterprise Retail can support the transport ecosystem with development, finance and innovation, says Cartier.
In parallel with the deployment of our new open payment solution, OP2GO, which will reinforce existing infrastructure with the potential to combine contactless transit and payment card acceptance, we are now exploring projects that will demonstrate ingenuity thanks to our payment omnichannel approach, says Cartier. The first MaaS pilots that have been deployed in Europe by others – such as Whim in Helsinki, Birmingham, Vienna and Antwerp – outline what may be possible for the future of transportation and smart mobility, and we are following their progress closely, but we should note that MaaS is only in its infancy, says Anthony Wicks, Channel Manager, Ingenico Enterprise Retail. As a new player, Ingenico is investigating the market, and developing technical and sales cooperation with transport solution providers, banks and payment schemes, he adds.
Ingenico is also exploring the future of payment with new technologies, working with (and possibly financing) innovations such voice commerce for mobile ticketing, mobile on-boarding for enrolment process automation, AI, RPA (Robotic Process Automation) and 'tap and connect' for loyalty programmes.
The roadmap
It's clear that transport authorities across the world are at very different levels of development in terms of payment services. An industry survey in late 2019 found that many authorities were working with years-old legacy systems that were expensive to run and costly and difficult to update. Over half were looking to deploy account-based systems in the near future, with a smaller number interested in MaaS account-based systems.
In a world where As-a-Service technologies (XaaS) are gaining ground, account-based ticketing and MaaS are hot topics but it's not yet clear which level or type of MaaS will prove most popular: delivering MaaS ticketing within apps like Uber, CityMapper and Moovit; Account-Based MaaS (using an Account-Based mobility card/token to travel via tapping on public and private vehicles); or subscription-Based MaaS (public/private transport options available via an app for a monthly fee, as delivered by Whim.
As Juniper notes: MaaS is a new concept, and trust has not yet been established in the user base. Before committing to a monthly subscription, users will need to understand the benefits and believe that the MaaS concept works. Therefore, the subscription model will grow in importance over time.
Integration issues
The solutions are not yet obvious. To achieve cost efficiencies near those of TfL's, the industry needs to re-combine income streams. A London-style system is proving illusive in the UK, however. Various MaaS trials have come and gone, with none taking root. App builders and mobile ticketing providers have trialled systems that takes infrastructure off buses and onto mobiles so that card readers are not required, so reducing costs and complexity. Yet many operators are reluctant to surrender their direct relationship with the customer, and there are concerns about the ability to split revenue fairly between operators in multi-operator transport zones. Some worry further that each operator's revenue may be further divided by the introduction of new partners and platforms, with economies of scale being reduced.
Across Transport for the North (TfN) regions in the UK, a key scheme to deploy a smart and integrated ticketing scheme has run into trouble. Bus companies are reluctant to sign up to the TfN scheme because they already have their own contactless technology and believe they can respond more quickly to changes in the industry with control of their own systems.
The bus industry is moving ahead with its own contactless and pay-as-you-go plans, with contactless ticketing now available on more than 90 per cent of buses nationwide, and larger operators committed to delivering price-capped daily and weekly tickets that can be used across different operators in major urban areas by 2022. The TfN response has been to work primarily with the region's train operating companies, with the aim of delivering contactless pay-as-you-go travel on rail, to be integrated with bus and other modes at a future date.
Whichever approach prevails, technology in no way removes the need for cities and regions to simplify and de-stress their fare frameworks. Having 27 different fare options for one potential journey, given slightly different route, zone or time changes, will not entice a car driver out of the private car no matter how seamless the payment experience is. And the target for MaaS is ultimately new users; those travellers who don't yet use public transport as a key means of transport. Seamless payments will help, but customers still need to trust that any system is delivering them the best value journey and – since COVID-19 – in a clean and low-risk environment.
With or without a complete MaaS ecosystem, the travelling public needs simple, integrated travel options, based on an open payments systems such as that pioneered by London. It also needs systems that can deliver accessible and open data to inform real-time and future operational insights.
Transport authorities and operators need to be able to quickly react to new mobility options and payment choices – be they mobile, codes, chips, cards, beacons or even ID-based systems – requiring flexibility and agility for both hardware and software options. Until now, encouraging travellers to change their transport behaviours has proven to be stubbornly difficult. Perhaps, in a 'new normal' post-COVID era, the right transport and payment options could be key to locking in more widespread sustainable travel behaviours.