Passenger data indicates impact of Coronavirus on UK rail industry
Coronavirus: Passenger numbers could drop by 70% due to social distancing and self-isolation
24 March 2020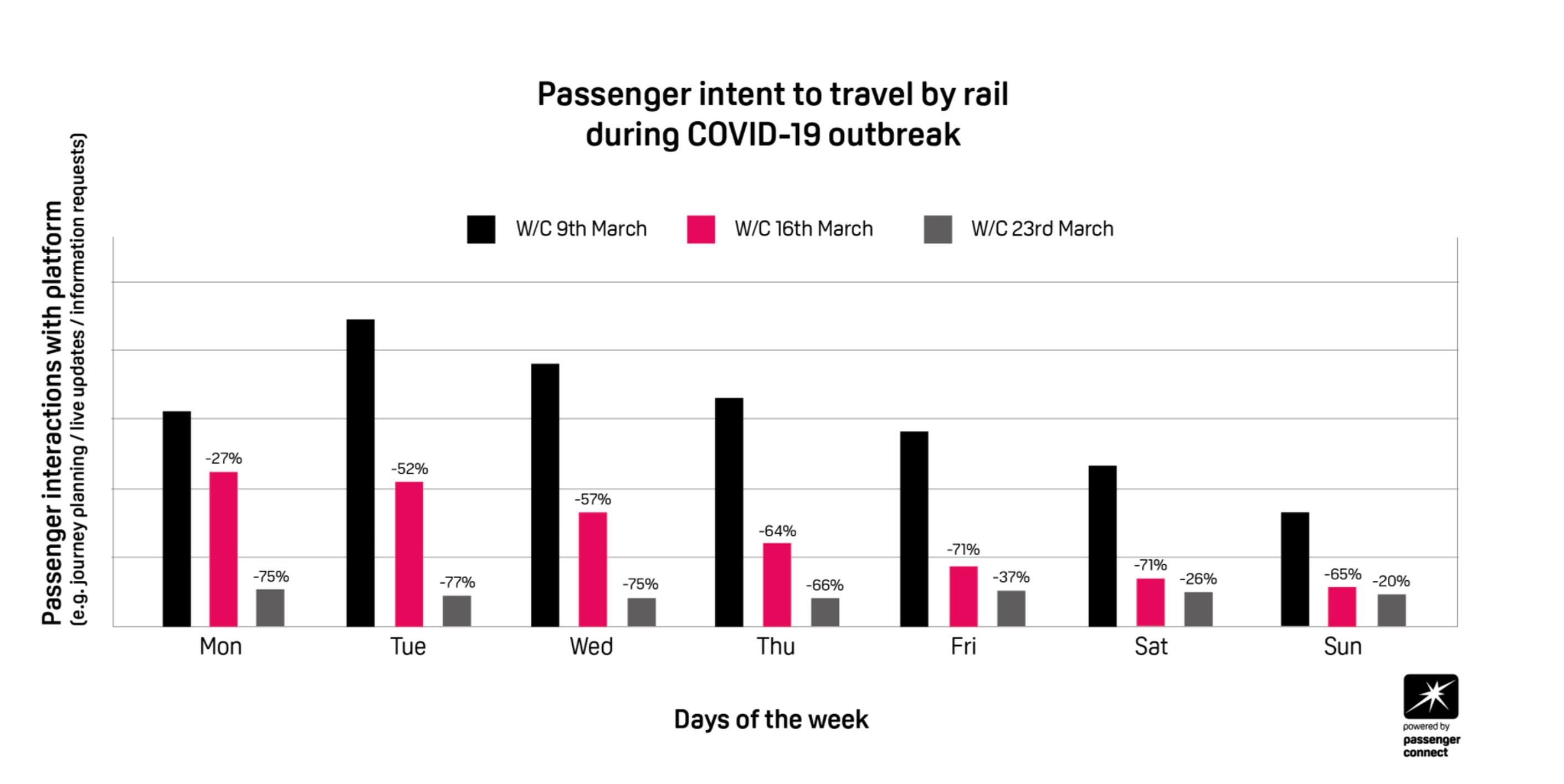 Rail passenger usage could temporarily fall by an average of 70% during times of social distancing and self-isolation. The transport sector has been widely acknowledged as one of the key industries to suffer from the impact of the COVID-19 outbreak, especially following the government's announcement that everyone in the UK should avoid 'non-essential' travel and contact with others.
The sheer volume of rolling updates on the virus, coupled with the ability to only analyse data from day-to-day ticket sales, is making it difficult for industries like the transport sector to respond to the crisis, let alone understand the true impact of the outbreak.
However, insights derived from real-time passenger behaviour have the potential to help the rail industry build a clearer picture of their customers' needs during the crisis and, more importantly, plan a response.
Although the sharp decline in passenger figures may be daunting for the rail industry, being able to see real-time demand across different locations could help limit the number of 'ghost services' running and highlight opportunities for short-term cost saving during one the most challenging periods in the history of global travel.
Despite large numbers of the population planning to work from home, there are still many reliant on the rail network and wider public transport system, most noticeably those working for the NHS and our other public services. By being able to identify demand by location, rail companies would be able to identify which services are crucial and need to continue running.
Transport technology specialist Zipabout has revealed graphs highlighting real-time passenger demand for rail services during COVID-19 outbreak. The Zipabout platform is a realtime B2B2C platform providing personalised door-to-door information for passengers. Its big-data platform is designed for complex multi-modal transport networks, and uses machine learning, graph and personalisation technology to deliver easier journeys.
Zipabout has also revealed a map of the UK highlighting real-time passenger demand for rail services during COVID-19 outbreak. The data highlights Greater London, Edinburgh and West Sussex as the top three regions for demand, closely followed by West Yorkshire and Greater Manchester.