Boosting active travel: it's all about the funding
31 January 2019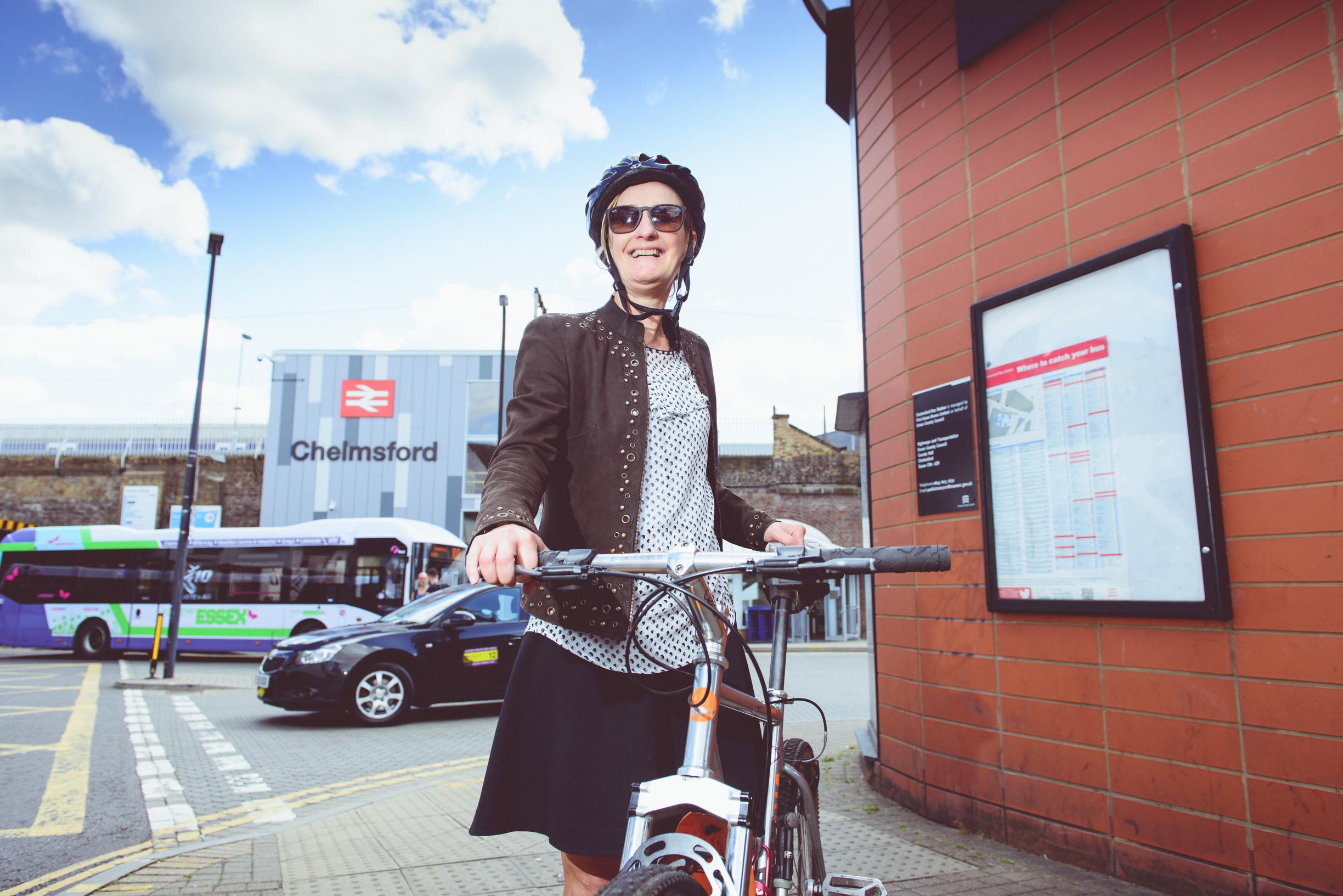 The end of 2018 and beginning of 2019 have seen a host of consultations, reports and inquiries into why it's so necessary to boost walking and cycling levels; both through securing long-term investment and fully integrating quality cycling and walking infrastructure with public transport, homes and work. First, the Department of Health and Social Care launched its 'Prevention is better than cure' vision, which specifically mentions the need to 'coordinate transport, housing, education, the workplace and the environment in the grand enterprise to improve our nation's health'.
This was followed in January by a wide-ranging consultation from the National Institute for Health and Care Excellence (NICE), which is exploring how, at population level, people of all ages can be supported to be more physically active. And last week, three Cycle County Active County partner organisations, all members of the 2019 event Steering Group, gave evidence to the House of Commons Transport Committee inquiry into Active Travel. The three charities – Cycling UK, Sustrans and Living Streets – urged the Government to make a significant increase in investment in active travel to address a public health crisis.
With improving air quality and public health impacts high on the global political agenda, enabling active travel is increasingly becoming the correct answer to policy questions, and Cycle County Active County Essex, the 7th annual event in the Cycle City Active City series, is gearing up to see how cities and towns at the county level can best maximise funding and political will.
Counties have as much to contribute to the local and national economy as major cities, but often receive less attention – and funding – than core cities such as Manchester, Bristol and Birmingham. Smaller cities, towns and rural areas are home to a considerable proportion of the UK's population, and have their own opportunities and challenges when it comes to enabling more active travel.
Cllr Kevin Bentley, Deputy Leader and Cabinet Member for Infrastructure at Essex County Council, said: "I am very pleased that we will be hosting this year's Cycle County Active County in Essex. Walking, cycling and the development of active places across the county is at the core of our transport strategy. It is crucially important that as we move forward with plans for growth, jobs and housing for this generation and the next. This must be done with plans for suitable transport links that work for everyone - that includes the provision of active travel that will improve health and wellbeing, contribute towards less congestion on our roads and improve the quality of the air we breathe.
"Essex County Council, and our partners Essex Highways and Ringway Jacobs, look forward to welcoming the wider cycling, walking and active places community to our county in September."
As Essex County Council is aware, many of the solutions to reducing single occupancy private car journeys in the drive to boost activity levels, improve air quality, reduce congestion and improve traveller safety have unique drivers in county areas. The Essex response ensures the promotion and development of cycling and active travel is embedded in everything the Council does.
This involves a wide range of strategic objectives that have resulted in initiatives such as a Public Health led Developer Accreditation scheme, the adoption of Active mode strategies, updated design guide portals and a Sport England Local Delivery Pilot (LDP) aimed at supercharging people's attitudes to physical activity and delivering sustainable increases in activity levels as part of the Towards an Active Nation project. Essex recognises that a joined-up and collaborative approach to meeting future mobility needs at all levels is necessary if the UK is to deliver nationally on its policy objectives.
Active travel in larger cities is also on the event agenda. Cycle County Active County will be, once again, the annual conference of the Department for Transport's Active and Accessible Travel Team, and as such will feature sessions on the latest progress and learning from LCWIPs, news from the Cycle Ambition Cities a Local Transport Note 02/08 (cycle infrastructure design) update, plus a session on using WebTAG for active travel investment planning.
Lack of ambition
But despite the many promising local and regional initiatives, there is still a way to go to boost activity levels, as the House of Commons Transport Committee inquiry into Active Travel highlighted. As the transport committee chair, Lilian Greenwood, said: "When it comes to government policy, clearly there's a concern there isn't sufficient ambition and funding and certainly that funding isn't guaranteed for a long enough period."
The three charities selected to give evidence to the Transport Committee inquiry recognise Transport Minister Jesse Norman's push to strengthen the Government's Cycling and Walking Investment Strategy; but all agree that a 'very significant funding boost is still needed if the Government's ambition, for walking and cycling to become the normal choices for short journeys, is to be realised.'
Only 2% of total transport spending is on cycling and walking. Cycling UK, Living Streets and Sustrans say this should rise to at least 5% by 2020, and 10% by 2024, with a large proportion of this allocated to support local authorities in their plans to increase cycling and walking. This, estimates Sustrans, would amount to £17 per person annually in 2020/21, rising to £34 per person in 2024/5 in England.
"This requires sustained, long-term investment in cycling and walking but we need real cross departmental leadership and investment now to make the change," said Rachel White, Senior Policy and Political Advisor for Sustrans, as reported in The Guardian. "Additionally, any increase in funding nationally must be matched with a commitment to delivery at a local level."
Joe Irvin, Chief Executive, Living Streets, added: "In particular, the government needs to encourage and enable more children to walk to school, or it will fail to meet its own target of 55% of primary school children walking to school by 2025.' Cycling UK and Living Streets are running a joint campaign, supported by Sustrans, urging the Government to allocate more funding to authorities devising plans to encourage cycling and walking."
Roger Geffen of Cycling UK said: "It's not about putting bike lanes in where there's a bit of spare money and a bit of spare space – there needs to be a dense network of routes."
Geffen said that because active travel was funded from various pots, "we don't know how much money is being spent on cycling, and we don't know how well it's being spent".
Sticking with the theme of increasing active travel investment to save on health spending, the recent Transforming Cities: The potential of everyday cycling report from Sustrans suggests that the NHS will save £319m if cycling doubles in seven UK cities every eight years by 2040. An estimated 34,000 incidences of eight life-threatening conditions, including Type 2 diabetes, stroke, breast cancer and depression, would be prevented in seven major cities between 2017 and 2040, if cycling increased at rates like those seen since the millennium in London.
The government should commit 5% of the transport budget on active travel, raising to 10% by 2025 in the next Comprehensive Spending Review, says Sustrans. Similar commitments should then be made in the devolved nations and would help cities to invest, Sustrans added. A doubling of cycling in the cities every year was 'ambitious' but 'achievable', says Sustrans. It says that cycling numbers in Bristol nearly doubled between 2001 and 2011, and cites a ten-fold increase in cycling journeys in the Spanish city of Seville from 5,000 to 72,000 between 2006 and 2012.
To top off the recent spate of environmentally sound political announcements, Government also launched its 2019 Clean Air Strategy in January. Responding to the key points, which "reducing emissions from transport", Cllr Martin Tett, Environment spokesman for the Local Government Association, said: "Councils are determined to reduce the impact of harmful emissions on the health of our communities but if the Government's air quality plans and any new local powers are to be successful, they need to be underpinned by local flexibility and sufficient funding."
Join us to find out more about the positive impact of active travel on public health at Cycle County Active County 2019.