'Decide and provide' solutions should consider 'preferable scenarios' for the North's future
26 October 2018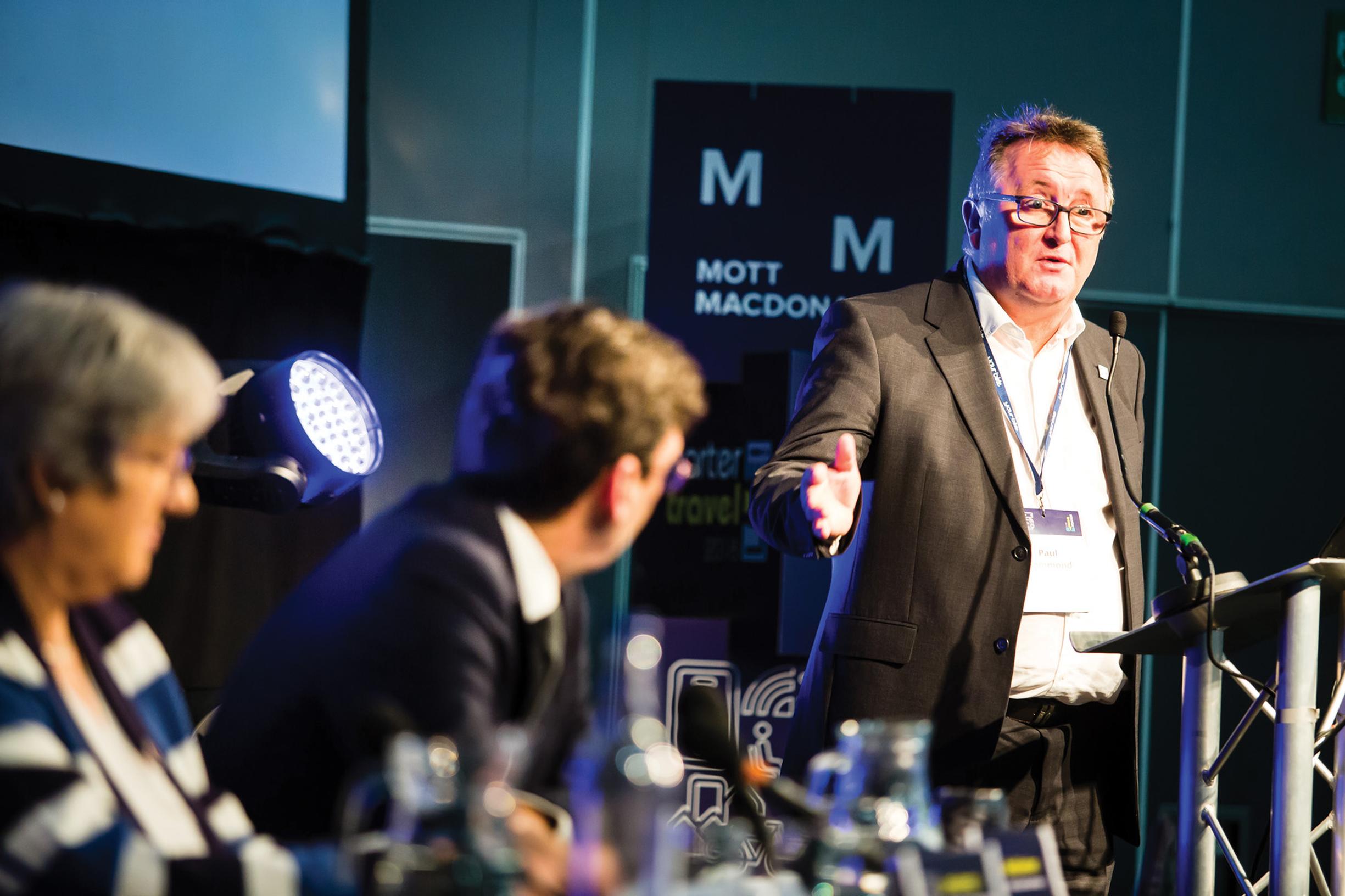 Paul Hammond, global practice leader for economics at Mott MacDonald, an event partner for Smarter Travel LIVE!, echoed the calls from Mayors Rotherham and Burnham for better integrated transport infrastructure across the North, and is ready to support delivery.
'As many of the presenters at Smarter Travel LIVE! pointed out, the challenges and solutions are myriad and should not be seen in isolation. Active travel, for example, is a key aspect of a healthy community and an integral part of the last mile solutions linking travellers on the strategic network to their final destinations. We are advising our transport regulator clients to be proactive in how they address new mobility propositions. Rather than traditional "predict and provide" approaches, where towns and cities have developed around an internal combustion engine solution involving single occupancy vehicles, we are advocating "decide and provide" solutions.
This means that transport regulators should use technology to shape the places and communities that are sustainable and desirable, rather than allowing technology and new solutions such as connected and autonomous vehicles and Mobility as a Service to dictate the future of mobility.
Our relationship with the University of the West of England, Bristol, and appointment of Dr Glenn Lyons as professor of future mobility has led to a greater impetus around future mobility across the company. A strong view that is developing is that rather than detailed predictive modelling, clients should face up to an uncertain future and consider a range of possible, probable and preferable scenarios and the implications of these for future transport and development growth.'
Rather than detailed predictive modelling, clients should face up to an uncertain future and consider a range of possible, probable and preferable scenarios and the implications of these for future transport and development growth , says Hammond. 'We now have a range of future mobility projects that we are bringing to the market, from scenario planning to safe and client-friendly pilot schemes which will allow regulatory clients to test future transport solutions in a meaningful but managed way.'
Mott MacDonald has approximately 400 transport planners, modellers and economic and social experts in our offices throughout the UK, forming an integrated transport team which is one of the most successful parts of its global business. Over half of these staff are based in the Northern Powerhouse offices of Manchester, Leeds, Liverpool, Sheffield, Newcastle-upon-Tyne and Altrincham. 'We are supporting key projects delivered by Transport for the North, while our long-standing relationships with key clients in both local transport and government, plus Network Rail, Highways England and the Department for Transport, mean that we can offer joined-up solutions that deliver strategic infrastructure investment and last mile connectivity. We are currently working with clients on a triple access approach that links sustainable development to access via physical mobility, digital solutions and better land use planning to reduce the need to travel.'
The opportunities are both extensive and varied. 'Our staff expect us to be at the forefront of this agenda as they live locally and want to see our projects working to improve the livelihoods of local people and the quality of life in the Northern Powerhouse. It also means that we can continue to attract the best people in the transport planning sector. In commercial terms, the challenges associated with strategic and local planning for future mobility has led to innovation in our projects and investment in new ways of working, technologies and relationships. We now have a range of future mobility projects that we are bringing to the market, from scenario planning to safe and client friendly pilot schemes which will allow regulatory clients to test future transport solutions in a meaningful but managed way.'